2016-17 Stage Insights Reviews
Blind Faith Leads to Miracles in Covedale
Review by Jack Crumley of The Miracle Worker: Covedale Center for the Performing Arts
The 2017-2018 season at the Covedale Center for the Performing Arts is starting off on a dramatic note with William Gibson's gripping play from 1957 about drive and the triumph of the human spirit, The Miracle Worker. Though it is adapted from Helen Keller's own autobiography, the play centers around the struggles of Keller's teacher, Annie Sullivan. A woman who, while mostly blind herself, fights tooth and nail to get through to a 6-year-old girl who has been both blind and deaf since falling ill as a baby. Much like last season's production of Doubt: A Parable, this production is a departure from the traditional musicals and comedies typically featured on the Covedale stage. Also like Doubt, this show delivers solid, thoughtful, and at times intense dramatic performances.
The relatively small ensemble of characters is very well cast. Both Brent Alan Burington as Captain Keller (Helen's father) and Sarah Viola as Kate Keller (Helen's mother) bring an authority and warmth to their roles, respectively. Even though she has no songs to sing this time, Viola's lilting voice is a pleasure to listen to, especially with this show's requisite southern drawl. Michael S Donohoe plays Helen's half-brother, James, who spends much of the show criticizing everyone else. Donohoe's demeanor and sarcastic smirks fit the character well.
Rebecca Whatley plays the lead role of T-E-A-C-H-E-R, Annie Sullivan, a 20-year-old woman whose entire life has been a struggle. She was born blind, but, thanks to surgery, now has limited vision as long as there isn't too much light. Whatley does a tremendous job of balancing Sullivan's range of emotions and motivations, not to mention making an alphabet of hand gestures seem effortless. She's a woman who is intensely driven, despite her own self-doubt, and who is still being tortured by her past. There are moments in the show where she flashes back (audio only) to terrible times as a child with her brother in the sanatorium where they grew up. Those moments are made to feel even more isolating as the stage gets darker, save a bluish spotlight on Annie. It's a simple, but effective mood-setter. Whatley skillfully switches from those isolated moments of pain to getting right back to fighting to teach Helen. It's a tremendously taxing role, and Whatley rarely shows any weakness in playing the part. Throughout the show, I found myself constantly asking "what would I do in that situation?" and Whatley's believable grit and determination are quite inspiring.
Though she's not technically the lead, the only person working harder on stage is Brooke Chamberlin as Helen Keller. This young lady has the unenviable task of playing a character everyone in the audience is watching all the time, and who can't interact with any fellow cast members in any way that's "normal." Imagine taking everything you know about human interaction and not only ignoring it, but replacing it with an altogether alien, almost animal-like instinct. You can't look at anyone talking to you. You can't even give signs that you hear them. Your whole world is black except for what you may be touching (or what's touching you) at a given time. And Chamberlin is fantastic from start to finish. Her bio in the program references a dance background that serves her well. Even though her movements are blocked and well-rehearsed, Chamberlin impressively makes you believe she's walking chaos. A wild child. I found myself watching her when she was not the focus of a scene, and I never saw a moment when Chamberlin dropped character.
Chamberlin's chemistry with Whatley on stage is another element of this production that deserves praise. The pair have a lot of physical interaction, and much of it is unpleasant. Helen's struggle to understand and Annie's struggle to teach her are both paired with several actual struggles between them. There's a particular scene in the dining room where Annie is determined to get Helen to sit and eat with a spoon. It's a fight that does not end quickly, and illustrates how endlessly exhausting Annie Sullivan's work to teach Helen is. I can't imagine how much work the director, Greg Procaccino, and the fight director, Melissa Bennett Murphy, put in with these two actors to make that scene as believable and heart-wrenching as it was.
Procaccino's direction also balances the show's intensity with very human emotions. Whether characters are bickering or negotiating or trying to communicate at all, everything comes across as personal and honest. That sense is most profound in the run up to the climax as Captain Keller and Kate try to decide what's best for their daughter. For all of Burington's bluster as the Captain, and all of Viola's motherly tenderness as Kate, both are just trying to figure out whether all this pain (both Helen's and their's) is worth it. They're struggling. And that comes across very clearly on stage.
The simple set is a bit of a departure for Covedale. Even though much of the play is set in and around the Keller home in 1880s Alabama, scenic designer Brett Bowling eschewed a large, detailed set. Instead, there's just a dining area on one side, a bedroom on the other, a background indicating a mostly wooded area, and off to stage right there's the water pump where Helen makes her famous break through at the show's climax. The audience has to use a bit of imagination to fill in the blanks, but it's not off-putting at all. It may actually make the audience feel more invested in the story.
Inasmuch as a curtain call is part of a show's production, I was a bit disappointed that Whatley and Chamberlin weren't given more formal bows. The show ends, the stage goes dark, and the whole cast is already on stage. Both Whatley and Chamberlin had individual bows amongst the group, but neither get that moment of re-taking the stage. That triumphant walk from the wings to the center of everyone's attention. This is not to sell the work of the rest of the cast short, but I just felt that their work deserved a bit more recognition.
While it's not a wacky musical, The Miracle Worker is a story most people know, and it's portrayed beautifully at The Covedale. You'll feel something as you watch Annie bring Helen Keller into the world. It's dramatic and thoughtful and extremely inspirational.
The Miracle Worker plays Thursday through Sunday until October 1. Tickets are available by calling 513-241-6550 or going to the Covedale website, www.cincinnatilandmarkproductions.com/ccpa
Incline's Drowsy Chaperone is a Dream for Musical Theatre Lovers
Review by Doug Iden of The Drowsy Chaperone: Incline Theatre
The title of this musical is a misnomer since there is nothing "drowsy" about The Drowsy Chaperone currently playing at the Warsaw Federal Incline Theater.  Madcap is an often- overused term but, with Chaperone, it is not a cliché but an apt description of this whimsical spoof of musicals in general and 1920's musicals in particular.
Using an unconventional technique, the play is narrated by the Man in Chair (Van Ackerman) who speaks directly to the audience and also becomes part of the play.  Ackerman excels in this role as a nerdy, effeminate narrator who invites the
audience to enjoy his original cast album (yes, it is a record) of The Drowsy Chaperone which quickly morphs into the play itself as the other actors explode on the stage in the opening number "Fancy Dress".  The story, such as it is, describes the impending nuptials of Robert Martin (Drew Simendinger) and Janet Van De Graaf (Hope Pauly) overseen by the Drowsy Chaperone (Leslie Hitch).  This is not Hamlet and doesn't pretend to be but rather is the tried and true "boy meets girl", "boy loses girl", "boy gets girl back again" musical formula.  But it portrays the formula in such a funny, campy and spoofy manner that you just want to sit back, kick up your feet and allow the hilarity to waft over you.
All of the theatrical elements blend beautifully including cast, ensemble, choreography, set design, lighting, music and costumes under the able leadership of Director/Choreographer Angela Kahle.  There is a lot more dancing in this show than we are used to seeing in modern musicals and much of it is inspired by 1920's dance crazes such as the Charleston.
In the typical fashion of older shows, there is a subplot involving a gigolo hired to upset the wedding plans.  Played with outrageous vigor in an absurd wig and costume, Rick Kramer as Adolpho "chews up the scenery" (as described the Man in Chair).  He tries to charm every female character but finally settles on The Drowsy Chaperone (otherwise unnamed) with whom he sings "Adolfo".  The Chaperone is more interested in a libation than in actually chaperoning but is intrigued by Adolfo's attention.
The two principals are engaging with good voices, especially Hope Pauly.  She portrays a sexy, somewhat narcissistic character while singing two funny production numbers "Show Off" and "As We Stumble Along" and a trio with Simendinger and Ackerman called "An Accident Waiting to Happen".  Another hilarious duo are the Gangsters (costumed more like chefs than gangsters) played by Christopher Logan Carter and Tyler Gau who sing and dance with alacrity.  Also adding to the insanity are George (Nick Wassbauer), Underling (Aaron Whitehead), Mrs. Tottendale (Helen Anneliesa Raymond Goers), Kitty (Merrie Drees) and Trix (an aviator played by Joy Roland-Oba) who saves the day in the second act.  Everyone in the cast seems to be thoroughly enjoying themselves on stage.
Without trying to divulge much of the "plot", I have to mention the opening number of the second act which happens because the "cleaning lady" of the Man in Chair put the wrong record in the sleeve of the two-record cast album of Chaperone and plays music for an entirely different show and triggers the actors to respond in full costume.  This is one of the highlights of the evening.  Music Director Damon Stevens led the band flawlessly and did not drown out the performers.  Denny Reed's lighting design enhances the sets as well.
The set design by veteran Brett Bowling is intriguing as it attempts to recreate a world of the 1920's with an extensive use of theatrical and movie posters and photographs of performers.  Some of the posters/picture seem authentic while some seem created for this show specifically.  Several scenes utilize a streetlight surrounded by benches which is rolled onto the stage but the "scene stealer" is an airplane flown by Trix in the second act with several ensemble members carrying clouds.
But the really outstanding feature is the costumes which run the gamut from beautiful (wedding dresses) to the elegant (tuxedos and party dresses) to the absurd apparel in the opening second act number.
So don't sleep through the remaining run of The Drowsy Chaperone at the Incline Theater ending August 27. For tickets, call 513-241-6550 or go to www.cincinnatilandmarkproductions.com.
Incline's Drowsy Chaperone is a Great Wake Up Call
Review by Laurel Humes of The Drowsy Chaperone: Incline Theatre
The Drowsy Chaperone deserves to be a hit, the best show of the Summer Classics Season at Warsaw Federal Incline Theater.
The hilarious musical from Broadway's 2006 season won five Tony Awards, including Best Book and Best Score. The concept is clever, the material witty. And the Incline's large cast more than does the show justice. There is no weak link or false move in a show that requires a lot of its actors – singing, dancing, physical comedy, and cleverly silly characters.
The Drowsy Chaperone is a parody of 1920's musical comedy, structured as a show within a show. Our "host" is named only Man in Chair (Van Ackerman). We are in his dowdy apartment, decorated with old-time show posters and highlighted by an armchair next to a record player. This is where the middle-aged musical theater fan obviously spends much of his time, listening to LPs of old Broadway shows to escape his drab life.
As he plays his favorite musical, the fictional 1928 Drowsy Chaperone, the show comes to life. But the Man continues to narrate directly to us, stopping the onstage action to tell us about the "real-life" actors playing the roles, and wryly commenting on the scenes ("ignore the lyrics of this song – they're not the best").
The wedding of popular showgirl Janet (Hope Pauly) and tycoon Robert (Drew Simendinger) brings together all the other characters, and there is no stereotype unturned:
Feldzieg (Mitch Ruth), who wants to thwart the wedding because a married Janet will no longer star in his "Feldzieg's Follies."
Kitty (an antic Merrie Drees), the ditzy flapper who wants to take Janet's role in the "Follies."
Two gangsters (Christopher Logan Carter, Tyler Gau) disguised as pastry chefs (!), whose boss has invested in the "Follies." Adding to the pastry chef gag are a series of groaner puns even funnier when delivered in New Joisey accents: "Now you in truffle, and there's muffin you can do about it." Carter and Gau are splendid.
Adolpho, (Rick Kramer), a flamboyant, self-proclaimed lothario with an unspecified accent and a pompadour hair-do. Kramer's seemingly unlimited facial expressions and physical comedy skills are hilarious.
The Drowsy Chaperone (Lesley Hitch), whose job is to keep the bride away from the groom before the wedding, hard to do when she's always tipsy and drowsy. It is not a spoiler to say Adolpho and Chaperone get together and share a funny song and dance.
Pauly and Simendinger are outstanding as the bride and groom-to-be.  She sings, dances and even juggles in the funny and skillfully staged production number where she explains "I don't want to show off anymore." He tap dances, roller skates with a blindfold, and specializes in a handsome leading-man smile to show off his pearly whites.
Van Ackerman IS the Man in the Chair, and I mean that as a high compliment of an actor who totally inhabits a role. The mousy character in a cardigan, so antisocial he won't answer his phone, is alternately wry and naïve, sad and joyous. Ackerman gets in the middle of the show's scenes, mouthing the lyrics, joining the chorus. There's a great bit when the record skips and the cast has to keep repeating a lyric and dance step until the LP is reset.
As played by Ackerman, the Man is the audience's guide to this silly show, and its sentimental caretaker.
Kudos to director/choreographer Angela Kahle for assembling this fine cast and then getting the best possible performances from them. The show zips along, pausing only to give the audience time to laugh – a lot!
The Drowsy Chaperone continues through Aug. 27 at Warsaw Federal Incline Theater, 801 Matson Place, in the Incline District of East Price Hill. For tickets, call 513-241-6550 or go to www.cincinnatilandmarkproductions.com.
Know's MARIAN hits the Bullseye for Summertime Fun
By Liz and Grace Eichler
Opening nights are always filled with excitement, but the opening of Know Theatre's MARIAN: or the True Tale of Robin Hood, had the added excitement of being the opening of the 2017-18 season for Cincinnati Theatre.  Written by Adam Szymkowicz, it won't disappoint. It is an action-packed, often silly, sometimes sweet, playful adventure for your summer.
There is an immersive preshow, getting the audience connected to the characters of the Sherwood Forest, and immediately we meet the key figures of Nottingham. It is an archery contest, and Prince John is getting restless: where is Maid Marian? And where is Robin Hood, as he is determined to capture him at the contest? Finalists include the smarmy Sheriff of Nottingham (Geoffrey Barnes), Lady Alanna Dale (Leah Strasser) who also serves as our narrator and commentator, and a strange old man, who is an amazing shot. Who could he be? Certainly not Robin Hood in disguise?!
You know the story, but there are some interesting takes on the story. First, the inept guards (Brandon Burton and Greg Mallios) are a great comedy team, with good timing. Next, how Robin Hood is really Maid Marian's (Maggie Lou Rader) alter ego and how well she slips in and out of the roles. Rader flits between characters, climbing, jumping and fighting, making it look so easy.  Also, the "Merry Men" ask for the term to be redefined, as "men" is too limiting for them all, and even "merry" comes into question.
The cast is animated and exuberant. Cal Harris as Prince John is delightfully despicable and Chris Wesselman as Little John delivers some big feels. Candice Handy (Will Scarlet), Samantha Russell (Much), and Ernaisja Curry (Tommy) fill the stage and keep things lively in this three-ring circus of activity. Handy and Strasser shine in stage combat, as does the rest of the cast, choreographed by John Baca. Director Alice Flanders ensures the one-liners and comedy land, and brings truth to the schmaltz. She utilizes every inch of the space, designed by Andrew J. Hungerford. Kudos to Flanders and Doug Borntrager (sound) for the mid scene orchestrations. Listen for the re-mixes of "Bad Girls" by MIA, "No Scrubs" by TLC, and more.
The show is 80 minutes, with no intermission, and it hits the bullseye for a fun summers' night of entertainment. For tickets call 513-300-5669, or go to knowtheatre.com before MARIAN closes on August 19.
Incline's Blithe Spirit is Supernaturally Sublime
Review by Laurel Humes of Blithe Spirit: Incline Theatre
Lift your spirits for a couple of hours by sharing them with the ghosts in Blithe Spirit, the venerable Noel Coward comedy now onstage at Warsaw Federal Incline Theater.
This must be said first: Even if the actors just did a costume style show on the set, it would be worth a trip to the theater. Costume and properties designer Caren Brady and set designer Brett Bowling have captured the elegant look of upper-class British society in the early 1940's.
The expansive, lovely drawing room setting is filled with period furniture and props – French doors, book-filled shelves, artwork, a gramophone. Not just decorative; all will become part of the plot.
And it's a fun plot, full of Coward's sardonic wit. Novelist Charles Condomine (Matt Krieg) was married to Elvira before she died seven years ago (even the cause of death is humorous). Charles is now married to Ruth (Grace Eichler). He is researching séances for a book, when clairvoyant Madame Arcati (Traci Taylor) calls up the ghost of Elvira (Kayla Burress).
Only Charles can see and hear Elvira, which sets up hilarious situations of misunderstanding as he reacts and Ruth thinks he's crazy – until Elvira makes herself known to Ruth, too. That's Act 1; several more twists fill out the comedy.
Coward was quoted about these characters he created: "You can't sympathize with any of them." And the actors have a great time bringing these self-centered, high-mannered folks to life.
Well, Elvira is not technically alive, when she returns as a lively ghost. "I've passed over," Elvira insists. "It's vulgar to say dead where I come from."
Burress is ghostly but beautiful in pale makeup, hair and gown. Her presence is enhanced by Denny Reed's eerie lighting. Apparently, Elvira the ghost is pretty much the same as Elvira the woman. Burress plays her free-spirited and fun-loving, but also petulant, pouty and childish. You wouldn't want to live with her.
Ruth certainly doesn't want to share her house and husband with Elvira. Eichler's Ruth is dignified and self-assured in her elegant gowns and home. She tries to be the voice of reason – but these circumstances are most unreasonable.
"I haven't the faintest idea how to send her back," Madame Arcati admits when Ruth pleads with her to get rid of Elvira. Besides, the medium is still crowing over her success in conjuring Elvira.
Taylor makes a fine Madame Arcati – sparkling, lively and eccentric – aided by flowing costumes that accommodate her physical comedy.
With all the effort to send Elvira back to the "other side," it is not clear that Charles wants to. Krieg plays the two-wife husband just short of whining and very long on ego when dealing with the women; he'll take flattery from whoever gives it.
Krieg and Burress' best scene, though, is a fiercely funny squabble about their marriage. Director Bob Brunner has almost choreographed the back-and-forth accusations and answers with great pace and timing.
Join the Séance in Incline Theatre's Blithe Spirit
Review by Rachel Brandenburg of Blithe Spirit: Incline Theatre
Do you believe in ghosts?  Or are mystics, mediums, and psychics simply frauds who have convinced themselves of their own power?  This is the question raised in Warsaw Federal Incline Theatre's Blithe Spirit,  in the house of the Condomines, who have invited the neighbors and a psychic medium over for dinner.  Charles Condomine (Matt Krieg) is an author in the midst of writing his next book, which, of course, involves a fraudulent medium, and wants to do the proper "research" by having Madame Arcati (Traci Taylor) over for visit.  Ruth (Grace Eichler) is Charles' second wife, with his first wife having died at a young age.  The Bradmans (David Roth and Susan Jung) join in on Charles and Ruth's wit and skepticism, remarking how amusing the evening will be.
The seance takes a surprising twist when Madame Arcati passes out during a trance, and soon the ghost of Elvira (Kayla Burress), Charles' first wife, appears.  Of course, with a catch: Charles is the only one who can see her.  Hilarity ensues as Charles tries to explain his way out of his interactions with his increasingly-unruly house guest, and find a way to bring the hauntings to an end.
Overall, the production is clean, fast-paced, and keeps the audience's attention (could you say… has them entranced?)  All actors do a marvelous job of playing to each others' levels, and no one character dominates the scene unless there is a strong reason to do so.  Krieg captures Charles' initial skepticism, then outright panic and helplessness at his discovery.  We see a warmer, more open side of him as the night goes on.  Grace Eichler gives a strong performance as she seamlessly embodies Ruth's down-to-earth wit and intelligence, making an excellent foil to Buress' airy, mischievous, yet somehow still lovable Elvira.
Allison Hinkel kept audiences laughing with her portrayal of Edith, the shy and frantic housemaid who can be seen at several intervals scurrying about the house.  David Roth, as Dr. Bradman, is your typical doctor and gentleman, and Susan Jung, as his wife, channels her inner socialite, together making a natural pair of "skeptics," as Madame Arcati would call them.  Speaking of Madame Arcati, Traci Taylor executes the role with exuberance, energy, and a clear love for all of the medium's quirks and eccentricities.
Costumes, by Caren Brady, help to punch up the qualities of the characters without taking away focus from the narrative.  Elvira's flowy, ethereal and yet girly gown makes her look right at home against the blue backdrop of the set, while "skeptical" characters like Ruth are most often seen in more clean-cut, practical-looking evening attire.  Set design, by Brett Bowling, hits at all the luxuries and social class of the homes' inhabitants, while also keeping a framed picture of Elvira center-stage–a haunting reminder of who's really in charge in the home.
Blithe Spirit runs through July 23.  Grab your friends, and maybe some salt or a protective amulet or two.  You never know what's lurking on the other side.
For tickets, call the box office 513-241-6550 or visit www.cincinnatilandmarkproductions.com
The Human Race Brings Audiences Home in the World Premiere of Family Ties
Review by Rachel Brandenburg of Family Ties: Human Race Theatre
Based on the television series of the same name, Family Ties, by Daniel Goldstein, brings a real treat to this cozy third-floor theatre.  Set in 2008, about 20 years after the last episode aired, the play follows the characters as they stroll through some of their most cherished (or perhaps not-so-cherished) childhood memories.  Characters watch onstage and invite the audience in like part of the family, looking on to parts of their lives played out before them.  Alex, played by Jim Stanek, is now running for Congress, and preparing to have a child of his own.  Stanek truly captures the well-meaning yet finicky and, at times, even self-centered heart of Alex Keaton while sharing with the audience the deep divide he feels between his career and his family.
Thea Brooks, as Mallory, opens the play strong, along with Sara Mackie, Jennifer, encapsulate the love/hate dynamic of sibling rivalries, charming the audience with witty banter and household mockery throughout the show.  Maggie Lou Rader, playing Ellen, gives a genuine and romantic performance as she transforms from an angsty college artist to Alex's loving wife.  Eve Plumb is a true joy as Elyse, strong and situated as the mother and apparent backbone of the household. And Lawrence Redmond, playing Steven Keaton, sustains as the familiar and loving father figure, who, although he may disagree with his son's politics, deeply loves and supports his family.
Set design, by Tamara L. Honesty, maximizes the realism and depth that a TV set can accomplish without losing the intimacy of the theatre.  Walking into the theatre feels a bit like walking into someone's front door.
Family Ties closes at the Human Race this weekend.  If you can, I would highly recommend bringing the whole family out to see it.  It is a pleasure not only for those who are familiar with the series—the audience around me couldn't help themselves from reliving their favorite moments—but also a deeply relatable story for people of any age or walk of life. Audience members can see themselves in the familiar family narrative as mothers, fathers, sons, daughters, and everything in-between.  I myself would like to see this play again in five, ten, even twenty years down the road and see how my relationship with it changes as I enter a new phase of my life, just how Alex himself is on the brink of such a big transformation.
For tickets go to tickets:ticketscenterstage.org.
Family Ties Bound To Be a Hit in for Human Race Theatre
Review by Liz Eichler of Family Ties: Human Race Theatre
Imagine the television network pitch: liberal activist parents raising a conservative son. Comedy ensues. Would it work? Well, it worked for seven years on the CBS series Family Ties as a young Republican questioned his liberal parents' values. It also works in Family Ties the Play.
Family Ties is a bittersweet look at raising children and growing up (both kids and parents admit to growing, up is another matter).  This world premiere, fully supported by both CBS and NBC, opened June 2 in Dayton's Human Race Theatre, and charmed the audience, much like the Emmy winning series.
The 1980's show Family Ties was "must see TV" and America was transfixed for seven seasons with the progress of former 1960s hippies raising a politically conservative son, and two sweet and witty daughters.  Focusing on the travails of Alex's high school and college years, the theme of family first prevailed,  no matter how differently they think.
Fast forward 20 years, and this play looks at the Keatons in 2008, a time of hope and change.  Alex, the son, is running for senate in New York, after a successful Wall Street career. He realizes that he is embracing some of his parent's politics, and looks forward to the possibility of the first black president. The girls are married with children, living nearby in the suburbs of Columbus, Ohio.
They gather at their parent's house to celebrate dad Steven's 40 years managing a PBS station, and mom is there to referee. Comedy ensues, but overarching the comedy, is the heart felt connection and responsibility they have with each other: family comes first.
There is truth in this show. Clearly the playwright, Daniel Goldstein, understands the angst of living with young adults, biologically driven to push away from their parents. As they say in the play, every kid wonders if they really are related to these strangers.  These conflicting tensions of wanting to be a part of something, but at the same time moving away from it, is a part of life.  Here we get the perspective of the parents, and their pain and truth of living with these pre-fully adult beings, as well as the now-adult, as the play proceeds in a series of flashbacks. These times of cross purposes, conflicting needs, and sharing perspectives hit in the heart.  I'd like my kids to see this character, Alex, as he finally sees the importance of passing advice from one generation to the other.
The cast delivers, both in likeness to the original characters, as well as comedy. Jim Stanek (Alex) carries the show.  You will love him and his verbal and physical energy. He is a politician we would all love to see, driven for success, but with a core of humanity. Thea Brooks (Mallory) and Sara Mackie (Jennifer) are the lovable but different siblings, and flesh out their characters.  (Season 5 addition, younger brother Andy, is in the Peace Corp and cannot get back for his father's tribute.) First love, Ellen (Maggie Lou Rader), is featured in flashback, as Alex explores pivotal moments in his life which got him where he is today.
Lawrence Redmond (Steve) is both warm and formal, enthusiastic, and curious. Eve Plumb (Elyse) is the more grounded and serious parent, reeling in Steve's idealism, while maintaining her own. She has a quieter strength and both are a joy to watch.
There are the familiar one-liners of a TV sitcom, but also a bigger message. Steven and Elyse share their struggles of parenting while "the line between helping and protecting "  isn't always clear.  Another key theme is that we parents often see ourselves as kids, still trying to figure things out, but our kids look at us as authorities.  Keeping a consistent message is hard, but as long as parents are both on the same page, it is easier to manage the pushback from the children.
The set, designed by Tamara Honesty, is a perfect homage to the '80s with furniture and color scheme.  Not much changed since the 80s, except for the KitchenAid coffee pot. Just like our parents' house—the things that change are only the things that break.
Going into the play, I admit I was skeptical. How could the playwright and director walk the tightrope of making the show interesting and relevant? With the keen direction of Kevin Moore, the beautiful setting, and this ensemble of actors, you too will deem this "must see" theatre. If you have kids in their 20s hanging around your house—bring them, so they can see how we parents have it tough as well. Flashing back between young Alex and 30 year old Alex is a great framework to explore these differing perspectives.  Sound designer Jay Brunner manages these transitions well, but occasionally the lighting could better support the time travel. A few parts of the script still need polishing (what is a restricted club and why is that bad?) but overall a great, poignant evening at the theatre.
This play continues through June 25, and is recommended.  I also recommend pitching this updated version to the television networks, as the tensions between conservatives and liberals these days could really use a bit of laughs and perspective.
For tickets go to tickets:ticketscenterstage.org.
Incline's Damn Yankees is Devilishly Engaging
Review by Laurel Humes of Damn Yankees: Incline Theatre
I'm still humming "You've Got to Have Heart," one of the pleasures of Damn Yankees, the baseball themed musical now onstage at Warsaw Federal Incline Theater.
The 1955 show has historical fact – there was a Washington Senators team and the New York Yankees did dominate Major League Baseball. And baseball was truly America's pastime.
So it's not hard to imagine a middle-aged die-hard Senators' fan named Joe, watching another losing game, proclaiming "I'd sell my soul for a long-ball hitter."
But then – he does! With the added enticement that he can be transformed into the (younger) star player who will lead the Senators to the pennant.
The pact with Mr. 'The Devil' Applegate (Rodger Pille) is made by the older Joe (Tim Perrino) and carried out by the younger Joe (William Jackson). Indeed, the Senators do keep winning once Joe joins the team. There are a lot of unlikely plot twists from there to the happy ending.
A realistic plot, however, is not the reason 1950's musicals are revived. It's for the songs, the dancing and, in this show, the nostalgia. These are some reasons to see Incline Theater's Damn Yankees:
The terrific opening number, "Six Months Out of Every Year," when Joe's wife Meg (a wonderful Michelle Wells) laments losing her husband to baseball from April to September. He is planted in front of the TV; she tries to have a conversation. Soon they are joined by five other couples, all the husbands in swivel rockers, tuned only to the game, all the wives trying vainly to get their attention.
Rodger Pille's devil is dapper, in dress and manner, as he maneuvers Joe through their pact. Pille is not the center of every scene, but his face is so expressive, he could be. Reacting also is acting.
Standout number by Renee Stoltzfus as Gloria the Reporter, backed up by the Senators team, of "Shoeless Joe from Hannibal, Mo." She is an accomplished singer and dancer.
The fine voices and high energy of the young people in the cast, at least 8 of whom are just starting or in college. This includes William Jackson as young Joe, whose singing voice, acting and mannerisms belie his youth.
1950's nostalgia, meticulously created by set designer Brett Bowling and costumer and properties designer Caren Brady.
A hometown flavor – you will hear the voices of Reds' games broadcaster Marty Brennaman and former star Pete Rose as (not so inside joke) the baseball commissioner.
However … Damn Yankees the show is kind of creaky, repetitive and overlong – 62 years after it opened on Broadway. Still, thanks to Incline Theater for reviving it with a competent production.
Damn Yankees is part of Cincinnati Landmark Productions' Summer Classic Series. It runs through June 18 at Warsaw Federal Incline Theater, 801 Matson Place, in the Incline District of East Price Hill. For tickets, call 513-241-6550 or go to www.cincinnatilandmarkproductions.com.
Incline Theatre Has a Solid Hit in Damn Yankees
Review by Doug Iden of Damn Yankees: Incline Theatre
If you are disappointed about the Reds season so far, imagine being a Washington Senators fan during the 1950's when the New York Yankees routinely drubbed the home team.  This is the premise of Damn Yankees, a classic musical which is playing at the Warsaw Federal Incline Theater.  Based upon Douglass Wallop's "The Year the Yankees Lost the Pennant," Damn Yankees  tells the story of a middle-aged, long suffering Senators fan (an actual team at the time) who is so dispirited by the hapless Senators that he offers to sell his soul to the Devil if his team could win the American League pennant.  Shazam, Mr. Applegate (the Devil, played by Rodger Pille with gleeful malevolence) strikes a deal to transform Joe Boyd (Tim Perrino) into a baseball phenom named Joe Hardy (William Jackson).  However, not only did Joe bargain away his soul but he also risks losing his soulmate wife Meg (Michelle Wells) with whom he is still very much in love.  However, (spoiler alert) this is a musical and, chances are, there will be a happy ending.
The show is very upbeat with a lot of music and dancing, all tied to the baseball theme.  The current presentation does not hit a homer but it is a good, solid triple.  There is a good transition from middle-aged Joe to young Joe when Perrino starts the song "Goodbye, Old Girl" (referring to his wife) and then Jackson finishes the song with a very strong voice.   Jackson is only a sophomore at CCM but his voice and command of the stage promise a very bright future.
We immediately meet the downtrodden Senators team who try to bolster their beleaguered season by singing "Heart".  The lineup of the male ensemble includes Tyler Gau, Stephen Welch, Drew Simendinger, Nick Godfrey, Chris Carter, Cian Steele and Cameron Nailey.  The ensemble also doubles as reporters and dancers in various scenes.
Joe makes an immediate impact and the team starts winning but a nosy reporter Gloria Thorpe (Renee Stoltzfus) starts inquiring about Joe's mysterious past.  How could such a phenomenal player have come out of nowhere?  Applegate improvises an answer which leads to the lively production number "Shoeless Joe from Hannibal, Mo.".   His background will lead to plot complications later.
But Joe is heartbroken about leaving his wife so he makes an arrangement, much to the chagrin of Applegate, to rent space in his wife's house.  There is an immediate connection when his wife senses something about young Joe.  Applegate responds by enlisting his "weapon of mass destruction" named Lola (Rachel Perin) to seduce Joe and make him forget his wife.  This leads to another hit song from the show, "Whatever Lola Wants".  Over time, however, Lola begins to soften her feelings about Joe and ends up helping him to thwart Applegate.
The score, written by Richard Adler and Jerry Ross, who previously penned The Pajama Game, is high-energy music replete with clever comedic songs such as "A Little Brains, A Little Talent", "The Game" and "Those Were the Good Old Days" along with ballad "Near to You" sung by young Joe and his wife.  The singing over all is good with highlights including Jackson and Michelle Wells.  Pille, as Applegate, exudes an unctuous charisma and sings a good duet with Lola called "Two Lost Souls".  Perin, who plays Lola, tries to channel Gwen Verdon (the original Broadway actress) with reasonable success. She is a good dancer and singer and is convincing as the sexy vamp.   Steve Goers leads the band as usual but the horns need a little more practice.
There is a lot of dancing in this show.  I'm always interested in seeing what choreographers (Kate Stark) do with the original Bob Fosse dances.  Fosse's style is very eccentric and very difficult.  It appears that Stark has combined original choreography with a touch of Fosse to overall good effect.  The dancing is energetic (frenetic at times) and effectively moves the story along.
With no curtain, the Incline set designers led by Brett Bowling have perfected the art of multisided set pieces which are turned to create a new scene.  Most of the scenes are the Boyd's living room and the team's locker room.  The lighting was mostly effective although it appears they missed a lighting cue at the end of the first act.
There are a few unique sound effects by Denny Reed including the sound of a batted ball.  Also, they have recorded the voices of Pete Rose (who plays a disembodied Baseball Commissioner) and Marty Brennaman doing a brief play-by-play of the fictional final season game between the Senators and the Yankees.  There is also a joke told at Rose's expense.
So lace up your cleats, grab your ball cap and glove and steal your way down to the Incline for the highly entertaining show Damn Yankees continuing through June 18.
Quickstepping through Falcon Theatre's Master Harold… And the Boys
Review by Alan Jozwiak of Master Harold…and the Boys: Falcon Theatre
These days, ballroom dancing seems reserved for reality television shows like Dancing with the Stars—something that ordinary people do not participate in.  However, learning the quickstep forms part of the basic storyline for Athol Fugard's masterpiece Master Harold…And the Boys.
Set in South Africa Tea Room during a rainy afternoon in 1950, Master Harold discusses the trials and tribulations of Hally (Rupert Daniel Spraul), who is having problems with his alcoholic father and enabling mother.  Listening to Hally's woes are the servants in the tea room, Willie (Deondra Kamau Means) and Sam (Ken Early).  Both Willie and Sam are avid ballroom dancers and are practicing for the upcoming dancing competition, much to the consternation of Hally.  They are have to deal with the rules of apartheid or the strict racial segregation practices that went into effect in 1948.
This production had some of the best acting out of any of the Falcon Theatre productions this season.  Director and Producer Ted Weil, fresh off of his acting success in Falcon's Rabbit Hole, did an amazing job with his cast to produce a play that moves slowly and deliberately to its unexpected climax.  Weil allows his actors to shine and find their own voices within the characters—something that each cast member does to perfection.
Spraul's Hally was simply outstanding—both entirely believable and completely compelling to watch.  Hally goes through a huge range of emotions within this short play and Spraul was able to go from being playful and nostalgic to despairing and hateful swiftly and effortlessly.  A CCM Acting senior this coming academic year, Spraul is an actor to watch out for in the coming theater season.  Already, he is treading the boards around town, having done a fine job in Clifton Performance Theater's Small Engine Repair last month.
Similarly, Early's Sam was almost like watching a master class in acting.  Early is a master at how to play quiet dignity and restraint while under duress.  In playing Sam, Early is deftly able to articulate the problems that Sam has in facing Hally while still maintaining his character's dignity.  It is a delicate balancing act that Early accomplishes beautifully.
Rounding out this trio of actors is Means's portrayal of Willie.  This is perhaps the most difficult role in the play to perform because Willie's lines are mostly in the beginning and at the end of the play.  In the middle, he has to play the role of the Greek Chorus listening and responding to the stories bandied about by Sam and Hally.  Means does this job exceedingly well.  We don't forget that Means is there when he is not speaking, but Means serves to support the other characters as they flow in and out of different stories and memories.
In short, this was an amazing production of a play that needs to be seen by the greater Cincinnati theater-going public.  It is worth the time and energy to take this ninety minute journey into the lives of these three characters.  Master Harold…And the Boys only runs for one more weekend, Thursday May 18 to Saturday May 20, 2017 at the Monmouth Theater in Newport.  Ticket information can be found on Falcon's website http://falcontheater.net.
Growing up is Hard for Master Harold a Struggle Well Portrayed on Falcon's Stage
Review by Ken Stern of Master Harold…and the Boys: Falcon Theatre
In the best of all worlds, in an ideal setting, life is hard enough for teenagers growing into maturity, reaching towards their authentic adult human self. In the real world, fathers are crippled, physically and mentally as war veterans, ruined by alcohol, and shrunken by acquiescing to apartheid. That is true for us looking in the mirror or looking at 1950 Port Elizabeth, South Africa through the lens of playwright Athol Fugard's 1982 Tony winning play, on stage at the Falcon Theatre through May 20th.
Go see "Master Harold" . . . And the Boys for a look into the past. See it for our present moment. See it for the production and the strong performances of the ensemble cast.
The lights come up on Willie (Deondra Means) and Sam (Ken Early), impeccably dressed in white suit coats and shirts and black pants and ties, who are employees killing time in a tea room devoid of customers on a rainy afternoon. They're long time buds, middle aged, regular Joes, Willie dreaming of a trophy in the upcoming regional dance contest. Sam helps, coaching on dance steps ("Look like you're enjoying it." Suffering Willie: "I wasn't"), and advising on love and marriage: "Don't hit your wife if you want her to be your dance partner." There is gentle humor between these two friends, and the audience laughed on cue. These men care for each other. They have been friends for a long time.
Deondra Means' Willie is a plain, working-class-hero type of guy. Means' performance is as solid as the character he plays, and being human, offers a humorous dimension. He was appreciated by the audience.
Soon Hally (Rupert Spraul), enters. A high school senior, in dark blue blazer and a tie, he is the son of the tea room's owner, an Afrikaaner, white, and also long acquainted with Willie and Sam. Listen as well as watch closely, for this play is filled more with ideas than action. The relationships are what matter.
Spraul glides in, at home in his mother's store. He is smooth, verbally and physically agile, confident, the epitome of white privilege. Did that term exist in 1950? He is youthful, exuberant. Spraul's performance, along with his mop of hair that he occasionally pushes off his forehead, is pitch perfect, including the accent. Credit dialect coach Kate Glasheen for so solidly placing the audience in South Africa through her work with the cast.
Getting ready for exams, drafting a writing assignment, Hally bubbles over with his classroom knowledge. He quizzes Sam on "men of magnitude," Hally's are thinkers, scientists: Darwin, Einstein. Hally has obviously been sharing his lessons with Sam for years. While Sam doesn't have a formal education, he is quietly undaunted, naming Lincoln and Gandhi as men of magnitude, though Hally dismisses each's accomplishments.
The conversation soon makes it clear that Hally has been raised as much by Willie and Sam, as Hally recounts visits to their servants' quarters as a boy. Early's Sam has a quiet dignity, and the solidness from knowing and trusting one's self. Sam is a teacher and mentor as much as a father, quietly challenging and coaching Hally to consider higher, rather than lower options.
Hally's parents, while not present, are influential characters. His mom called before the play opened, and Hally's first question is about his dad, in the hospital, again, a war amputee and also an alcoholic. Repeated calls from mom confirm that she is bringing the father home. Her last call does more than interrupt the afternoon's mood: Hally is transformed. Without any outward notice, Hally has made a monumental decision. While critical, and furious with his father's physical and emotional debilitations, Hally embraces his father, and the status quo of apartheid South Africa.
He instructs Sam that from now on he is to address him as "Master Harold." This is a direct challenge to Sam, and their close, historic relationship. Sam grasps the magnitude of the moment and quietly warns Hally "If you make me say it once, I'll never call you anything else again." Even as Sam challenges Hally, he works to save Hally's humanity. A tense scene grows tenser as Hally struggles to choose between his father and his friend, the idealistic hopes of youth and the reality of 1950 South Africa.
But, good father that Sam is, he gives Hally another chance. Youth that he is, Hally is not able to grow into the moment. Changing the future starts with self-made changes. And, if any of us are not up for it, we walk away.
Sam and Willie? They entered dancing. At the end, their steps are in unison. They know the song and the dance.
Ted Weil, director, producer, lighting and set designer and constructor, Falcon's jack of all trades, has once again superbly led and supported a production into its realization on the Falcon stage.
Performances are Thursday through Saturday through May 20th at 8:00 PM at the Falcon Theatre, 636 Monmouth Street, Newport, Kentucky 41071; Box Office: 513-479-6783. For more information, go to falcontheater.net.
Falcon Faces the Repercussions of Racism in Master Harold…And the Boys
Review by Laurel Humes of Master Harold…And the Boys: Falcon Theatre
Racism – personal and institutional – is explored in Falcon Theatre's excellent production of Athol Fugard's acclaimed play Master Harold …And the Boys.
It is 1950 in Port Elizabeth, South Africa. Apartheid, the country's system of legal racial segregation and discrimination, had formally begun in 1948, and would continue until 1991. Fugard's play was produced in 1982 on Broadway – initially banned in South Africa.
Those facts are important as background, because Master Harold is not a history lesson. At first, you would hardly guess there's a dark cloud of legal racism hanging over the lives of the three characters.
Willie (Deondra Kamau Means) and Sam (Ken Early) work at the tea room owned by 17-year-old Hally's (Rupert Daniel Spraul) parents. Willie and Sam are middle-aged black men. Hally – the Master Harold of the play's title – is white. Willie and especially Sam have cared for Hally his whole life.
The entire play takes place on a rainy afternoon when Hally returns from school. Much of the conversation is a warm reminiscence between Sam and Hally – when they flew a kite together, the schoolwork they've always done together. And the time Sam helped Hally rescue his publicly drunk father.
Sam is clearly the father figure to Hally, whose own war-injured, alcoholic father is currently in the hospital. But in a series of phone calls from his mother, Hally learns his father is coming home. Now the drinking, fighting and constant caregiving will resume.
That is the emotional turning point of the play. Hally has no power over his own circumstances. But, just because he is white in 1950 in South Africa, he has power over Sam. Hally turns his anger on Sam, with words and then a hateful gesture that produces a gasp from the audience.
The actors in Falcon's Master Harold are superb. Spraul, still an acting student at CCM, more than holds his own with the more experienced Early and Means. The role encompasses a range of adolescent but real emotions, from cocky to frightened to furious. Spraul makes them all believable.
Early plays Sam with dignity and love. He brings the audience with him as he experiences shock, hurt and his own anger when Hally turns on him. We see his internal struggle to move past the hateful encounter toward – maybe – reconciliation.
The playwright must have known his audiences would need some comic relief, so he created Willie. Means makes the most of the physical and scripted comedy he is given. He also shows us a 1950's South African man who is always aware of his "place" – he is the one who continually addresses Hally as Master Harold.
The May 11 show was unexpectedly special, as director Ted Weil arranged for pre-show remarks by Dr. Eric Jackson, associate professor of history at Northern Kentucky University. Dr. Jackson was joined post-show by the cast, with audience members also invited to join the discussion. Since that was a one-night-only event, I continue to urge Falcon to include director's notes in its program in the belief that an educated audience is a better one.
Master Harold … And the Boys continues at Falcon Theatre, 636 Monmouth St., Newport, through May 20. Go to www.falcontheatre.net for ticket information.
CSC's The Tempest Plays With Magic And Moving On
Review by Liz Eichler of The Tempest: Cincinnati Shakespeare Company
There are many reasons you should get to Shakespeare's The Tempest, playing through May 20 at Cincinnati Shakespeare Company. Yes, it is their last show on Race Street, before they move into their beautiful new home in Washington Park, but above these sentimental reasons, it is a clear and marvelous telling of Shakespeare's tale of love, magic, and forgiveness.
The directors' concept is treating the stage as a stage, the actors as players, and cover them with the materials of theatricality. Muslin, the fabric of first drafts of costumes, as well as sails, is featured. The walls are covered with it and the sea is built with it. The solitary "ghost lamp" starts and ends the play, reminding us we are in a theatre. Nick Rose enters and crosses, showing us a book of Shakespeare's plays, a wink, and a smile. And then we are off with a bang.
Rose becomes Prospero, and has fun with the character. He talks to us, the audience. He lets us in on his plot to find his daughter a worthy husband (Crystian Wilsthire is a charming prince Ferdinand). He shows a tenderness to daughter Miranda (the sweet Aiden Sims) and powerful connection with his servant, the sprite Ariel. Kaitlin McWethy as Ariel has imbued Ariel with a fluidness and light.  Her physical transformation transfixes the audience. Prospero's other servant is Caliban, played close to the ground by Geoffrey Warren Barnes II, an earthly lizard-like beast.
The Tempest is a play about the magical Prospero, who conjures up a storm to lure a boat carrying key players that not only removed his dukedom, but forced him and his daughter to spend the last 12 years on this semi-deserted island. Washed ashore are King Alonso (Jim Hopkins), the usurping Duke Antonia (Kelly Mengelkoch), advisor Gonzalo (Paul Riopelle), and plotter Sebastian (Kyle Brumley). Also on the boat are assorted mariners, the jester Trinculo (Justin McCombs), and the drunken butler, Stephano (Billy Chace).  McCombs and Chace, once again, demonstrate why they are Cincinnati's reigning comedy kings.
The story and actors come together because of the magical direction of the team of Sara Clark, Jeremy Dubin and Brian Isaac Phillips.  They spin this tale to make it accessible to audiences old and young, for example, helping Prospero conjure up characters to punctuate the exposition. We understand the different stories, who is who and why.  The directors highlight the enchantments on the island, never letting us forget there is magic, especially through the use of light, music, and movement.  Kudos to illusionists Doug Borntrager (projections and sound), and Justen N. Locke (lighting).
The theme of the play is forgiveness. Starting afresh. Moving on. Celebrating who we are now, and dancing for hope of the future.  Was this Race Street home their muslin mock-up, the rough draft for the wonders to come? "O, brave new world!" Make sure you are one of the "beauteous" people to say good bye to this space and join them in the new. Call now for tickets 513-381-2273. Seats are selling fast, www.cincyshakes.com.
CSC's Tempest Ends Its Season with a Bang Before Heading to a Brave New World
Review by Doug Iden of The Tempest: Cincinnati Shakespeare Company
The Cincinnati Shakespeare Company triumphantly opened its final show at its current Race Street location in tempestuous fashion with one of Shakespeare's last plays, The Tempest.  The play tells the story of sorcerer Prospero (Nicholas Rose), the rightful Duke of Milan, who is set adrift with his daughter Miranda (Aiden Sims) and, years later, plots revenge against his usurpers.  Using magic, he conjures an immense storm and tricks his nemesis brother (re-named Antonia and played by Kelly Mengelkoch) and King of Naples Alonso (Jim Hopkins) into thinking that they have been marooned on the island as well.  The dispenser of his magical charms is sprite Ariel (played intriguingly by Caitlin McWethy) who shadows most of the characters unseen by all but Prospero.  Three interwoven stories are told with Prospero playing matchmaker with Miranda and Ferdinand (Alonso's son played by Crystian Wiltshire).  His ministrations succeed admirably.  In the second story, deformed island native Caliban (a slave of Prospero portrayed mischievously by Geoffrey Warren Barnes II) plots with jester Trinculo (Justin McCombs) and drunken butler Stephano (Billy Chace) to perform a coup against Prospero.  The third scenario details Sebastian (Kyle Brumley) and Antonia's attempt to replace Alonso as the king.  Ariel, at Prospero's bidding, foils all of the coup attempts and, eventually, earns her freedom.
The Shakespeare Company has an advantage in that it is a resident group of actors who work together year round which is reflected in the ease with which they interact.  There are some outstanding performances including Rose as Prospero who is both a character and a narrator and McWethy as Ariel who is part sprite, part enchantress and part scene stealer.  Barnes has an interesting take on Caliban with reptilian mannerisms and an undefinable accent.  But the stage really lights up when McCombs (as Trinculo) and Chace (Stephano) cavort in various states of drunkenness, often in contrast with Caliban's monstrosity.  All are directed by the triumvirate of Sara Clark, Jeremy Dubin and Brian Isaac Phillips.
Identified variously as a Romance and/or a Comedy, The Tempest boasts villainous action, romantic love and slapstick buffoonery in equal proportions.  This mixture makes this an unusual and interesting Shakespearian play.
But the really interesting aspect of the show is the staging (designed by Shannon Robert) which is a combination of modern technology and some very old-fashioned theatrical tricks such as using sheets manipulated by actors to simulate waves.  As you walk into the theater, there is a bare stage flanked by shabby sail material against the aisle walls.  The play opens with a single light and recordings of numerous well-known Shakespearean quotes from other shows.  Suddenly, the storm starts and we see projections of waves on the walls accompanied by the clash of thunder and actors simulating the rocking of the ship.  Throughout the show, we see numerous surreal projections adding to the eeriness and effective use of many small lights hanging from the ceiling above the audience, all designed and controlled by Justen Locke.  At the end of the play, the actors strip the canvas from the walls and the play reverts to a black stage with the actors out of costume and in street clothes.  It seems to be an ending to the era of the current theater.
So don't let a little Stormy Weather inhibit you and enjoy The Tempest, presented by the Cincinnati Shakespeare Company through May 20.
Covedale Gloriously Revives Musical Favorite My Fair Lady
Review by Doug Iden of My Fair Lady: Covedale Theatre
"I have often walked down this street before" and the journey has always been glorious as My Fair Lady opened at the Covedale Theater. Based upon George Bernard Shaw's social satire Pygmalion, My Fair Lady is considered by many (myself included) to be one of the greatest musicals every written. The story shows Professor Henry Higgins' attempt to transform a cockney flower girl (Eliza Doolittle) into a refined, high society lady by changing her dialect and her manner of speech. During the process, both Higgins and Doolittle are transformed in ways that neither could imagine.
Linguist Higgins (Brent Alan Burington), a product of the British caste system, is an arrogant, self-absorbed bachelor who is wedded to his work and views Eliza only as a challenge and not as a person. Eliza (Sarah Viola) is initially awed by the opulence and privileges of the upper class but, gradually, finds her voice and her own inner strength and eventually stands up to Higgins' bullying tactics.
This is as perfectly integrated musical with Alan Jay Lerner's clever and insightful lyrics propelling the story accompanied by Frederick Loewe's melodic score. The play starts with the song "Why Can't the English" in which Higgins decries the various English dialects which keep people in their societal niches. All of Higgins' songs are patter songs which were originally "sung" by non-singer Rex Harrison. We hear the thoughts of the primary characters through song soliloquies including "I'm an Ordinary Man", "Just You Wait" and "Hymn to Him". This is one of the best scores ever written for a musical.
Burington portrays Higgins as a slightly more aggressive and boisterous character than we are used to seeing and it works well because Viola's Eliza is also more assertive, so the battle of wills takes on a delicious fervor.   Viola is excellent as Eliza with an extraordinary voice singing "I Could Have Danced All Night", one of the big hits of the show, and "Wouldn't It Be Loverly?" among others. Another highlight is local veteran Matt Dentino portraying Alfred Doolittle, Eliza's hedonistic father. Dentino steals every scene in which he appears with over the top renditions of the extraordinarily clever "With a Little Bit of Luck" and the ironically rueful "I'm Getting Married in the Morning". Dave Wilson plays a besotted and innocently naïve Freddy Eynsford-Hill who slavers in his devotion to Eliza by singing the classic "On the Street Where You Live" in a pleasant, tenor voice. Gregory Bossler plays Higgins' friend Colonel Pickering who functions both as a co-conspirator with Higgins and an ameliorating counterpart for Eliza. The large ensemble cast, who variously play cockney laborers and upper class snobs, is universally good with a few playing supporting characters such as Brandon Bentley (Zoltan Karpathy) and Mary Puetz (Mrs. Higgins). All are good singers.
Maggie Perrino has choreographed simple but alternately energetic and elegant dance routines ranging from the cockney workers to the sumptuous Embassy waltz number.
The set is detailed, functional and effective. Three set pieces (designed by Brett Bowling) have faces which, when turned by one-third, represent Higgins' study, a street scene and some other interiors. There is a lot of detail in Higgin's study with book-lined walls, a staircase, a second floor and a workspace including elocution and recording equipment, a bust of Shakespeare and several medical charts.
Caren Young must have busted the budget with an array of costumes including working clothes, upper class suits and dresses, formal dance apparel and several gorgeous gowns worn by Eliza. Due to the large cast, there are a lot of costumes.
Tim Perrino (the Covedale's Artistic Director) directs his self-proclaimed favorite musical with fast moving abandon, drawing good performances from the principal leads. My only quibble is that the horn section of the band may need more practice.
On a personal note, My Fair Lady was the first professional musical I ever saw and, at a New Year's Eve matinee at the Shubert Theater in Chicago, I fell in love with musicals in general and My Fair Lady in particular.
So, if you want to see a good production of a marvelous musical, Dance all Night on the Street Where the Covedale Lives continuing through May 21. Tickets are available by calling 513-241-6550 or going to the Covedale website, www.cincinnatilandmarkproductions.com/ccpa
Have a Whopper, Pull Out the Stopper, and Get to the Covedale's My Fair Lady on Time
Review by Jack Crumley of My Fair Lady: Covedale Center for the Performing Arts
It's the end of the season, and Tim Perrino & Co are going out on a high note. Featuring some of the best songs in American musical theatre history, My Fair Lady is easily the most ambitious production at Covedale Center for the Performing Arts this year.
My Fair Lady boasts one of the best Broadway pedigrees, ever. Originally a play by George Bernard Shaw, the show as a musical languished in development for years before Lerner and Loewe were able to adapt it properly. It's the show Rex Harrison won his second Tony for and it's also where a young Julie Andrews was discovered.
For Covedale audiences, Brent Alan Burington commands in the role of Henry Higgins, the brilliant-but-cold phonetics expert trying to train Eliza Doolittle to act and speak like a woman of high society. Sarah Viola returns to the Covedale stage as Eliza, and brings not only her elegant, powerful singing voice, but also her raucous, Cockney-accented shrieks. Higgins' cohort and the source of Doolittle's moral support is Colonel Pickering, played by Gregory Bossler. His good-natured demeanor and solid comedic timing are a perfect balance for Higgins' all-consuming drive and lack of social grace.
As strong as the lead actors are, the entire cast deserves credit for how well they work together. It's only fitting that a show about the beauty and power of the spoken word features a cast with such extraordinary voices. Burington, Viola, and Bossler each have a unique tone, but they all blend very well with the ensemble members of the cast during group numbers like "Wouldn't It Be Loverly?" and "You Did It." The ensemble should be praised for all playing charming, unique background characters that never go so far as to steal interest away from the main action.
Special recognition goes to Matt Dentino. No one is having more fun than he is playing Eliza's father, Alfred Doolittle. He's a pleasure to watch cut loose singing "With a Little Bit of Luck" and "Get Me to the Church on Time," and he steals every scene he's in.
A somewhat regular issue at Covedale can be the acoustics, but there were no problems with sound whatsoever on My Fair Lady's opening night. Every cast member could be understood, whether they had a microphone or not. It's an impressive feat given the sheer volume of dialogue and lyrics the cast members have to deliver. Burington's Higgins has the lion's share, and he handled it all quite confidently. Viola has the task of both speaking and singing in multiple accents over the course of the show, and it was fun to hear how she transformed her voice from an obnoxious, ignorant flower girl into a classy, self-assured woman. The live band led by Xan Jeffery is a welcome addition for this show as well. Again, the sound quality was great and there was never a time when the words were drowned out.
Covedale's My Fair Lady is impressive beyond the cast and how eloquently they speak and sing. Brett Bowling's set is his best work of the year. The pieces and flats that take the audience to the streets of Edwardian London look almost like 3D pencil sketches. They give the stage a storybook feel, and it helps focus attention on the actors. There's a great contrast when we travel inside the home of Henry Higgins. Two of the side set pieces rotate and the flats slide open to reveal a more detail-oriented space. From the extensive bookshelves to the complicated, practically steampunk-style audio equipment, it's like stepping inside Higgins' head. Another rotation and the addition of some trellises turn the stage into opening day at the Ascot Gavotte. The set for the embassy ball at the end of Act I isn't extremely opulent, but one of the rotating set pieces has a staircase that impressively slides out and into place for Eliza to descend and command the room.
Also to be praised is the costume work by Caren Young and Heather McKernan. The tan suit that Higgins wears for most of the show is spot on. Eliza's flower girl dress is obviously reminiscent of what Audrey Hepburn wore in the film, and her dress at the Ascot is stunning. The ensemble cast has to switch looks from poor laborers to butlers and maids to high society, and none of their looks ever felt out of place.
There was no one in the audience left wanting by the end. This production is sponsored by Arnold and Mary Jo Barnett, and they were in attendance on opening night. Within seconds of the start of curtain call, they were both on their feet, and the rest of the audience soon followed. I've spent the 2017 season sitting next to the same group of three ladies, regular season ticket holders. They all agreed that Covedale saved the best for last.
My Fair Lady plays Thursdays through Sundays until May 21. Tickets are available by calling 513-241-6550 or going to the Covedale website, www.cincinnatilandmarkproductions.com/ccpa
Sound and Fury are Part of Listening for the Light at Know Theatre
Review by Ken Stern of Listen for the Light: Know Theatre
What's more improbable than history, the actual lives lived in the past? Who would believe a story of a visiting angel telling a man to dig up gold plates that have holy text inscribed on them and creating a whole new religion from that? That is the truth Mormons tell of Joseph Smith and his starting their religious movement.
It is hard to believe that Joseph Smith would embrace an escaped slave, invite him to be one of his 17 apostles and make him a trusted adviser. That is not historical. It is the tale Kara Lee Corthron spins in her play, Listen for the Light, playing at the Know Theatre through May 13.
See this world premiere production and admire the strong acting talent Cincinnati theatres have nourished. Outstanding performances are delivered by Darnell Pierre Benjamin as Eli, Josh Katawick as Joseph, and Tess Talbot as Lula. The three are an ensemble cast, and each play multiple roles, but they shine as their main characters. Tamara Winter deserves credit for her direction. She does much more than keep the cast in motion.
Eli is an escaped slave in the Frederick Douglass mold: smart, thoughtful, religious, ethical, striving for justice, and burdened by the personal tragedy of the deaths of his wife and daughter, who died on their journey north. His is a quiet power, expressed in facial expressions and gestures.
Katawick's Smith has a fierce integrity, even as he questions his own faith and wonders if he is a prophet or a fraud. Like Benjamin, Katawick twists up his face as he looks skyward, imploring God. His is a more explosive and spirited performance, but it is always authentic to the character portrayed.
Talbot's Lula, a 17 year old pioneer daughter, is an animated, quick talking, wear-her-heart-and-her-head-on-her sleeve virgin. Tapped by Smith to be his 43rd wife, Smith has entrusted her to Eli's care until the spirit of the lord moves in her to accept Smith's proposal. But while the backwoods teen is illiterate, she has as much integrity as her fellow protagonists. She is truly waiting for God's voice to tell her He wants her to be Smith's bride. And the voice doesn't come. Not in Act I.
The action takes place in and around a sturdy, well planked interior of a log cabin, alternatively Eli's home and the town store. Pegs adorn the walls from which costume changes hang. This seems shoehorned into the left half of the stage. The right half is open, the back wall serving as a screen for grainy black and white film clips that match the scene. These clips are as varied as Eli's baby and a wolf in the wild. (Doug Borntrager designed sound and video.)
While Lula awaits word from above, the people of Nauvoo, Illinois are about to run the Mormons out of town. Smith catalyzes this action by ordering his followers to destroy a printing press and torch the building. That fire washes over the audience, courtesy of Andrew Hungerford's usual stellar lighting design. Smith eventually is taken to jail, a death sentence when a mob breaks in. The blood appearing on his shirt is a great touch made possible by designers Sarah Beth Hall (scenic and prop design) and Noelle Wedig (costume design).
This all sounds serious, and is, but there are plenty of opportunities to laugh. Among the many minor characters are two of Smith's wives, played by Benjamn and Katawick. Their head-to-toe brown cloaks, heads covered by bonnets, cannot hide their height or maleness. Their appearances prime the audience to smile, which is coached into laughter by the wives' conversations and caricature actions. Playwright Corthron may need to rethink the balance of breaking tension with distracting attention from the plot.
But credit Corthron for weaving miracles into the script and the design team for creating the expanding light and swirling smoke, which pulls Lula out of the cabin, making the miracle real. That is only one of the production's miracles. But this story, which is religious for each of its main characters in ways uniquely authentic to each, has Eli saved from a dire fate saved by a less obvious miracle.
In a flashback near the end, Smith baptizes Eli, and, symbolically, his wife and daughter, telling Eli "They're saved. And so are you. [a pause] You don't believe me." Eli's reply: "I trust no man." And Joseph's response: "Trust God. If I give you nothing else in this life, I want to give you hope."
The real Joseph Smith's creation of a religious movement must have come from his ability to give people hope even as he spun tales of angels and buried golden tablets. Corthron is true to that version of the Mormon founder. Her characters, like real people are battered. They also hold on to hope. The entire cast and production crew is true to the vision presented in this world premiere.
The show continues through May 13, Wednesdays through Sundays (matinee performances), A pre-show brunch is an option on April 30th. Tickets can be purchased at 513-300-KNOW or knowtheatre.org.
CCM's Very Dumb Kids Are Brilliant
Review by Alan Jozwiak of Very Dumb Kids: CCM Acting
Friends gathered over the Fourth of July weekend.  It is a time when relationships are tested, secrets revealed, and decisions made.  This particular holiday weekend has been the backdrop for many plays, such as Terrance McNally's Lips Together, Teeth Apart and Lanford Wilson's Talley Trilogy.
A Fourth of July weekend spent in an old farmhouse in western Massachusetts is the setting for a bold new venture from CCM Acting (formerly CCM Drama), New York playwright Gracie Gardner's Very Dumb Kids.
            Specifically commissioned for CCM Acting (the first such commission by CCM Acting), this play had a workshop production last year around this time in which a very different version of the script was presented.  Much to Gardner's credit, she did a major script overhaul by streamlining dialogue and rearranging scenes to make it easier to follow the progression of the different characters.
Very Dumb Kids follows a group of twenty-something friends recently graduated from college who deal with the death of their friend Sarah (Lauren Carter), who dies unexpectedly while on a mission trip to Libya.  Left to pick up the pieces are her friends, the mourning Phoebe (Jacqueline Daaleman), her absent boyfriend Austin (Isaac Hickson-Young), and an assorted cast of characters who deal with the death in different ways.
As befits an ensemble piece, all the actors did an outstanding job working off of each other and acting like they've been friends for years—which they have been, since they have been in CCM classes and shows together for years.
Jacqueline Daaleman played the part of the needy and neurotic Phoebe to perfection, who is devastated by the loss of her close friend Sarah.  Lauren Carter was strong as both Sarah and Carrie, the "very dumb kid" killed in Libya and the girl Sarah's boyfriend Austin becomes engaged to after Sarah's death.  Also strong was Carter Lacava as Peter, the hapless and eye-infected Latin teacher, and Nicholas Heffelfinger as Nolan, the opportunist trying to hit up his friends for money to fund his app.
Director Brant Russell does a fine job guiding the actors through the overlapping dialogue and missed opportunities which these characters continually find themselves in.
Russell did an especially fine job with the opening scene in which all the actors are speaking at different times over the dining room table.  It was a bit of a challenge to figure out relationships, but that was the point behind Gardner's overlapping dialogue (an earlier draft was written on an Excel spreadsheet to keep straight when actors were supposed to overlap their lines).  Russell turns this seeming cachophony into coherence—a pretty mean feat.
The scenic designer, CCM student Karly Hasselfeld, created a compelling set of rooms which function as the front rooms and bedrooms of the farm house.  The combination of faded weather-beaten décor acted as the perfect backdrop for what happens onstage.
Overall, Very Dumb Kids was an enjoyable evening of theater.  My only complaint was its length.  Running at 1 hour 45 minutes, it felt like it could have had an intermission without losing any of its momentum.  A special treat was that the playwright herself was present at the opening performance Thursday evening and had a talkback after that performance.
For more information on CCM Acting, go to http://ccm.uc.edu/theatre/drama.html. and You can find information on next season's CCM Acting productions, as well as other information related to the program.
NKU's Human Services Skewers Our Fetish with Fame
Review by Doug Iden of Human Services: NKU Year End Series
The Y.E.S. (Year End Series) Festival continued at NKU with the world premiere presentation of Tom Baum's Human Services.  Alternating with the other YES Festival participant Unfrozen, Human Services tells the story of a spoiled, shallow female rock star Kelsey (played by Madison Pullins) who is arrested for drug possession and sent to a rehabilitation clinic.
The play opens with a phone dialogue between Kelsey and Momma (Alexa Fangman) and we find out quickly why Kelsey is a hedonistic brat–because her mother is the same.  Exchanging insipid air kisses and sophomoric declarations of love, Momma basks in her role as the archetypal stage mother who is infatuated with fame, glory, self-aggrandizement and money.
Presented In the intimate Strauss Theater at NKU, the play castigates the obsession which society has with celebrities.  In the absence of "royalty", we deify air-head Barbie dolls who can't sing a note outside of a recording studio.  But the story is also about maturation and redemption, at least on the part of Kelsey.
When our egotistical rock star arrives at Aspiration House, she is greeted by an ensemble of recovering eccentrics including a transvestite (Daisy, played by Jacob Miller), a woman who sees aliens behind every bush (Carmen, portrayed by Emily Tortorella) and Baxter (Brandon Critchfield), a homeless man who may yet be savable.  I would describe this play as a "dramedy" since there is significant campy, satiric comedy overlaying some very serious content.  But, above all, it is the story of relationships and how, eventually, most of the characters work together to try to improve themselves and their situations.
Leading the ensemble rehab group is Jacob Miller as the ebullient transvestite, Daisy, who steals virtually every scene they are in.  Daisy is an outrageous but kind-hearted soul who mentors Kelsey and tries to steer her though the labyrinthine bureaucracy of the center and with her fellow eccentrics.  Daisy can also be jealous, however, and reacts strongly to her perception of unwanted attention shown by others towards Kelsey.  Also effective in a mostly comedic role is Emily Tortorella as Carmen, who has a hilarious scene when she mistakes some bug exterminators dressed in decontamination suits as alien spacemen.  Critchfield imbues Baxter with a level of sanity and dignity and shows the potential for real recovery.  His equanimity contrasts with the craziness surrounding him.  As polar opposites of the inmates, Kearston Hawkins-Johnson plays the institution's boss as imperious and officious, while her chief psychiatrist Rachel (Emily Borst) is rather naïve but is genuinely trying to help her clients.  A latecomer, Wyatt (Matt Dreyer), plays a significant role in the story.  And did I mention that there is a stalker?
Another target of Baum's derision is the paparazzi who try to invade Kelsey's privacy, first at home and then in the rehab facility.  Playing a bit like two of the Three Stooges, Milo (Matt Nassida) and Roman (Landis Helwig) assume various guises (including cops and the above mentioned exterminators) in their quest to get pictures and dirt for the publicity crazed media.
But the story would not work without the believable transition of Kelsey from narcissist to a caring and involved person.  Interestingly, that transition is manifested by a role reversal with her mother when Kelsey becomes the parent and Momma the child.  Kelsey also, in secret, provides both Baxter and Daisy with the financial opportunities to succeed.  Pullins does the transition admirably.
One caution is that play is replete with raw language which, at times, seems gratuitous.
Director Michael Hatton controls the insanity and choreographs the rapid entrances and exits well in the small theater space.  The costumes (Margo Birdwhistell) are appropriate for the characters including button-down suits for the professional women and a series of dresses for the tall, statuesque Daisy (Miller).  Despite an early glitch which required a re-start of the play, the lighting and graphics (William Milligan) effectively showed a transition on the one-set stage designed by Kaitlin Findley.
Human Services with its counterpart Unfrozen continue at NKU through April 30.
Listen for the Light Shines at Know Theatre
Review by Sheldon Polonsky of Listen for the Light: Know Theatre
In Roger Miller's Big River, a wonderful musical adaptation of Huckleberry Finn, there is a song that permeates the production: "Waitin' for the Light to Shine," in which Huck sings, in his own simple way, about trying to find his personal spiritual and moral enlightenment. As I watched the thought-provoking world premiere of playwright Kara Lee Corthron's Listen For the Light, now playing at the Know Theatre, I could not get that song out of my head, nor avoid thinking about the many associations the play has with with Huckleberry Finn. That her play evokes the same spirit and authenticity as Twain's American classic is only to its credit.
Like Huckleberry Finn, Listen for the Light takes place in the pre-Civil War American midwest–a Mormon enclave in Nauvoo, Illinois, in 1844. Its three main characters, each in their own way, are also "waiting for the light to shine". Lula, age seventeen, has been selected to be the 44th wife of "the Prophet", Mormon founder Joseph Smith, but has her doubts and is separated from the community by Smith and forced to pray until she gets a sign from God and willingly accepts the marriage. Like Huck, Lulu is uneducated, unspoiled and unfiltered, and her natural moral understanding allows her to spot the fallacies and facades of organized religion a mile away. Smith selects Eli to be her temporary guard, who like Twain's Jim is a runaway slave, but, unlike Jim, is erudite and talented both in education and carpentry. Although they are worlds apart, Eli and Lulu gain a mutual respect, understanding, and affection. Eli, however, is waiting for his own revelation, both to ease the torment of the memories of his dead wife and daughter, and to find some way to bring moral clarity to the country in the form of abolition. Finally, there is Joseph Smith himself, embodying Twain's King and Duke, who despite some good intentions recognizes that he is at heart a charismatic charlatan, desperate for attention, and freely admits to himself that his many wives are a reflection of his own carnal failings (an "affliction") and not a sacrament. He, too, is waiting for the light, hoping to receive a true sign from God justifying his work which has been withheld up to now despite his pretensions.
These three characters are luminously portrayed by three veterans of the Cincinnati Shakespeare company and the Ensemble Theatre. Tess Talbot perfectly captures Lulu's exuberance and tempestuousness early on as well as her more tamed spirit in the second act. Darnell Pierre Benjamin, always a consistent Cincinnati artist, is equally compelling as Eli, whose well-controlled emotions mask a storm of self-doubt and anger below. Finally, there is Josh Katawick, as Joseph Smith, who has perhaps the heaviest burden to carry: a deeply flawed character who must nonetheless command some measure of the audience's respect and empathy. He does so with consummate skill and confidence. The trio are ably backed up by Tamara Winters' tight direction, an effective scenic design by Sarah Beth Hall, evocative costuming by Noelle Johnson, and intricate, subtle lighting and sound design by Andrew J. Hungerford and Doug Borntrager, respectively.
Kara Lee Corthron's script is at its best when it focuses on the thoughtful, authentic dialogue between the three main characters and their provocative self-reflection. Some additional theatrical devices were used which were, in my opinion, somewhat less effective. In addition to their main characters, each of the actors plays several other minor roles in some scenes. Often these were somewhat confusing, or at the very least distracting, and did not always seem essential to advancing the plot. For example, in a few scenes Benjamin and Katawick play two other of Smith's wives, and while amusing, broke the mood for me. If the other characters were absolutely necessary, I would have preferred some additional cast members playing the roles. Another device used by the play was a large video screen behind the action, which at times depicted props which were otherwise pantomimed by the actors (for example, a newspaper, a book, or a chair) and at other times displayed their imagination (Eli's vision of what his daughter would look like now, or Lula's fantasy of shooting a deer). I suppose the effect was meant to emphasize the idea that our perception shapes our reality. The videos (also created by Doug Borntrager) were certainly well-designed and eye-catching, but again, to me, detracted from the overall more genuine experience I was feeling. Other pyrotechnics used later in the production also seemed somewhat contrived and unnecessary.
My son, who was with me, commented after the show that he saw Joseph Smith's arrogance, his self-serving twisting of history and religious doctrine, and the Mormons' relentless migration west to be a microcosm of Manifest Destiny and American Exceptionalism, with all their negative connotations and repercussions. I suppose in some ways that analysis is justified. But then I thought about Huckleberry Finn again, and reflected that Twain's and Corthron's shared vision is more positive than that. I don't think it is too much of a spoiler to reveal that all three characters–even Joseph Smith–achieve some measure of redemption and revelation, both figurative and literal, by the end of the play. Fundamentally the message I took away from the play is that the American experience promises that, despite all our acknowledged flaws and moral failings, our idealism somehow still manages to find opportunities for hope, understanding, tolerance and enlightenment. I look forward to experience more of Corthron's vision in the future and I am grateful for the Know Theatre for letting me share in this one.
Listen for the Light continues through May 13. Tickets can be purchased at 513-300-KNOW or knowtheatre.org.
Listen for the Light, World Premiere at Know, is a Story of Transformation
Review by Liz Eichler of Listen for the Light: Know Theatre
Listen for the Light by Kara Lee Corthron is loosely based on stories surrounding the history of the Mormon religion, including a character based on Elijah Abel, a documented freeman, carpenter, and Mormon convert who lived in Cincinnati, Ohio, in the 1840's. The production at Know Theatre is not designed to be a documentary, but it is a fearless modern telling of the conflict of religion, race, and women's rights, and how dissimilar people can connect and positively influence others, despite their flaws. This play intrigued me, encouraging me to do more research on this often-misunderstood religion.
The three actors portray at least 10 characters, which "adds to the theatricality" of the piece according to author Corthron, who happened to be sitting next to me during the world premiere performance Friday at Know Theatre. Originally designed to be 7 actors, she considered a smaller cast and liked the results. The play is ably directed by Tamara Winters, Know's Associate Artistic Director.
The performances of all three actors (Darnell Pierre Benjamin, Josh Katawick, and Tess Talbot) are worth more than the ticket price. They embody three main characters: freeman Eli, Joseph Smith himself, founder and prophet of the Mormon religion, to his newest young bride, Lula. The three also embody other characters without gender or racial constraints. It is that process that is so incredible to watch. When Tess Talbot removes her hat and replaces her skirt, you witness a physical transformation, like watching a butterfly break from the cocoon and back again, fast forwarding and reversing. Talbot's character Lula is a sweet country girl, fidgeting, pacing, and restless to be free, confined in the cabin to pray and contemplate whether she's been called to be Smith's 44th wife (not a typo). She is guarded by stoic carpenter Eli (Benjamin) and develops a warm regard for him over her two-month captivity. He eventually shares his story with her, and in a more modern time, this may have been a love story. His race would make that unthinkable in the 1840's. Eli's motto "good is good, bad is bad" does not hold true for a man of his color, but he clings to his belief that God is good and he will receive his reward with Him in heaven. Katawick delivers a complex and admirable performance as Joseph Smith. We see his magnetism, and we see his failings. A man with no book smarts raising to such heights based on confidence, or as Eli says "I understand that your will is too strong to be anything else but right." Imagine.
The scenery design (Sarah Beth Hall) supports this performance, as it is a wooden cage, holding in the characters, and keeping some unsavory characters out. It allows us to see transformations. The lighting (Andrew J. Hungerford) and projections (Doug Borntrager) are a powerful force here, in fact another character all together. The musical interludes are "recomposed" by Borntrager, making it modern but familiar.
You will be moved by this play. Although the first act is stronger than the second, and not all of the monologues are successful, there is a lot of humor which keeps you interested in these characters. It also encourages contemplation of the boxes or cages in which many of us find ourselves–religious, gender, political or racial beliefs of our own or others. It forced me to research the characters and Mormonism in the US, and check in with a Mormon friend, who has been a testament to the strength of the religion for supporting clean living and strong family values. The author said she was inspired by the book Under the Banner of Heaven by Jon Krakauer, which explores the extremists in the LDS faith.   I'm not certain how well this will play with Mormons, as it focuses on Joseph Smith the flawed man, not the inspirational prophet and leader, but for people who are interested in a story of transformation, and want encouragement of how far we have come, it is inspiring. The show continues through May 13. Tickets can be purchased at 513-300-KNOW or knowtheatre.org.
Unfrozen, at NKU's Y.E.S., Will Melt Your Heart
Review by Doug Iden of Unfrozen: N.K.U Year End Series
NKU's bi-annual Y.E.S. (Year End Series) Festival opened with the world premiere of Mark Eisman's play Unfrozen. The play is a somewhat whimsical view of a family obsessed with competitive figure skating told from the viewpoint of the youngest daughter who can't stay upright on the ice. Obviously, this can lead to familial distress, exacerbated when Michelle (played beguilingly by freshman Catherine Young) discovers her true strength – Latin. Under the tutelage of her Latin teacher Mr. Pullman (Kevin Birdwhistell), Michelle is teamed with fellow student Joel (enthusiastically portrayed by Cale Wheeler) as a two-person Latin team which will eventually compete in a major competition. A major metaphor is the fact that Latin is a dead language which almost no one studies any more.
One issue with the play, however, is that, through a combination of under-spoken and unmiked actors and significant laughter from the predominately NKU student audience, it was difficult to understand some of the dialogue, and I failed to catch some of the characters' names, so I apologize ahead if I have misidentified any of the characters. The level of enunciation was excellent for some of the actors but inadequate for others. This is, basically, a funny play, but I'm sure that I missed some of the comedy.
To continue, Michelle feels somewhat rejected by her ice skating obsessed family and moves in with Joel's family, led by parents who have an enormous collection of decorative plates, under the impression that they are accumulating a fortune in collectibles. Father has quit his job as a teacher of Esperanto (another dead language) due to lack of interest by students and is now fully employed trying to promote his plate-centric avocation. Michelle has moved from one dysfunctional surreal family to another.
In her own family, Michelle's divorced mother is tutoring her other two children (as first a "pairs" couple and then an ice dancing group) and another girl, whom Michelle dubs "Princess Margaret (Ashley Martin), with little success. Her ex-husband Victor (Ray Dzhorgov) has returned to Russia after a lackluster skating career with his ex-wife. The emphasis on skating (to the detriment of their ongoing education) is creating a dead-end environment for the entire family.
Even though the above description may seem overly dramatic, the play unfolds in a charmingly light-hearted manner due to a combination of excellent, almost screwball comedy dialogue and sparse but clever staging. Because of the ice skating motif, the stage appears to be a giant rink with many of the actors simulating a skating shuffle while dancing around the area. Impressionistic mountains in the back add to the illusion. Scenes moving from Michelle's home to the school to Joel's home are all accomplished by changing the spotlight, moving some furniture and lowering some props or signage from the ceiling, all designed by Ronald Shaw. "Movement" was created by Margie Wiemann which is an unusual but appropriate title since there is a cross between simulated choreography and real dancing by the ice skating groups.
I was intrigued by the sometimes gentle, sometimes pointed spoof of competitive figure skating. Ashley Martin does a nice job of portraying the (deliberately) stereotypical skating diva with emphasis on makeup, hair and wardrobe. In one cute scene, Michelle must remove her normal teenage clothes because the closet is filled with dozens of glitzy, outrageous skating costumes designed by Rachel Alford. Overall, the direction by Mike King was very clever with the caveat about the actors' enunciation. Another interesting touch was Michelle's ongoing dream about being in Antarctica with a human-sized penguin (Erin Reynolds). Joel insists that he is the penguin that Michelle is dreaming about. Other members of the ensemble include McKenzie Reese (Teresa), Trase Milburn (Ben), Natalie Bellamy (Liz) and Chloe Price (Barbie).
But the play is carried by Catherine Young's depiction of Michelle. It is constructed with a lot of dialogue directed at the audience which seems to be the trend lately. Young is bright, energetic, outgoing and a sheer delight who has crafted a character in keeping with the whimsical nature of the play.
Unfrozen (which has multiple meanings in the play) is alternating with Human Services throughout the Y.E.S Festival at NKU.
Miami's Wild Party is One You Need to Go To
Review by Ken Stern of The Wild Party: Miami University
The Wild Party is going on this weekend and next up at Miami University's Gates-Abegglen Theatre in Oxford. If you like a swinging good time, boarding on debauchery, and insist on live music, dance, singing, and fisticuffs at your parties, then go. You won't be able to crash this party, but you can probably get a great seat to watch it up close. Do so.
If you enjoyed the excesses depicted in The Wolf of Wall Street, you will love The Wild Party. Set in the 1920s, the story's origin is a 1928 book length poem written by Joseph Moncure March, an American poet, journalist, and screenwriter. (Fun fact: the poem was banned in Boston because of its salacious content.) Its characters are vaudeville actors and their friends: other entertainers: clowns, dancers, boxers, and assorted followers, and hookers, Sometimes a party is just a party: the plot is entirely personal, about relationships and what to do when facing up to one that long ago went bad.
Andrew Lippa's musical, first workshopped in 1997, is a jazz opera, offering 50 songs. It is almost entirely sung, and much of the cast's movement is dance (wonderfully choreographed by Jay Goodlett, with a great fight scene choreographed by John Baca).
Queenie (freshman Abby Chafe, with a strong voice as well as stage presence) stands out from the opening curtain; the six ensemble cast members are dressed in gray and black but he is wearing white, with pink accents and a pink scarf. The opening song is hers. We learn that "That she liked her lovers violent. / And she likes her lovers vicious. / But until she found the one man / Who could answer all her wishes."
Enter Burrs, halfway through the song. They are a pair, made for each other, he singing: "He was mean and rough . . . . / They likes him / tough." Jeremiah Plessinger's Burrs is a terrific singer, dancer, and actor, and lover. Alas, relationships are more than all about sex. After a couple years, a near rape turns into a defense with a kitchen knife. Maybe the only way to keep the two together is to throw a party to end all parties.
So they do, Queenie and the ensemble singing "Let's raise the roof! / Let's call the shots / Let's roll the dice." Maybe Mr. Right will come in, sweep her off her feet, and take her away. But love is complex, and while Burrs is an abuser, Queenie is no angel, and they have years of having made their relationship theirs. Even as relationships go bad, there is ambivalence.
But the handsome Mr. Black (great acting and singing by Brenton Sullivan) might be as good at heart as he is in looks. Kate (Alisha Bond, another great voice, with a comic acting touch) brought Black, but having started out as a hooker, she shows she's not quite retired. As Queenie is attracted to Black, Kate gravitates toward Burrs. There are duets, and the four singing together, or countering each other, polyphonically (Stephen Lytle, music director).
The action is primarily sung, and danced, with the ensemble cast on stage and moving in dance most of  the time. Sometimes they are comatose, on the floor, but they manage to snap fingers in unison, or raise an arm and move a hand in that 1920s flapper wave.
Restless, the four leads make use of the entire stage. The set before the curtain looks like the front of a vaudeville theatre, with walls of posters and a giant board announcing The Wild Party, with writing credits. That board is raised to reveal Queenie's and Burr's apartment's bedroom and bathroom. Once the party starts the front of the stage becomes their living room, with a divan, and kitchen, with a small table. The ensemble, too, moves about, as people do at a party (Ed Cohen ably directed this swirling mass with Gion DeFrancesco, scenic designer and scene shop foreman, Tom Featherstone).
A couple of times character actors get solos or duets. Madelaine sings "An Old-Fashioned Love Story," about her lesbian desires, thwarted every time. Melissa Rowan's Madelaine has a strong voice and  stage presence, with an ironic comic touch. Remy Willlocks also deserves a shout-out for a smarvelous olo dance number in the second act.
Eddie (Daniel True-Omait), the boxer, and his wife Mae (Cassidy Steele, with a unique high pitched, what might be the classical flapper, voice) stand out in their number, as do brothers Oscar (George Swarn) and Phil (Michael Smith). These two are dressed in red striped suit coats over argyle sweater vests. The theatre department accomplishes its usual great costuming, led by costume designer Melanie Mortimore, with support by production manager Melanie Mortimore and producer Julia Guichard.
The production is the theatre department's annual big spring musical. The cast of 18 is supported by an eight piece music ensemble. Curtain is at 730 p.m. Wednesday through Saturday, with Sunday matinees on the 23rd and 30th. For tickets, call 513-529-3200, email boxoffice@miamioh.edu or click on this link.
Equus at the Incline: Fury, Rage, Worship, and Love Are Closely Intertwined
Review by Ken Stern of Equus: Incline Theatre
Is the primary human story that of parents and children? And is love—and trust—life's primary motive? So when your dad is a socialist, and an atheist, and your mom is a devout Christian, and each suppresses criticism and conflict while voicing their beliefs, of course their only son is confused, and also leading a lonely life.
More then confused, actually, in Peter Schafer's Equus, playing through April 23rd at the Warsaw Federal Incline Theater. Before the curtain rises teenager Alan Strange (Christopher Carter) blinded six horses at the English stable be works at on weekends. Alan loves horses, had a horse poster on his bedroom wall for years, so why? What is the root cause of his horrific act?
Alan has been brought to a psychiatric hospital and Dr. Martin Dysart (Michael Hall, who is, like Carter, on stage for almost the entire play) by court magistrate Hester (Leslie Rae Slaugh). Will the psychiatrist  get through to the initially silent and intransigent teen?
This is a heady, serious, and intense subject, not the least because sex, and full nudity, is also an issue. It is hard being a teenager, even in a functional loving family. Alan's parents (Martha Slater as the mother as committed to her fury as her son and Rory Sheridan as the inflexible father) quietly and consistently don't get along, and are rigid and unrelenting in their radically different world views. They impose on, rather than nurture their child. The result, here, is that Alan has snapped, rather then being bent to either's will.
Much of Alan's history is acted out as flashback, Alan on stage acting out what he has revealed to the doctor during their sessions. We see Alan's first, excited, enthusiastic, encounter with a horse at age six, while on a holiday at the beach. His ride on the horse (wonderfully scripted, the rider becoming the horse as Alan climbs on his shoulders) ends with the dad pulling Alan down to the ground with an angry and class-based reaction: "Upper class riff-raff. . . .trampl[ing] on ordinary people!" But it is Alan who is traumatized.
Dysert narrates his own backstory, when he is not sharing incidents from his own loveless marriage with Hester (Slaugh's character is written in two dimensions, though she gamely acts on, a catalyst for Dysert's ruminations). A scorecard is needed to track characters' disappointments in relationships and the obsessive interests they seek to substitute. Dysert is a bit of a ring-master and one man Greek Chorus. Director Greg Procaccino moves him around the set, peering into Alan's hospital room, observing Alan and Jill in the movie theatre (a well done scene, Jill putting her hand on Alan's knee), and watching Alan and Jill making love in the stable.
Jill (Hannah Gregory, in a perky performance), has the most joyful role. A teenager also employed at the stable, she helped Alan get his job there, and entangles herself romantically with him. But Jill is not Alan's first love. Worship and relationships are at the heart of the play. Alan is mixed up as well as mesmerized by horses, his mother's messages and Bible passages she fed him as a child, now mangled into a personal cult religion. Christopher Carter's Alan moves from silent to morose, mostly angry, always lonely, and finally, tentatively, reaching for help from both the doctor and Jill.
Pay close attention to the words, as well as the actions of the play. The Doctor is a bit of a philosopher and religious critic and a troubled soul himself. There are no easy answers or solutions to the pain of life. Listen to him grapple with his options for Alan's "cure" in the last scene.
The supporting cast has character roles, well supporting the play, even if bordering on caricature. Angela Alexander Nalley at the burly Nurse is definitely in charge of her ward. Jim Stump is terrifically costumed and certainly authentic as the roly-poly Dalton, the stable owner.
Peter Cutler is primarily the horse, Nugget, but transforms from horseman to horse in the scene on the beach with the six year old Alan. His horseness is underplayed, his costuming being something between a wig and a mophead as his horse's mane, a decision made by the production team, which included Steven Ducker, production stage manager and Carissa Gandenberger, stage manager. The set, wood framing, alternates between rooms at the psychiatric hospital and the horse stable.
Peter Shaffer's Equus won the 1975 Tony Award for best Play.
The production runs through April 23rd with evening performances and a matinee, only, on Sunday. For tickets, call 513-241-6550 or go to www.cincinnatilandmarkproductions.com. The Warsaw Federal Incline Theater is at 801 Matson Place Cincinnati Ohio 45204.
Enjoy Your Visit On Golden Pond
Review by Liz Eichler of On Golden Pond: Human Race Theatre
On Golden Pond, produced by the Human Race Theatre Company, is simple and warm as the setting sun, keeping a smile on your face.
On Golden Pond, by Ernest Thompson, was written in 1979, and is still a relevant meditation on the realities of aging: the teen years, the middle years, and the twilight years. It is the story of Ethel and Norman Thayer, their life-long relationship with the lake, and Norman's distant relationship with his daughter, who visits with her fiancé, his young son, and the chip on her shoulder she's been nursing for years.
Is there someone like any of these characters in your family? Norman (Joneal Joplin) is the authoritarian father—not Daddy—who's gruff manner has scared more than one suitor from the house, but underneath that is really a sweet man. Ethel (Dale Hodges) is the mom who has been torn by her allegiance to her husband and a child, both she dotes on, but neither ever seeing eye to eye. Chelsea (Jennifer Joplin, Joneal's real life daughter) is the daughter who is a capable adult everywhere but in her childhood home, who has lived most of her life feeling she disappointed her father for not being a son. Charlie Martin (Charlie Clark) is the sweet but odd guy who still lives in the hometown, always reminding you of your youth. Bill Ray (Ken Early) is the daughter's new man, awkwardly butting heads with his grown girlfriend's father, as that father enjoys the game of "jerking him around."
As expected, all the leading characters are masters at their art of acting. There are over 120 years of experience among them. However, the brightest spots in this warm and genuine show are the scenes with newcomer Kaleb Barlow, as Bill's young son, Billy Ray. With great timing, presence and diction, Barlow is charming.  This Stivers School for the Arts student has found the balance which makes him a believable dentist's son from LA—smart, polite, curious, but with some street cred. You can see why his character lights up Norman, and they thoroughly enjoy their time together—as does the audience.
The setting is a spectacular lake house, designed by Mark Halpin of UC's College Conservatory of Music. It has a "charming ambience" with solid beams, a fieldstone fireplace, ample plaid couch, rag rugs, window cranks, and fishing gear as décor. It will make you crave a vacation, and listen for the loons.
Director Richard Hess, also from UC's CCM, uses the space well, and guides us along on this journey, "a love letter to love, to longevity in marriage." The show runs through April 23. For tickets visit humanracetheatre.org or call 937-228-3630.
Clifton's Latest Dark Comedy is the Small Engine that Could
Review by Lissa Gapultos of Small Engine Repair: Clifton Players
he setting of Clifton Performance Theatre's Small Engine Repair is Frank's repair shop, which encompasses nearly the entire space of the performance space. Dressed with authenticity – a work bench, steel shelving that contains various mechanical tools, a refrigerator with random magnets– the set also it also has certain tidiness about it. Frank wanders around and through the set during the pre-show, going about closing his shop for the day.
Frank has deceptively summoned his long-time friends Packie and Swaino to his shop after hours. We learn that Frank has raised a daughter on his own after his girlfriend left. Nathan Neorr portrays Frank as a humble, responsible working man with nervous energy, and a great love for his daughter Chrystal. He seems to be the neutral calming force of the three friends.
Packie is the first to arrive, and boy, does he make his presence known.  Charlie Roetting's blustering entrance is a mixture of urgency, concern and the lament of missing a game.  Packie is the tech nerd who lives in his grandmother's basement; unemployed and unambitious, except with regard to technology and social media. Roetting plays him with over-the-top energy and comic simplicity. There's no doubt that Packie is diehard Boston sports fan, as Roetting gives a vivid and passionate recollection of a legendary baseball game from 1986.
Swaino is the suave "ladies love me" guy of the group. He and Packie have been out of sorts after a seemingly petty disagreement over a cough drop.  Swaino dishes out a steady stream of bitter snark just for Packie. Actor Carter Bratton exudes arrogance, condescension, and vanity as Swaino — easy to resent and fascinating to watch.
The trio's bromantic and alcohol-fueled revelry is interrupted by the arrival of Chad, an Ivy League frat boy that Frank has befriended through basketball. Actor Rupert Spraul plays Chad as laid back and confident. His is a privileged life, and he clearly knows he will always have the upper hand.  Chad has very little in common with the three friends, and yet he has no qualms about being out of his element.
The energy ramps up to disturbing and dark level that suddenly throws everything askew, and begs the question: what is the essence of this play? The undying bond of friendship? The follies of youth? Class inequality? Or simply, men behaving badly who finally realize they need to grow up? John Pollono's script simply ends in a weird and unsatisfying way.  Director Jared Doren (who also designed the life-life set) gives his versatile actors effective guidance which results in steady and convincing delivery from all of them – anything from big and bombastic fits of masculinity to pensive moments of reflection about family and the good times of past.
If you enjoy your comedy dark (and this play is very dark) with generous amounts of crude behavior and offensive language, then this cast will take you into the proverbial man-cave in both entertaining and devastating ways.  Otherwise, consider this a warning.
Clifton Players' Small Engine Repair plays at 404 Ludlow Avenue until April 15. For tickets go (quickly) to https://cpt.cincyregister.com/smallenginerepair  or call 513.813.SHOW (7469).
Engage your Mind at Incline's Provocative Equus
Review by Laurel Humes of Equus: Incline Theatre
Be sure to take a thinking person with you to Warsaw Federal Incline Theatre's production of Equus. You are going to want to discuss this play!
The premise is established early: A 17-year-old boy has blinded six horses with a metal stake.  But this is not a random act of cruelty. The play – and Incline's compelling production – is devoted to psychiatric digging into why he did it.
The play unfolds in acted-out flashback scenes during sessions
between psychiatrist Dr. Dysart (Michael Douglas Hall) and Alan (Christopher Carter). The nondescript boy is the only child of wildly diverse parents. Mother (Martha Slater) is deeply religious and indulgent to Alan. Father (Rory Sheridan) is atheist and a rigid disciplinarian.
Each parent contributes to the story line in their own revelations to Dr. Dysart. But, in a standout scene from Slater, they refuse to take responsibility.
We know what you're thinking, she tells Dr. Dysart, "whatever happened is our fault. It's not our fault. It's the devil," inside her son.
At the same time, Dr. Dysart is struggling with his own internal demons: professional doubts, a loveless marriage. As he gets Alan to reveal more and more about his secret near-religious devotion to horses and the events that led to the maiming, the doctor actually expresses envy of the boy.
"He has lived a passion. I'm jealous of him," Dysart says. Psychiatry can "fix" Alan, but what will be left without passion?
The entire cast of Equus, directed by Greg Procaccino, is excellent. But the show does belong to the duel between Hall's Dysart and Carter's Alan, as the doctor works to get past the young patient's locked-down exterior.
Carter nails the adolescent persona, with a high-pitched, petulant voice and emotional mood swings. He builds his character successfully to the powerful climatic scene.
Hall's portrayal is equally strong, although limited to the confines of a staid, sometimes grumpy professional. We watch has he, too, builds his character to an understanding of his own unhappiness.
Incline's Equus set of wooden beams suggests horse stables, and the "horses" wear stylized masks, with all other props imaginary and skillfully mimed. Even so, the climactic scene is made so realistically horrifying with sound effects and lighting that I had to close my eyes.
It must also be mentioned that Equus contains a scene played entirely nude by Carter and romantic interest Jill (a very good Hannah Gregory). The nudity is hardly gratuitous, but essential to the plot.
So: Are horses Alan's gods? Can false gods lead us to commit horrible acts? Can psychiatry (and psychiatric drugs) make us all 'normal,' and at what cost?
Discuss!
Equus continues at the Warsaw Federal Incline Theater (Incline District, East Price Hill) through April 23. For tickets, call 513-241-6550 or go to www.cincinnatilandmarkproductions.com.
Incline's Equus Complex and Challenging
Review by Doug Iden of Equus: Incline Theatre
Peter Shaffer's 1973 masterwork Equus galloped onto the Warsaw Federal Incline Theatre Stage this weekend.  Named for the Latin word for horse, the play tells the story of a horrific crime committed by a young man who blinds six equines in his care.  Psychiatrist Dr. Martin Dysart (played by veteran actor Michael Douglas Hall) is called in to consult on the case which starts a perilous psychological journey for both men.  With strong echoes of Greek Tragedy, Dysart tries to determine why the young man, Alan Strang (strange?), played very convincingly by Christopher Carter, committed this heinous crime.
The play opens with a dialogue from Dysart which breaks normal convention by speaking directly to the audience during which he bemoans ever having met the disturbed young man.  Thereafter, normal action takes place but Dysart frequently uses the soliloquy convention to allow the audience to understand his thinking process.  The extremely rich dialogue is a major strength of the play but can be difficult to follow at times because of its frequent allusions to Greek mythology and theater.  Upon the psychiatrist's first meeting, he is introduced to an enigma who alternates between silence and babbling nonsensical words or TV jingles.  The boy seems dispassionate but that could be a ruse.  The doctor's dilemma is how to break through the self-imposed shell and develop a level of trust with his patient.
The investigation (and it does play like a classic mystery) takes the doctor to Alan's parents Frank (Rory Sheridan) and Dora (Martha Slater) and to the young lady Jill (Hannah Gregory) with whom he may or may be having an affair.  The play flashes rapidly between the present and the past and you need to pay close attention since the scenes blend into each other throughout the play.
Gradually, we find out that Alan has had a passion for horses since he was young. He has the opportunity to work at a stable and, tutored by Jill, becomes emotionally involved with the horses, especially one named Nugget (played stoically by Peter Cutler wearing an equine mask).  Alan treats Nugget very sensually and starts to worship the horse as a deity.  Alan develops a bizarre, pathological religious obsession with horses which is a major factor in his illness and may be the answer to his cure.
At the same time, we discover that Dr. Dysart is, emotionally, very dispassionate as he describes his platonic relationship with his wife.  Dysart's interest is in ancient Greek culture and philosophy but his passion is as dead as the civilization which he studies.  He dreams about being a Greek official who must condone ritual sacrifice which he personally finds untenable.
Consequently, Hall, for the most part, plays Dysart as a remote, almost disembodied character who studies Alan more like a lab rat than a person.  However, as Dysart perceives his own shortcomings and frustrations with his diagnosis, Hall's demeanor becomes increasingly angry and disillusioned.  Carter whipsaws between silence, intransigence, passion and anger.  The "battle" between doctor and patient is well depicted by the actors.  The supporting cast, especially Hannah Gregory, is also very good.
The stark set, designed by Brett Bowling, resembles a new-house construction with only the framing completed.  The set functions as a stable, the parent's house, Alan's room at the hospital and the entry point onto the main stage which, combined with the lighting and some percussion, creates a surrealistic, abstract setting.
This is a good play but a very challenging one.  It investigates the nature of insanity, religion, ritual sacrifice, sexual compulsion, impotence and guilt.  The answers are up to the audience.  Also note that the play has total male and female nudity which is integral to the play and not done gratuitously.
The play opened in England in 1973 and won a Tony in 1975 with its Broadway debut. There have been many revivals of the play including the recent version starring Daniel Radcliffe (Harry Potter) as Alan plus a movie version starring Richard Burton as Dysart.
Equus appears at the Incline Theater through April 23.  For show times and ticket information, check the Cincinnati Landmark Productions website.
Broadway in Cincinnati's Matilda Shows the Dark Side of Growing Up
Review by Alan Jozwiak of Matilda, The Musical: Broadway in Cincinnati
The search for acceptance by those around you is central to Matilda: the Musical, the latest offering by Broadway in Cincinnati presented by TriHealth.
Based off the Roald Dahl book by the same name, the musical tells the story of Matilda (played in the performance I saw by the wonderful Jaime McLean) who goes to a new school and has to contend with her nemesis, the aptly named Miss Trunchibull (wonderfully played in drag by Dan Chameroy).  Added to her woes are her neglectful parents Mr. and Mrs. Wormword (played by Matt Harrington and Darcy Stewart) who berate her by calling her names.  They try to steer her away from reading and towards more productive entertainments–like watching the television.
Keeping with the trend this Broadway season to present musicals which have strong performers for their lead roles, Jaime McLean was simply wonderful as one of the three child actors who plays Matilda.  McLean is on stage for a majority of the time, singing and dancing her heart out all during that time.  Whenever she was on stage, McLean was a bright ray of light in a world that does not respect the talents of her character Matilda.
Also strong was Dan Chameroy as Miss Trunchibull.  When Chameroy first came on stage, I almost didn't realize that he was playing drag; he was so much in character that it took me a moment to recognize that it was a male actor.  By the end of the musical, Chameroy really delivers a portrait of a detestable character.  Chameroy perfectly captures Trunchibull's cool detachment as she sends students to the chokey, a form of extreme punishment that is best explained by the actors in the musical.
As for the set, it was stripped down to accommodate quick changes from Matilda's house, to the library, to her school–and back again.  There were some very interesting uses of the set elements given, such as during "School Song" where the cast placed alphabet blocks into the various holes within the school gates.  Also the alphabet block motif was reproduced when Matilda visited her local library, a very nice touch.
This musical was a faithful adaptation of the Dahl novel, which could be problematic for younger audience members. The show runs close to three hours long, making it hard for the children seeing it. As an audience member, I also had some difficulties with the child abuse being depicted by the adults. To alleviate those concerns of like audience-members, the actor playing Matilda's father Mr. Wormood (the wonderfully coiffed Matt Harrington) comes onto the stage at the top of Act II to reassure the audiences that things are okay with the children.
Overall, this is a strong production of a faithful adaptation of a beloved children's book. People who love the book Matilda and Roald Dahl need to see this musical.  Matilda: The Musical runs from April 4-16, 2016 at the Aronoff Center for the Arts.  For ticketing information, please visit the Broadway in America website.
Broadway in Cincinnati's Matilda Reminds Us of the Power of Storytelling
Review by Sheldon Polonsky of Matilda the Musical: Broadway in Cincinnati
I suppose everyone has a show or two that comes along just at the right time and so keeps a special place in their heart. One of mine is Matilda. I saw it first in London. I was by myself and feeling a little bit lonely; I had lost my credit card at a restaurant only a half hour before the show, and was cranky and annoyed by the English theatre's crowded lobby, refusal to seat patrons until about 10 minutes before opening, and having to pay for the equivalent of a Playbill. Distracted and on edge, I was in no mood to be entertained. But then, suddenly, the curtain rose–I was transported to another world and by the end my spirits had lifted. Rest assured, the Broadway touring version of Matilda, now playing at the Aronoff, retains the same magic–so if you want to renew your faith in the power of positive thinking and the possibility of a happy ending against all odds, this is the show for you.
Matilda, based on a beloved children's book by Roald Dahl, tells the story of a precocious young girl whose prodigious mental gifts are ignored and disdained both her parents and the sinister androgynous headmistress of her school, Miss Agatha Trunchbull. Miss Trunchbull, former English hammer throwing champion, takes delight in terrorizing the children of her school, Crunchem Hall, whose motto is "Bambinatum est maggitum": "Children are maggots". Matilda's only solace is in her books, telling stories to the enraptured librarian, and her angelic but repressed teacher, Miss Honey, who recognizes her talents but is too timid to do much about it. With the help of her exceptional brain power (and some latent psychokinetic abilities), Matilda manages to change her life and the lives of those around her.
Many of you may remember the movie version of Matilda, a Danny DeVito/Rhea Perlman vehicle which had its own particular joys and flaws. Whatever you may have thought of that movie, don't let it affect your decision to see Matilda, the Musical, as the latter has a very different sensibility and wisely focuses more on its storytelling and characterizations over its supernatural themes. The musical's book, by Dennis Kelly, justly won a Tony Award in 2013.
Admittedly, the music, by Tim Minchin, is never going to be part of anyone's top ten most memorable scores–although a few songs, like "Naughty" and "When I Grow Up", do stick with you. All of the numbers, however, stand out in their eye-catching choreography filled with constant movement and clever props, whether swings, desks, or trampolines. All are also flawlessly performed by a top-notch cast. The large number of children are all obscenely talented. An old stage adage, attributed to W.C. Fields, is "Never work with children or animals". I would not want to be a member of the adult chorus in this show who have to compete with the kids' charm and energy, and who despite their own talent seem to be unable to get out of their shadows. As for Matilda (played by Jamie MacLean at this performance but alternately by Gabby Gutierrez and Jenna Weir)–well, I can't imagine how one can find a single 11 year old, let alone three, who can anchor a show like this with so much poise, confidence and charisma (not to mention vocal talent). Each of the adult principals get their moment to shine as well: Darcy Stewart as Matilda's mother in the aptly named "Loud"; her father, Matt Harrington, in the hilarious Act II opener "Telly"; and the lovely Jennifer Bowles as Miss Honey, in the understated "My House". Of course, the most juicy part goes to Dan Chameroy as Miss Trunchbull. The role is both vocally and physically demanding, and Chameroy alternates between her restrained malevolence and hyperbolic wrath with glee.
But whatever one may think of the story or performances, no one can deny the pure originality and spectacle of the technical design. The base of the set is an alphabetic montage of children's blocks, which often spell out the motifs of the show in both subtle and not so subtle ways; but whether we are in Matilda's home, Crunchem Hall, or the Library, no expense is spared on colorful, striking design elements and clever special effects.
Despite its flashiness, however, Matilda the Musical is fundamentally about the joys of stories and story-telling. Its most mesmerizing moments are the recurring scenes of Matilda relating a tantalizing tale of her own creation to the librarian, growing in gradually increasing degrees of realism, authenticity and captivation. In the same way, Matilda rejoices in its own storytelling and is never shy about the power of its own narrative format. Anyone, young or old, who enjoys a great yarn full of gasps of surprise, tugged heart-strings, and larger than life characters, will certainly find joy in her story, and is an experience not to be missed.
Broadway in Cincinnati's Matilda runs through April 16th at the Aronoff Center. Tickets are available at cincinnatiarts.org or call 513-621-ARTS.
Broadway in Cincinnati's Matilda is Visually Appealing
Review by Liz Eichler of Matilda the Musical: Broadway in Cincinnati
If you know and love author Roald Dahl and his dark humor, you will appreciate Matilda the Musical, playing at the Aronoff Center, through April 16.  It is very dark story, with a few highlights. The show (book by Dennis Kelly, music and lyrics by Tim Minchin) is about a brilliant girl who is born to parents who do not love her so she finds solace in books and a friendly librarian. She is sent to a private school, run by a lunatic, but meets a sweet teacher who adores her and her abilities, and with love, Matilda finds strength to stop the bullying and "change her story."
The highlights of the show are the performances of Matilda (Wednesday night was Jaime MacLean, but also in rotation are Gabby Gutierrez and Jenna Weir), Miss Honey (the sweet Jennifer Bowles), Mr. Wormwood (Matt Harrington), and Miss Trunchbull (Dan Chameroy). MacLean is a powerful force of concentration, with great diction, sharp movements and energy for this two-and a half hour show. Harrington and Chameroy each have wonderful comic timing and great physicality. There are quite a few strong supporting players as well, including the moves of Rudolpho (Stephen Diaz).
The songs aren't all memorable, but the visuals accompanying them are, as the cast dances with a hospital bed, strollers, party tables, and a pommel horse throughout the show. "School Song" features a unique introduction to the ABCs. The strongest numbers occur in the second act, including the exhilarating "When I Grow Up" with the cast soaring over the front rows in their swings.
However, while the production has strengths in performance, this musical, produced by the Royal Shakespeare Company, likely in a smaller space, has some translation issues for a U.S. tour. The variety of accents are distracting as it is unclear where it is placed, England or America. The over enunciation of the younger actors helps, but they appear robotic, and a number are quite shrill. There are very English things—from the gym uniforms that look like pajamas to a U.S. audience (including the confused kids next to me), to the jolly intermission music hall number opening the 2nd act (it is fun, but the audience doesn't understand the break in the 4th wall and performing while the house lights are still on).
The scenery motif is more baby blocks than books, forcing me to question the target audience for this show. Every audience member I asked said they loved it, from the sleepy 4-year-old to the 64-year- old. It has spectacle, music, singing and dancing. It even throws in the supernatural, and has a few surprises that made my neighbor jump. Yet, I would not take my favorite 7-year-old, for the same reason she doesn't want to see the new "Beauty and the Beast" movie—there is clearly a struggle between good and bad and she just doesn't want to be forced to watch bad behavior, no matter what the production values.
Tickets are available at cincinnatiarts.org or call 513-621-ARTS.
Laugh and Think at Clifton's Small Engine Repair
Review by Liz Eichler of Small Engine Repair: Clifton Players
Small Engine Repair is an engaging story, well presented in Clifton Player's signature immersive space, that spurs enough laughs and discussion on the way home, that you will be glad you got your tickets.
This combination of "Breaking Bad" and "Always Sunny in Philadelphia" is an R rated romp through a blue collar meets white collar world, when middle age men encounter a smarmy frat boy (Rupert Spraul). Swaino (Carter Bratton), Frank (Nathan Neorr), and Packie (Charlie Roetting) are friends since childhood, and have each other's backs. No matter what.  Frank gathers them to tests this "no matter what" theory.
The story is strong, and while set in Boston, it could be parts of Philly, Cincy, Bal'more—any place where people grow up in an area so close together that they've seen each other's dirty laundry, literally and figuratively, yet rely on each other every day, breeding a fierce loyalty. You've seen the worst, so you accept everyone, warts and all–unless they are different, and violate the connotative rules of the group, or generation. Enter the internet, where for good or bad, private exchanges can go viral, beyond your immediate circle, and that unspoken decent responsibility to each other is replaced by the blind drive to amass a large quantity of connections, without thought of quality or humanity.
The setting is an amazing recreation of a small engine repair shop, by Jared D. Doren, and, as always, every inch of the Clifton space is used.   The details of Frank's dirty nails impressed me and the pre-show music energized the audience, so much that they should sell the "mix-tape."
Director Jared D. Doren sweeps the story along so swiftly and deftly you'll be sad to see it end (but that is when you and your friends will begin a hearty discussion, I guarantee). The actors are a great ensemble and present it well, with raw physicality, albeit with uneven Boston accents.
Clifton Players' SMALL ENGINE REPAIR plays at 404 Ludlow Avenue until April 15. For tickets go (quickly) to https://cpt.cincyregister.com/smallenginerepair  or call 513.813.SHOW (7469).
CCM's Children of Eden Inspired by the Spark of Creation
Review by Sheldon Polonsky of Children of Eden: UC College-Conservatory of Music
One of the most baffling musical theatre mysteries to me is why Children of Eden, the masterful musical with music and lyrics by Stephen Schwartz and book by John Caird, never made it to Broadway or even off Broadway. To me, the score is as consistently brilliant or more than any of Schwartz's work, and has something to offer over each of his other hits: more cohesive than Godspell, more accessible than Pippin, and more genuine and heartfelt than Wicked. Unfortunately, for now, it seems Children of Eden only survives as an ongoing staple in the community theatre and student production repertoire. Luckily, the University of Cincinnati College-Conservatory of Music breathes new life into this lovely show (literally) in its studio series this spring.
The plot is a humanistic twist on Genesis: Father (Phillip Johnson-Richardson), a paternalistic and very human figure of God, creates Adam and Eve in his own image as his children to be his family in the Garden of Eden. Although Adam (Bryce Baxter) is satisfied, Eve's (Ciara Alyse Harris) inevitable yearning for understanding and growth leads her to lose her innocence at the Tree of Knowledge, after which she (and Adam, who chooses to follow her) are exiled to the wilderness. The cycle continues as their son Cain's (Zack Triska) questioning and desire for exploration leads to conflict and tragedy for his brother Abel (Ej Dohring). In the second act, the cycle begins again with Noah (Gabe Wrobel), as his son Japheth (Stavros Koumbaros) defiantly takes the serving girl, Yonah (Emily Royer), a tainted descendant of Cain, as his wife on the ark with him, angering both Noah and the Father. Will this cycle of control, yearning, defiance and conflict ever be broken?
No synopsis can really do justice to the richness and depth of these characters' stories. The themes of parenthood, obligation, free will, and forgiveness are deftly interwoven and recast throughout the play, and if it has a flaw it is that it hits us on the head with them again and again without any attempt at subtlety. But no matter, these themes are so fundamental to all of us and the human condition, and the characters so connected to our own lives and feelings, that the emotional resonance is palpable.
Stephen Schwartz's varied and soaring music heightens the impact. Although the cast of 23 CCM students, who tend to be younger since this is not a MainStage production, may not all yet be quite as vocally confident as their upperclass counterparts, they are more than up for the task. Standouts for me were Bryce Baxter, who effortlessly portrayed Adam's transition from innocence to cynicism and absolutely nailed the agony of his choice in "World Without You," and Ciara Alyse Harris, who has to anchor the first half of the show with Eve's weightier numbers, "The Spark of Creation" and "Children of Eden," doing so with depth and sincerity. Zack Triska ably brings out Cain's frustration and yearning in "Lost in Wilderness", while Emily Royer's Yonah tugged at our heartstrings in "Stranger to the Rain". Mention should also be made of Jenny Mollet, who did not have a named part but absolutely brought the house down with her solos in "Wasteland" and "Generations". Finally, dramatically, I would give kudos to Phillip Johnson-Richardson as the Father. At first I thought he was a little too subdued, but as time went on his restrained, very human portrayal belied the turmoil underneath, Often, I could not take my eyes off of him as he sat observing the action in various degrees of remoteness, and I enjoyed watching his wordless acting choices as he followed his children's successes and failures. Also, his release of emotion in the finale was probably the most authentic expression of joy on any actor's face that I have seen in recent memory.
The real standout of the show, however, was the chorus as a whole. Each choral number was a highlight, and it is a tribute to Steve Goers, the music director (who also backed up the music with a single piano) that none of the power of these numbers was lost despite a smaller cast (the original American version had 60) and no orchestra. I do wish the resources of the studio series allowed for a few more instruments or at least some percussion which would have enhanced many of the numbers, especially those related to the animals. If you enjoyed this score, do get a copy of the original cast album and you will get even more appreciation for Stephen Schwartz's brilliant work. What was lacking in orchestral depth, however, was made up for by the very organic and eye-catching movement and choreography that accompanied many of the numbers.
Children of Eden allows for a great deal of directorial discretion and choices, and director Vince DeGeorge (who also choreographed) had a very Intelligent Design to this show. (Sorry, couldn't resist). Most often, the parts of Adam/Noah, Cain/Japheth, Eve/Mama Noah and Abel/Shem are cast with the same actors, to emphasize the parallels in their stories. This was not done here, presumably to spread around the parts, and while I missed it to some extent, the reunion of the first act cast actually heightened the emotional impact of the finale significantly. I also worried whether the uniform age of the cast (this is a very generational play, after all) would detract from its impact, but instead it gave it another dimension. These were really a group of storytellers, just bringing to life this story that is core to everyone, not trying to over-portray different ages or circumstances but bringing their own personal experience and emotions to the characters. This was underlined by a small but meaningful directorial choice—all the actors were gathered onstage before the first and second act, just being themselves and interacting with each other and the audience, before gradually merging into the show. In some ways they weren't actors at all, just human beings sharing their story with the rest of us. Likewise, the costumes were simple, natural clothing, seemingly chosen by the actors to fit their own personality. The set (by Logan Greenwell) was remarkably inorganic, full of human bricabrac like chairs and tables. Perhaps, again, the aim was to remind us how remote we are from Eden right now—Father and Noah even use an Ipad to catalog the animals. The set worked marvelously, and despite its simplicity it had a few tricks up its sleeve, particularly in the second act with a wonderful way to portray the movement and precariousness of the Ark.
Taken as a whole, the CCM cast and crew exceeded my expectations to bring to life one of my most beloved musicals and I'm grateful for the opportunity to be a part of it. The show only runs one weekend, and there is no opportunity for tickets along the normal channels anymore, but if you want to catch the show Saturday or Sunday you could still show up at the CCM box office early and get on a waiting list, which would likely land you a ticket if you are early enough.
Children of Eden at CCM: Ain't It Good!
Review by Spenser Smith of Children of Eden: UC College-Conservatory of Music
If only Children of Eden, the musical by Wicked scribe Stephen Schwartz and John Caird, could run for forty days and forty nights. Much to our collective chagrin, it only runs for three days. If the free tickets weren't gone when they became available to the public on Monday at noon, I'd go again.
The premise of this show is pretty simple. Act One is set in the Garden of Eden with Adam and Eve, and Act two takes place on Noah's ark. Each act highlights a different set of actors playing the featured characters. In the beginning, we meet Father (Phillip Johnson-Richardson), Adam (Bryce Baxter) and Eve (Ciara Alyse Harris). Father brings the pair together as man and wife and at first everything goes to plan. Their playful back and forth is really funny at the start and as all good dramatic stories go, we know that things are about to get really bad, really quickly. Now enters that thing Eve was told she couldn't have so now she wants it more because it's off limits: the Forbidden Fruit. Adam and Eve are banished, they are forced to make a life for themselves and their children Cain (Zack Triska) and Abel (EJ Dohring) are born. The relationship dynamic between these characters is thrilling to watch. Baxter and Harris are a perfect pair, their performances are heartbreaking, beautiful and man can they SING.
Thank the Father we get fifteen minutes to dry our tears and prepare for more.
Act Two features Noah (Gabe Wrobel) and Mama (Emily Ashton Meredith) struggling with allowing an outsider into their family. Oh yeah, and it's raining a lot, they have to build a massive boat and gather a bunch of animals. Yonah (Emily Royer) has fallen in love with Japheth (Stavros Koumbaros) and they are willing to sacrifice themselves to be together. It's time to load everyone on to the ark and Noah won't allow her to come. If they were unwilling to accept her before, just let her sing "Stranger to the Rain" and then get back to me. Kudos to the entire ensemble for playing all of the different animals and providing the atmosphere for all the different locations.
Production elements are solid across the board. The set, designed by Logan Greenwell, features many empty chairs at many empty tables. I was not in the wrong theatre, but I couldn't help but think that maybe I was seeing Les Miz. The second half features a really cool element I won't spoil, but the set really complemented the environmental tone to the production. Director Vince DeGeorge has assembled a tight-knit ensemble that works very well together. You can tell they have all given one hundred percent to this production. The one-man band that is Steve Goers has the score and the ensemble singing it sounding incredible.
Any dry eyes in the house were the exception to the rule on opening night. I could not have been more impressed with the quality of this production. If you were lucky enough to get a ticket, you're in for a delicious treat.
Don't be fooled if you hear the phrase "sold-out" floating around. There were many empty seats on opening night. You can show up to the box office prior to the start of the performance and get placed on the waiting list. Don't miss your chance to see this show!

Children of Eden runs through April 1 in the Cohen Family Studio Theatre on the campus of the University of Cincinnati.
Children of Eden Uplifts at CCM
Review by Liz Eichler of Children of Eden: CCM
Children of Eden, Stephen Schwartz's 1991 musical, is one of those shows that not only impacts an audience, but transforms a cast as well due to the power of its message and the importance of the whole ensemble in this piece. University of Cincinnati's College-Conservatory of Music Studio Series production, playing only until April 1, will tell you why: the show is a moving testament to prayer as a conversation with the Father, and is amazingly well done by a cast with deep and exuberant talent.
This is not a preachy show, it is an honest story of two families that keep growing, and have joys, conflicts, missteps, and ultimately hope. First, we meet the Father, and children Adam and Eve. You know the story, but it is the telling that moves you. The second act is the story of Noah and his family, and their relationship with the Father. Again, you know the story, but it is in the telling that moves you.
The whole cast is rich in voice with strong movement and acting skills, played out in a theatrical backstage, attic, or jumbled "Room of Requirement" (Logan Greenwell, Scenic Design). Musical Director Stephen Goers tends their beautiful harmonies as he accompanies them on piano. Director and Choreographer Vince DeGeorge fills the space with creative movement and dance.
Phillip Johnson-Richardson (Father) has a powerful voice and captures the range of emotions we expect from Him, from sweetly paternal and protecting, to authoritarian, to deeply hurt or deeply joyous—and always present and listening. Bryce Baxter (Adam) and Ciara Alyse Harris (Eve) show us their range as they go from innocents to old age, both with beautiful voices, and Baxter with great comedic timing. Gabe Wrobel (Noah) has a rich full voice as he leads his family through troubled waters, and Stavros Koumbaros (Japheth) and Emily Royer (Yonah) beautifully portray the passion and conflicting feelings of their forbidden love.
Standout songs include: "Naming" exuberantly features the full cast, "In Pursuit of Excellence" is an amazing piece of movement as the Snake enters the Garden, and "Ring the Stones" has striking visuals and lighting (Justin Dudzik, Lighting Design). Second Act opener "Generations" features killer vocals of Jenny Mollet. Other vocal highlights in the second act are "Stranger to the Rain" and "What Time We Have" by Royer and Koumbaros.
Children of Eden rings with joy and hope, the final songs are a musical rainbow raised to the heavens, with many moving lyrics including "Our hearts can choose to stop the hating" and "No journey is so far that we cannot stop and change directions." There may still be a few tickets left for this Studio Series production, with the last two performances April 1. Admission is free. Reservations are required. Please visit the CCM Box Office or call 513-556-4183 to reserve. Limit two tickets per order.
Rabbit Hole is Dark, Looking Down, But Look Up to Falcon Theatre's Production
Review by Ken Stern of Rabbit Hole: Falcon Theatre
What can be more innocuous than two sisters folding a son's clean laundry, with one gossiping about her night out at a bar? Everything. And yes, love hurts, and the pain never goes away, which is why the phrase is "insufferable" loss. So it is not a fun night out at Falcon's Theatre's production of David Lindsay-Abaire's 2007 Pulitzer and Tony Award-winning play, Rabbit Hole, but there are reasons it won those awards. Steel yourself and attend. The cast and the production team make this show worth your while.
We all live complex lives and that is true for every member of the near ensemble cast. Ted Weil, as Howie offers an outstanding performance as a husband always on the edge, struggling more with his wife's grief even as he has trouble with his own. It isn't easy playing reconciling, loving, frustrating, angry, dazed, desolate, and not for a moment at ease, but Weil creates this complex, fragile character. Wife Becca, played by Tara Williams, is the fulcrum the family revolves around, the mother inconsolable and unable to let go of the loss of their four year old, hit by a car while in pursuit of the family dog. Both dashed into the street and he into an oncoming car. Williams's pain is always present, though she finds more control and late in the play reaches out for reconciliation with the teen age driver.
Sister Izzy, (Katie Groneman) provides another outstanding performance. She is young, energetic, and especially lithe in reaching across a table to wag her finger and wonder about glass houses and throwing stones.
Cathy Roesener, as Nat, Becca's and Izzy's mom, and Evan Blanton, as the teenage car driver Jason, round out the cast. These are smaller parts, but not small roles, and Roesener and Blanton offer solid performances. Each carries the burden of being in relationship with death. Blanton's carries his unease and nervousness into his every scene.
The set is very blue, as is Becca's bathrobe and some lighting tones (Tracy Schoster and Ted Weil scenic design; they are production producers and responsible for almost all technical features). This is not subtle. Son Danny's bedroom is at the back of the set, and almost constantly lit. My seatmate, a mother, thought this all appropriate. I do not have children, and am not insensitive. As omnipresent as tragedy is, it is not always visible.
Tension and conflict create opportunities for humor, whether nervous, needling, or profound. Lindsay-Abaire's script is complex and subtle and humane, portraying all the twists and turns a family suffering the most tragic loss and the resulting grief. The cast brings this story to life on the Falcon stage.
The script is not always subtle, for Izzy is pregnant (new life) and mom Nat holds on to her adult son's backstory suicide. Children, as Izzy says, are "exactly the kind of thing that gives a person clarity." As every life can, as all relationships can, if people are present and authentic and care about each other. That is what Lindsay-Abaire wrote and what director Tracy Schoster ably leads the cast through, and what the cast present to us and the production team make happen.
Playing now through April 8th, Thursdays through Saturdays at 8:00 PM at the Falcon Theatre, 636 Monmouth Street, Newport, Kentucky 41071; Box Office: 513-479-6783. For more information, go to falcontheater.net.
Carnegie's Disenchanted!: These Are Not Your Storybook Princesses!
Review by Dan Maloney of Disenchanted!: Carnegie Theatre
The Carnegie rounds out their 2016-17 theater series with Dennis T. Gianco's sassy musical comedy, Disenchanted! A former history teacher, Gianco hatched the idea while giving a lesson about Jamestown. He found himself wondering what the real Pocahontas would have to say about her animated portrayal. This led to rethinking other Disney princesses, and he quickly discovered they might be equally frustrated as well! Ultimately, this not-for-children musical revue asks questions, "What happens when Prince Charming isn't and happily ever after doesn't work out?"
Snow White (Sara Kenny), Cinderella (Allison Evans), and Sleeping Beauty (Blair Godshall) anchor the show, which takes the form of a cabaret night where each Disney icon has an opportunity to air their grievances through song. Mikayla Renfrow and Gabriella Francis give tour-de-force performances as a multitude of contemporary princesses, and Brittany Hayes rounds out ensemble with a show-stopping number as the Princess Who Kissed the Frog. In their own right, each of these women are strong performers, and they never let the energy drop.
Ms. Kenny's fierce Snow White is a great contrast to Ms. Evans' flighty Cinderella, and Ms. Godshall finds the humor in Sleeping Beauty's sleepiness. There are plenty of other surprises and gags along the way (some work better than others), and I want to be careful not to spoil them. However, I will say Ms. Renfrow's mischievous Mulan incites uproarious laughter, and Ms. Francis' drunken Little Mermaid might have been my favorite re-interpretation of all. It was brilliant.
That's not to say the show is without faults, however. There's little plot to speak of, and there isn't dynamic change within any of the characters. The uniting force seems to be anger – at men, society, or really anything that stands in their way. Yes, it's hilarious at times, and the strength of these six women, both vocally and in terms of character development, makes up for a lot. This can be attributed to director Jodie Schwegmann-Meyn, who does her best to drive the show through the characters. Still, the script has the feeling of, "I've seen this before" and "Can't there be something more?"
To me, the show's better suited for a bar or storefront than a standard season, particularly in an historic venue like The Carnegie. The play has all the hallmarks of a strong Fringe piece, and in fact, that's where it debuted – the 2011 Orlando International Fringe Festival. The difference here is the production values are all much higher than a typical Fringe show. Tyler Gabbard's set is a fantastic silhouette of the Magic Kingdom, and Cheyenne Hamberg's costumes do a wonderful job of putting an edgier spin on the classic characters. Moreover, Erik McCandles' lighting provides the perfect accent to the various songs. Carnegie artistic director Maggie Perrino's choreography is a lot of fun, and Erin McCamley's music direction is on the money.
At the end of the day, if you grew up on Disney princesses, enjoy a little irreverent humor, and want to see six gifted performers singing their hearts out, this show is for you! But when they wish upon a star, it should be for a more developed story to support their efforts and drive home their enduring message. They've earned it.
Disenchanted! plays at The Carnegie through April 9th. For tickets, call the box office at 859-957-1940 Tuesday-Friday 12:00-5 PM or visit www.thecarnegie.com.
The Architecture of Grief in Falcon's Rabbit Hole
Review by Alan Jozwiak of Rabbit Hole: Falcon Theatre
This review is going to get personal.
A week before seeing Falcon Theater's Rabbit Hole, a play dealing with a couple still in grief over the death of their son months after a senseless accident took his life, a close friend of my mother suddenly died. My mother didn't find out about the death of her friend Bert (short for Bertha) until my mother went to church and heard from the pulpit that Bert had died in her sleep a few hours before the start of services.
My mother's range of emotions in the days that led up Bert's funeral was very akin to the emotions that Becca (Tara Williams) and Howie (Ted J. Weil) experience in Rabbit Hole: shock, denial, and a sense of numbness as she tried to figure out how to get back to a new normal.
This is the essence of Rabbit Hole.  It explores how grieving people develop coping strategies to get them through the day. In the play, Becca goes about her household business, slowly erasing the memory of her son from their house through her cleaning, while Howie wants to cling onto his memories of the good times with his son by endlessly watching home movies.
The path that these people take is unique, since everyone grieves in their own different ways.  For my mother, she ended up not going to Bert's showing and she might not have made it to the funeral had I not arranged to have another of her friends take her to the funeral.  For Williams and Weil, their performances beautifully and delicately carve out the unique ways that grief influences their everyday actions.  I marveled at these two actors portraying the mundane through the spotlight of grief; it was powerful acting on both of their parts.
Williams brilliantly played Becca as a woman insistent on wanting to get everything perfect, down to serving the crème caramel the correct way. Similarly, Weil brilliantly portrays Howie as an everyman who acts so low key that the audience almost doesn't realize some of his unmet needs until he erupts in anger at Becca.
After the funeral of Bert, my mother and her friend skipped the crowded after-funeral luncheon and went out to lunch by themselves where they tried to laugh and have a good time.  Bert was someone who loved a good joke and loved to laugh.  They felt that was the proper way to honor her memory.  In Rabbit Hole, this need for laughter in the face of tears was played wonderfully by Katie Groneman as Izzy, the dizzy comedic younger sister of Becca.
One of the things that we often forget is that showings and funerals can be places of laughter.  Groneman's wonderful comic relief, while funny in itself, also acts like those jokes at a funeral—ways of releasing the tension to make the grief more bearable.  The jokes that come from her do not belittle her, but she calls attention to the comedic within a situation and life in general.
Rounding out the ensemble are Cathy Roesener as Becca's mother Nat, who lost her adult son years ago to a drug overdose, and Evan Blanton as Jason, the seventeen-year old who accidentally runs over Danny.  Roesener beautifully expresses her concern as a mother who likes to compare Danny's death to that of her son Arthur.  Similarly, Blaton's combination of awkward hesitancy and geekiness made his character sympathetic.  In Rabbit Hole, there are no villains, only victims—and Blaton portrays Jason as one of the victims in this terrible situation.
Director Tracy M. Schoster does an outstanding job in directing this play.  The most difficult task facing her is that the everyday conversational quality of the dialogue has to move and not become boring.  She is deftly able to move her actors through the script, pacing things so that it does not drag or become boring.  As a result of this attention to the pacing, I was more engaged by this play and could better appreciate what these characters were going through.
If there is one lesson to be learned from Rabbit Hole, it is that the architecture of grief is made up of the everyday and ordinary.  It lives and breathes through the most ordinary of actions.  I never realized how ordinary it could be until I was talking to a friend while writing this article.  He told me that a year ago, he sat next to a woman during a flight back to Cincinnati who moments earlier had learned that her pregnant daughter had died.  From what my friend told me about that experience, their "ordinary" conversation on the tarmac and in the air was transformative for both of them.
While we do not want to think about such senseless events, Rabbit Hole gives us a way to discuss how we go on after the unthinkable has happened.  Rabbit Hole runs weekends March 24 to April 8, 2017 at their theater on 626 Monmouth Street in Newport, Kentucky.  Visit the Falcon website for times and ticket information: http://falcontheater.net/
A Raisin in the Sun a "MUST SEE" at CSC
Review by Spenser Smith of Raisin in the Sun: Cincinnati Shakespeare Company
A Raisin in the Sun, which opened this past weekend at the Cincinnati Shakespeare Company, is THE show to see this season. Written by Lorraine Hansberry in 1959, the story has a lot to say. The almost three hour play packs a serious issue-based punch, but after two intermissions we leave wanting more.
The story centers around the Youngers, a working class family in 1950s Chicago. They are presented with a financial opportunity that could change their lives forever, for better or worse. Lena (Burgess Byrd), the matriarch, lives with her son Walter Lee (Geoffrey Barnes) and daughter Beneatha (Renika Williams). Walter Lee's wife Ruth (Torie Wiggins) and her son Travis (Shadow Avili') also populate their "rat trap" apartment near Washington Park. The family struggles to find fifty cents for Travis to ride the bus to school in the morning, so the imminent arrival of a ten thousand dollar life insurance check has the whole family on edge. Director Christopher V. Edwards has assembled an all-star cast of Cincinnati favorites. Memorable performances abound across the board. Burgess Byrd brings a strength and sincerity to a mother that genuinely wants the best for her whole family. Geoffrey Barnes struggles with many demons as Walter Lee and his performance delivers some of the most powerful moments. Torie Wiggins has a life-changing decision to make of her own as Ruth and her performance is both nuanced and simply touching. The ensemble of supporting characters is highlighted by Shanessa Sweeney as Mrs. Johnson, the nosy neighbor that can't hang around…until you offer her sweet potato pie, a glass a milk, a cup of coffee and maybe a little gossip. Keep an eye on the sugar bowl.
The family lives together in the cramped apartment designed by Shannon Moore. There are only partial walls and sheer curtains, which gives the audience an inside look at the characters offstage lives.  It reinforces the idea that they truly don't have any personal space but their love for one another is stronger than four walls. Don't be fooled that the original Broadway production was nominated for awards in the drama category. A Raisin in the Sun is equal parts poignant and present, hysterical and heartbreaking.
Cincinnati Shakespeare Company is moving into its new home, The Otto M. Budig Theatre, on the corner of 12th and Elm Streets next season. They close their last season on Race Street with The Tempest in May. If their current production is any indication, they are sure to go out with a bang.
A Raisin in the Sun continues through April 15. You can purchase any remaining tickets by visiting www.cincyshakes.com or by calling the box office at 513-381-2273 ext. 1.
Carnegie's Disenchanted!: Not Happily Ever After, But Hilarious Right Now
Review by Jack Crumley of Disenchanted!: The Carnegie
From Rocky and Bullwinkle's "Fractured Fairy Tales" to Shrek, injecting modern sensibilities into classic stories has been its own genre for decades. Disenchanted!, now playing at The Carnegie through April 9, is very much in that vein, but with an emphasis on girl power. Author/composer Dennis T Giacino's offbeat musical comedy hit Off-Broadway in 2014, and has been drawing strong reviews both in the US and other countries.
Disenchanted! isn't told as a straightforward musical stage play. It's more like a cabaret with the cast feeding off a lot of energy from the audience. It's also a direct critique of the effect Disney has had on fairy tales. Snow White hosts with Cinderella and Sleeping Beauty providing "assistance." Mulan, Pocahontas, Princess Badroulbador (aka Jasmine), Belle, The Little Mermaid, Rapunzel, and The Princess Who Kissed The Frog all perform their own unique numbers as well. Each song takes a clever, skewed approach to each princess and her unique story.
This cast is excellent, and each actress deserves to be recognized. Sara Kenny (last seen on the Carnegie stage stealing scenes as Ethel Toffelmeier in The Music Man) runs the show as Snow White. Her expressive face and equally expressive voice command attention right from the opening. It's impressive how quickly she shifts gears from demure to exasperated to wacky to sexy, and sometimes that's just one scene. Allison Evans as Cinderella exudes a ditzy, manic, fun-loving vibe. Sleeping Beauty's character is played by Blair Godshall as more of an awkward, enthusiastic outsider among the main three. Brittany Hayes is the Princess Who Kissed The Frog, and doesn't show up until the second act, but takes the stage with a show-stopper about "Finally" being a princess who's black.
All of the other princess roles are handled by two actresses working triple duty. Gabriella Francis plays a tortured Belle, a hilariously drunk Little Mermaid, and an overtly German, dominatrix-style Rapunzel. Mikayla Renfrow gives us a Mulan who's questioning her sexuality, a Pocahontas who can't believe how she's portrayed, and a Princess Badroulbador (Jasmine) who's been relegated to secondary status. Renfrow is finishing her senior year at SCPA and absolutely holds her own with this immensely talented ensemble. All of these women put everything they've got into every line they say or sing. It made the Sunday matinee feel like a Friday night at a club with a two drink minimum, and I mean that in the best possible way.
It's sometimes difficult to tell how much of a show is in the script and how much comes from the director, but it seems obvious that Jodie Schwegmann-Meyn really worked with these women to get them as comfortable and confident as possible. This production has a frenzied, Muppet Show quality to it. A live stage performance that seems to just barely avoid falling apart. Schwegmann-Meyn should take great pride in this, her Carnegie directing debut.
Any review of this show would be remiss without praising Cheyenne Hamberg's costume design. Each princess is instantly recognizable if you know them as Disney characters, but there are loads of details that make each outfit distinct for this show. Also on the production side, Maggie Perrino's choreography gives the cast a chance to cut loose with each character (some more gracefully than others).
In case it wasn't already abundantly clear, even though this show is about storybook princesses, this is not a show for children. It's a provocative show that puts nearly every tradition and trope in an off-color light. Sacred cows do not fare well. There is some explicit cursing and implicit cursing (meaning swear words, not spells from witches). One of the songs in the show is called "Big Tits," so it's sexual at times as well. The show is also hilarious, clever, and even occasionally poignant. Carnegie audiences should consider themselves lucky to have been presented both Nora Ephron's Love, Loss, and What I Wore and Disenchanted! in the same season.
Disenchanted! plays Fridays, Saturdays, and Sundays at The Carnegie through April 9. Tickets are available here.
Disney Princesses Bare All in Carnegie's Disenchanted!
Review by Doug Iden of Disenchanted!: Carnegie Theatre
In a most unDisney-like celebration, ten fairy tale princesses (played by six actresses) cavort, preen, bedazzle and dish the dirt in the musical Disenchanted! to close the season for The Carnegie Theater.  There is no story per se in this whirlwind of sound and color.  Rather, it reminds me of an old fashioned TV variety show where guests (fairy tale princesses) tell their stories through song, hosted by the resident master of ceremonies Snow White (portrayed in grandiose fashion by Sara Kenny).
The play opens with Snow White, Cinderella (Allison Evans) and Sleeping Beauty (Blair Godshall) reminiscing about the "good old days" with the song "One More Happ'ly Ever After"–but then they were married and their futures became anything but "happily ever after".  In the satiric songs, they bemoan their fates as archetypal housewives, confined to keeping house, cooking and entertaining their spouses.  A major theme in the play, written ironically by a man, is society's preconceived notion of what American women should look like and how they should act in a sexist world dominated by men as the "Princess Complex".  (The tone and sentiment is similar to the play Love, Loss and What I Wore which The Carnegie presented last November.)
Then we are introduced to the remaining princesses: Mulan, Pocahontas and Princess Badroulbador (all played by high school senior Mikayla Renfrow), Belle, the Little Mermaid and Rapunzel (Gabriella Francis) and the Princess Who Kissed the Frog (Brittany Hayes).  All tell their stories through satirical songs with very clever lyrics written by Dennis Giacino who also wrote the book and the music.
The show is presented with great élan and gusto.  They clearly are having a lot of fun doing the show and their enthusiasm is infectious.  Since there really is no story, the actresses are able to interact with each other and with the audience.  Snow White is continually upbraiding Cinderella who wants to do her own shtick and thinks she would be a better MC.  Snow White is also gleefully harsh with some of the other princesses.  Sara Kenny is marvelous as the centerpiece of the show alternating between a disingenuous charisma, disdain for the other princesses and her self-aggrandizement as the MC.  Allison Evans is closer to the classic princess with a Barbie Doll persona which contrasts beautifully with Snow White.  Sleeping Beauty's gimmick is constantly falling asleep when it's time for her big song but then she reasserts herself with the second act song "Perfect".
Many of the jokes and sight gags relate to the idealized Disney animated movies in which the various princesses appear.  Many of the costumes (designed by Cheyenne Hamberg) satirically resemble the attire from the Disney movies.  There are also many allusions to the Alan Mencken songs, especially from Beauty and the Beast, Pocahontas and Aladdin.  If you are not acquainted with the Disney cartoons, you may miss some of the jokes but there are lots to go around.  The set, designed by Tyler Gabbard, is serviceable with a stage-on-the-stage and a static background of a fairy tale castle (directly from Disney World).
Mikayla Renfrow sparkles in her multiple roles with sly references to being Asian.  One of the best sight gags shows Princess Badroulbador (from Aladdin) wearing a magic carpet around her waist complete with fake legs and singing bitterly about being a "Secondary Princess".  Gabriella Francis also shines with her many characters but is especially effective as the Little Mermaid who wears an atrocious red wig (from the movie) and has buyer's remorse about her clumsy legs (complete with bandages) which she grew because she had fallen in love with a human.  Another cute sight gag is the Mermaid straddling a piece of rock which resembles the actual Little Mermaid statue in the Copenhagen harbor. Hayes' Princess Who Kissed the Frog is enraptured by being the only "black" princess.  All of the women have excellent voices ranging from rap to almost operatic which enhances a basically mediocre score.  (Don't know why contemporary Broadway composers don't seem to be able to write a decent tune.)  Music Director Erin McCamley leads the four piece band well.  There is not a lot of dancing per se but the actors are in almost constant movement well choreographed by Producer Maggie Perrino.
Much of the play is zany, outrageous and larger-than-life, but there is a very serious undercurrent which addresses women's roles in our society.  There is a fair amount of adult humor and references which younger children may not understand.
It's a fairy good show so hop on your carriage or magic carpet and join the somewhat disillusioned princess in Disenchanted! appearing at The Carnegie Theater through April 9.  Tickets are available here.
CSC's Raisin in the Sun's Universal Story of Persistence and Hope
Review by Liz Eichler of Raisin in the Sun: Cincinnati Shakespeare Company
Two themes arise from Cincinnati Shakespeare's fantastic production of Lorraine Hansberry's classic A Raisin in the Sun, playing now through April 15. The first, is that this play is Hansberry's answer to poet Langston Hughes question "What happens to a dream deferred?" so this is a powerful look at sacrifices and hope. The second theme is so vibrant and fresh it feels like the play, written in 1959, was a response to the meme "Nevertheless, she persisted." Either way, it is an uplifting, powerful presentation of family dynamics, and hope for something better, despite obstacles.
A Raisin in the Sun is about a struggling multigenerational family in early civil rights Chicago, who has received a windfall after the death of the patriarch, and all have competing hopes and plans for the money. Ultimately it is about matriarch Lena Younger, who receives this insurance check after the death of her husband, deciding the best way to invest her hope in the family's future is a bold move to the suburbs. Directed by Christopher V. Edwards, the play is filled with laughter and tears, as this family is Every Family (Black, White, Asian, Muslim, etc.) surviving through conflicting goals and limited resources.
Burgess Byrd fuels Lena Younger with energy. She is the keeper of hope for the family, tending it, protecting it, like her little plant on the windowsill. Byrd makes her sweet, indulgent, proud, protective, unyielding in turns, but is clearly the glue that holds the family together.
After the father passes, there is a vacuum formed, to be filled with either Byrd or her adult son, Walter Lee (Geoffrey Warren Barnes II). Barnes fully explores this character, giving his audience the petulant boy, the smooth mover, the angry drunk, the petty sibling, the indulgent dad, the naive entrepreneur, and finally, the man of the house. He's married to Ruth (Torie Wiggins). Ruth is sweet, capable, giving and loyal, sagging under the weight of carrying more than half her load. He is a chauffeur, she is a maid. Both quietly stifle their dreams while enabling others', turning their love into a festering anger.
The play belongs to Rika Williams as Beneatha Younger, Lena's 20-year-old daughter. She embodies a girl struggling to define a new possibility for women in the world. "She was warned. She was given an explanation. Nevertheless, she persisted," (Mitch McConnell's directive about Elizabeth Warren) is Beneatha's theme. The world of 1959 was stacked against young black women, but she is determined to be a doctor. She approaches the world with an appetite to do and to be, not to obey.
Beneatha's suitors are excellently played by Darnell Pierre Benjamin (Joseph Asagai) and Crystian Wiltshire (George Murchison) who represent the spectrum of men, African or not. One is wealthy and social climbing, without substance, who tells Beneatha to look good and stop thinking; the other is an educated man from Nigeria, with sophistication, and shares Beneatha's dreams.
The opening night audience loved Shanessa Sweeney as Mrs. Johnson. Jeremy Dubin portrays the "welcoming committee" for the suburb, and is named Karl Lindner (yes, Hansberry's original name). Shadow Avili' from SCPA is a darling Travis, and Silvester Little, Jr. portrays a fine Bobo.
The set (designed by Shannon Moore) depicts the crowded conditions in the apartment, but it is comfortable and homey as well, with open walls to see off-stage action, warmly lit by Justen N. Locke. Amanda McGee's costumes are appropriate to the era and in a tight palette. Doug Borntrager creates a rich soundscape.
Call or go online today to get your tickets for this must-see production. It is a full three hours, with 2 intermissions. All student shows are sold out, with limited tickets remaining for the run. www.cincyshakes.org or 513-381-2273.
CSC's Raisin in the Sun is Powerful and Nuanced
Review by Doug Iden of Raisin in the Sun: Cincinnati Shakespeare Company
The American classic A Raisin in the Sun opens this weekend at the Shakespeare Theater in its second to last production in its current venue. Because of scheduling issues, I saw a preview prior to the official opening this weekend.
Raisin is the story of a black, ghetto family trying to survive in a dilapidated apartment in the south side of Chicago in the 1950's. Six people live in the claustrophobic apartment led by matriarch Lena Younger (Burgess Byrd) who is expecting an insurance check for $10,000 and is not sure how to spend it. Also staying there are Lena's two adult children, Walter (Geoffrey Barnes II) and student Beneatha (Renika Williams), Walter's wife Ruth (Torie Wiggins) and their son Travis (Shadow Avili). Tensions start to build when Walter presses his mother to use the insurance money to buy a liquor store which Lena opposes due to religious convictions and the strong suspicion that her son is being conned. Walter, employed as a chauffeur for a white family, is desperate to make a career of his own and is obsessed with making money. Walter's mercurial personality tears his family apart as he whipsaws between manic episodes of giddiness because of his dreams and a deep depression about his status in life. His long suffering wife Ruth stoically tolerates his mood swings but becomes desperate herself when she discovers she is pregnant with few good options for the future.
Lena's daughter Beneatha, hoping to become a doctor, is torn between two suitors, a rich fellow student who has assimilated into American white society and a native Nigerian who wants Beneatha to embrace her African heritage. She needs to decide both between two men and two cultures.
The interpersonal relationships collide when Lena decides to buy a house in an all-white community because that would be the cheapest house. A white man from Clybourne Park tries to buy them off which exacerbates the tensions. Walter still covets the money. In the center of this emotional whirlwind is Lena, who is trying her best to navigate the turmoil surrounding the money and still satisfy her increasingly fractured family.
This is a very powerful play with, like all great theater, a multiplicity of themes and undercurrents including assimilation, racism, family generational conflicts, clash of cultures, impact of poverty, education versus ignorance, alienation, greed and unreasonable expectations. The thirst for money and station can tear a family apart. But, despite the depiction of a black, ghetto family, the brilliance of this play is its universality. On the one hand, the play is a little dated, mired in the 1950's mores and language but, on the other hand, the story could be ripped from today's headlines.
The actors are a combination of resident Shakespeare Theater veterans and some newcomers and all are excellent. Burgess Byrd as Lena walks a tightrope between dictatorial leadership and a loving, caring feeling for her kin. Byrd's role as the centerpiece of the play is crucial and she performs admirably. An example is her tender care for a bedraggled plant which represents freedom and clean air in a garden of her own. Barnes inhabits Walter's volcanic personality, his naïve acceptance of his buddy's shady dealings and an infectious charisma while romancing his wife and provides the play's emotional upheavals. Newcomer Renika Williams is very believable in the coming of age subplot as she deals with the family conflicts while trying to sort out her own definition of a modern black woman. The direction of Christopher Edwards is spot on because the play never drags.
The set, designed by Shannon Moore, becomes another character in the play with its claustrophobic, cluttered dinginess. None of the furniture matches and appears to be purchased from a hand-me-down garage sale. The seedy condition of the major room which functions as the kitchen, dining room, living room and bedroom for young Travis sets the tone throughout the production. It is squalid but it is still home.
I grew up in the Chicago of the era and I remember vividly the racial tensions, all white neighborhoods trying to maintain their purity and the cultural clashes that existed. It was a difficult time but it enabled me to become a little less biased, I hope, than some of my contemporaries.
I laud the Shakespeare Theater for doing Raisin and strongly recommend the production. It is a difficult, nuanced but ultimately very rewarding evening in the theater which ends with Lena taking her plant to freedom. A Raisin in the Sun continues at the Shakespeare Theater through April 15.
Know Theatre Presents an Unbearable Heaviness of Being
Review by Ken Stern of Heavier Than…: Know Theatre
Thank the gods for Greek mythology and for today's playwrights that reweave these tales. Jami Brandli brought Apollo and Cassandra to 1960 New Jersey in BLISS (or Emily Post is Dead), produced at Miami University in February. Now, at the Know Theatre, is Steve Yockey's play Heavier than … ("a strange account of Asterius in the labyrinth"), through April 1st. BLISS was brilliant and Yockey's play is a match. Go to the Know and enjoy the challenge Greek mythology presents to us, as well as its characters, in the 21st century.
Note: my review below has some spoilers if you aren't familiar with the mythology already.
A quick summary of the classical story of the Minotaur, who has a bull's head and a man's body: Asterius is Pasiphae's son, born from her mating with a beautiful white bull, stolen by her husband,  King Minos, from Poseidon. Poseidon gained vengeance on the king by having the queen fall in love with the bull. Love, being what it is in every age, was consummated. The king, of course, was not pleased. Asterius, the Minotaur, is exiled to Knossos and its Labyrinth, designed by the great inventor Daedalous. He is not in the play, but his son Icarus is inserted into the story by Yockey.
The three woman Chorus (Nicole Hershey, Miranda McGee, and Maggie Lou Rader) is central to this play. Dressed in long gray gowns, they move and speak as one, acrobatically, gracefully, and ominously. The Chorus has been passing time for 27 years as Asterius's constant, and only companions. Throughout, the Chorus massages a long chain of seemingly worry beads ("beads manipulated with one or two hands and used to pass time in Greek culture"). This chain, coiled at their feet, does not bind them; yet they willingly hold on to it (part of a wonderful set, designed by Andrew Hungerford, who also did the lighting).
The play opens as Asterius is about to turn 30. He loves and longs for his mother, whom he has not seen since being abandoned at age three. Asterius (played as an earnest naif by Landon Horton), is dark, bare chested, extensively tattooed, dressed only in long cut-off shorts, and sports horns at least four feet long (they, and Icarus's three sets of wings, are a result of costume designer Noelle Johnston's creativity). Horton is center stage and on stage for the entire play. Asterius has woken from a dream of his mother. He asks the Chorus to show her to him.
The Chorus is positioned above and to his right, on a concrete platform held up by chains, another remarkable set feature. Blindfolded by black scarves, not as justice, but as muses, they provide visions of the happenings and exchanges of Pasiphae (Piper Davis, queen-like in attire, but modern and casual in her diction, as is her daughter) and Ariadne (a very princess-y Jordan Trovillion) at Asterius's request. In a brilliant directorial move (credit Bridget Leak for the crisp production) the Chorus takes off their blindfolds, when presenting these visions, staring while frozen in place as they unfold.
This play is all about relationships. Discern the dynamics between Asterius and the rest of the cast: the Chorus, Icarus, the mother and sister, and between the Chorus and Icarus and between mother and daughter. As in any great play, as in great art, consider the weave and tangle of truth, trust, love, and betrayal between friends, family, and rivals.
Icarus (Nathan Tubbs, also earnest and naive), drops in, almost literally. He flies on wings his father made (a different myth, woven by Yockey into this play). He is Asterius's best friend and only visitor until sister Ariadne comes by. Tubbs, also in shorts and bare chested, blond and slight, is energetic in his advocacy for Asterius. Having made flights over the palace, he has a different take on the events the Chorus presented, telling them "What you show him isn't real." Icarus returns to this again in additional visits, advocating that Asterius run away and leave the Labyrinth. The Chorus purrs a different siren song, but only one side can be right.
Adoring sister Ariadne makes a visit, but backstory later presented proves this to be a reconnaissance mission, that flighty and superficial she may be, but in her teen crush for an Athenian warrior who will be part of the cohort sent to kill the Minotaur (or be killed, as no Athenian has succeeded yet), she is cunning and deceitful, planning to betray her brother.
Worse of all, pushed by Icarus, the Chorus finally shows a scene of Pasiphae telling Ariadne to embrace and follow her feelings of love. Pasiphae's love was the bull, and thus her life is a lie. Asterius is the last reminder of her long ago crush. Mother and daughter take center stage playing out these visions. In one Pasiphae tells her daughter "learn quickly to control love. You will." Asterius, Icarus, and the Chorus watch, their portion of the set dimmed. Later, Asterius forces the Chorus to re-show an earlier vision. Rashomon-like, this time, the mother urges her daughter "if you don't want your love to die, you must help him"—assist him to kill her brother.
Asterius is undone. Or is he? "So, what you have been showing me all these years?" he asks. "A better image," the Chorus tells him, taking off their blindfolds for the first time while engaging in conversation. The play was written in 2011, but the line the Chorus has been feeding Asterius is fake news, altered to feed Asterius a story of a caring family.
But wait: in Greek mythology mortals' fates are decided by the gods. Humans have no agency, cannot escape whatever outcome the gods determined. On stage, the Chorus parrots that line: "You have to kill him. That is who you are." The Chorus, as muses, are true to the original story, the old party line: the gods decide. But attending theatre in the twenty-first century, the audience looks for a story true to our modern world, modernity, fee will, individual agency. And Asterius, who from his opening lines, only wanted to be a good son, decides for himself what he must do to be that good son.
The production values are superb: set, costuming, lighting, including prop design and scenic art by Sarah Beth Hall, sound design by Doug Borntrager, and music by Trey Tatum.
Heavier Than . . . runs Wednesdays through Sundays through April 1st, with Sunday afternoon performances (and a brunch catered by Water Tower Fine Wines on the 19th). Walk-up tickets are free on Wednesdays, or $5.00 with advance reservations to these Welcome Experiment performances. For tickets, go to knowtheatre.com or call 513.300.5669.
Know Spins a Tale of Contrasts in Heavier Than…
Review by Liz Eichler of Heavier Than…: Know Theatre
From the moment you walk into Know Theatre's Heavier Than… you will sense that this story is both minimalist and full, simple but rich, pure but tainted, and it will make you to realize perception and reality are often opposites.
Heavier Than… is written by Steve Yockey (Fisherman's Wife, Pluto) and is a modernization of the Greek story of the Minotaur in the labyrinth. In the classical Greek story, King Minos's wife was tricked by Poseidon into falling in love with a white bull and delivering a trans(species) baby, viewed as a monster, banished to live in a labyrinth. In this play, we see Aster the Minotaur trapped in the labyrinth since he was a toddler, hoping his upcoming birthday will finally bring a visit from his beloved mother.
This play takes the stand that the minotaur is really a victim of circumstance and the manipulating chorus of Fates. He is not a horrible monster he is actually a sweet, lonely man-child, trying to disassociate himself with his beastly side, looking for the good in everyone, and ultimately wanting to be perceived as a good son. Landon E. Horton is a minotaur you would want to be friends with. He is mostly sweet, kind, and hungry for interaction. His body is soft, not the body of a warrior wanting to be feared, and his horns hang heavy and huge.
The people he interacts with are actually more beastly than he. The chorus of Fates (Nicole A. Hershey, Maggie Lou Rader and especially Miranda McGee) provide a lot of the humor and sensuality in this play.  The three have excellent timing and interplay, as they spin, apportion and gyrate through the silver threads of his life.
As Icarus, Nathan Tubbs creates a smarmy X-gamer, risk-taker and flyer, focused on his own need for more excitement, sexual or otherwise. Also beautifully embodying  the narcissism of youth, is Jordan Trovillian as Aster's self-centered half-sister Ariadne.  The regal Piper Davis passionately shows us both sides of the minotaur's mother.
The title—Heavier Than… accurately asserts that the tone of this play is dark, and doesn't have a happy ending. It is the opposite of It's A Wonderful Life and not for the depressed. The light in Aster's life of solitude is his perception of his mother. He tries to be a beacon of love, not the killer portrayed in myth. He truly believes "I am a good son," and his Chorus enables him to keep believing for years, but Icarus destroys that myth as he destroys himself.
There are other things that appear 'heavier than' they might actually be—the minotaur's' horns are huge, weighing him down literally and figuratively (although I was assured they were in fact rather lightweight). The setting looks like heavy, heavy concrete that is masculine, smooth, curved, and impermeable. Amazing job by the set team (Andrew J. Hungerford scenic and lighting design, Sarah Beth Hall Associate Designer, Scenic Charge and Props Master, Olivia Leigh, Assistant Scenic Charge, Nick Kohlke Technical Direction): so well painted, formed and lit. Every prop was perfect, from the real daisies to the silver rope, to the wings. A complete surprise, beautifully executed is the retelling of the Greek myth using shadow puppets.  Body-conscious Grecian-style costumes are designed by Noelle Johnston with husband Brandon Johnston responsible for wings and horns.
Heavier Than… is different from Fisherman's Wife also by playwright Steven Yockey, produced with great fun and camp last year by Know Theatre. Here, director Bridget Leak focuses on a classical approach, featuring simple lines with great strength, having a lighter hand, with heavy material. This 80 minute play will give you plenty to ruminate upon, as you contemplate whether  perception or reality controls you.
Heavier Than… runs through April 1 at Know Theatre. For tickets: knowtheatre.com or 513-300-KNOW.
Covedale's Leading Ladies Avoids Brute Farce
Review by Doug Iden of Leading Ladies: Covedale Theatre
What's not to like about a bedroom farce. Where else would you find a recipe of pratfalls, mistaken identities, malaprops, misunderstandings. men dressed as unattractive women, rapid-fire dialogue, labyrinthine plots and silly hilarity.  All of these incongruous ingredients are in the mix at the Covedale Theater's opening of Leading Ladies.
Ken Ludwig's masterwork tells the story of two British wannabe Shakespearean actors (Leo played by Daniel Cooley and Jack portrayed by Drew Davidson) stuck in rural Pennsylvania doing play vignettes for a group of drunken Moose lodge members. Penniless, they are looking for their next gig when they read about a dying woman (Florence played by Peggy Allen) who wants to leave her fortune to her long lost British nephews who end up being nieces instead.  So the actors don women's costumes, assume the roles of Maxine and Stephanie, and attempt to bilk the matron by posing as her long lost kin.
While there, the actors meet the other zany characters including a lecherous doctor (Harold Murphy), his son Butch (Elliot Handkins) who is dating an ebullient teenager Audrey (Leiren Jackson) and a granddaughter Meg (Natasha Boeckmann) who is engaged to uptight pastor Duncan (Jamie Steele). Now the plot complications start as Leo/Maxine falls in love with the affianced Meg and Jack/Stephanie is enamored with Audrey who is dating Butch.  Are you confused yet?  Further, Stephanie is supposedly deaf and dumb so Jack/Stephanie can't talk, at least for the first act.
Meg's ambition is to be a Shakespearean actress and has heard of Leo and Jack. Maxine claims to be a friend of Leo and arranges for Leo and Jack to appear for a performance of Twelfth Night. For the remainder of the play, Leo and Jack switch back and forth between their alter-egos. Leading Ladies unabashedly channels Twelfth Night creating a play within a play within a play scenario.
This show is very funny although, caution, the play contains a lot of innuendo, double entrendres, gender bending and farcical sexual situations.
The cast is excellent, headed by Daniel Cooley as Leo/Maxine. Cooley must assume a male British accent and a female voice with lightning-quick costume and vocal changes as he careens from character to character.  Cooley does it amazingly well.  Ditto Drew Davidson as Jack/Stephanie.  They also do a lot of running around in high heels.  The two male leads must be believable as the pseudo-women and Cooley and Davidson accomplish that.  The other cast members add to the hilarity as well.
For farce to work, the comic timing is critical, which is a testament both to the actors and to veteran Covedale Theater director Bob Brunner. As a member of the audience, you feel as though you are in the center of a theatrical tornado with the screwball dialogue, rapid costume changes and the occasional pratfall (literally).
Caren Young's costumes add to the absurdity of the show, mixing rather outlandish Shakespearean clothes with modern attire. The actual women are dressed either normally or elegantly and the faux-women's clothes appear to be purchased from a garage sale.  The mixture of clothing adds to the intertwining of the play with Twelfth Night.
The single set design by Brett Bowling shows an elegant living room with a lot of detail, including many pictures on the wall. The introductory scene for Leo and Jack at the Moose lodge is effectively staged with action on the wings in front of a gauze curtain.
If bedroom farce is your bag (and it should be), join in the hilarity of Leading Ladies at the Covedale Theater running through April 2.  You don't have to wait for an eleventh or Twelfth Night. Tickets are available by calling 513-241-6550 or going to the Covedale website, www.cincinnatilandmarkproductions.com/ccpa
Leading Ladies: Go Big or Go Home
Review by Jack Crumley of Leading Ladies: Covedale Center for the Performing Arts
Following the thoughtful intensity of Doubt, A Parable, the Covedale Center for the Performing Arts presents a considerable change of pace for March and early April in Leading Ladies: Ken Ludwig's 2004 farce about… well… men who pretend to be women for money but then fall in love with the women they're tricking.
Try to stay with me here: Leo and Jack are a pair of down-on-their luck Shakespearean actors in 1958 Pennsylvania who hatch a scheme to trick a rich old woman into thinking they're her long-lost relatives (Max and Steve) to win a cut of her estate. The two find out that the missing nephews are actually nieces (Maxine and Stephanie), but that just means different costumes to wear for the fleecing. They also meet (and fall in love with) an actual living niece, Meg, and her energetic, roller skating friend, Audrey. Cue the wacky hijinks that include quick costume changes, cartoonishly bad disguises, some occasional grab-ass, surprise kissing, and a fun dance number.
This is a high-energy show that really moves, and all of the actors do great job of keeping things humming along. They've all got a good rapport, which helps with the pace and the timing needed to keep this whirling dervish of a plot going. The cast is an even mix of some familiar faces with Cincinnati Landmark Productions and others making their debut, but all work together exceptionally well.
Daniel Cooley's Leo and Drew Davidson's Jack have a solid chemistry throughout the show, whether they're playing men or men pretending to be women. Cooley's work especially gives off a vibe that is equal parts manic and focused, and it seems like the pair have an almost Abbott & Costello-like relationship.
Natasha Boeckmann plays Meg, and delivers a performance with a believable, almost ingenue quality. Her friend, Audrey (played by the vivacious Leiren Jackson), is a sexy, goofy contrast to Meg's more reserved, engaged-to-a-conservative-minister-but-desperate-to-be-an-actress nature. Plus, Audrey's introduction on skates in a train car is one of my all-time favorites.
Did I not mention that Meg's fiancee is a very white bread, reactionary man of God who grows increasingly suspicious of Leo/Maxine and Jack/Stephanie? Well, it's a farce, so you've gotta keep up. Jamie Steele plays that fiancee, Duncan, as both a paternalistic and whiny spouse who's fun to root against.
Rounding out the cast is Harold Murphy as Doc, the rude, horny physician who's treating Peggy Allen's rich and ailing, but still feisty, Aunt Florence. Elliot Handkins plays Butch, the awkward son of Doc who wants to marry Audrey.
For the most part, the show takes place in a large living room in a larger house. Brett Bowling's set design takes up the entire stage, and the whole space feels much wider than previous productions. As such, the characters do a lot of pacing during their scenes, and that blocking works sometimes more than others. But, the characters need all that space as the story progresses, and some of the interactions become more… physical. Audiences should be aware that this show has some cursing, and it's much more risque and bawdy than I was expecting.
Leading Ladies picks up where Covedale's The Foreigner left off in the fall, and cranks every outlandish situation up to eleven. This show is BROAD and a lot of irreverent fun.
Leading Ladies plays at the Covedale Thursday, Friday, Saturday, and Sunday through April 2. Tickets are available by calling 513-241-6550 or going to the Covedale website, www.cincinnatilandmarkproductions.com/ccpa
CCM's Mack and Mabel Star Turn for Mabel
Review by Liz Eichler of Mack and Mabel: CCM
Occasionally in theatre and film, someone will appear and everything else pales in comparison. That is Emily Celeste Fink, who effortlessly commands the CCM stage as Mabel Normand in Mack and Mabel, playing only through March 5 at CCM's Corbett Auditorium.
Mack and Mabel is a bittersweet love story that explores the highs and lows of the Golden Age of Comedy, focusing  on the tumultuous relationship between director Mack Sennett (who created the Keystone Kops) and his star, Mabel Normand. Mack narrates the story, from his first encounter with Mabel, to their love story, and their missteps in between.
In the play, Mabel accidentally comes on set as a sandwich seller, instantly capturing the focus of the film crew. Mack immediately signs her. When performer Fink enters the stage, you immediately know she is going to have a powerful career as an entertainer. If she was an NCAA basketball player she would sign early with the NBA.  She starts big with "Looks What Happened to Mabel," and  hammers it home in "Wherever He Ain't, " the memorable and difficult "Time Heals Everything" and, of course "When Mabel Comes in the Room." Fink has a rich voice and the power to belt. She also has charm, charisma, and an effortless joy in performing for you.  Her multidimensional portrayal makes other performers pale in comparison, and with the rich talents of all CCM students, that is hard to do. Alex Stone as Mack Sennett has one of the best voices of the evening. Kyra Christopher as Lottie, is a great hoofer, with the subtlety of Jinkx Monsoon. The chorus is filled with talented, singers, dancers, and actors of every shape and size selling it, however, it is not ethnically diverse. They beautifully perform the choreography by Patti James, in a variety of dance styles, and sound great due to musical direction by CCM graduate student Evan Roider.
The costumes are another star of the evening. So many rich, beautifully cut, luxurious clothes! My favorite could be the top of the Second Act, but the hits keep coming!  From the tap outfits to the kimonos to the suits—Costume Designer Reba Senske shows the phenomenal talent of the CCM Faculty Staff, and student workers.
CCM's seamless delivery of scenery (as well as the musicians) is always exciting, adding to the magic of the evening. Thanks to Mark Halpin, scenic designer, the set is an appropriately ancient sound stage, with multiple beautiful pieces flying in from above and below, including beautiful Art Deco draperies and accessories.
Director Aubrey Berg ties all this talent together and brings out the best of this musical, which has strengths and flaws as written by Jerry Herman (music and lyrics) and Michael Stewart (book). Inherently it proceeds in a series of starts and stops for the video clips, which aren't as clear or as funny as they used to be. (Reflecting the relationships of Mark and Mabel, as a series of stops and starts and not what it used to be?) It also ends too abruptly, finishing one story, but not the other (perhaps one more slide with Mack's dates on it could have made it feel more complete.)  These are not reasons to keep you away.
Get your tickets TODAY to Mack and Mabel: http://ccm.uc.edu/boxoffice/mainstage/mack-and-mabel
Go See This Wide Night at Clifton for Masterful Performances
Review by Liz Eichler of This Wide Night: Clifton Performance Theatre
When you go to This Wide Night, now playing at Clifton Performance Theatre, you will see two of Cincinnati's most talented performers, inhabiting their characters so completely—all the way down to their toes. Not only that, but you will be about 6 feet away from them, so you can see every nuance of their eyes, lip biting, and shoulder shrug. This is must-see acting.
'This Wide Night' is the story of two gals who were roommates in prison, now redefining their lives on the outside. Each is the antagonist and the protagonist in this story which explores a relationship of people who are forced to forge bonds. Their love is platonic, an intimacy based on years of living together in the same cell, yet each woman holds private thoughts and actions, which both protect and destroy them.
We first meet Marie, played with a rawness and quiet energy by the amazing Miranda McGee. She thoroughly explores every corner of the first act. It is in the second act that more is revealed about the character, and McGee's mastery is unlocked.  It comes not in a barrage of words, but the well timed pauses, the focus of the eyes, the position of the arm.  She is not acting, she is embodying her character.
Dale Hodges' Lorraine is Marie's mother figure—the adored mum of the youngster, the reviled mum of a teen, the friend mum, and dotty mum of a frustrated adult tired of having an old woman around—all at once. Both performers expand the boundaries of accepted behavior, because they have never been able to escape or avoid each other. They devastate, lie, and are rough with each other, but turn on a dime to accept, forgive and enable.  They act right down to their toes: Hodges fidgets with her feet, and McGee's toenail polish reflect who they are, revealing more to the audience than words.
Also revealing are the set dressing and use of space from Set Designer Nazanin Khodadad and properties by Kristen Ruthemeyer-Hammer and Carol Brammer. Director Kevin Crowley has not only evinced great performances from these two masters of the stage, but he crafts an environment so extremely detailed and telling, and uses every inch of the space well.  Lighting (Garry Davidson) and Sound (Sebastian Botzow) add to the verisimilitude of the intimate Clifton Performance Theatre.
This is a 90 minute evening, where you can savor every minute. The pace is measured and for some might be slow. The script has some flaws in the first act, but what you will see are two people who have stuck through it with each other. No smartphones to escape.  They let each other be who they are, no need for apology, despite the weather, the time, the current emotion.  They will be with each other, without an umbrella, through the rain.
CALL NOW FOR TICKETS: 513-813-7469 or www.cliftonperformancetheatre.com
Mack and Mabel and the Movies at CCM
Review by Spenser Smith of Mack and Mabel: CCM Musical Theatre
Mack and Mabel, now presented by CCM Musical Theatre, centers on the tumultuous relationship
between the silent film director and his muse, respectively. Many conversations happening around me during opening night circled around why this show is so rarely produced. Having known nothing about the show until last night, I wondered the same.
The score, by Hello, Dolly! scribe Jerry Herman, is the standout of the two and a half hour musical (comedy?). The orchestra of 25 and cast of 45 sound magnificent! The orchestra rises from the pit and is appropriately featured during the overture. When the curtain rises, Mack (Alex Stone), who we presume is past his prime, has arrived at the studio one last time before it's lost. He leads us through the story of when times weren't so tough and this production uses a projector screen to show footage of the actual films shot by Mack Sennett, featuring Mabel Normand. Stone is a very capable actor/singer, but there are times the comedic shtick seems very forced. He does well despite the few reasons we have to like Mack. Emily Celeste Fink (Mabel), who owned They Were You earlier this season, needs nothing more than a powerful ballad in each act to steal this show as well. She understands Mabel's quirky comedy in the beginning and her vulnerable decline to the end. I honestly can't decide which of her songs was better, that's how good she is. Kyra Christopher (Lottie), who we last saw as Sheila in A Chorus Line,
shines as "the hoofer." Although completely irrelevant to the story, "Tap Your Troubles Away" is a great feature of her performance and the energetic choreography by the soon-to-retire Patti James.
I appreciate the story having weight in a musical when all-too-often the singing and dancing steals center stage (pun intended). The book at the center of Mack and Mabel struggles to find its footing. Is it a comedy? Is it a drama? Act 2 is significantly shorter than the first and when we come back from intermission everyone is really angry, Mabel is snorting cocaine and then a tap dance? It's all very confusing and sudden. Make no mistake, the issue here is the writing. The cast on stage at CCM does a fantastic job with what they are given.
Director Aubrey Berg keeps this show and its large cast moving. Scene transitions and the many costume and set changes all go off without a hitch. Major kudos to Costume Designer Reba Senske. I lost count of the total number of costumes in the opening number. Every look feels genuine and it's always nice as an actor to feel confident on stage in a beautiful costume. The same can be said for Set Designer Mark Halpin whose sound stage on a stage works well with the many different locations seen throughout the show. There were myriad microphone issues on opening night but I didn't miss a word. Great work from the cast.
If I was presented today with the same question that I heard many times last night, I now have an answer. The book, by Michael Stewart, creates two very unlikeable main characters. It's hard to find any redeeming qualities. The show desperately needs levity and now I understand the tap number.
Mack and Mabel runs through this weekend on the campus of the University of Cincinnati in the Corbett Auditorium.Tickets for the show can be purchased by calling 513-556-4183.
1960s Housewives Desperate, Not BLISSful in Miami University Production
Review by Ken Stern of BLISS (or, Emily Post is Dead!): Miami University
The gods, and their mythologies, do live forever, on stage, in texts, and the creative imagination of playwright Jami Brandli, whose BLISS (or, Emily Post is Dead!) makes its "Premiere Production" at Miami University's Studio 88 Theatre this week through February 26th. Brandli's play curses Apollo to live forever, and has Cassandra reliving Apollo's curse on her BLISS (or, Emily Post is Dead!), to prophesize the future, but not to be believed ("don't bring that wooden horse inside the gates").
In this powerful, thought provoking, entertaining, and well done production, Apollo and Cassandra are joined by Clementine, channeling Clytemnestra (wife of Agamemnon from the Trojan wars). Maddy (Medea) and Antonia (Antigone) live in the same North Orange, New Jersey neighborhood. Brandli, not Greek storytellers, brings these unrelated protagonists into this new telling, set in 1960. The women are front and center, but Clementine's and Maddy's lives revolve around their absent husbands, not Greek heroes but now with 20th century back stories in business or law. Antonia's guardian uncle is her nemesis, her (Oedipal) parents dead.
And Emily Post? First and last, from the opening scene a presence and touchstone, written to forlornly by these suburban women. They never get an answer, but her dictates guide their lives. And then she dies.
Taylor Hayes's Maddy is center stage most often. Hers is a powerful, assertive, frenetic, frustrated, and anxious presence, a storm beneath the calm, most notably as Act II opens. Wailing in classic Greek tragedy fashion, the lights come up on Maddy clasping a newspaper, shocked to read that Emily Post is dead. The three women continue reading their appeals to Emily Post, Clemmie and Antonia on the wings. Maddy scratches and scratches her arms, showing increased nervousness and a brittleness behind her all-is-well exterior.
Maddy, who found pink panties not her own in Jason's pants pocket at the close of Act I, diverts herself initially with her concern for Antonia, who by going to the. high school dance with a black student, has breached etiquette. In Maddy's Emily Post structured world, everything and everyone has a place, and a black boy with a white girl is not respectable. Playwright Brandli's feminist play addresses race with equal gravity.
Jada Harris offers a burdened, grim, resolved, independent, and assertive Cassandra. Her ability to foretell the future, without being believed and with her living through the consequences, weighs her down. She looks toward the sky, tense, worried, a fearful, faraway look in her eyes. There is no joy in her: she does not know how to tell a joke or be a part of one.
The play's twist is that this Cassandra, in this setting, is black. Apollo seeks to marginalize her, telling her "You're a woman, which means you're weak. You're black in modern society, which means you're powerless." But Cassandra seeks to break her curse, and save her fellow women characters from their fates by coaching them to choose their own path and break free from the plot of their story. Will they make an independent decision, turning away from the killing in the original myths?
Apollo comes to Cassandra out of mists, always at night as she is waiting for the bus. Adam Joesten's Apollo is vain, preening, a god who is subtly insecure. One of the delights of the play is the tension of past established values in changing times, here a pagan god fading into insignificance, his philosophy of an ordered world with actions fated and settled by godly dictate, overtaken by agency and the possibility of choice.
Cassandra is most frightened of, and trying to assist, Clementine (Theresa Liebhart). Now the wife of an often absent corporate executive, Clementine carries the weight of knowing husband Arthur murdered their baby Iris, born with phocomelia: no arms or legs. Liebhart's portrayal is nuanced, ranging from the good housewife to the plotting potential divorcee, to the furious, ready-to-murder her husband.
Emily Post is one outlet for Clemmie's worries. Pills—amphetamines, uppers—another background character, play a more prominent role. Whether called green demon or a housewife's best friend, Clementine has them, and supplies them to Maddy, Antonia, and even offers one to Cassandra.
This rich historical texture gets more complex when Maddy finds out that Gil, Antonia's dance date, is black. Antonia (Rachel Brandenburg), a mousy high schooler, dressed in a sweater, knee length plaid skirt, and saddle shoes, is without family, parents and brothers dead, and is being trained in Emily Post manners by Maddy. Antonia, the youngest, is most interested in changing, and able to, as she grows into a world complicated by jazz music and drugstore sit-ins. Brandenburg grows into maturity, becoming bolder, literally cutting the rope her uncle has tied her up with, and fleeing with Gil to participate in a New Orleans sit-in.
The rumbling of the coming future is heard above, part of Anthony Thompson's sound design. Less subtle is Cassandra's response to Antonia's innocent ask: What do you see in the year, oh . . .2016?" Trance-like, Cassandra responds: "Bullets fly. Families shatter. Communities erupt. The body count grows while HATE continues to feed the ancient beasts: racism, sexism, classicism and terrorism of all forms and faces. And the LIES. The lies the liars tell to keep the old guard in place as a demagogue rises to power."
This review goes into background detail because the plot is so richly woven with allusions and references to the protagonists' origin stories. The cast, and the audience, were and can be helped by the 48 page dramaturgical packet researched by students Jenny Henderson and Emma Shibley. Email Henderson at henderjn@miamioh.edu for your pdf file copy.
Guest director Darin Anthony's past work with Brandli shows: the play proceeds crisply and energetically, with moments of high drama and leavening laughter. Anthony and Jami Brandli are this year's Cromer/Flory Artists-in-Residence recipients in the University's Theatre Department.
The production team includes Katie Vandergriff, stage manager and Jessica Cooper, assistant stage manager.
Broadway Series' Latest Production is Anything But Rotten
Review by Alan Jozwiak of Something Rotten: Broadway in Cincinnati
"You're doing a play, got something to say
So you sing it? It's absurd!
Who on earth is going to sit there
While an actor breaks into song?
What possible thought could the audience think
Other than, "this is horribly wrong?"
These lines sung by Nick Bottom in the Broadway musical Something Rotten! beautifully captures the incredulity this character has in being introduced to that most spectacular of theatrical innovations—the Broadway musical.
With a book by Karey Kirkpatrick and John O'Farrel and music/lyrics by Karey and Wayne Kirkpatrick, Something Rotten! tells the story of brothers Nick Bottom (Rob McClure) and Nigel Bottom (Josh Grisetti), contemporary playwrights of William Shakespeare (Adam Pascal), who try to best the bard by coming up with the next great theatrical innovation.  They do this by turning to soothsayer Thomas Nostradamus (Blake Hammond)—nephew of famed prophet Michel Nostradamus—who tells them that the future of theater is not with Shakespeare, but with musicals.
Something Rotten! excelled with strong performers who could sing, act, and tap dance (yes, tap dance).  There were several show-stopping numbers that employed tap dancing, such as "A Musical" and "Something Rotten!/Make an Omelette."  For a play set in Elizabethan England, it was great fun to see all this tap dancing.  It is wildly anachronistic, but very fun.
The Bottom brothers were at the top of their form in this production.  Rob McClure as Nick Bottom was completely convincing as the theatrical impresario who desires a hit and could also combine his feelings with songs like "God, I Hate Shakespeare."  He possessed the necessary qualities of desperation and desire to better his lot that audiences root for him.  Similarly, Josh Grisetti played the sweet and love struck Nigel Bottom to perfection.  He also got a chance to showcase his vocal talents in such songs as "I Love the Way."
The true scene stealer of this show was Adam Pascal who plays Shakespeare (or should I say… "SHAKESPEARE!", since this is how the bard is always referred to within the play).  Pascal plays Shakespeare with a perfect blend of brazen bombast, besotten boldness, and brain-sick brooding over his continued ability to produce plays. Pascal is Broadway royalty, having originated the Broadway  roles of Roger in Rent and Radames in Aida.  He is perfectly cast in this play and knows how to poke fun at the bard by turning him into an over-the-top rock god.
Strong performances were also given by the actors playing Brother Jeremiah (Scott Cote) and Thomas Nostradamus (Blake Hammond).  Cote is great as the sexually repressed puritan who is against the Bottom brothers and their attempt to make the world's first musical. His attempts to curb himself are hilarious. Hammond is also great as the zany and eccentric soothsayer who leads the Bottom brothers down the road to writing a musical.
This was a really fun musical.  If you are a fan of the Broadway musical, there are more than enough side jokes and references to musicals from the last fifty years that that it should leave you satisfied.  Something Rotten! appears courtesy of  Fifth Third Bank Broadway in Cincinnati Presented by TriHealth.  The show runs February 21 to March 5, 2017.
For more information on tickets, visit the Aronoff Center Box Office downtown at 650 Walnut Street, go online at CincinnatiArts.org, or buy your tickets through the phone at 513.621.ARTS.
Something Rotten is Ripe with Laughter and Joy
Review by Liz Eichler of Something Rotten: Broadway in Cincinnati
One of the best production numbers I have ever seen is in Something Rotten, presented now through March 5 at the Aronoff. Nothing is held back–it is hysterical, opulent, frivolous, completely silly and excellently executed.  But there's not only one show stopping production number, there are many of them! And many reasons to "geek out" about this show.
Created by Karey Kirkpatrick, Wayne Kirkpatrick and John O'Farrell, "Something Rotten" was nominated for 10 Tony Awards in 2015. It is the story of two brothers who are theatrical competitors to Shakespeare, looking for a way to outshine that shining star of London, so a brother goes to a soothsayer who predicts the future of theatre, but only comes "this close" to accurately naming, and hence incorporating, every musical theatre production. Ever.  Hilarity ensues.
There is a LOT for theatre fans here. The husband and wife next to me, Aronoff subscribers, said she is always "dragging him along." He said he usually enjoys the show, but this one he loved, and laughed all along.  There are enough jokes for someone with a tenuous connection to the theatre world, but even more for those who can identify every subtle or over the top reference.  And if you are not into the theatre jokes, the teenager behind us said there were enough penis jokes to entertain him (how many would that be?)
The spectacle of the show is geek worthy.  You'll see a top-notch Broadway scenic design by Scott Pask (Book of Mormon, Pippin, Finding Neverland) full of depth and color.  The costumes are rich with a jewel-tone palette,  and exaggerated codpieces, designed with exuberance by Gregg Barnes (Aladdin, Kinky Boots, Elf, Legally Blonde, and many more). Jeff Croiter designed the lighting (Newsies, Peter and the Starcatcher, Jekyll and Hyde). Casey Nicholaw (Aladdin, Book of Mormon, Drowsy Chaperone) is both choreographer and director, responsible for infusing this show with over the top moves and knocking it out of the park. Something Rotten is filled with expressive chorus boys and girls of various height to add to the comedic effect. They tap, they flip, they twirl—all in full Renaissance gear, over the knee boots, and…codpieces.
The cast features THE Adam Pascal (Shakespeare) portrayed with great humour as a pompous rock-star. The brothers, leader Rob McClure (Nick Bottom)  and poet Josh Grisetti (Nigel Bottom) are great singers and dancers. The love story  of Nigel and Portia accurately depicts the awkward backstage "geek love" between a gangly, tall, introverted sensitive teen and a feisty, short, and sensitive teen rebelling against her father.  With great comedic timing and flair, Blake Hammond (Nostradamus) and Scott Cote (Brother Jeremiah) are audience favorites.  Sweet Autumn Hurlbert (Portia) and powerful Maggie Lakis (Bea) round out the leads.  They know how to connect with every audience member in the cavernous Aronoff and deliver amazing performances, accompanied by the energy of the electric guitar wailing in the orchestra.
"Something Rotten" is something you must see. It will put your faith back into touring shows. It runs through March 5 at the Aronoff in Cincinnati.  Tickets: cincinnatiarts.org
Broadway in Cincinnati Serves Up Something Rotten with No Holds Bard
Review by Sheldon Polonsky of Something Rotten: Broadway in Cincinnati
First, a confession: I came into Something Rotten with a little trepidation, which may seem surprising, since a musical send-up of Shakespeare should be just the ticket for a lover of both musicals and Shakespeare, as I am. Nevertheless, I have seen so many Shakespeare spoofs and goofy period musicals, I was asking myself, what could this production possibly have to offer that's new or different? The name kept reminding me of that stale '70s TV series that spoofed Robin Hood, "When Things Were Rotten".
Nor was I very encouraged by the opening number, "Welcome to the Renaissance", which was just standard fare, and whose clever lyrics (presumably) were entirely drowned out by the music. That reminded me of an interview I heard with Stephen Sondheim, who noted that he had to rewrite the opening to A Funny Thing Happened on the Way to the Forum three times before coming up with the right number, "Comedy Tonight". I wish the writers of this musical had been as compulsive with their introduction.
But, never fear, true believers, Something Rotten gradually took off from there, and by the time we finished the middle of the first act and the huge, brilliant number "A Musical", a pastiche of modern musicals that is at once a skewering and an homage, the show had found its footing and never looked back. Frankly, I haven't seen a bigger showstopper in a musical since The Producers, which, oddly enough, was one musical that was not referenced in the number but to which Something Rotten undoubtedly owes its biggest debt.
Like Max Bialystock and Leo Bloom from that classic, Elizabethan playwright Nick Bottom (Rob McClure) and his nebbischy brother Nigel (Josh Grisetti) are in search of a hit, but are thwarted at every turn by William Shakespeare, who is literally a rock star of his age and makes the women and the critics alike swoon. Shakespeare, a role that originally won a Tony for Christian Borle, is played by perfectly-cast Adam Pascal, the original Roger in Rent, who plays him as arrogant and manipulative but somehow endearing in his own way. Also like Bialystock, Nick turns to a not quite kosher method to achieve success—he seeks out the soothsayer Nostradamus (or, at least, his less than accurate nephew, Thomas Nostradamus) to find out "the next big thing" ahead of time. That happens to be "the musical", leading to the aforementioned show-stopper as Nostradamus (a hysterical Blake Hammond) proceeds to try to explain to an incredulous Nick just what that is (and steals the show in the process).
Unfortunately, Nick and Nigel's first attempt, "Here Comes the Black Death", doesn't quite cut it, so he returns to Nostradamus to get specifics on what will be Shakespeare's greatest hit. Here, Nostradamus proves to be a little off the mark, but does come up with Omelette, a breakfast themed tragedy of a young prince who also likes to eat Danishes. Omelette also seems to get scrambled with modern musicals, as the ghost of the prince's father is wearing a Phantom mask and Ophelia, after she gets herself to a nunnery, is apparently protected by the nuns until the Nazis arrive, whoever they are. (This leads to the funniest line of the night, which I won't spoil). Somehow this silliness all works and climaxes with the show-within-a-show production of Omelette, ala Springtime for Hitler, and an equally Producer-like but charming denouement and resolution. In between it weaves together subplots including Nick's steadfast and plucky wife Bea (played by Rob McClure's real life wife, Maggie Lakis) and a romance between Nigel and one of the local Puritans' daughters, Portia (Autumn Hurlbert).
Something Rotten succeeds most brilliantly when it doesn't take itself too seriously, and the second act stalls occasionally when it gets a little bogged down in the romance and its unabashedly sappy message: "This above all, to thine own self be true". But no matter. The charm, earnestness, and extreme talent of the entire cast, the infectious music by Karey and Wayne Kirkpatrick, the eye-catching dance numbers and the endless barrage of jokes and musical references more than carry the show. Something Rotten has already closed on Broadway, and may never be an enduring classic, but something tells me there were plenty of high school, college, and community theatre artistic directors who were there last night drooling about putting it on for themselves, so I doubt it is disappearing any time soon. Trust me, whether you love Shakespeare, musicals, or just a fun night of theatre, Something Rotten has eggs-actly what you need, served sonnet-side-up with a side of Francis Bacon.
Something Rotten plays through Sunday, March 5th. Tickets can be obtained through the Broadway in Cincinnati website, http://cincinnati.broadway.com/shows/something-rotten-baa/.
New Edgecliff Returns to the Classics with The Glass Menagerie
Review by Lissa Urriquia Gapultos of The Glass Menagerie: New Edgecliff Theatre
New Edgecliff Theatre's current production The Glass Menagerie is classic Tennessee Williams with bombastic family dynamics and touches of Southern charm and grit.
Tyler Gabbard's set design worked well with the Hoffner Lodge configuration. With the play taking place in the 1930s, the stage featured quite a few signature items of that time: rotary phone, typewriter, Victrola. The titular glass menagerie was center stage, displayed on circular shelves which wrapped around a structural pillar.
The play opens with Andrew Ornelas as the son, Tom, who introduces the audience to his world, namely his mother Amanda, his sister Laura and their absent father represented by a frame photo. Ornelas sounded vocally shaky at first, then gradually settled into a nice rhythm. As the card-carrying southern belle, Keisha Kemper comically portrays an overbearing mother, who is frustrated that her children are not the model adults she envisioned. It's apparent she relishes the fittingly over-the-top histrionics of the character, which elicits snarky reactions between the siblings.
Some of the strongest moments of the play are during the mother-and-son arguments when both Kemper and Ornelas hold back nothing in expressing their contempt for each other. Tired of being treated like a child despite being the family's main source of income, Tom feels trapped in his dull warehouse job and the anxiety at home. Amanda insists Tom is being selfish by spending too much time and money at the movies, rather than focusing more on the family. Their heated interactions are meaty and satisfying to watch.
Portrayed by Talia Brown, Laura is the extreme balance of the two. Walking with a limp, Brown is reserved, aloof and confused by her mother's idea of gentle callers. Laura's shyness is so severe it cripples her socially, causing her to almost immediately drop out from business school. Yet when Amanda discovers Laura has not been attending classes, it was hard to detect any sort of reaction from Brown. Her portrayal was less socially awkward, and more as someone who has resigned herself to a mere background character in her own life.
Landon E. Horton plays James, the Gentleman Caller, with an easy-going charm. He's confident and likeable, and it's lovely to watch as his polite manner melts away enough of Laura's apprehension that she allows him to hold her favorite glass figure, a unicorn. It's heart-breaking to learn why James will not come calling again.
The glass animals of Laura's menagerie are what give her great joy, consuming nearly all of her time. It's clear that this collection of glass symbolizes Laura's fragility and vulnerability, but it also is her own world, where she finds comfort in caring for delicate inanimate objects.  Like her mother, Laura also has her own fantasy. While Amanda's dreams for her daughter are squarely rooted in the colorful stories of her youth in the south, Laura is completely content with her very boxed-in reality among her beloved glass menagerie, where she is in a position of strength and control.
The Glass Menagerie plays at New Edgecliff through February 25th. For tickets, call the box office at (888) 428.7311 or visit http://newedgecliff.com/box-office-2/.
The Rocky Horror Show at the Incline: A Blast From the Past Ensures Its Own Strong Future
Review by Ken Stern of The Rocky Horror Show: Incline Theatre
This is how live theatre trumps movies: a show's Narrator (think Cabaret's Emcee) can ask, first "How crazy do you want to get?" and then send the cast's Sexy Phantoms into the audience to bring nine "virgins" (people who have never seen The Rocky Horror Show) onto the stage. These volunteers get the chance to display adult humor in a couple of contests. Very funny, and each performance will be unique. And that is how the Warsaw Federal Incline Theatre brings The Rocky Horror Show live to its stage, now through March 5th.
The full house on the opening Friday was raucous and ready while the lights were still high. Rodger Pille's Narrator is a clever catalyst, ratcheting up the rate of the reaction. Bearded, in a suit and vest, sporting a red tie, he only needed a cane, top hat, and dancing number to have stolen the show. But the uniformly fine cast matched him and bested him with their outrageous costumes, antics, singing, and dancing. They did not need to get energy from the audience, but they were encouraged.
For any still-existing virgins who do not know the story, or the origins of the 1975 film, The Rocky Horror Picture Show was birthed from Richard O'Brien's 1973 play. The Rocky Horror Show is a musical (book, music, and lyrics by O'Brien). More than a mash up, it is a parody of horror and sci-fi movies. The opening number, "Science Fiction/Double Feature," wonderfully sung by Marissa Poole as an Usherette (she also plays Magenta), is set in a movie theatre, with cast members watching clips from 1940s and 1950s films. Meanwhile the sexily uniformed Usherette, with red box hat,  sings: "And this is how the message ran… / (chorus) Science fiction (ooh ooh ooh) double feature / Doctor X (ooh ooh ooh) will build a creature / See androids fighting (ooh ooh ooh) Brad and Janet"
Non-virgins know that Brad Majors (yell out nickname) and Janet Weiss (yell out nickname), are a wholesome, engaged couple whose car breaks down in a rain storm. They seek help in a castle and the mash up begins. Dakota Mullins as Brad, and Caroline Chisholm as Janet, look like a youthful Clark Kent and Lois Lane, and play their roles cluelessly, innocently, until introduced to the sins of the flesh by the mad scientist Frank-n-Furter (a seemingly 7-foot tall Matt Krieg), an alien (and, as he sings: "a sweet transvestite / From Transexual, Transylvania"). From there, suspend your disbelief and join the crowd in participating, shouting out when cued by the big screen stage left. There is no point in telling the plot, because the plot has no point.
Suffice to say the mad scientist creates a beautiful specimen of a Charles Atlas man, Rocky Horror (Tyler Kuhlman) of whom, the Doctor sings: ". . . in just seven days / Oh, baby / I can make you a man" ("I Can Make You A Man").
And Kuhlman is quite a man, blond from head to toe, in tight, gold swimming trunks and accompanying sneakers. He poses and preens, showing plenty of muscles, front and back, arms and legs. Like the libidinous Frank-n-Furter, Rocky is insatiable, and bi-sexual, much to Janet's delight.
Since there are aliens, they must go home, and the plot twist that gets them there is as musical, funny, and nonsensical as the rest of the show. Here Magenta (Marissa Poole) and Riff Raff (Christopher Carte, also the hunchback handyman, channeling many a movie spoof) get their moment center stage. They make the most of it.
The ensemble cast provides great support singing, dancing, and providing looniness throughout: Courtni Nicolaci, Kate Stark, Kyle Taylor and Michael Wright are the four phantoms. Dylan McGill is Eddie and Dr. Scott.
And the costumes (by costume designer Caren Brady): an entire review could be devoted to gushing over the black leather, pink hats and feather fans, black sequined leotards, black fishnet stockings, red pantyhose, red boas—just about the entire cast, half cross dressing—Brad and Janet in their underwear, and, of course, the alien space uniforms worn by Magenta and Riff Raff.
The large black and white checked floor extending from the curtain was fully utilized as dance floor, primarily by the cast as an ensemble. Heather Halle's (Columbia) tap dance number made impressive use of it. Behind the curtain was the interior of a castle, of course, with a wide stairs leading to the second floor laboratory. Large chrome poles, wrapped in red lights, powered the mad Doctor's experiment. The dance cage, and pole extending down to the first floor were appropriately utilized by Rocky Horror. And the paintings and sculptures with moving mouths, accompanying the underwear-clad Brad in singing "Once in a While," wondering if he has lost his love, is just genius. Much credit goes to the production's designers and managers: Set Design, Brett Bowling, Choreography, Angela Kahle and Production Stage Manager Jenny Lutes. Moving everyone through their paces are Director Matthew Wilson and Music Director John Slate.
Come to watch the show any performance, but plan to participate, coming in costume, if you will, on Wednesdays, Fridays, and Saturdays. During Audience Participation there are pre-show "rituals," props to shower onto the audience (must purchase at the box office) and shout outs, sing-a-longs, and in-seat and aisle dancing.
And yes, this is completely for adult audiences.
For tickets, call 513-241-6550 or go to www.cincinnatilandmarkproductions.com. The Warsaw Federal Incline Theater is at 801 Matson Place Cincinnati Ohio 45204.
NKU's All Shook Up Shakes Up the Elvis Repertoire
Review by Doug Iden of All Shook Up: NKU
All Shook Up is the perfect venue for the NKU School of the Arts (SOTA) musical program.  The show is loud, energetic, brash, enthusiastic, campy, over-the-top and replete with songs which Elvis Presley made famous including the title song, "Follow That Dream", "Heartbreak Hotel", "Hound Dog", "Don't Be Cruel" among many others.  If you don't recognize those songs, you've lived in a cave too long.
Do not confuse this show with Shakespeare or Arthur Miller – heavy drama it is not.  Initially derided by New York critics as a "juke box" musical,  All Shook Up has found its niche audience with many school productions such as his one.  The story, such as it is, is the classic "boy meets girl", "boy loses girl", "boy gets confused about whether his girl is a girl or a boy", "boy gets girl back again (for a couple of scenes)" and somehow, it all sorts itself out by the last scene.  But, don't try to follow the plot – you may get a headache or need Dramamine.  Just let the show wash over you and enjoy the roller coaster ride through the silliness.  When you arrive at the end, you will be exhausted but better off for your trip.
The show opens with a re-creation of the prison scene from the movie Jailhouse Rock when Chad (Xander Wells) is released and ends up in a small town.  Dubbed the "troubadour", Chad rebels against the prohibition against rock and roll music by the female mayor of the town (with echoes of Footloose).  There, he is met by a host of local characters, each trying to sort out their love lives without much success.  Chad acts as catalyst for the various romances which quickly assumes the mantle of sex farce with gender bending, mistaken identities, miscommunications and assorted pratfalls.  Wells, as the "Elvis" character, is charismatic and self-confident until he meets his love named Ed who, in reality, is a girl posing as a guy.  (Actually, it does sound a little like Twelfth Night so ignore my previous comment about it being non-Shakespearean.)  Wells is very dynamic in the role and does a credible "Elvis" with songs including "Roustabout", "Love Me Tender" and "I Don't Want to".
Natalie Haller (Melissa Cathcart) is a local girl in love with Chad but assumes the Ed persona to get close to him.  Cathcart plays the dual role well as she belts out songs including "One Night With You" and "Fools Fall in Love".  (There is a lot of music including 24 songs and several reprises.)  Natalie's father Jim Haller (played by Sam Johnson) is recovering from the recent death of his wife but wants to start dating again and pursues a much younger new resident to town named Miss Sandra (Elle Chancellor).  Johnson seemed to have some difficulties early on portraying a character much older than himself but recovered nicely when he started booming songs like "The Power of Love" and several strong duets with Xander Wells.  However, Jim should have been looking at his old friend Sylvia (Brittany Hayes) who does a star turn in the second act with the torch song "There's Always Me".
But, wait, we're not through yet with the labyrinthine sub-plots.  (Halfway through the show, I had to do a relationship chart to keep track of everybody.  You don't need to follow the story but, as a reviewer, I'm supposed to.)  Anyway, another couple to be heard from is Lorraine (Gabriela Rivera) and the Mayor's son Dean (Trey Paris) who has decided not to go back to military school but, rather, spend time with Lorraine.  Again, both performers have powerful voices highlighted by the duet "It's Now or Never".  Then there is Dennis, a very nerdy guy who walks around in short pants and long socks, who is in love with Natalie (who is not in love with him).  Dennis (Aaron Marshall) is very shy but finally declares his love for Natalie only to find that Natalie/Ed is in love with Chad.  Meanwhile, back at the ranch, Dennis meets Miss Sandra who is looking for a semi-educated man (a la Marian the Librarian).  (At this point, I threw out my relationship chart and just enjoyed the show.)  Marshall (as Dennis) sings a number of songs highlighted by "It Hurts Me" and Elle Chancellor steals a scene danced with statues from her museum while singing "Let Yourself Go".  Aiding in the singing and dancing are an ensemble of 12 men and women plus a "pit" group of singers (Matthew Nassida, Chloe Price and Adria Whitfill) who do backup vocals in a similar vein  to those for actual Motown and Rock and Roll performers,
The musical highlight of the show, however, is the number at the end of the first act.   Each of the characters sings a brief solo about their individual yearnings and are then are joined by the entire cast in a very powerful choral rendition of "Can't Help Falling in Love".
The set is very simple with little more than a series of artistic risers with occasional props such as tables, a piano and a juke box, carried onstage by the performers.  There is an 11 person band onstage for the entire performance playing a combination of guitars, keyboards, brass, reeds and percussion led by Music Director Jamey Strawn.  The lively choreography was created by Heather Britt with some interesting (and comic) costumes by Daryl Harris.  A highlight, though, are three electronic boards against the back wall.  Normally, I find computer graphics in the theater very annoying but Video Designer Terry Powell has created some very interesting illusions including pictures and psychedelic mood pieces which both help tell the story and set the emotional tone of the play.  This technique worked very effectively during the number "Devil in Disguise".
Consequently, "C'mon Everybody", put on your "Blue Suede Shoes", grab your "Teddy Bear" and "Let Yourself Go" by rolling on down to NKU for All Shook Up continuing through February 26. All Shook Up continues at the Corbett Theatre on the campus of Northern Kentucky University through February 26. Tickets are available at the box office, https://artscience.nku.edu/departments/theatre/season/mainstage4.html.
Incline Keeps the Madness Alive with Rocky Horror Show
Review by Doug Iden of The Rocky Horror Show: Incline Theatre
Outrageous may be an understated description of the The Rocky Horror Show which exploded onto the stage at the Warsaw Federal Incline Theater last night.  Based upon the equally outrageous movie entitled The Rocky Horror Picture Show, the "story" addresses a semi-normal couple who stumble onto a group of zany aliens living in a bizarre, medieval castle.  This sex farce is not for the faint of heart.
The movie homage to "B" Sci-fi and horror features created an underground pop cultural phenomenon when people attended midnight showings dressed as their favorite characters while yelling at the screen and singing along with the actors.   At certain performances at the Incline, there will be audience participation which will allow the interaction between the audience and the actors on stage.
Personally, I am not overly fond of this show but the overall presentation of the musical was extraordinary including the acting, singing, costumes, set design, lighting, timing and overall staging.  And, yes, it is a musical with book, music and lyrics written by Richard O'Brien including classic rock songs such as "Time Warp", "Damn It, Janet", "The Charles Atlas Song" and "Space Ship".
The production aims for laughs and kitsch and it scores on all fronts, starting with a campy introduction where the Narrator (Communications and Development Director Rodger Pille) goes through the normal "turn off your cell phones and where are the exits routine" but, then, slyly slips in some character introductions and a preview of next year's lineup.
The "normal" characters, engaged couple Brad Majors (Dakota Mullins) and Janet Weiss (Caroline Chisholm), are introduced in front of a closed curtain where their car difficulties force them to slog through the rain for help.  Suddenly, the curtain opens and we see the gothic interior of the castle complete with a set of armor, semi-animated portraits, a second balcony and many structural lines that are slightly crooked.  (The set almost steals the show.)  They try to maintain their normalcy in the maelstrom of insanity that surrounds them but, in the topsy-turvy world, they are forced to confront new life and sex lessons.  Both Mullins and Chisholm make a nice transition from naïve youngsters through confusion to a bizarre sexual awakening.
Their host is alien transvestite genius Dr. Frank "N" Furter (Matt Krieg) who is trying to create the perfect man, Rocky Horror (Tyler Kuhlman).  Originally played by Tim Curry, Dr. Frank "N" Furter's role as the "head crazy" is crucial to the production and Krieg delivers with a salacious, mocking, manic tone while parading around the stage in a serious of half-naked outfits.  Gender bending is rampant in the show displayed by costuming and acting.  Everyone seems to be making a play for everyone else.
Despite several star vehicles, the play resembles an ensemble piece with a number of featured performances including Marissa Poole (Magenta and the Usherette), Chris Logan Carter (as the demented club foot Riff Raff), Heather Hale as Columbia, Dylan McGill as Eddie and Dr. Scott and four phantoms including Courtni Nicolaci, Kate Stark, Kyle Taylor and Michael Wright.  All the actors appear to be thoroughly enjoying the show and that becomes infectious.
The lighting in this show is excellent, ranging from flashing lights outlining the balcony to red and blue mood lights.  A TV monitor functions as an encapsulation of old campy Sci-Fi and horror movies (during the song "Science Fiction/Double Feature) and an internal camera which shows what various characters are doing throughout the castle.  The costumes reflect an interesting variety of "cabaret" ensembles.  Director Matthew Wilson, Music Director John Slate, Choreographer Angela Kahle and Production Stage Manager Jenny Lutes are at the top of their games.
Caution: there is a lot of sexual innuendo, double entendres and simulated sex scenes in the show.
Go to your closet, resurrect those old Rocky Horror costumes and head for the Incline Theater for the remainder of The Rocky Horror Show running through March 5. For tickets, call 513-241-6550 or go to www.cincinnatilandmarkproductions.com, where you can also get more information about designated audience participation performances on Feb. 22, 24, 25 and March 1, 3 and 4.
Leave Your Inhibitions at the Door for Incline's Ricky Horror Show
Review of by Laurel Humes of The Rocky Horror Show: Incline Theatre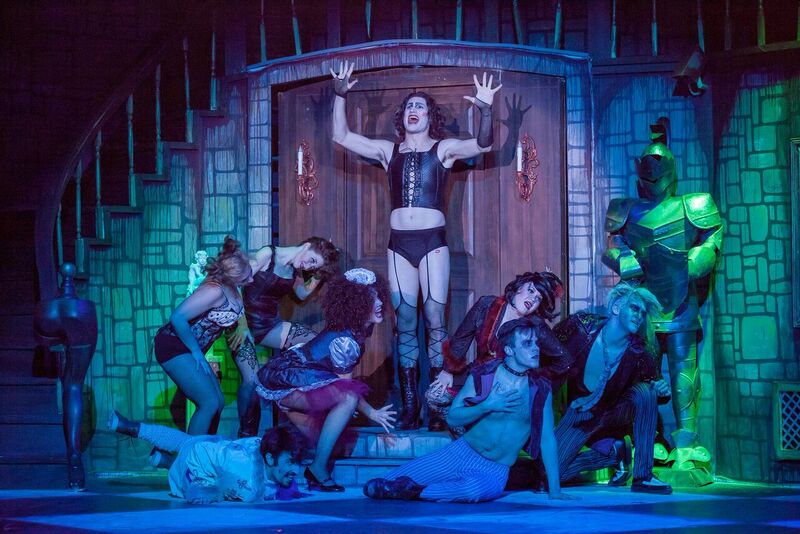 Rocky Horror Show is perfectly cast and musically terrific, with a set, lighting and sound effects the best ever at Warsaw Federal Incline Theater.
Now the content. A discreet sign in the lobby says it all: "Rocky Horror Show is rated R for sexual humor and some language. If you're square, don't go in there."
There were apparently no 'squares' in the opening night audience, because the cast was rewarded with plenty of laughs, applause and in-our-seats dancing during the signature "Time Warp," even though it was not an audience participation night.
The lobby warning is appropriate for anyone who wanders in with no prior knowledge of the show or who vaguely remembers when they saw the movie version in the 1970s. The central character is a "Sweet Transvestite" surrounded by his clan of pelvis-thrusting, breast-heaving boys and girls. The whole point appears to be sex and, when reality pushes in, a little bit of spray-mist drug that puts everyone back in the mood for sex.
Richard O'Brien (book, music, lyrics) based his 1973 musical on old sci-fi and horror B movies (he added the sex). The show's opening number wonderfully sets the stage with a strong solo by Marissa Poole ("Science Fiction/Double Feature") as an usherette in a theater showing clips from those movies.
Now we're ready for the spooky castle (kudos to Brett Bowling for richly detailed design) where cross-dressing mad scientist Dr. Frank-n-Furter presides. What an entrance for actor Matt Krieg! He is lifted from beneath the stage, back to the audience, dressed in a glamorous long robe and heels that add to his natural height.
Krieg lives up to that entrance with a commanding and hilarious performance throughout the show. He strides, he pivots, he preens. He gets laughs from the pretty weak script, especially in the cleverly done back-to-back bed scenes with both halves of a newly-engaged, strait-laced couple. "I was saving myself," she says. "I'm sure you're not spent yet," he coos.
The couple, of course, is Brad (Dakota Mullins) and Janet (Caroline Chisholm). Both actors are senior musical theatre majors at Wright State University, with fine voices and stage presence. Each gets to shine in a solo. Brad sings the lament "Once in a While," backed up by a clever stunt that turns castle décor of portraits and statues into a mouth-moving chorus. Janet, now tuned into her sensual side, dances and sings her seduction ("Touch-A, Touch Me") of Rocky.
Ah, Rocky. It is hard to imagine more perfect casting than Tyler Kuhlman. Rocky Horror is Dr. Frank-n-Furter's creation, a physically perfect muscle man (the "Charles Atlas seal of approval"), complete with "blond hair and a tan." Just like Kuhlman, except this actor can also sing, dance, effortlessly slide down a stripper's pole, and get laughs by twitching his pecs.
There is a lot of physical comedy in The Rocky Horror Show. A standout is Chris Logan Carter as Riff Raff, the hunchbacked handyman. Carter has his own skillfully done version of that stereotyped character from old horror movies and newer satires.
Director Matthew Wilson has created a fast-paced and very funny show, getting the most from a talented cast willing to pull out all the stops.
The Rocky Horror Show runs through March 5 at Warsaw Federal Incline Theater, 801 Matson Place, in the Incline District of East Price Hill. For tickets, call 513-241-6550 or go to www.cincinnatilandmarkproductions.com, where you can also get more information about designated audience participation performances on Feb. 22, 24, 25 and March 1, 3 and 4.
Can't Help Falling in Love with All Shook Up at NKU!
Review by Spenser Smith of All Shook Up: NKU
All Shook Up, featuring the music of Elvis Presley, is loosely based on Shakespeare's Twelfth Night. When roustabout Chad (Xander Wells) comes into town, all the girls (and boys) fall in love with him. He's smooth and he knows it. It's not unlike Bye Bye Birdie. When he meets Natalie (Melissa Cathcart), he's found the first girl to whom he has not been attracted. She's a self-proclaimed tomboy and the whole town knows she can fix anything. Chad has decided to spend his time wooing the museum curator Miss Sandra (Ellie Chancellor), who becomes the second person not interested in him. How could this be happening? Well, we have to set up "Hound Dog," of course. The book, written by Joe Dipietro (Memphis, Nice Work If You Can Get It), tries a little too hard although the cast mostly succeeds despite its shortcomings. There are quite a few laugh-out-loud moments, but those are the exception to the rule. When Natalie falls for Chad even though the feelings are not mutual, she decides to disguise herself as a boy to get closer to him. All the while, Mayor Matilda Hyde (Kat Klens) is trying to rid her town of all public necking. Sadly for her she needs look no further than her own son Dean (Trey Paris) who falls for the local diner waitress Lorraine(Gabriela Rivera). They play well off one another and provide many "awww" worthy moments throughout the night.
The older members of the opening night audience really enjoyed the music. The cast of 25, led musically by Jamey Strawn, can SING. Brittany Hayes, Kat Klens, and McKenzie Reese all have stand-out vocal moments and the end of Act One is a truly memorable feature of the whole cast. Director Brian Robertson keeps the pace moving swiftly and it really serves the story. Even though the book doesn't give us a lot with which to work, his staging and energetic choreography by Heather Britt provide constant action. Each scene/song transitions smoothly to the next and distracts us from focusing too much on the very loose through-line.
Costume Designer Daryl Harris has the cast looking fabulous. Everyone looks great and their confidence says it all. He's chosen to put the cast in black and white, which is another element that doesn't distract from what everybody has come to hear; the music. Lighting Designer Terry Powell uses three LED lighting grids to accompany scenes and songs with lights and digital projections. It's an element I haven't seen on stage at NKU previously and was really fun to watch.
All Shook Up continues at the Corbett Theatre on the campus of Northern Kentucky University through February 26. Tickets are available at the box office, https://artscience.nku.edu/departments/theatre/season/mainstage4.html.
New Edgecliff Expands Horizons with The Glass Menagerie
Review by Dan Maloney of The Glass Menagerie: New Edgecliff Theatre
When I first heard New Edgecliff was producing Tennessee Williams' famed "memory" play The Glass Menagerie, I thought it was the perfect pairing of material and group. Long-known as "Cincinnati Actor's Theater," New Edgecliff has a wonderful tradition of producing shows that emphasize the relationship between actor and audience.
The twist with this production? New Edgecliff performs it with an African-American cast.
Inspired by an "All Things Considered" segment on NPR, artistic director Jim Stump explains he started thinking about the Wingfields and asking questions like, "How would the story have been different with an African American family? How would it be the same?"
Director Daryl Harris leads this exploration. A 45-year veteran of traditional, experimental, alternative, applied, and academic theater on five continents, Mr. Harris is both an obvious and ideal choice. His staging capitalizes on Hoffner Lodge's assets. Though a non-traditional venue, in a lot of ways, the lodge couldn't be a more perfect location for Williams' story to unfold. As with any "found space," there are challenges to overcome – and the solutions in this production aren't always elegant. But as Tom recounts, "Memory takes a lot of poetic license." In this sense, the location is magic.
The surrealistic nature of the show is further enhanced by the production design. Farley Norman's lighting feels as though it comes out of a dream, and Grant Cambridge's sound design calls to mind shattering glass – though in my opinion, this could have been even more fully realized.
Ultimately, though, the burden of unraveling Williams' writing falls on the actors – and I'd expect nothing less from a New Edgecliff show. What I'm still trying to figure out a few days later is how or if the casting changed the story for me – or even if it was supposed to. I think I agree with Mr. Stump when he says, "The more I considered it, the more I realized this story could have been about any family, regardless of cultural background."
Initially, I struggled with Amanda, the family matriarch (Keisha Kemper). Williams' evocative language wasn't synching up for me with Ms. Kemper's portrayal. Around the time Amanda and Tom started talking about movies, something changed. I still can't quite put my finger on it. Whatever happened, the character landed in my mind. Ms. Kemper had me hook, line, and sinker the rest of the way and was mesmerizing.
NKU students Andrew Ornelas and Talia Brown cover the roles of the Wingfield children, Tom and Laura. Both have the proverbial tools, and their futures look bright. See them now so you can say you remember when. The challenge, though, particularly in a piece like this, is the young performers don't quite have the well of life experience to drawn upon, which is vital for expressing the pain in Williams' writing. It will come with time.
Rounding out the ensemble as The Gentleman Caller is Landon E. Horton, who provides a dose of energy and boundless charm. He strikes a very nice chord in his scene with Laura, and I'm looking forward to seeing more work from him in the future.
Overall, there is a lot to like about this New Edgecliff production, and without question, the venture fulfills a need in our cultural zeitgeist. Make time to see it the next two weekends and discover the script's universality for yourself.
The Glass Menagerie plays at New Edgecliff through February 25th. For tickets, call the box office at (888) 428.7311 or visit http://newedgecliff.com/box-office-2/.
Suffragettes in Action: A Review of CCM Acting's Production of Her Naked Skin
Review by Alan Jozwiak of Her Naked Skin: CCM Acting
Running in front of racing horses, breaking windows, forced feedings, and a love affair.  These elements seem to be an unlikely combination to appear in the same play.  But in the hands of Director Richard Hess and the CCM Acting students, they become the storyline of Her Naked Skin, a play by Rebecca Lenkiewicz recounting the early days of the British suffragette movement.
Inspired by the Midge Mackenize book on the suffragette movement Shoulder to Shoulder, Her Naked Skin begins with film footage of suffragette Emily Davison walking onto the track of the 1913 Derby just as the horses passed by.  Hospitalized, she becomes the match to ignite several of her fellow British suffragettes to smash shop windows and get jailed for the destruction of property.
From there, the first half of the play tells the larger story of the suffragettes in prison, showing how the suffragettes suffered harsh conditions while incarcerated.  The second half of the play deals with the relationship formed by highborn Celia Cain (Michaela Tropeano) and lowborn Eve Douglas (Julie Netzer), whose relationship in prison goes from a friendship spawned from peeling potatoes to a full-blown romance made difficult by external pressures experienced by both women.
Director Richard Hess does a good job moving his actors through the scenes, as well as in and out of the marvelous metal apparatus which is used to depict the prison of the suffragettes.  This play has many scenes with many actors and Hess keeps them all in play, minimizing potential confusion.
The three main female roles were played to perfection.  Michaela Tropeano plays a strong Celia Cain, who has to balance the expectations of her husband (played in a wonderfully understated way by Isaac Hickox-Young) with her desire to contribute to the movement.  Cain's acting is sophisticated and regal, only hinting at the internal problems she faces underneath.  By contrast, Julie Netzer's characterization of Eve Douglas shows a wonderful mix of brash earnestness and complete determination (Douglas is the one to throw the first hammer into the shop windows).  She is believable as a young woman entering into a much larger world brought on by her relationship with Celia Cain.
The actress who played the elderly suffragette Florence Boorman (Mafer Del Real) was also a standout.  Del Real plays Boorman as a tower of strength, being the senior suffragette who is on the hunger strike.  She also bares all (literally) by going topless at one point when coming out of a mandatory shower.  Brava for her willingness to go topless.
Also excellent were the work of Costume Designer Ashley Berg, who provides some outstanding period costumes from just before WWI, and Scenic Designer William Sawyer, whose metal apparatus (complete with retractable beds from the ceiling for the prisoners), beautifully encapsulates the prison experience for the women suffragettes.  This play would not be as strong without these two elements.
Adding to these elements were the video components that happen throughout the play by Projections & Media Designer Whitney Glover.  They were a perfect counterpoint to the action on the stage.
Overall, Her Naked Skin was an engaging viewpoint into the world of the British suffragette movement prior to World War I.  With a cast of twenty-two actors playing more than that number of characters, this is a rare opportunity to see this play performed with a full cast.
For more information on tickets for this performance, contact the CCM Box Office 513-556-4183 or through their website ccm.uc.edu.
CCM's Her Naked Skin Bares Timely Truths
Review by Spenser Smith of Her Naked Skin: CCM Acting
Her Naked Skin takes us back to 1913 London and the suffragette movement is gaining traction. The period costumes (Ashley Berg), inventive set and projections (William Sawyer and Whitney Glover) lighting and sound (Erik McCandless and Tanner Elker/Patrick Jansen) lead us to believe we are in another time and place. We think we are settling in for a story of the past, maybe even a little history lesson. The lights come up and we see the first "Votes for Women" sash and we are immediately brought back to the present. As I sat through the two and half hour show, I was constantly being reminded how this new play by Rebecca Lenkiewicz is just as important right now as it was over 100 years ago.
Michaela Tropeano plays Celia Cain. She's the leader of the troupe of women central to the movement. She seems to be steadfast in her aim to gain equal rights for all women while simultaneously playing fast and loose with her personal life. The local prison is a revolving door for the featured women in this story. No sooner have they been released when we see them returning for another 3-7 month stay. Celia meets Eve (Julia Netzer) and their time together inside and outside the prison bring them closer together while the ideals of the movement threaten to rip them apart. The chemistry between the ladies seemed forced at times, but that doesn't necessarily distract from how that relationship would have played out in real time. Mafer Del Real plays Florence Boorman, the oldest of the imprisoned marchers. She truly embodies her character and I found her story to be the most interesting, despite being a supporting role. The play features characters from all around the region and it seems as though each of them has a different dialect. Great work by Marilyn Caskey and Foster Johns who serve as the dialect coaches for the cast.
Richard Hess shares with us in his director's note that he chose this play in 2015. At that time, the prospect of the first female President was looking like a real possibility. Little did he (we) know at the time that this play would be so important right now.
The play does include strong language, sexual material and brief nudity. It is all tasteful and relevant to the story. Don't let that defer you from the important story being told on the Patricia Corbett stage through February 12.
Tickets for the show, running through this weekend , can be purchased by calling 513-556-4183.
Pebbles to Take to Heart – Human Race Theatre's 26 Pebbles Makes Ripples
Review by Ken Stern of 26 Pebbles: Human Race Theatre
Mass shootings—not just (gun) violence—is "as American as cherry pie," H. Rap Brown observed in 1967. That is so true 50 years later, that a massacre—if not merely the gunning down of unarmed citizens by police—can happen in your town. Such shootings probably already have.
As such, do you want to spend an evening in the theatre facing up to it? You certainly do. Dayton's Human Race Theatre invites you to see the world premiere of Eric Ulloa's 26 Pebbles, placed in the middle of its 30th anniversary season and being performed through February 19th. Twenty-eight people died at Sandy Hook elementary school in Newtown, Connecticut on December 14, 2012: 20 students, six teachers, the mother of shooter, and Adam Lanza, the killer.
Maybe if the whole town talks about "it:" the specifics of the shootings, where they were, what they heard, who they knew, who they lost, their anger, their grief, what to do now, next, how to go on, it will help them, if not make sense of the tragedy, figure out some acceptance of the aftermath. Attend 26 Pebbles and walk into a town meeting. Take a name tag and a marker, put your name on your shirt, and sit down for an exploration, more than a discussion, as the ensemble cast of six, playing 24 characters, share their world before, during, and after that deadly day.
All the characters are real, if unnamed (uniformly strong performances by Christine Brunner, Gina Handy, Scott Hunt, Jennifer Joplin, Caitlin McWethy, Jason Podplesky), their words a result of over 60 interviews playwright Ulloa conducted in May 2013. Together, 24 townspeople share their thoughts, feelings, griefs, and hopes. Some of the characters result from interviews woven together. Others are represented as themselves: the rabbi (Hunt), the Episcopal priest (Podplesky), and the recently transplanted Australian couple (Brunner, great accent, and Podplesky). An accent, a yarmulke, the turned, white priest's collar, eye glasses, a sweater, a scarf are all the costume changes needed for one character to morph into another.
The audience is eased into the performance, starting with getting to know you introductions, the cast seated in two rows on two levels of hard back chairs, three blackboards behind them. But normalcy is shattered with incessant ringing of cell phones, the listeners struggling to make sense of a massacre unfolding in their idyllic little town. The stage breaks apart too, the platform becoming four islands. The blackboards are split up and turned around, into screens where a wide variety of images will be shown, from the names and ages of the victims, to newspaper headlines to an excerpt of President Obama's eulogy, to piles of teddy bears sent from around the world. (Scott Kimmins is scenic designer, John Rensel designed the lighting, Jay Brunner is the sound designer and composed the music).
The action is fast paced, the characters on the move, the audience learning of the shootings and their aftermath from a variety of the townspeople's own words. All the words are from interviews, even though some are a combination of people's stories, combined to "create dramatic structure from a real situation because life doesn't have dramatic structure," explained director Igor Goldin.
With the setting a town meeting, the cast is all about us, speaking to first row audience members, walking up the aisle, all of a sudden in the back row: "I felt compelled. I had to make a sign. I am Love. I am Newtown. So me and my daughter made a sign" and she held it up.
Another woman cast member recalled "I told my daughter, this is the center of the world now."
That center isn't whole: conflict occurs when a woman, crying in her car, crying since she started in a grocery store, gets out of her car to tell a group picketing a gun store and shooting gallery "Stop! You are perpetuating hate."
It is impossible to share all the scenes or all the suffering and stages of grief cast members go through in the course of the play. The depth of it is the scene titled "Monsters" a sharing of children's nightmares and trauma. The complexity of life for teens is highlighted by the sharing of memories of then student Adam Lanza, his back to the wall lockers, hugging them and sliding unseen along the hallway. A cast member, from a theatre seat, pipes up "my brother had schizophrenia for 5, 10 years," and another says "This is no defense, but there is no difference between a man who is being chased with a machine gun and a man who thinks he is being chased with a machine gun."
But there is an arc to the performance. First The Flood: a scene depicting the worldwide outpouring that filled rooms with mail and teddy bears (65,700), forcing townspeople to react to the world's response. And finally, Spring (and the ringing of a school bell), as the processing continues, as crocuses pop out of the ground with the melting of snow and the rear screens fill with blue sky and white puffy clouds.
The actors push the island platforms back to one whole and the set once again becomes the town hall, but now the six chairs are in a circle, a teddy bear on each one. The arc swings up. Hope is not only possible but can be created by people who have gone through the deepest depths.
Earlier, one woman ha asked, "How can you process this?" Playwright, director, cast, and production crew show how one town comes to grips and moves toward the other side of tragedy in the course of 90 minutes.
Near the beginning one person mused: "26 pebbles. That's what happened. Each one of those dropped in a pond. It just emanates out. Ripples. You know, this stuff spreads."
26 Pebbles plays through the 19th at the Loft Theatre, 126 North. Main Street, Dayton 45402. For tickets, call (937) 228-3630 or click on https://my.ticketcenterstage.com/single/EventListing.aspx.
26 Pebbles Focuses on Hope in Dayton World Premiere
Review by Liz Eichler of 26 Pebbles: Human Race Theatre
Before I went to the world premiere of 26 Pebbles at Dayton's Human RaceTheatre Company, I braced myself for the subject matter: the brutal murders at Sandy Hook Elementary, so gruesome an act that President Obama said, then, it was the worst day of his presidency.
But I wasn't prepared for the cheerful opening (or ending) in which playwright Eric Ulloa paints the town as an exemplary community both before and after that shocking day, whose uplifting message puts a soothing balm on the scars and scabs of fear and hate.
This 90 minute journey is a pastiche of characters who inhabit Newton, Connecticut, and Everytown, USA, many reflecting real individuals the playwright interviewed after the event: parents, teachers, town leaders, religious figures, firefighters, small business owners–most who grew up there all their life, and a few who chose Newtown as the best place to raise a family.
The idyllic town was shattered by the events of 12/14/12, when a young man murdered his mother, then blasted through the school, and ultimately killed himself. It is not a depiction of that day, but a testimony to the resilience of the community and individuals who must assimilate that day into their lives, the ensuing "rape" by the media, and the onslaught of well-wishers trying to help.
The six performers skillfully take you through a roller coaster of emotions, as they fluidly morph from one character into the other. This great ensemble consists of Christine Brunner, Gina Handy, Scott Hunt, Jennifer Joplin, Caitlin McWethy and Jason Podplesky (all professionals with Actor's Equity Association), directed by Igor Goldin.  The actors simply don a necklace, a name badge, or a hat to lead the transformation into each character, and they are a wonderful ensemble. The setting (designer Scott J. Kimmins) changes as well, from order to chaos.
The characters share that the whole town lost something. The directive from one is to "live joyfully, because the alternative is miserable." We see how some of the characters lean toward anger, and become rabid activists against gun control, but others question: are they creating more division or opening the country's eyes?
This is a journey that will spark conversation; the play focuses not on the event itself, but on how you choose to" ripple out" when a tragedy is thrown your way.  Do you want a national tragedy to continue to divide you? Or bring you closer together? And how do all those ripples interact?
26 Pebbles runs through February 19 at Dayton's Loft Theatre, produced by the Human Race Theatre Company. For tickets:  www.humanracetheatre.org
The High Cost of Education in Falcon Theatre's The Man Who Shot Liberty Valance
Review by Alan Jozwiak of The Man Who Shot Liberty Valance: Falcon Theatre
When we think of learning how to read and write, we don't think of violence.  However, in Falcon Theatre's latest outing The Man Who Shot Liberty Valance, violence arises out of this basic act.
Adapted for the stage from the 1962 film starring James Stewart and John Wayne, The Man Who Shot Liberty Valance tells the story of Ransom Foster (Craig Branch), a Northern attorney making his way through the West, who gets beat up and left for dead near the town of Two Trees.  Found by Bert Barricune (Allen R. Middleton), Foster soon befriends local saloon owner Hallie Jackson (Erin Carr) and Jim "The Reverend" Mosten (Derek Snow).  Hallie and Jim become the founding students of a school that Foster sets up to teach them how to read.  Opposing this plan is local gunslinger Liberty Valance (Paul Morris), who does some drastic things to close the school.
Director Tara Williams does a fine job of working her actors on the sparse set depicting the interior of the Two Trees' Saloon.  The action of the play draws the audience in and you soon forget that all the action takes place within the same room.  Adding to this set was background music provided by Ed Cohen and Jay Dallas Benson, whose guitar and mandolin music wonderfully set the tone of the different scenes.
There were several standouts in the cast, as the leading characters all delivered strong acting performances.  Craig Branch as Ransom Foster provided a wonderfully intensity to the role of the attorney who wants to set up a school in Two Trees.  I was particularly struck by his performance at the end of the play when he confronts Liberty Valance.  He is visibly shaking throughout that scene to indicate his nervousness in meeting Valance.  This is an impressive feat, since Branch keeps that shaking throughout the entire scene.
Likewise, Erin Carr and Derek Snow did excellent jobs with the respective roles of Hallie Johnson and Jim Mosten.  Over the course of the play, Carr turns Hallie Johnson from an ornery cuss to a tenderhearted woman, a great transformation.  Likewise, Snow's portrayal of an African-American man wanting to learn to read was both convincing and likeable. You root for him as he takes his journey into learning about the world through reading.
Also standouts were Allen R. Middleton as Bert Barricune and Paul Morris as the titular Liberty Valance.  Both Middleton and Morris were great as tough Western men on either side of the law. Morris played Liberty Valance as downright nasty and he was frightening when he first appears onstage. I wanted to boo him when he came onstage like in the old-time melodramas.
My only complaint with this piece was that the play itself did not get up to full gallop until Foster says he is going to teach Hallie and Jim to learn how to read.  The flashback sequence at the beginning slows down the action and the flash forward at the end of the play drags on more than it should.
Overall, The Man Who Shot Liberty Valance was a solid show that lacked some of the fire that has become a hallmark for Falcon's stage adaptions of famous films, most notably their production of In the Heat of the Night.  However, I did find the acting strong and compelling enough to keep me thoroughly interested and engaged.
The Man Who Shot Liberty Valance runs this weekend and the next (February 2-4 and February 9-11) at the Monmouth Theatre in Newport, Kentucky.  For ticket information, see Falcon Theatre's website at http://falcontheater.net.
Falcon's The Man Who Shot Liberty Valance Mirrors Contemporary Assault Against Liberty
Review by Ken Stern of The Man Who Shot Liberty Valance: Falcon Theatre
Timing is everything, in theatre and in life. And in a production an audience, cast, director, and playwright can peel back numerous layers of meaning. Go see Falcon Theatre's regional premiere of Jethro Compton's 2014 play, The Man Who Shot Liberty Valance, playing through February 11th. It offers a tale for our times, when again the bully is dressed in black, beats up on the little guy, and likes the idea of a lynching now and then.
This is not your grandparents' Liberty Valance, which starred John Wayne, Jimmy Stewart, and Lee Marvin. The main characters were white. Not so this play, where "Reverend" Jim Mosten (Derek Snow), quiet and stolid, is almost center stage, barkeep and "swamper" (custodian). He is called "Reverend" because hearing a Bible verse once, he memorizes it.
Compton opens the play with an unconscious Ransome Foster (Craig Branch), laid out on the saloon's bar. Having interfered with a gang's mauling of an old black fella, Foster was badly beat up by Liberty Valance's gang. This backstory was not in the movie.
Liberty Valance is staged in the Prairie Bell Saloon, in Twotrees, America, in 1890. The Falcon set is impeccable: bar with wall of liquor bottles behind it in one corner, swinging doors center stage rear, a couple of tables and chairs for cowboys to sit behind, all walls with wainscoting, off white patterned wallpaper (scenic design: Tara Williams and Ted Weil, who also designed lighting and sound).
Branch, as the slight, easterner Foster, the Man in the play's title, is at the center of the play. Branch's Foster is the outsider good doer, a city slicker, but a hearty drinker. He insists on teaching Jim to read, literacy being power, and opens a school that includes bar owner Hallie Jackson (Erin Carr), who decides to learn English even though she speaks American already. Carr offers a no-nonsense, in-charge, takes-a -bath-once-a-year, entirely-on-her-own saloon owner performance.
That the handsome, battered, tough, and good hearted gunslinger Bert Barricune (Allen Middleton) already loves and has intentions for Hallie is immaterial, a cliché side story.
Liberty Valance makes his appearance late in the first act. It is hard to know what he hates more, reading, and the civilization that represents, or blacks, or blacks being taught to read. That Jim is black and has learned to read is a fatal combination. Foster has "caused trouble by teaching a colored man to read." Paul Morris's Valence is a slow-talking, deep-thinking, philosophical outlaw, deeply thoughtful and completely untroubled by his actions.
In his review, Roger Ebert analyzed the film as taking place "when the rule of force gave way to the rule of law, and when literacy began to gain a foothold." He also wrote: "This is fascism against democracy." Liberty Valance, dressed entirely in black, is entirely barbaric, bad, against society.
The fix is in for Jim, who is forced to play "Liars Dice" with Valance. Jim quietly, stoically, with integrity, plays the game, lying that there are five, six, seven, eight sixes rolled, hidden under their dice boxes. That's it for Jim: slugged with a gun butt in the head by Valance's henchman, and dragged out to be lynched.
This is playwright Compton creating transformational theatre, turning Dorothy Johnson's 1950s tale of an 1890s western territory into a play for our age, a uniquely American 21st century tale. Liberty Valance is a terrorist, my seat mate said to me. He is– a home-grown, native, American-born terrorist. Jim, of course, couldn't win, not at dice, not with words; his death, like his life, is set by white society.
So Jim, oddly, subtlety, provides the play's through-line, his role a gift from the Englishman Compton, the play a mirror for us to peer into our souls now, our souls as they have always been.
The cast is impeccably dressed, and everyone looks their part, if a bit cliched, from the reporter (Nathan Tubbs, playing multiple roles) through the white hatted Marshal (Terry Gosdin as a subtlety sleazy coward) to his hulking assistant (Paul Kerford Wilson). Costume designer Beth Joos dressed everyone in brand-new duds, save Liberty Valance: his outfit, black from head to foot, is not only dusty, but has been slept in.
As in Cat Ballou, we have singing, talking cowboys in the background, coming in and out, narrating in Greek chorus fashion. A very nice touch, and well done by Ed Cohen on guitar and Jay Dallas Benson on mandolin. There is additional cowboy music as background sound (Ted Weil, sound designer).
This is a play to bring teens to, though there is one especially adult four letter word uttered. And, there are gunshots, as there must be, since guns are brandished from the first scene.
Tara Williams, as director, gets credit for the well-paced performances.
Playing February 2, 3, 4, 9, 10, and 11 at Falcon Theatre, 636 Monmouth Street, Newport, Kentucky 41071; Box Office: 513-479-6783. For more information, go to falcontheater.net.
Wanted: Discerning Theatre Goers to See Falcon's Liberty Valance
By Laurel Humes
There is a scene in Falcon Theatre's The Man Who Shot Liberty Valance that is so gripping, so well-acted and directed that, after you are released from its grip, you realize again the unique power of live theater.
It is 1890 in a saloon in a tiny Western town. The town has a marshal, but is really ruled by outlaw Liberty Valance and his gang. Hallie Jackson owns the saloon and Jim, a young black man, works there.
Newly arrived in town is Ransome Foster, a scholarly young man from New York. He begins teaching the illiterate adults, including Jim, how to read. And that could upset the balance of power for Valance – educated people can read laws and even make laws.
"Are you the n***** been learning how to read?" Valance (Paul Morris) has caught Jim (Derek Snow) alone in the saloon. Over the next few minutes, Valance forces Jim to play a "liars' dice" game. Behind Jim, another outlaw toys with a rope, which soon becomes a noose. Valance goads Jim into calling him a liar, an insult that could be deadly.
And that closes Act 1. Whew.
Director Tara Williams and an able cast have mounted a fine production – and the regional premiere – of The Man Who Shot Liberty Valance. The story came from a 1953 short story by Dorothy M. Johnson, which also was the basis for the 1962 movie. When playwright Jethro Compton couldn't get the rights to the movie, he based his script on the original short story. The stage play premiered in 2014.
Falcon sets the scene before the show even starts with a fine set, credited to Williams and Ted J. Weil. The saloon interior – where the entire play takes place – is rustic and authentic, decorated with just enough furniture and props to be realistic but not get in the way of the 10-member cast.
Saloon-owner Hallie is at the center of the show and the only female character. Actress Erin Carr's Hallie is tough and fiercely independent, surviving in a man's world by eschewing any feminine mannerisms. Her face is dirty, she sits with legs apart, and she pretends not to see the affection gunslinger Bert Barricune has for her.
Barricune, played by Allen R. Middleton, does love Hallie. But until the arrival of potential rival Ransome Foster, there has been no need for the gruff cowboy to voice his feelings.
Middleton's fine performance is a highlight of the show. Over the course of the play, he evolves Barricune from a stereotype into a man of such empathy that the sacrifice he makes for love is entirely believable. And, along the way, it is a joy to watch his easy, authentic way with a cowboy hat and a gun belt.
Tall and thin, Craig Branch plays Ransome with rounded shoulders and a forward-thrusting head to display an intensity that rarely lets up. His Act 2 tension-filled scene with Valance (Paul Morris) gives Branch the chance to display more of his physical acting skills – trembling fingers and voice, but a defiant, rigid spine.
Liberty Valance is a melodrama. Expect some overwrought acting and a few over-long scenes. But it is also a tight plot, with unexpected, Catch-22 twists that catch you by surprise.
Falcon's production lightens the mood with live and recorded music at welcomed intervals. The "soundtrack" is great – all the Western songs you haven't heard in years, ending, appropriately, with Gene Pitney's "The Man Who Shot Liberty Valance."
The Man Who Shot Liberty Valance runs Thursdays-Saturdays through Feb. 11 at Falcon Theatre, 636 Monmouth St., Newport. Tickets are available at 513-479-6783 or at http://falcontheater.net.
Explore Love's Flames and Ashes in Know Theatre's Dragon Play
Review by Liz Eichler of Dragon Play: Know Theatre
Dragon Play runs past Valentine's Day (through February 18), and it is perfect for young lovers, old marrieds, and everyone who has had a history of love. Love means joy, but often great sacrifices. One moment of great joy can change your life forever. How long can you live with that sacrifice before it changes you into a completely different being?  Can you, and do you want to, return to the person you were before? Playwright Davis slices through muddled feelings and writes the truths down in blood. Both human and dragon characters slice through the pain and joys of love, loss and longing. The whole play will move you–to tears, or to take action with the dragons in your life.
Dragon Play is about a young boy in rural Texas who meets a wounded dragon, and falls in love. Thousands of miles north, a woman's marriage is tested when her fire-breathing ex-lover shows up at her home. These two stories intertwine to encourage the audience to ponder the meaning and costs of "love, longing and moving on."
Director Tamara Winters has assembled a great team to tell this story. Every member of the cast delivers a strong performance, although newcomer Kearston Hawkins-Johnson steals the show with her "sinewy and strong" Dragon Girl. Josh Reiter as the earnest Boy/Loser Boy nails every laugh. Claron Hayden (Dragon) smolders with intrigue. Torie Wiggins is a smart Woman, torn by the flutterings of her heart, married to a good Man (Paul Strickland) who doesn't quite understand her. Although Strickland has a wonderful monologue in the middle of this non-linear show, the strength of the connection between Man and Woman is never fully convincing.
The setting (by Artistic Director Andrew J. Hungerford) evokes the barren Texas Hill Country, juxtaposed to the solid wooden cabin of the Man and Woman. The play is rich in sound (Doug Borntrager), including the beating of wings, which rumble through the seats of the black-box theatre. Noelle Johnston's costumes make you feel like there are dragons, without hitting you over the head. The lighting (Hungerford) and poetic movement elevate this to a poetic allegory.
Both funny and moving, Dragon Play at Know Theatre Cincinnati is a modern story that explores the cost of love–sweet, tender, and fiery–it will move you to tears and laughter, all in 75 minutes.
For tickets call 513-300-KNOW or www.knowtheatre.com
March Your Family to the Carnegie Theatre for Music Man
Review by Dan Maloney of The Music Man:Â Carnegie Theatrer
This season's "family friendly" offering from The Carnegie is Meredith Willson's classic, The Music Man. A Broadway hit when it debuted in 1957, The Music Man tells the story of traveling salesmen Harold Hill, and his scheme to dupe the small-town residents of River City, Iowa into purchasing instruments and uniforms for a boy's marching band. As part of his pitch, Hill promises to teach the kids how to play. The catch? He doesn't actually know anything about music.
Directed by savvy theater veteran Greg Procaccino, The Carnegie's production moves at a brisk pace and emphasizes the timeless score with musical numbers such as "Seventy-Six Trombones" and "Till There Was You." This plays to extraordinary vocal talent of the cast, but does so somewhat at the expense of storytelling. While audience members familiar with the show won't have any trouble following the plot, some of the details and laugh lines might move too fast for patrons coming to the production for the first time.
Dave Wilson is perfectly enjoyable as the smooth-talking Professor Harold Hill, and he deftly navigates Hill's standards such as "Trouble" and "The Sadder but Wiser Girl." However, his real-life wife Sarah Viola steals the show as the town's music teacher and Hill's romantic interest, Marian the Librarian. A classically trained opera singer, Ms. Viola has the kind of voice where angels stop and listen. Her renditions of "Goodnight, My Someone" and "My White Knight" soar.
Traditional audience favorites include the School Board Barbershop Quartet, whose melodic version of "Lida Rose" is still humming in my head, and the ever-delightful Pickalittle Ladies. Sean P. Mette as Marcellus Washburn also gives a stand-out performance, nailing both the humor and energy of the show. Moreover, on top of handling the costume design, Jim Stump covers the archetype of the befuddled Mayor Shinn, and with a droll Irish accent, Angela Alexander Nalley is charming as Marian's frustrated mother, Mrs. Paroo.
The ensemble is at its best in the Act I finale of "The Wells Fargo Wagon." The unbridled enthusiasm of that number is one of the reasons I enjoy participating in and attending theater, and this cast scores big with it. In addition, I was impressed with performances of the younger cast members led by Tommy Djlas (Wesley Schmidt), Winthrop (Anthony Coletta), and Zanetta Shinn (Cassidy Steele). They more than hold their own on stage with the adult professionals.
The play is supported by scenic design from visual artist Bill Ross. A newcomer to theater, it will be interesting to see how Mr. Ross' stage work grows as he adjusts to a different medium. While the set does enough to establish River City, it comes off a little flat, and this lack of depth and dimensions in the playing area puts the actors at a disadvantage in their ability to tell the story.
More than anything else, however, I wanted to see more families in the audience. I don't know if the economy is still struggling or if parents of young kids just don't think about attending the theater as a family. But they should, and this is the perfect show for it. An unexpected pleasure of my evening was listening to the young lady behind me, no more than 5 or 6 years old, squeal with glee at Marian's costuming. We need more of this type of joy in our community, and The Carnegie's The Music Man delivers it.
The Music Man plays at The Carnegie through January 29th. For tickets, call the box office at 859-957-1940 Tuesday-Friday 12:00-5 PM or visit www.thecarnegie.com.
Carnegie Goes Bold and Brassy with The Music Man
Review by Doug Iden of The Music Man: Carnegie Theatre
Covington Kentucky acted as a surrogate for River City Iowa as The Music Man triumphantly marched into the Carnegie Theater as their annual "family friendly" production. Initially vilified by New York critics as "corny", The Music Man persevered to become one of the most beloved and most produced musicals in the US. The Carnegie version stands tall in that tradition.
Starting with the iconic opening number "Rock Island" where a group of traveling salesmen simulate riding a train, the production roars through to the rambunctious finale with the iconic song "Seventy-Six Trombones".  The show, which presents a nostalgic view at an innocent bygone era, won six Tony awards including Best Musical of 1957.
In the story, con man Harold Hill (Dave Wilson) tries to dupe the citizens of River City into buying instruments and band uniforms using his "think system". The swindle works for a while but he must overcome the skepticism of the town librarian Marian Paroo (played by Sarah Viola). Marian discovers evidence that Hill is lying but is driven to his defense when she sees the positive impact of Hill's charisma on the townspeople and on her shy, soft-spoken brother, Winthrop (Anthony Coletta). Eventually, the town realizes that they have been bilked but the people have been transformed so much that all is forgiven.
The show has a very large cast (36 people) all of whom populate the relatively small stage simultaneously with a singing and dancing precision which is extraordinary since half of the cast are youngsters and teenagers. Also, the cast uses the entire theater including side exits, the front of the orchestra and all of the aisles during the many production numbers including "Iowa Stubborn", "The Wells Fargo Wagon" and "Shipoopi". Credit for controlling all the action on stage (and off) goes to Director Greg Procaccino and Choreographer Maggie Perrino (who is also the Carnegie Artistic Director).
The composer/lyricist is Meredith Willson, a native of Mason City Iowa which is the model for the fictional River City.
The play demands a dynamic leading man as the Svengali who can lead the "Iowa Stubborn" populace. Dave Wilson is believable in the role with a good singing voice and personality. Hill's songs include "The Sadder But Wiser Girl" and the tour-de-force "Ya Got Trouble". Sarah Viola (the real life wife of Wilson) is stellar as Marian with a clear operatic voice singing "Good Night, My Someone", "My White Knight" and the duet "Till There Was You" with Harold Hill. The townspeople are a group of zany, over-the-top "characters" led by the blustering Mayor Shinn (portrayed by Jim Stump who steals the show), his wife Eulalie Shinn (Torie Pate), Mrs. Paroo (Angela Nailey) and a marvelous Barbershop Quartet comprised of Mike Connelly, Paul Gilman, Zac Coleman and   Michael Bell. The quartet harmonizes on songs "Sincere" and "Lida Rose" as a counterpoint to Marian's song "Will I Ever Tell You". The original production of Music Man resuscitated Barbershop singing which continues today. The twenty-one songs and eight piece band are directed by Steve Goers and conducted by Michael Kennedy. The music was, at times, a little loud, especially the brass,and the lyrics were hard to hear on some of the songs including "Shipoopi". The set, designed by Bill Ross was simple but clever and the multi-various costumes represent small town Iowa at the turn of the century.
Do yourself a favor and join the exuberance of The Music Man running at the Carnegie through January 29.
Covedale's Doubt Full of Tension and Conflict
Review by Doug Iden of Doubt: Covedale Theatre
Should the rock-ribbed convictions of one person, based upon unsubstantiated evidence, be allowed to besmirch the reputation of another? Can one individual act as investigator, prosecutor, jury, judge and executioner while accusing someone else of a heinous crime? What are the insidious ramifications of malicious gossip? What role did the Catholic Church play in sexual predation in the 1960's? These, and other powerful themes, are addressed in the one-act drama Doubt which opened last night at the Covedale Theater. It's one of those plays that you think a lot about afterwards.
In the play, Sister Aloysius Beauvier, principle of a Catholic elementary school, suspects and later accuses Father Brendan Flynn of plying a young student with wine and then seducing him. The tension is exacerbated since the boy is the only black student in the school which accelerates the titanic struggle between the two strong-willed personalities.
Winner of the Tony award for drama and later adapted as a successful movie, John Patrick Shanley's dialogue crackles with tension and observations about societal and personal norms. Shanley, who specializes in Irish plays, uses an unusual structure by allowing Father Flynn to present his case to his congregation (the audience) through a series of sermons about intolerance and the evils of gossip rather than through dialogue or soliloquies. He defends himself rigorously through contentious confrontations with the intransigent Sister Aloysius but presents his case to us from the pulpit.
Another theme addressed is the style of teaching used in parochial schools of the day. Sister Aloysius is a harsh disciplinarian who believes in strict rules and regulations. Violations should be addressed quickly and severally. However, Father Flynn and Sister James, a young, possibly naïve teacher, both believe in a nurturing style and opening up the curriculum to allow exploration of the world beyond the hidebound religious teachings.
The centerpiece of the drama is Sister Aloysius portrayed by Martha Slater as the implacable purveyor of justice (in her own mind). She is the catalyst by forcing Father Flynn to divulge the reason for an unusual one-on-one meeting with the student which is the genesis of her convictions. Slater portrays Sister Aloysius as a religious zealot rooting out the perceived evil. Stater's presentation is pinch-faced, abrupt, righteous, confrontational and very believable. Slater's enunciation is impeccable as she hurls indignant verbal fireballs at the maligned priest with machine-gun fire rapidity (thanks to the brilliant dialogue by Shanley). There is no doubt that she believes overwhelmingly in the priest's guilt but is he really guilty?
Rory Sheridan, as Father Flynn, starts with an equanimous nature, is caught flat-footed by the nun's accusations but then fires back with ferocity. He aggressively disputes the implications through direction confrontations and indirect sermons to the audience. However, his steely resolve crumbles somewhat when the nun tells him that she had inquired about his previous posting which he left under a suspicious cloud. Both Slater and Sheridan are excellent in their respective roles.
There are two other characters playing pivotal roles in the drama including, Maggie Lou Rader as the young teaching nun Sister James, and the small but crucial role of Mrs. Muller, the mother of the potentially abused boy, played by Joy Rolland-Oba. Rader's character is torn between the vicious attacks by Sister Aloysius and Sister James' belief in the priest. She is horrified by the potential violations but acts as both a pacifier and, ironically, as the confessor for both the priest and the nun. Slater portrays the whipsaw emotions well as Sister James vacillates between the views of the combatants.  Mrs. Muller has been called into a parent meeting with the nun who is trying to develop a definitive case against the priest. Rolland-Oba is, initially, perplexed but increasingly becomes incensed at the thought that her child (a lonely, frightened boy who has been abused by his father) is guilty of an indiscretion. The real victim in the play is the boy.
Kudos to Director Lindsey Augusta Mercer who moves the play along well despite the heavy themes and rollercoaster emotions. The set design (by Brett Bowling) is sparse, in keeping with the tone of the play, with only three set pieces which function as the stained glass exterior of the church and also, when swiveled, the pulpit, a garden and the nun's office where most of the fireworks take place.
So, have no doubts about this show (we'll have nun of that) and see Doubt at the Covedale Theater continuing through February 12.
Covedale Theatre Embraces Uncertainty with Doubt
Review by Jack Crumley of Doubt, A Parable: Covedale Center for the Performing Arts
Now that the holidays are over, the Covedale Center for the Performing Arts is shifting gears to start the second half of its "Marquee Season." Doubt, A Parable runs for the next month, and audiences will find a show with a minimal set and cast, but a plethora of thought and subtext.
Written by John Patrick Shanley, Doubt hit Broadway in 2005 and won both the Pulitzer Prize for Drama and the Tony Award for Best Play. It has since been adapted into an Oscar-nominated film starring Meryl Streep and Philip Seymour Hoffman. That pedigree is important to know because this is not the kind of show you can simply relax and enjoy. It's a lean, 90 minute, one act play that involves the audience. Not in a "cast members dancing in the aisles" way, but in a "what would you do" way.
Doubt tells the story of the principal at St Nicholas Church School, Sister Aloysius Beauvier, trying to work with young Sister James to get to the bottom of her concerns about the relationship that Father Flynn has with one of the children. Martha Slater has the challenging role of Sister Aloysius, the strict disciplinarian who takes her job exceedingly seriously. Slater juggles spitfire dialogue with a tempered sense of decorum, often in the same scene. Rory Sheridan plays Father Flynn, the popular priest trying to make the church and school more open and friendly. His character, too, goes through a sometimes intense range of clashing emotions, and the scene where he's first confronted is particularly well played by Sheridan. Maggie Lou Rader plays Sister James, a sincere, budding nun who loves her work, and the character the audience is most likely to identify with. She's initially very hesitant to get involved, and when she realizes the magnitude of the (potential, alleged) issue, she begins losing sleep. You can hear her pain in nearly every line because she is now riddled with doubt. Also, even though her part is brief, Joy Rolland-Oba's character of Mrs Muller plays a crucial role in the plot, and she has a lot to convey in her short time on stage. As the mother of the boy in question, who also happens to be the only black student at this Catholic school in the 1960s, she simultaneously plays a mama bear defending her cub and a pragmatic woman just trying to keep her family on the right path for a little while longer.
That's the entirety of the physical cast, but the main character really is doubt itself. And while it can't be seen, this production makes sure it can be felt by the audience more and more as the play goes on. Director Lindsey Augusta Mercer brings this up in her program notes, referencing a statement from the playwright that says "doubt requires more courage than conviction… because conviction is a resting place and doubt is infinite." Mercer's goal is to get the audience to not only feel the apprehension, the confusion, the fear, the uncertainty, the DOUBT that builds in this show, but also to then act on those feelings afterward by questioning their own beliefs and talking with others.
On the surface, producing Doubt at the Covedale is a somewhat unconventional choice in a season that started with Godspell and ends with My Fair Lady. The venue tends to run more traditional, mainstream productions. A tense, pensive play about child abuse in the Catholic church being produced in a theatre on Cincinnati's west side could be seen as a tough sell. But after having sat in the audience, felt their reactions, and spoken with people afterward, producing Doubt at the Covedale is a choice that doesn't feel inappropriate at all. The audience was able to relate to the minutiae of work and life at a parochial school, and though they were quiet when the show began, there was a much more palpable silence by the climax.
Overall, the minimal set works well. Small pieces for Sister Aloysius' office, the church pulpit, and a statue in the garden take up stage right, center stage, and stage left, respectively. On the back of all of them is an outside portion of the church, and the set pieces are rotated by the cast as needed. One minor issue with the blocking: Sister Aloysius' desk is positioned rather close to the wall of her office, and every time a character crossed through that narrow space, they had to slow down and slightly turn to step through it. No real office would leave such a small area to walk through. It was a trivial, but consistent, distraction.
The only other concern on opening night was the sound. There are a handful of cues in the show (a gust of wind, birds squawking) that come off more like harsh noises. Also, there were problems with Sister Aloysius' microphone. It didn't always pick up her words early on, then it started to occasionally rub the fabric of her habit, and during an intensely emotional moment at the end, it dropped out altogether. It was a disappointing way for an otherwise good show to finish, though Slater's performance left the audience with no doubt about what her character is feeling.
Doubt, A Parable runs at the Covedale Thursday, Friday, Saturday, and Sunday through February 12. Tickets are available by calling 513-241-6550 or going to the Covedale website, www.cincinnatilandmarkproductions.com/ccpa
A Gentleman's Guide to Love & Murder KILLS at the Aronoff Center
Review by Spenser Smith of A Gentleman's Guide to Love & Murder: Cincinnati Broadway Series
After winning the 2014 Tony Award for Best Musical, Gentleman's Guide to Love & Murder sets out on tour to tell the uproarious story of Monty Navarro, a distant heir to a family fortune who sets out to jump the line of succession, by any means necessary. All the while, he's got to juggle his mistress (she's after more than just love), his fiancée (she's his cousin but who's keeping track?), and the constant threat of landing behind bars! Of course, it will all be worth it if he can slay his way to his inheritance…and be done in time for tea.
Kevin Massey plays Monty, who narrates his story throughout. Once he realizes there are only seven people between him and a family fortune, he will stop at nothing on his climb to the top. His charm and wit are infectious and his voice angelic… and we're talking about a murderer here. The eight family members who meet their untimely demise are played hysterically by John Rapson. Those quick changes as he transitions from one character to the next are wicked fast and like the scene changes throughout, are seamless. Engaged love interest Sibella Hallward (Kristen Beth Williams) and cousin Phoebe (Kristen Hahn) have the pleasure of singing the evening's most memorable songs and wearing the best of Linda Cho's gorgeous Tony Award winning costumes. Other notable performances include Mary VanArsdel as the cheeky Miss Shingle and Kristen Mengelkoch (twin sister of Cincinnati favorite Kelly Mengelkoch) who steals the better half of Act 2 with her snarky Lady Eugenia.
Smart and efficient direction by Darko Tresnjak make the almost 90-minute first half go by in a flash. The same can be said of the scenic design by Alexander Dodge. The actors are on, in and around the stage within the stage. The simple design aided in the many different settings and smoothed transitions to perfection. Although I'm afraid the music isn't very hummable, it was refreshing to hear a rousing score full of classical singing in this age of pop-heavy musicals.
Gentleman's Guide continues at the Aronoff Center through January 8.
For tickets, visit the box office located at 650 Walnut Street , call 513-621-2787 [ARTS] or you can order online at cincinnatiarts.org.
Broadway Series Gives a "Guilty Pleasure" to Audiences of A Gentleman's Guide to Love & Murder
Review by Alan Jozwiak of A Gentleman's Guide to Love &Â Murder: Broadway in Cincinnati
Guilty pleasures.
They are the sorts of things you know you should not enjoy, but do so anyway—such as a high calorie chocolate confection, a cigarette, or that big fat greasy hamburger. The same can hold true as well for musicals, as witnessed by Broadway in Cincinnati's Presentation of A Gentleman's Guide to Love & Murder.
A Gentleman's Guide tells the story of Monty Navarro (Kevin Massey), who learns upon the death of his mother that he is ninth in line to be Earl of Highhurst.  With plenty of pluck and ambition, Monty sets out to claim his inheritance by killing off each and every member of the D'Ysquith (pronounced die-squith) line so as to become Earl.  Along the way, he also woos two women at the same time.
Now this scenario sounds like a recipe for disaster, but in the skillful hands of the musical's creators, they create a guilty pleasure of a musical where we as the audience actually root for Monty as he works to attain his title.  We also laugh at the ways at which the petty and arrogant members of the D'Ysquith family (all played wonderfully by John Rapson) meet their untimely ends.
Created by Robert L. Freedman (book and lyrics) and Steven Lutvak (music and lyrics), A Gentleman's Guide went onto earn four Tony Awards, including the 2014 Tony Award for Best Musical.
The touring production of this musical has a strong cast with plenty of singing power.  A standout was the Kevin Massey, who played the lead Monty Navarro.  Massey was able to mix equal parts ambition, guile, and charm into the role of Monty Navarro.  A murderous precursor to J. Pierrepont Finch from How to Succeed in Business Without Really Trying, Massey is wonderful in such songs as "I've Decided to Marry You."  In this number, Massey has to both sing and engage in slapstick antics trying to keep the two women he is wooing, Sibella (Kristen Beth Williams) and Phoebe (Kristen Hahn), from discovering that each is in an adjoining room.
The actresses playing Sibella and Phoebe also do a wonderful job at the end of Act II in the song "That Horrible Woman," where each tries to convince authorities that the other is responsible for a murder of a D'Ysquith family member.  Beautifully sung by Kristen Beth Williams and Kristen Hahn, this number highlights the differences between each woman, as well as what attracts them to Monty.
Stealing the show was John Rapson, who played all the D'Ysquith family members. Having one actor playing multiple roles could be problematic, but Rapson pulls it off beautifully by being, at turns, eccentric (the Reverend Lord Ezekial D'Ysquith), self-absorbed (Lady Hyacinth D'Ysquith), or arrogant (Asquith D'Ysquith, Jr.).  Willing to play both male and female roles, Rapson creates distinct characters for each of the D'Ysquiths and makes their foibles laughable.
The final star of the show is the set, which is really a jewel box stage with its own proscenium and the ability to move its stage floor forward towards to the audience when interior scenes occur.  Different parts of the stage can also open up for actors to pop out and address the audience.  The proscenium was done up in a late 19th century grandeur, making it all the more fun when an actor unexpectantly uses the set in interesting ways.
In short, this was a beautiful production that did not have any false notes.  It is an example of some of the best of what is going the current Broadway musicals, as well as what fine touring shows can offer Cincinnati audiences.
Unfortunately, this musical is a season option, meaning that it is only going to be in town for one week, from January 3-8, 2017.  This is a must-see for anyone who loves musicals or wants to have a good time at the theatre.
For more information on tickets, you can visit the Aronoff Center Box Office downtown at 650 Walnut Street, go online at CincinnatiArts.org, or buy through the phone at 513.621.ARTS.
Broadway in Cincinnati's Gentleman's Guide to Love &Â Murder is an Heir-Raising Experience
Review by Sheldon Polonsky of A Gentleman's Guide to Love & Murder: Broadway in Cincinnati
A Gentleman's Guide to Love & Murder, now playing at the Aronoff Center as part of the Broadway in Cincinnati series, opens with a warning to the audience delivered by a Sweeney Todd-esque chorus: "So if you're smart, before we start, you'd best depart…For God's sake go!" Luckily, none of the packed house at the Aronoff heeded the warning, and instead enjoyed a side-splitting romp of a show that won Tony Awards in 2014 for best musical, book and director. My warning to you is the opposite: get your tickets now and don't miss out on the fun.
A Gentleman's Guide centers around Monty Navarro (Kevin Massey), a mild mannered Londoner who, on the eve of his mother's death, discovers that he is ninth in line to inherit the earldom of Highhurst from the rich and powerful D'Ysquith family, who heartlessly disinherited his mother after she eloped with a Castilian musician and left her and her son to live in abject poverty. Of course he sets out to do, as his mistress says later, "what any of us would do": bump them off one by one to move up in line. He does so using blithely ingenious methods, with the talented John Rapson portraying  each of the doomed heirs broadly and uproariously, featuring the addled Reverend Lord Ezekial D'Ysquith, effeminate Henry D'Ysguith, and the desperately philanthropic matron Lady Hyacinth D'Ysquith, among others. To give any details of their deaths would be a crime, but trust that they are all depicted in eye-popping and rollicking fashion. All the while, Monty must juggle his romantic relationship with his beautiful mistress, Sibella (Kristen Beth Williams) and his earnestly attractive cousin, Phoebe D'Ysquith (Kristen Hahn). It is called A Gentleman's Guide to LOVE &Murder, after all.
The great charm of watching A Gentleman's Guide is its awareness of its own theatricality and its debt to a long heritage of musical theatre. Steven Lutvak, who wrote the music and lyrics, and Robert L. Freedman, who wrote the book and lyrics, pay deliberate homage to, among others, Gilbert and Sullivan, Lerner and Lowe, Me and My Girl, and the aforementioned Stephen Sondheim's Sweeney Todd (with the added benefit that unlike Sondheim, the uninitiated can actually discern most of the clever lyrics on the first go-around). Most of the action takes place on a stage within the stage, which seems like it could be limiting but actually appears quite expansive thanks to vibrant and technically impressive projections behind it. The show never takes itself too seriously and rarely lags in energy or pacing.
Sometimes when a show sparkles with a witty plot and production values, the contributions of the cast are left behind, but this should not be the case here. Rapson, who rightfully gets top billing as all the D'Ysquith heirs, is indefatigable and commanding. Also, if they gave a Tony award to backstage wardrobe assistants, his would surely have won for his seamlessly rapid changes. Massey's portrayal of Monty is ingratiating and captivating, and easily overcomes any moral squeamishness in the audience to root for the amiable serial killer. Finally, both Williams and Hahn both shine as Monty's love interests and we can understand his difficulty in choosing between them. The entire cast, including the chorus, have impeccable stage presence and vocals.
If I have any reservations about the play, it would be that the second half lets the "heir" out of the balloon a bit compared to the first. With such a clever premise, and most of Rapson's D'Ysquiths dispatched, the writers seem to struggle with how to wrap it up, and some of the numbers after the intermission seem to be more filler than anything else (although a few, like "Why Are All the D'Ysquiths Dying" and "I've Decided to Marry You" still stand on their own merits.) The surprise twist at the end is not quite surprising or inventive enough to deliver the payoff that I would like. Still, by the time the second half rolls around, you are invested enough in Monty's story, and that of his paramours, that the let-down hardly dampens your overall enthusiasm.
A Gentleman's Guide rightly got the acclaim it did on Broadway and will prove to be a winning night of theatre for even your most finnicky family member. It only runs through January 8th, so I would get your tickets soon by calling the box office at 513-621-2787 or online at http://www.cincinnatiarts.org/events/detail/gentlemans-guide. Otherwise, like the D'Ysquiths, they will soon be "heir today, gone tomorrow".
Know/OTRimprov's Naughty List  is Anything But Ho-Ho-Hum for the Holidays
Review by Sheldon Polonsky of The Naughty List: Know Theatre/OTRimprov
According to the comedy streaming app Laugh.ly, Cincinnati is the United States' least funny city. But whoever compiled list certainly didn't check it twice, and certainly hasn't visited one of Cincinnati's premier improve troupes, OTRimprov, or its annual hoilday show, The Naughty List, co-produced with the Know Theatre and presented at Arnold's Bar and Grill on 8th St. downtown.
If you aren't familiar with the improv format, think back to the hilarious Drew Carey show, "Who's Line is It Anyway" from a few years back. In the same vein, The Naughty List is chock full of skits and games all created on the spot based on audience suggestions by the agile and fertile imaginations of the cast (5 of the 7 members of the OTRimprov group on any given night, who include Dave Powell, Mike Hall, Sean P. Metter, Alanna Turner-Palmer, Erin Ward, and Charlie Roetting). The cast is as quick and adept at improvisation as any I have seen and clearly have a love for the art form and great joy in sharing it with the audience and each other. The first half of the show was more standard improv fare with some holiday themed twists, including Mad-libbed letters to Santa, a hilarious guessing game where the CEO of a company had to guess the circumstances of a recent recall (SmartPhones made of Laffy-taffy that cause children to become smart-asses)  and a series of sketches growing from one random premise. The second half was a frenetic retelling of a classic holiday movie, in our case "Home Alone" told in Epic Adventure style.
Improv is not easy, and though there are always bumps in the road OTRimprov's congenial style was always engaging and amusing. Arnold's intimate setting is a perfect match for such a production and the audience always feels close to the performers. Plus, you get wonderful comfort food while you enjoy the show. My only quibble about Arnold's this time of year was the difficulty maintaining a comfortable temperature. When we came in, the heaters up full blast were a little stifling but when they were turned down later it got very cold instead–so keep a few layers handy so you can adjust.
My only constructive suggestions for improvement in the show would be that some of the bits ran a little long and started to wear down and get a little repetitive–maybe present a few more skits or games each a little shorter. Also, I have seen improv troupes sprinkle in a few pre-written skits in between the improvisation to give the audience a breather and guarantee some  consistent material in the case of a blander audience. That said, whatever happens, you won't be disappointed, as OTRimprov is clearly skilled at their craft. I know the holidays are a busy time but if you want to take a break, be entertained, and are tired of Dickens and Tchaikovsky, give The Naughty List a try. There's no lump of coal here.
The Naughty List is presented Monday through Wednesdays December 12-26. Be aware that language or sexual themes may be inappropriate for younger children. Seating and dinner service is between 6-7 pm, with the show beginning around 7:30. Tickets are available through the Know Theater, http://knowtheatre.com/on-stage/know-other-stage/the-naughty-list/.
Know/OTRimprov's Naughty List Nice Enough to Check Twice
Review by Liz Eichler of The Naughty List: Know Theatre/OTRimprov
The Naughty List is a jolly, live, unpredictable, interactive holiday experience your friends and family will thoroughly enjoy, as long as your friends and family are over 18, not easily offended and enjoy humor.  My family sure does! Monday night's performance was a blast, especially for my husband and 19 year old sons who had a great time offering suggestions to the performers, laughing when someone else made the same suggestion, and laughing harder when it worked.
This is the fifth season the show is being produced by Know Theatre and OTRimprov, at Arnold's Bar and Grille, Monday through Wednesdays December 12-26. Seating and dinner service is between 6-7 pm, with the show beginning at 7:30. (We recommend the excellent chicken and waffles and applaud the attentive wait staff, as well.)
There is a cast of 5, out of a potential group of 7 OTRi regulars:  Dave Powell, Mike Hall, Sean P. Mette, Alanna Turner-Palmer,Erin Ward, Charlie Roetting and Jordan Trovillion. Each performer is witty and clever, with a wide range of pop culture references available in their sack of comic goodies. The first half of the show Monday night was short form, full of familiar improv games with a holiday twist and great audience suggestions. The second half was long form, a retelling of a Holiday Classic film.  In our case "Diehard" was suggested by the audience and the group flew away with it, like the down of a thistle, creating an improvised mashup with the "epic adventure" genre. (My son explained, there are two kinds of people, those who think "Diehard" is a Christmas movie, and those that are wrong.)
The performance didn't go far past a PG13 rating on the night we went, so it wasn't too naughty. Instead of offensive language and themes, they lean more toward Shakespeare ("every party needs a bard").  I was impressed with  their command of language and creativity; each performer can turn a great phrase, evoke a huge laugh, and realize when a bit needs to move on. Every audience member had a chance to contribute to the improv, and it ended with us wanting more.
Live theatre and improv is a great holiday gift for audiences of every age.  The Naughty List is an ideal family outing for parents of college age kids.  The performance runs 90 minutes with an intermission, at Arnold's at 210 E. Eighth Street in Downtown Cincinnati. For tickets, contact Know Theatre at knowtheatre.com or 513-300-5669.
NKU Stages Thoroughly Modern Millie with Thoroughly Fabulous Cast and Crew
Review by Laura Petracco of Thoroughly Modern Millie: NKU
I recently saw Thoroughly Modern Millie at NKU and I cannot give it high enough praise. This production was packed full of such talented performers, choreography that was meant for Broadway and costumes that made the story even more real.
The entire cast of Millie was phenomenal, but there were three performers that stood out in my mind. The first is, not surprisingly, Megan Urz, who played Millie Dillmount. Megan gave Millie an aggressive edge that I've never seen played before and I truly enjoyed her choice. There are a lot of one liners in this show and Megan also did a perfect job of delivering hers. The second performer is Melissa Cathcart, who played Mrs. Meers, who was the actor-turned-criminal that was impersonating a Chinese woman to stay undercover. Her terrible Chinese accent immediately made me love her and she played the annoyed, evil characteristics of Mrs. Meers very, very well.  The third notable performance in my book belongs to Andy Burns who played Trevor Graydon. Trevor is the president of the company where Millie gets hired and he is a very proud, earnest, obsessive man. Andy did such a marvelous job of portraying the quirky, yet serious, business-minded side of Trevor and really showed his loveable side in the second act.
The choreography in this production was done by Tracey Bonner.  It was so incredibly fun to watch and at times I felt like I was watching a Broadway show. The cast was so in sync with each other during every number and all of them were so, extremely talented. The steps that Miss Bonner had the cast doing did not seem simple or easy, but you never would have guessed after watching the students perform. One of my favorite, most memorable parts of the show was the scene change into "The Speed Test". Tap dancers brought out desks and chairs and papers and books and they got around by tapping very quickly.  They made it sound like an old typewriter and it fit so well, considering they were setting the scene for "Sincere Trust" – an insurance company where Millie gets a job as a stenographer.
Ronnie Chamberlain gets the credit for designing the time-period-appropriate costumes in this production. This show is set in the 1920s, when women were wearing short skirts, bobbing their hair and drinking in Speakeasies. Mr. Chamberlain did a great job bringing all of these characteristics of the twenties to life on the stage with the costumes.
This show had its last performance on Sunday and I hope you got to see it! It was clear that these students worked their tails off to make this show all that it was. I look forward to seeing the next show at NKU!
All Will Have a Good Night at Covedale's Nights Before Christmas
Review by Doug Iden of The Night's Before Christmas: Covedale Theatre
Want to know Moore about how Clement wrote the beloved poem 'Twas the Night Before Christmas? Some of those answers are presented in the world premiere of The Nights Before Christmas with book and lyrics written by Tim Perrino and music by Steve Goers at the Covedale Theater.  Perrino is the Artistic Director of the Cincinnati Landmark Productions including Covedale and the Warsaw Federal Incline Theater and Goers has been music director for many local productions at a variety of theaters.
The play, told in flashback, tells the story of ancient languages scholar and theologian Clement Moore, a dour New Yorker who wrote the poem A Visit from St. Nicholas (popularly known today as 'Twas the Night Before Christmas) – or did he?  The play travels two paths: one addresses the writing (or not) of the poem interwoven with Moore's personal family life.   Events in the play take place on Christmas Eves in five different years starting in 1822 when Moore first penned the poem and concludes in 1844 when the family leaves the mansion at Chelsea for Rhode Island since the city of New York is encroaching on what was originally a rural setting when the play starts.
The controversy relates to the authorship of the poem (which is still somewhat disputed today). In the play, Moore, portrayed by veteran Cincinnati actor Matt Dentino, leaves the mansion on Christmas Eve in 1822 for a charitable endeavor and returns very late to the consternation of the Moore family and servants.  While out, Moore has written the poem and secured the assistance of a sleigh driver Lorenzo DaPonte who had been the librettist for Mozart's famous operas including The Marriage of Figaro, Don Giovanni and Cosi Fan Tutte but had recently fallen on bad times.  On Moore's arrival home, he starts an annual tradition of reading the poem to his family and servants.  However, before Moore can recite the poem, Moore's wife's cousin Henrietta Steward (Julia Hasl Miller) grabs the poem, copies and "doctors" it.  The following year, Henrietta submits the poem to a newspaper and it is published with an author of "Anonymous".  Moore is furious about the publication, especially when Henrietta claims partial authorship.  Moore is proud of the poem but does not want a triviality to demean his scholarly works, plus he considers his wife as the owner of the poem.  There is some resolution as the play progresses.  You have no Claus to worry about the plot.
While the authorship issue provides the dramatic tension, the heart of the show relates to the extended Moore family, including the servants. Despite a stern and mirthless exterior, Moore's passion for his wife Mary Moore (Kalie Kaimann) and children Catherine (Sarah Viola), Charity (Jordan Darnell), young Clement (Phoenix Haigus) and Emily (Nora Darnell) seeps through.  Dentino's depiction of Moore is both heartfelt and heart-rending as personal tragedy continues to haunt the family throughout.  Dentino's performance is sterling and holds both the dramatic and vocal elements together.  In this score, you can really hear the depth of Dentino's vocal range.
There is a lot of music in the show which sounds more like an operetta than a classic Broadway musical. There are some lighter comic songs like Donna Henrietta and A Picaresque Travelogue but most are dramatic, passionate or soulful.  Leaving the theater, I could not hum any of the songs but was impressed with the depth of the music, especially the songs Journey On (which poignantly concludes the first act), Tonight, My Lullaby, The Father of Christmas and Christmas Belongs to Her (referring to his now deceased wife).  Unfortunately, I had difficulty hearing some of the lyrics which is necessary because the songs tell much of the story.
With one exception, the singing was very strong with special nods to Dentino and Sarah Viola (daughter Mary), Dylan McGill (James Ogden) and especially Kalie Kaimann whose enunciation and clear voice propelled the drama. The bombastic, over-the-top acting of Bob Brunner, as Lorenzo, was a highlight but he was frequently flat while singing.  The principal servants played by Gabriella Francis, Leslie Hitch and Brandon Bentley provided the comic relief and contributed to the excellent chorus throughout the play.
The single set staging designed by Brett Bowling seemed to represent what an 1820's wealthy, rural New York mansion may have looked like with heavy oak walls, many paintings and holiday decorations. Two lighted Christmas trees flanked the stage on each side which lent to the holiday spirit.  The costuming by Caren Young appeared to be authentically historical and decorous.  I normally do not mention dialect coaches but Katelyn Reid had to deal with English, German, Irish and (occasionally) Italian accents which mostly worked.
I need to pay particular attention to the lighting (of which I have been a frequent critic at the Covedale). The combination of the set and the lighting significantly enhanced the dramatic impact of the story.  As an example, the lighting (and costuming) of Moore's now deceased wife who appears during an anguished scene is very effective as Moore sings of his love and she suddenly appears in the door, backlit in a beautiful white dress. During the same scene, blue lights (symbolizing Moore's torment) effectively follow Dentino around the stage. Those scenes, plus Santa's emergence down the chimney, are highlights.
This show is much more dramatic and emotional than I thought it would be. I anticipated fun fluff but instead witnessed a show with more heft and structure instead.  The audience seemed to agree. The play is somewhat uneven and could be tightened a little but, overall, I was impressed with the effort.  This is also the first play premiere I have attended.
So hop on your sleigh, grab your egg nog and fly to The Nights Before Christmas beClaus Santa is coming to town.  The play continues at the Covedale Theater through January 12, 2017.
Shuffle Off to Northern Kentucky University for Thoroughly Modern Millie!
Review by Spenser Smith of Thoroughly Modern Millie: NKU
Set in New York City in 1922, Thoroughly Modern Millie tells the all-too-familiar tale of a country girl who moves to the big city to make a better life for herself. This story centers on Millie Dillmount from Kansas who comes to New York and lands at the Priscilla Hotel, a home away from home for aspiring actresses. Her plan is to find a job as a secretary for a wealthy man and then marry him. Of course, her plan goes completely awry. Based on the 1967 film starring Julie Andrews, the musical won six Tony Awards and launched little-known Sutton Foster from the chorus to center stage.
Director Jamey Strawn has tapped a truly talented cast for the first musical of the season at NKU. Kudos to the men and women of the ensemble, who hoof it all the way through two and a half hours of nonstop energy! Senior musical theatre student Megan Urz stars as hopeful progressive Millie Dillmount. Her deadpan delivery and quirky charm are the perfect medicine for her rigid surroundings. Just wait for the "Nutty Cracker Suite!" Melissa Cathcart provides many of the evenings comical moments as the show's villain, Mrs. Meers, a washed-up actress who thinks she's a star.  Her henchmen Ching Ho and Bun Foo, played with charm by Aki Hosoda and Tyler Rosenblatt respectively, speak in Chinese that is translated with projection on the proscenium. This provides many laughs as they reprise songs sung by other characters. The dialogue was ahead of the projection for most of the show, which made it hard for their laughs to land. Christina Tully returns to the NKU stage after starring in The Grapes of Wrath earlier this fall and gets a chance to shine again as cabaret star and Millie confidant Muzzy Van Hossmere. She gets the show's diva moment and delivers with power.
Scenic Designer Matthew Hamel provides a perfectly functioning set that appropriately depicts time and place but also allows for mostly-seamless transitions between the many changes in location. This show was adapted for the stage from a film and that is no easy task. Costume Designer Ronnie Chamberlain mostly succeeds with the period clothing. The men are appropriately dapper, yet some of the women look as though they've shopped at Cappel's rather than Burgdorf's. Sound issues were aplenty on opening night and many lines were lost. I'm sure this is a kink that will be worked out as the run progresses. The same can be said for the lighting, which was very dim in places it didn't seem appropriate and there were several moments actors missed their light altogether, leaving them in the dark. Another kink I'm sure can be worked out for future performances.
A true standout is the energetic and very fun choreography staged by NKU faculty member Tracey Bonner. She also choreographed last season's Into the Woods, and it seems she has a real talent for making chaos look good! It's a joy to watch her work and I'm confident I could see the show again and catch something fresh each time.
The orchestra, conducted by Damon Stevens, includes a few local favorites and most are NKU music students. It's nice to see that collaboration at work. There are several moments where conductor and singer don't' agree and the tempo drags, but another issue that is easily fixed.
Millie continues at the Corbett Theatre on the campus of Northern Kentucky University through December 11.
For tickets, call 859-572-5464
or visit theatre.nku.edu.
Credit Where Credit Is Due,
Covedale's
Nights Before Christmas is an Original Holiday Show
Review by Jack Crumley of The Nights Before Christmas: Covedale Center for the Performing Arts
It's Christmas time, and this year, the Covedale Center for the Performing Arts is doing things differently. Rather than adapt a known classic like Miracle on 34th Street or even The Grinch, Covedale is premiering an original musical that's been four years in the making by artistic director Tim Perrino: The Nights Before Christmas.
The Nights Before Christmas tells the story of Clement Clark Moore, the writer, linguist, and seminary scholar best known for the classic American poem "A Visit from St Nicholas," which is better known today as "Twas the Night Before Christmas." That 19th century work defined so many elements of Santa Claus that are taken for granted nowadays. The names of the eight reindeer, Santa as a "jolly old elf," and even the idea that Santa delivers the presents on Christmas Eve all became cultural Christmas pillars because of that poem. It was published anonymously in 1823, and some 20 years went by before Moore publicly took ownership of the work.
And therein lies our story.
What begins as a Christmas caroling session in modern-day New York's Clement Clark Moore Park quickly flashes back to Moore's Chelsea estate in the 1800s. Moore (played by Matt Dentino, whose gift of a voice is a constant in the show) has written the titular poem for his family in celebration of Christmas. A distant relative, Henrietta Steward (played by Julia Hasl Miller), is jealous of Moore's work and thinks her experience in the world of poetry would improve the final product. With the help of Moore's new, gullible friend, Lorenzo DaPonte (affably played by Bob Brunner), Steward copies the poem, makes some changes, and has it published in a newspaper the following year, crediting only "anonymous." This creates a conflict not only amongst family members, but within Moore himself. He wants to be known for his academic pursuits, and not a trite story he wrote for his children, despite their insistence that he take credit for his [brilliant, timeless] work. The show climaxes with a full, fantastical, musical rendition of "A Visit from St Nicholas."
Musicals are tricky stage productions in that you not only have to have people who can act, but they also have to be able to sing and act at the same time. Too often, musical casting puts too much emphasis on singing ability alone. As I said, Matt Dentino's voice splendidly carries every note with the pain that Moore's character is feeling throughout much of the show. He emotes in broad ballads like Act I closer "Journey On," and in quiet, aching numbers like "I Don't Believe." Sarah Viola's operatic talents shine in "Summers at Chelsea." Kalie Kaimann plays Moore's eldest daughter, Mary, and her pleasant sound carries and blends very well. The cast sings every song with a recorded track, not a live band, and that makes their performances that much more difficult and noteworthy.
In terms of production, the statue of Moore that stands alone on stage at the beginning and end of the show is striking. The set for the Moore home comes across as warm and has been altered as needed from the Covedale's previous production of The Foreigner. The lighting is very well-designed with swirling elements that help convey some of the show's brief, supernatural elements. Soft spotlights also help draw the audience's attention to specific actions and interactions when the full cast is on stage.
The songs in the show have elements ranging from Italian opera to family sing-a-long. The full servant staff of the house's "It's Christmas at Master Moore's" is a fine scene-setter, evoking almost a "Be Our Guest" from Beauty and the Beast feel. The Moore children do a great job with both the singing and choreography in "Riding Home Lost in the Snow." And Daponte's "Picaresque Travelogue" recounts the librettist's colorful, epic history.
The concept that Tim Perrino has in The Nights Before Christmas is interesting. Putting a dramatic story behind the making of this classic piece of American literature makes a lot of sense, especially considering the real-life scholarly debate about whether or not Moore actually wrote the poem.
That being said, I had some issues with the execution. It feels like there are important things that happen off-stage in Act I. Moore is presented as a stern academic, more focused on his sermon than his children on Christmas Eve. He leaves the house to deliver a turkey, and when he returns, he's somehow been inspired by the sleigh ride he was on to write this story for kids. And the audience doesn't get to see that shift. The lead actor goes from being a strict head of household, to a father relieved to be back home with verses about Santa Claus in tow. As an audience member, I want to see that inspirational moment. I want to see the main character grow like Scrooge in A Christmas Carol or even George Bailey in It's a Wonderful Life.
Also, his inaugural reading of the poem at the Christmas Eve party starts with the first few lines, then flashes ahead to everyone cheering the poem's ending. I realize that the payoff of Moore's work comes with the full-blown production of "A Visit from St Nicholas" that he fantasizes about at the end of the play, but the way it's skipped in the beginning is jarring. Until the big ending, I thought there were issues with getting the rights to performing the poem in its entirety.
Tim Perrino, composer Steve Goers, and the entire cast and crew should be very proud of the work they've put into this production. After curtain call on opening night, the cast gathered with Cincinnati Landmark Productions' Communication Director Rodger Pille to celebrate Tim and Steve's new work that's now out in the world. It seems likely that this show could become a Christmas tradition at Covedale, and it'll be interesting to see how the production evolves with each passing year.
The Nights Before Christmas runs through December 23, and tickets can be purchased here.
Know's Gnarly Stump Lifts Your "Spirits"
Review by Liz Eichler of Darkest Night at the Gnarly Stump: Know Theatre
Looking for something different this Holiday season, but still want to your spirits lifted? Know Theatre has an experience for you.
Darkest Night at the Gnarly Stump, a world premiere written by Lauren Hynek and Elizabeth Martin, with music by Paul Strickland, is about a girl who searches for a lost sister (snatched by faeries), and meets a group of storytellers and musicians and enlists them to help her find her sister.
But it is really about the power of stories, spoken or sung. The stories that survive from generation to generation, that are told around the kitchen  or holiday tables, which sometime take a life of their own.  Every family has a story that depicts their uniqueness and strength, their values, and/or the colorful characters: great granddaddy, mee-maw, old auntie sue or whomever–your kin. This play celebrates them all, whether you are belt wearing people, suspender wearers, or as the people in this play say, "we're belt and suspenders kind of people." Whether it is your story or someone else's, the passing on from generation to generation celebrates the strength of the family.  The goal of this play is to make you value these connections as well as BELIEVE in something logic cannot explain. (Many of us have family we find hard to explain!)
There are many strengths to this show; foremost is the music. Paul Strickland has written and performs wonderful music and accompaniment with Linsey Rogers. They are up and center, thankfully, so we can fully appreciate them as extraordinarily skilled musicians and animated listeners.
They set the tone as you walk into the environment and they are already playing. You look around, and you feel you have entered an inviting Cracker Barrel, with the cabaret tables with mismatched chairs and working class celebrated on the walls with firefighter coats, hand drills, propellers, and rag rugs. The only thing missing was the oversized checkers  game by a fireplace, but the warm lighting keeps things cozy.
The strength of the music continues as the other performers walk in, creating beautiful harmonies.  The ensemble consists of Lisa DeRoberts, Gabrielle DiVincenzo, Lormarev Jones, Lindsey Augusta Mercer, Michael Sherman and Derek Snow.  They tell the story with skill and humor.
As a theatre piece, there are some issues with the story, the staging, and the costumes. These issues become more clear during a matinee when you realize that it is really a static play, versus authentic storytelling to a live audience. (The cast did ad lib about an audience cell phone going off.) I wanted it to be more live, more variable, with adaptations to the afternoon shows.  The musicians are live and vividly in the moment, but at times the actors miss that same spark.
The couple at my table said they were looking for something new and fresh and musical, trying to escape the traditional Holiday stories.  They were first timers at Know Theatre, and were very pleased with the music, and pleased that it was still an uplifting holiday story, after all.
Darkest Night at Gnarly Stump continues through December 17. Tickets can be purchased at 513-300-KNOW or www.knowtheatre.com.
The Stories That We Told Live Among Us at Know's Gnarly Stump
Review by Shawn Maus of Darkest Night at the Gnarly Stump: Know Theatre
Darkest Night at the Gnarly Stump is an enthralling blend of Appalachian and old European mythology seamlessly worked into a modern setting.  In this world premiere, written by Lauren Hynek and Elizabeth Martin and commissioned by Know Theatre, you can't help but be drawn in by this captivating tale.  It's poignant and beautifully told, using stories that are mostly inspired by traditional folk tales with a magical blend of Appalachian music.
On the darkest night of the year, residents of a secluded Appalachian town gather at local pub, The Gnarly Stump, to share ghost stories and songs. When an outsider arrives reporting the mysterious disappearance of her sister the lines between story and reality become blurred.
What makes this production a breath of fresh winter air is that it is staged in the Underground; the bar/second stage.  When you walk in scenic design by Andrew Hungerford has transformed the Underground into a front porch paradise, with original artifacts hung on the clapboard walls that give it a homespun appeal, much like a Cracker Barrel.
Paul Strickland and Linsey Rogers come up on the music area for a pre-show blend of people music; some are old, pre-radio songs with the rich musical traditions of 19th-century Appalachia.  Strickland and Rogers aren't just the background music and underscore (a clever thread of "Also Sprach Zarathustra" brings a bit of subversive humor to Sherriff Everett's pontification about UFO's versus fey people); they also tell stories through their lyrics and songs.  The show is billed as a "ghost story with music". But Strickland has chosen, and even written, tunes that accentuate the superstition and moonshining link of the Anglo-Celtic immigrants who settled in Appalachia.
The marvelous ensemble of actors puts flesh to the bones of old stories and fears of a world where fairies live just beyond the perimeter of our daily lives.  Each character is deep and witty and wise.  They take us into the magic, through it, and out the other side. Each storyteller has a masterful blend of the sinister, the fantastic and the humorous.
Director Brant Russell has faithfully brought to life Hynek and Martin's intricately structured vision, full of a wealth of fine detail about music and things magical and arcane.  Their ability to take what could have been a mundane campfire tale and fuse it with the strange gives us a gift of contemporary holiday fantasy set deep in the mythic literature and music of our time. I was certainly swept into another and very fascinating world of language, music and high imagination. I hated that it had to come to an end.
The closing song sums up the feelings of this night "The stories that you told; may they live, ever more, among us."
Darkest Night at the Gnarly Stump plays at the Know Theatre through December 17th. Tickets may be obtained at their website, www.knowtheatre.com.
NKU's Animal Farm Draws Parallels Between Stalin and High School
Review by Shawn Maus of Animal Farm: NKU
The high school classroom provides the atmosphere for George Orwell's blistering satire on power and idealism.  Animal Farm, written by George Orwell in 1945, has been a standard text in schools in western civilization since it was first published.
According to Orwell, the book reflects events leading up to the Russian Revolution of 1917 and then on into the Stalinist era of the Soviet Union. Orwell was a critic of Joseph Stalin and hostile to Moscow-directed Stalinism. The Soviet Union, he believed, had become a brutal dictatorship, built upon a cult of personality and enforced by a reign of terror.
Director Charlie Roetting has placed the action within a high school classroom, a fitting setting since this is the production that gives the cast–entirely made up of the freshman class at NKU–an opportunity to show the talent that didn't find its way into the main stage season.
George Orwell's satire has given the world at least one immortal phrase: "Some are more equal than others." The animals on a farm drive out their master and take over and run the farm for themselves. The experiment is successful, except that someone has to take the overthrown farmer's place. Leadership devolves upon the pigs, which are cleverer than the rest of the animals. Unfortunately, their character is not equal to their intelligence.
The story of the nefarious doings of the hooved stand-ins for Stalin and Trotsky and how they and their compatriots overthrow the farmer and try to turn Manor Farm into a cooperative, but fail, is faithfully brought to life in Wooldridge's adaptation. This production under Roetting's direction, does justice to the adaptation.
And while there is probably too much narrative taken directly from the book, staged and spoken directly to the audience, Roetting divided the roles into several.  Old Major was played by three actors and other characters were divided up amongst the 30-plus cast.
The simple but effective costuming of each animal as a "classification" of the high school sect – humans being the educators, pigs as student council, goths, jocks and the like – works well fitting with the overall simple style of the black box theatre space.  I found it particularly inspired that the play was set in the 1980s – clearly an homage to Orwell's other novel, 1984.
While energy levels fluctuate between the actors, some were more equal than others.  But, remember, this is production of freshman students, many of whom are just beginning to learn the craft of their career without the distractions of the high school theatre scene,and other high school studies that really don't interest the creative types.
The challenge of playing animals didn't work as clearly as the challenge of playing high school animals.  Mathew Nassida as Squealer (or should I say the lead Squealer since four other actors helped to break up what could have been very long monologues) succeeds in his creation of a human character with nerdy characteristics reminiscent of "Revenge of the Nerds."  Nassida also provided original music which is a perfect underscore for the play.  Sally Modzelewski, as Napoleon, is also compelling and appropriately sinister.  Her portrayal of the dictator is in fact a bit scary with a Sharon Stone-like quality, but we see her rise to power and her descent into the dangerous underworld of lies and murder with a psychological depth that says this freshman is one to watch.  Camden Dougherty's Boxer blends the pathos needed from the workhorse just trying to maintain the status quo.  Levi Daugherty's Moses definitely leads the burnouts to and with Sugar Candy Mountain, and his comedic technique is highlighted by his perfect timing.
Animal Farm tells a story, but allegory, when transferred to the stage, requires a little more interpretation to have an impact. A lot is left up to the script, which just is not quite up to the job. Animal Farm offers a fun evening, but lacks either theatrical spectacle or a truly coherent message.
Nevertheless, this is a play largely carried by its acting talent, and it is particularly refreshing to see some lesser-known faces on the stage. For now, I'm just happy to enjoy the quality of acting and the promising dramatic talent that the production profiles.
Parents Spar Like Kids in Incline's God of Carnage
Review by Ken Stern of God of Carnage: Incline Theatre
We're mature adults, right? Well educated, good jobs, nicely dressed, well adorned apartment, and caring about our children. And when boys get in a fight, the parents can calmly discuss it and the perpetrator will apologize to the victim, even if the wrong-doer needs a talking to, first. That is how adults act, right?
No, not in God of Carnage which opened November 17th at the Warsaw Federal Incline Theatre. The parents, liberal, justice minded Veronica and Michael Novak, invite the more professional and rigid Annette and Alan Raleigh to their Brooklyn apartment to discuss the need for Benjamin to apologize. Taking responsibility and apologizing shows responsibility and maturity.
That's the theory, but comparing the suited Alan and his primly jacketed and skirted wife Annette with the more casually sweater-vested Michael and comfortably in slacks Veronica offers a clue that the foursome is not in synch. That is clear from the first exchange, when Veronica's reading summarizing the incident starts with "armed with a stick." Lawyer Allen wants that struck; Michael substitutes the less provocative "furnished." This starts the verbal jousting. Well adorned apartment living rooms and material success do not protagonists make. As the afternoon advances both couples show they are four antagonists, each against the other, and not protagonists acting civilly.
Arguments are more fun. The opening night audience laughed often at the discomfort unfolding on stage. This might be fun for the cast, also. The characters in God of Carnage, Veronica (Martha Slater), Michael (Brent Alan Burington), Annette (Carol Brammer), and Alan (Rory Sheridan) maneuver a verbal merry-go-round: sometimes up and making light, more often offering jabbing and zinging critical remarks. The tension increases as the couples learn more of each other and use that information for fodder to fuel barbed rejoinders.
All four cast members portray their unease. Annette is both rigid and nervous, with devastating consequences. The cracks in that couple's marriage are made clear. Brammer wonderfully portrays her increased agitation; holding a can of coke to her forehead neither cools her nor calms her down. Husband Alan is disdainful of his son, calling him a savage and other epitaphs. And he repeatedly metaphorically walks out. For there is a fifth character, of sorts: Alan's cell phone, or rather the client and staff calling the high powered attorney to halt a developing crisis of a new miracle pill whose harmful side effects are coming to light ahead of the client company's annual meeting. Alan is up and speaking loudly on the phone, putting the living room discussion on hold numerous times before the evening ends.
Sheridan portrays the lawyer as loud, assertive, caustic, a self-proclaimed "John Wayne type." He is a take no prisoners type, whether it is the Novaks or his wife.
Michael, channeling a 1980s jovial sit-com father, cannot hold that pose forever. Halfway through he throws down the liberal, accommodator pose and starts to snarl. His Hyde is as entertaining as his Jekyll.
Veronica, the principled one, provides the initial tension by insisting on an apology to her son. Her changing mood is fueled by a bottle of rum husband Michael had brought out during a more conciliatory moment. It is her, and each of the foursome's undoing.
Director Kristin Clippard creates action in this "talky," light-on-plot play by having the characters move themselves around the stage's living room set. By the end, alliances will have shifted to every combination of inter-couple and intra-marriage conflict. The up and down and coats on and off has everyone on the go. Sayre Frederick ably supports the cast as the production stage manager.
Late in the conversation Alan says "I believe in the god of carnage. He has ruled uninterruptedly since the dawn of time." That philosophical flourish is a rare statement. Too much of Carnage is minor skirmishes between people who hardly know each other. While Alan is a high powered lawyer too often on his cell phone protecting a pharmaceutical company's drug being pulled off the market, the exchanges between the foursome are primarily petty banality. This is no one's responsibility but Yasmina Reza's, the playwright. Setting the two couples in a living room, having verbal jousting, and a high level of liquor consumption echo Who's Afraid of Virginia Woolfe. But that comparison reveals Carnage's shortcoming. It is a fault of the script, not the production. Edward Albee's George and Martha are destroying their marriage and each other on stage. No battle is more devastating – or worth an audience's time. The stakes are too low in Carnage. While none of the characters are likeable or heroic, that's not the reason for dissatisfaction. The performances are strong, the actors offering a wide range of emotions, from anger to peace making. There are funny moments throughout, with the audience laughing appropriately. But whether arguing over releasing a hamster or child soldiers in the Congo, the disputes are either petty or impersonal.
The most significant issue is Alan's one way defense on the phone of the defective medication. The harming of customers taking those pills is a matter of real import.
The cast play their parts well, but watching the development and rise and fall of a food fight among adults, even with ever changing alliances, can only hold so much interest. And so the lights come down on four exhausted adults (and to an appreciative audience for their soldiering on).
Yasmina Reza's original script was in French; translation is by Christopher Hampton. God of Carnage won the 2009 Tony Award for Best Play.
The show runs through December 4th, playing Wednesday through Sundays, with an additional performance on Tuesday, November 22nd and no performance on Thanksgiving, Thursday, November 245th. For tickets call 513-241-6550 or click on http://cincinnatilandmarkproductions.com/incline
See the Clash of the Clans at Incline's God of Carnage
Review by Doug Iden of God of Carnage: Incline Theatre
What might happen when two sets of parents meet to discuss an altercation between their respective young sons at school? Will the ensuing discussion be amicable or hostile?  Do potentially inflammatory words (like "executioner", "on purpose", "gang member") exacerbate the volatile situation?  Those are the questions asked in the 2009 Tony winning drama God of Carnage now showing at the Warsaw Federal Incline Theater.
In the one act four person drama, parents Annette (Carol Brammer) and Alan (Rory Sheridan) visit Veronica (Martha Slater) and Michael (Brent Burington) to develop an ongoing strategy after Annette's son strikes Veronica's son. Initially, the discussion is polite and they seem to be making progress but, soon, the undercurrent of anger and child protectiveness leads to an explosive confrontation.  As the tensions escalate, the parents become more childish than the children they are trying to protect.  We also gradually learn that the relationships between the parents are tenuous as well.  Class becomes an issue as well when the wealthy, self-indulgent and work-obsessed couple of Annette and Rory (a lawyer and a wealth manager) square off against the middle class pair of Veronica and Michael.  The play increasingly becomes intense and vituperative as each of the characters hurls insults at each other.  There is, however, enough humor to ameliorate the heavy drama.  It is clear why the play won a Tony because playwright Yasmina Reza mixes the bombastic with the subtle, allowing us to see the characters' real personalities and flaws emerge throughout the evening.
The ensemble cast is uniformly excellent as each of the characters move from being nervously cautious to barely civil to a raw emotional breakdown. Martha Slater as Veronica forms the center of the conflict as she stridently reminds everyone that her son was seriously injured and maligned and uses pointed and increasingly vulgar language to make her repeated point.  Annette (Carol Brammer) alternates between being conciliatory and adversarial and shows evidence of acting the phony she is accused of being.  She tries to balance her version of civility with indignation at the assumption that her son was solely to blame for the incident.  Michael  (Brent Burington) reverts to the self-proclaimed Neanderthal by becoming boisterous while Alan (Rory Sheridan) irritates everyone because he is constantly taking business calls on his cell phone.  The basis of the calls creates a major plot point later.  Alan is more concerned about his profession than being a parent and consistently denigrates his hosts in a condescending manner.  His anger at the treatment of his son depends more on lawyerly concerns than on parenting.  It is a testament to the actors and Director Kristin Clippard that they successfully navigate this emotional roller coaster.
The set, designed by Brett Bowling, is Michael and Veronica's living room with an odd mixture of bric-a-brac including African masks, a typewriter, a rusty saloon sign and nondescript furniture. It hints of a homey middle class but pretentious living space.
This is not an easy play to watch but the relationship themes, class clashes, humor and extremely sharp and pointed dialogue make the show a worthwhile experience. I encourage you to see God of Carnage playing at the Incline Theater through December 4.  You will think about this play for awhile. Tickets are available on the website, http://www.cincinnatilandmarkproductions.com/incline/Default.aspx
Suspense Runs the Show in Falcon Theatre's Dial M For Murder
Review by Alan Jozwiak of Dial M For Murder: Falcon Theatre
The fate of a woman's life rests on the location of a latch key.
This crucial plot point comes from Falcon Theatre's latest offering Dial M for Murder. While this script dates from the early 1950s, there is more than enough suspense to satisfy modern audiences. Â The play is set in London and revolves around former tennis player Tony Wendis (Phineas Clark) plotting to kill his heiress wife Margot (Annie Grove), who has been having an on-again off-again affair with the American television crime writer Mark Halliday (Carter Bratton).
Director Bed Raanan captures the spirit of this bygone time, where voices are seldom raised (unless to make a toast with brandy) and passions lie smoldering underneath the civility displayed by each character.  Raanan is able to get subtle nuances out of his characters, making them three-dimensional and believable.  For a drawing room play with little direct action, Raanan keeps what action is shown by building on events in a way that keeps audiences on the edge of their seats.
Kudos to Phineas Clark, who plays the part of Tony.  Clark plays the perfect dapper gentleman whose psychopathic tendencies get hidden under his charming demeanor.  This role could easily come off as a caricature, but Clark is believable as Tony.  The audience gets a sense of the man through the different roles Tony plays as a jilted lover, conniving murderer, "loving" husband, and concerned citizen wanting to help the police any way that he can.
Clark is matched by the strong performances given by Annie Grove (Margot) and Carter Bratton (Max) as the romantically-interested pair.  Grove shows a full range of emotion, from delight to hysteria to desperation.  Bratton also plays a strong role as her love interest, alternating between love and despair.
Also providing a stand-out performance was Derek Snow as Inspector Hubbard.  Snow played the Inspector with a reserved detachment, coupled with a driving enthusiasm to get to the bottom of the case.  At times insistent and probing, Snow plays Inspector Hubbard perfectly with the right amount of subtlety and dedication.  It was a delight to see Snow's Inspector grill Tony and the other characters.
My only complaint with this show came with the costuming for Tony.  For a man who is supposed to be so dapper and well-dressed, it was odd that Clark's suit coat did not properly fit him at the start of the show and that he was wearing an ill-fitting cravat at the end of the play.  The character of Tony seems to be one of sartorial elegance, so I hope these minor things get corrected by the end of the run of the show.
In closing, if you want a suspenseful good time, then Falcon Theatre's Dial M for Murder is your ticket.  Dial M for Murder runs from weekends from November 4-19, 2016.  For ticket information, go to www.falcontheatre.net.
Falcon's Dial M For Murder Is a Mystery with Class
Review by Ken Stern of Dial M for Murder: Falcon Theatre
Are the well-to-do most apt toward criminal behavior? Whether Wall Street heists or murdering their wives, is it just that the rich have more to gain? Or is it that we tend toward stories of the upper crust doing wrong because they are so suave and look so good? The cast and crew certainly prove that class shows in Dial M for Murder, at Newport's Falcon Theatre, playing through November 19th.
Lights come up on a stylish couple kissing in a well appointed London living room. Margot (Annie Grove, attractive in one beautiful outfit after another) is married to Tony, but still has feelings for Max (Carter Bratton, channeling Robert Cummings with his square jawed good looks and Brylcreemed hair), just in from New York. While the story makes clear that she is committed to her husband, Tony (Phineas Clark), life is complex. Tony, now retired from pro tennis, isn't happy with Margot, probably more so because he married her for money than his discovery of her affair with Max, a TV mystery writer. Tony's obsession with a letter Margot transferred from handbag to handbag could be the death of her as he plots the perfect murder. Grove offers a Margot with a full range of feelings. Clark's Tony is equally strong as the scheming, dissembling, quick thinking, and almost completely thorough conniving husband. Ben Raanan gets credit for directing the cast through the well-paced drama.
Margot's and Tony's English accents pull us into the story, as does the 1950s setting (great liquor cart; set and lighting design by Ted Weil) and the equally stylish costumes, well-designed by Beth Joos (Max starts out in a double breasted suit and Margot's red dress recalls Grace Kelly's in the 1954 Hitchcock thriller.) This is a well-presented, as well as a well-made, play.
Playwright Frederick Knott tantalizes us with the story, the conversations and interactions from the opening kiss onward. Each simple prop, repeated handled, will have its role: handbag, key, letter, scissors, and one more item the audience will have to watch for near the end. You will have to see for yourself, watching carefully for clues as switches are made in the objects handled by Tony, Margot, Max, and the Inspector.
Knott's beguilingly teasing technique is for Tony to narrate the plot before it unfolds. Tony's foil is primarily poor old classmate Lesgate (Mike Hall, with a great mustache and a bit of a befuddled manner, as befits a not successful con from their Cambridge days). The story as told and the plot as acted out fit like a well-tailored glove.
Tony's scheme proceeds although perhaps not exactly as he had hoped. And the word-play teases: can one commit "the perfect murder?" The professional writer Max knows "in stories things usually turn out the way the author wants them to; and in real life they don't." Watch, as wonderfully, Tony's perfectly constructed plot smack up against the vagaries of humans being themselves, not following a script of which they are unaware, acting unpredictably.
As always with an English murder, there must be a police inspector. Derek Snow, also impeccably dressed, enters as Inspector Hubbard. His calm presence is also a simple one. The audience's role, for this play, is to watch the action attentively while listening carefully. In the end, the only tricks are up the sleeve of Inspector Hubbard. Knott gives him one of the most memorable lines of the play, telling Max: "They talk about flat-footed policemen. May the saints protect us from the gifted amateur."
Dial M for Murder plays Thursday through Saturdays, closing November 19th. For more information visit http://falcontheater.net or call 513-479-6783 for tickets.
Calling All Mystery Buffs to Falcon's Dial M for Murder
Review by Laurel Humes of Dial M for Murder: Falcon Theatre
Falcon Theatre does a fine job with Dial M for Murder, the 1950s-era British murder mystery onstage through November 19 at the Newport theater.
If you are new to the play or the subsequent Alfred Hitchcock movie, there is a killing and a mystery to untangle. But this is a very British, very civilized murder. No blood or gore. All the characters – con man, playboy, police – wear ties and speak perfect King's English.  And they speak it a lot, so be prepared to listen well.
In Dial M for Murder, retired tennis star Tony Wendice has a seemingly foolproof plan for the murder of his wealthy wife, Margot. He wants her money, but there is also a revenge motive: she's had an affair with Max Halliday, who – important to the plot – is an American crime fiction writer.
The murder plan is, of course, not foolproof. And that is when the fun begins, with multiple twists and turns. The audience knows whodunit; the pleasure is finding out if the villain gets away with it.
Falcon's version of the play opens – as the movie did – with Margot and Max in a passionate kiss. But we learn it's for old time's sake, because Margot broke off their affair a year earlier, when Tony vowed to be a better husband. Tony doesn't know about the affair (or does he?), and now the husband and lover are meeting for the first time.
Annie Grove is a beautiful, blond Margot (Grace Kelly had the movie role). Grove plays Margot with the polish and grace of a wealthy socialite, and adds a wide-eyed naiveté that takes everything at face value.
With an easy style, Grove carries off the elegant outfits costume designer Beth Joos has created for her. They are all perfect 1950s, down to the ever-present gloves. The men's costumes, too, are period – when was the last time you saw an ascot?
Carter Bratton is a handsome Max, balancing his discomfort at meeting his lover's husband with her need to hide their former relationship, even though he is clearly still in love with her.
Phineas Clark plays Tony with smooth, ultra-confident mannerisms that cover up his conniving murder plan. In an outstanding scene, Clark almost gleefully lays out a blackmail plot to force con man Lesgate (Mike Hall) to do his bidding. Hall does a wonderful job with the role, squirming in the realization he has no choice.
Inspector Hubbard (Derek Snow) doesn't appear until the second act post-killing. Snow fills the stage with his strong presence and hints that he suspects more than he shows. Snow's finest scene comes near the end, as he devises and executes his own foolproof plan to trap the villain.
Director Ben Raanan keeps a brisk pace throughout the show. Act One takes some time to build up momentum, time needed to introduce characters. But patience is rewarded when the plot starts to roll.
The director and cast together build up tension as they skillfully execute playwright Frederick Knott's clever, twist-and-turn script. The result is a most enjoyable evening at the theater.
Dial M for Murder runs through Nov. 19 at Falcon Theatre, 636 Monmouth St., Newport. Tickets are available at 513-479-6783 or at http://falcontheater.net.
Carnegie's Love, Loss and What I Wore Dresses for Success
Review by Doug Iden of Love, Loss, and What I Wore: The Carnegie Theatre
Hats off to the Carnegie Theater's production of Love, Loss and What I Wore which opened November 5.  The show is a series of vignettes which use clothes as a metaphor for events in different women's lives in a mostly comic, bittersweet manner.  Like all sketch comedy, some of the scenes work well and some not so well but the batting average of Love, Loss is high enough to warrant a view.
The play is adapted from an Ilene Beckerman novel by the sister team of Nora and Delia Ephron.  Nora Ephron is best known for writing the screenplays for romantic comedies including When Harry Met Sally and Sleepless in Seattle and continues that legacy with this play.
There is one common thread in the play with the ongoing story of Gingy played by Marypat Carletti interwoven with a series of disparate stories told by the ensemble cast Mel Hatch Douglas, Nabachwa Ssensalo, Tess Talbot and Sarah Zaffiro.  The ensemble cast plays a total of 27 different characters, each telling their individual stories and it is a credit to the actors and Director Abby Rowold that the audience is able to keep track of what is happening through voice inflection, posture and costuming.  The ensemble cast is, collectively, very good but the actors are not associated with particular roles so it is difficult to rate individual performances.  Several of the skits are real highlights including the "I Hate My Purse", "Black" (in which they discuss their black dresses) and "Sisters" during which two siblings have a running commentary about the impending nuptials of their sister and "Heels" with the choice of pain or comfort.  Some sketches were more serious with several concentrating on difficult relationships with parents, mothers-in-law and ex-husbands or boyfriends plus a young woman who successfully combats breast cancer showing poignancy without being maudlin.
And you cannot give the production "shirt" shrift either.  The melding of set design/visual projection (Tyler Gabbard), costumes (Allison Lechlak), lighting (Andi Shultes) and sound (Troy Bausch) is extraordinary.  The set is divided into a front and back section, separated by a gossamer curtain which, depending upon lighting, allows you to see the enormous collection of clothes and dressing tables behind the barrier or just the front part of the stage.  Normally, the action takes place downstage but, occasionally, there is an interaction between characters in front and in back.
The curtain also functions as a screen onto which the titles of the scenes and movie segments augmenting the action are projected.  There is also an inside joke when one character complains that there is no title for her skit.  Some fashion designs are also projected as characters describe their clothes.  In one particularly effective scene, Gingy is sketching her dream dress on a pad of paper while the image being projected shows the drawing taking place.
The clothes must have blown the costume budget for the next 5 years.  There were a lot of allusions to real clothes designers, a few of whom I actually knew.  (Personally, I am a fugitive from the lifetime most-wanted list of the fashion police.)
The sketches clearly are aimed at women although there is enough universality to please everyone.  There were times, however, when three-quarters of the audience (the women) were laughing hysterically and the other quarter (the men) were saying:  what?  As I was leaving the theater though, I overheard several different groups of women discussing elements of the show and comparing them with their own real experiences.  I'm sure that would have pleased the Ephron sisters.
Pumped up?  All dressed up and nowhere to go?  Saunter down to the Carnegie Theater and its production of Love, Loss and What I Wore continuing through November 20. Tickets are available at www.thecarnegie.com.
Carnegie's Love, Loss and What I Wore is More than Just a Girls' Night Out
Review by Dan Maloney of Love, Loss, and What I Wore: The Carnegie
Ilene Beckerman's 1995 memoir Love, Loss, and What I Wore tells the story of what her life was like before she had five children. As she explains, "They didn't think I had a life before I was their mother. Sometimes, I even wondered."
Adapted for the stage by sisters Nora and Delia Ephron, the play employs a series of monologues and ensemble pieces to stitch together the fabric of women's lives – everything from the comically mundane to the momentous.
Director Abby Rowold assembles a fine cast of five, strong female performers to take us on this journey. Although each is very different, they come together in a way that is a joy to behold. Individually, these ladies are captivating performers – and they have to be given the amount of ground to cover. But for me, the show is at its best during the ensemble pieces – interludes about dressing like Madonna, having nothing to wear, or loving the color black. This is where Ms. Rowold's direction shines.
The story we keep returning to is that of Gingy (Marypat Carletti), the only named character in the play. Ms. Carletti exhibits grace and fortitude in the role. More importantly, she got me thinking about the strong women in my life, and what they must have been like in their prime. Gingy's Story is the through-line, but to say she is the only principle actor would be misleading. The four ensemble players (Mel Hatch Douglass, Nabachawa Ssensalo, Tess Talbot, and Sarah Zaffiro) share equal prominence, and all five women give impressive performances.
Ms. Hatch Douglass is a delight – kooky in the best possible way, yet still able to delve emotionally and connect on a personal level. Ms. Ssensalo deftly handles the more dramatic moments in the show. These could have easily been over-played. However, she speaks the truth plainly, without adornment or contrition, and the result is empowering. Ms. Talbot showcases a spunky attitude that plays exceptionally well, and she does a fantastic job of using the audience's laughter to invite us into her character. Finally, Ms. Zaffiro comes across as the plucky kid-sister, humorously overwhelmed by the daunting world of womanhood.
While these women carry the day, in some ways, the show is a little over-produced. There are moments where the production elements take away from the storytelling, and more often than not, the transitions between scenes are awkward. Production concepts are forced onto the play, and the reality is these ladies are strong enough in their own right that they don't the help.
As a thirty-something male, I think it's safe to say I'm not the target audience for this play, and I'd be lying if I claimed to have understood every joke. I could have benefited from a pocket-translation book, particularly in regard to the fashion references. Still, the storytelling is compelling, and that's more than enough for me to be able to enjoy myself. The difference is where I was smiling during these tales of love and woe, the women around me were bursting with laughter. And when I was laughing, those same women were doubled-over. In other words, this show is ideal for a girls' night out; however, dutiful husbands might be surprised by how much they find themselves enjoying it too.
Love, Loss, and What I Wore plays at The Carnegie through November 20th. For tickets, call the box office at 859-957-1940 Tuesday-Friday 12:00-5 PM or visit www.thecarnegie.com.
Put on Your Sunday Clothes and Go See The Carnegie 's Love, Loss, and What I Wore
Review by Jack Crumley of Love, Loss, and What I Wore: The Carnegie
November brings a run of Love, Loss, and What I Wore to The Carnegie Theatre, and if you've been
missing the writing of Nora Ephron in your life since 2009's Julie & Julia, grab your sister, your
mother, aunt, grandma, and your best girlfriends and get them to Scott Blvd. before the 20th.
Love, Loss, and What I Wore is a series of monologues about growing up, dating, marrying,
divorcing, and the random quirks of everyday life that always lead to the best stories. All with a
focus on what we wear. Ephron and her sister, Delia, adapted the play from the 1995 book by
Ilene Beckerman. The through-line of the show is Gingy (played by Marypat Carletti), a woman
reflecting on her life and how those memories are shaped by the clothes she wore at the time.
That concept may sound a bit trifling, but just like hearing a song on the radio from when you
were sixteen that takes you right back to that moment in your life, or remembering grandma's
house every time you smell apple pie, Gingy's wardrobe gives her memories a specificity.
Alongside Carletti's Gingy are four other women who come and go and are simply referred to as
"Ensemble." Individually and at times together, they tell short stories about prom dresses, boots,
purses, the color BLACK, how every woman in a certain age range at one point wanted to be
Madonna, and more. Their stories are equal parts witty, candid, and touching.
All four women in the ensemble, Mel Hatch Douglas, Nabachwa Ssensalo, Tess Talbot, and
Sarah Zaffiro work very well together. There are times when they'll all take turns saying the
same line, like "it doesn't fit," and each actress has her own way of delivering that dialogue.
Opening night had the women playing off the audience's reaction at times, and it peaked during
the "Shoes" segment in the second act that had the audience roaring and Tess Talbot breaking,
briefly. I mean this as praise. It was a fun, honest moment in a fun, honest show.
Credit should be given to the director, Abby Rowold. Gingy and the Ensemble all have a sincere
naturalness to them in their movement and their delivery. It's very difficult to tell if that's from
Rowold giving precise direction, or her letting her cast move instinctively. Some of the more
theatrical moments of the show all have the right, funny punch to them; particularly the memory
of a certain, buxom relative.
Staging Love, Loss, and What I Wore at The Carnegie really maximizes the intimacy of the
relatively small space. These are women telling you their most embarrassing moments or
revealing how they really felt about their second husband. Putting this show on a large stage
would take away from the connection that builds between the cast and the audience. Also, the
set is designed as Gingy's bedroom, with a semi-transparent curtain in the back that serves as a
border for a not-so-backstage dressing room for the Ensemble. There are also home movies
projected onto that curtain to help set the mood for certain stories, drawings of Gingy's various
outfits through the years, and the story titles are projected on it as well. Rounding out this
multi-media production are songs that also augment the stories, particularly Doris Day's "Que
Sera, Sera."
The show is a bit bawdy at times with some cursing, but even during the indelicate moments,
you could hear people in the audience making those knowing chuckles as if to say "oh yeah,
I've been there." The femininity of Love, Loss, and What I Wore is a major element, but that
really shouldn't discourage men from seeing it alongside their wives or girlfriends or sisters. One
of the real strengths of the show is its relatability. And I say that as a 35-year-old man.
Love, Loss, and What I Wore plays at The Carnegie through November 20. Tickets are
available at www.thecarnegie.com.
Ma Rainey's Black Bottom at NKU Strikes a Dissonant Chord
Review by Spenser Smith of Ma Rainey's Black Bottom: NKU
Set in a recording studio in the 1920's over the course of an afternoon, a group of musicians and the legendary blues singer Ma Rainey record several songs. Much of the play takes the form of discussions and arguments among the four musicians, each of whom brings his own perspective to questions of prejudice and the problems facing African Americans in society.
Toledo (Carlos Matthews) is the piano-playing moderator of the evenings debates. He is level-headed, but definitely has something to say. Slow Drag (Kaleb King) is the aptly-named bass player that serves up a few zingers but is mostly along for the ride. Levee (Geoffrey Hill) is the hot-headed trumpet player that is confident his arrangements will make him the next name in the music industry. Troublesome for me, his antics are more center stage (literally) than Ma and her name is in the title. Cutler (Landon Horton) is the trombone player that places his trust in God. It was definitely a pleasant surprise to see Landon on a local stage again. Irvin (Ben Cohen), Ma's manager, knows "how to handle her" and he does a fine job delivering laughs throughout the show.
Ma Rainey (Brittany Hayes) shows up over an hour late to the recording and most fittingly, almost an hour into the show. We see her throughout the night in short, diva spurts and then go back to the conversations with the band members. I would have liked to see more of Ma, both literally and figuratively. Ma thinks she's a star and Sturdyvant (James Dawson), the record producer, knows she is. I think those antics could have been better served if we had seen more vocal power from all involved. There is a trap in which actors can fall in the Stauss Theatre. A smaller space does not mean smaller voices. I had issues with diction and volume throughout the night. I also mean to say that this vocal variety would add to the intensity of the physically violent moments in the show. The same can be said for the songs. When the boys are practicing and when we (finally) get to recording, the music is too soft. It makes watching the actors mime playing their instruments much more difficult to believe.
Overall the show is filled with fine performances, directed by Daryl Harris. The unique set, by Kenton Brett, is something I haven't seen in that space before but absolutely appropriate. I really loved the practical use of the space. Costumes, by Ronnie Chamberlain, are appropriate for the time period and it was a pleasure to see all those snazzy shoes! Fitting, since that item takes a main focus towards the end of the play.
As a native of the city and a member of three generations of Cleveland sports teams, I was disappointed to miss Game 2 of the World Series. Considering the outcome, it's probably best I went to the theatre and I'm glad I did. Ma Rainey is enjoyable and thought-provoking. It made me really listen and I think that would do a lot of us serious good in these troubled times.
Ma Rainey continues at the Stauss Theatre on the campus of Northern Kentucky University through October 30.
For tickets, call 859-572-5464
or visit theatre.nku.edu.
CCM Shines With  A Chorus Line
Review by Teddy Gumbleton of  A Chorus Line: CCM Musical Theatre
For their first mainstage show, University of Cincinnati College-Conservatory of Music's Department of Musical Theatre is presenting A Chorus Line, the iconic musical featuring music and lyrics by Marvin Hamlisch and Edward Kleban, book by James Kirkwood and Nicholas Dante, and original direction and choreography by Michael Bennett. A Chorus Line tells the story of a group of dancers auditioning for a part in a musical. During the audition, the director, Zach, asks them to open up and slowly they reveal themselves as more than just nameless chorus members. When it opened in 1975, A Chorus Line was a massive hit, scoring 9 Tony Awards, the Pulitzer Prize for Drama, and it went one to be one of the longest running shows in Broadway history.
In many ways, A Chorus Line is an ideal undertaking for a college conservatory. It is a classic musical, with a varied cast of characters, and important choreography. It is also produced fairly regularly, which would allow the skills they learn to directly translate to future productions. But, on the other hand, A Chorus Line can be a tricky artistic endeavor because the copyright of the piece requires that all productions recreate Michael Bennett's original choreography and staging, limiting a production's ability to provide a unique interpretation.
In spite of these limitations, a production of A Chorus Line can distinguish itself through impeccable execution of Bennett's choreography and by fleshing out the details that bring the characters to life. The cast of 26 students does both of these very well, nailing the choreography with much aplomb and soaring in their rich, detailed character work. Some highlights include, but are not limited to, the tender affection Al (Paul Schwensen) shows towards his wife and Mark's (Daniel Marhelko) green earnestness.
However, there are two moments worth singling out about all other. The first is when the tremendous trio of Sheila (Kyra Christopher), Bebe (Madelaine Vandenberg), and Maggie (Areo Keller) perform "At the Ballet". This is when each of these dancers express why they fell in love with dance. It is the first point in the show when the characters begin to reveal themselves. Christopher, Vandenberg, and Keller brought exquisite depth to the song and wonderfully set the mood for the emotional journey ahead. The other high point belongs to Christopher Kelley's Paul. Paul initially is a quiet and reserved character. Only after being pressed by the director does he share his complicated past in a heartbreaking monologue. Kelley's delivery might be the most affecting I have seen; he is remarkably restrained, never giving into hysterics, which makes it all the more wrenching.
Director and Choreographer Diane Lala does a terrific job of faithfully recreating Bennett's original production. She nails the nuance of his work and reminds the audience of the genius of the original. Also worth mentioning are Lindi-Joy Wilmot's costumes. She evokes rich character detail and subtly infuses 1970's fashion into each piece. Matthew D. Hamel's spare sets and Jeremy Dominik's rich lighting work wonderfully in tandem to shape the mood of the show.
Overall CCM's lovely production will remind you why A Chorus Line is still regarded as great musical. A Chorus Line runs through October 30 in CCM's Patricia Corbett Theater.
People are born, People die: A Review of CCM Acting's production of Middletown
Review by Alan Jozwiak of Middletown: CCM
The title of this article is taken from lines from Will Eno's play Middletown and echo the main theme of the play, which director Richard Hess describes as being about "life and death—and everything in between."  Loosely based on Thorton Wilder's Our Town, Middletown tells the story of Mary Swanson (Sydney Ashe) who moves to Middletown ahead of her husband.  While going to the local library to get some information about her new town, she meets John Dodge (Rupert Spraul), an unemployed man who spends his time learning about various subjects, such as gravity.
The remainder of the play focuses on the journey that these two people take as they deal with issues of life and death.  Mary Swanson deals with the birth of her child and John Dodge deals with a life-threatening illness.  Along the way, we get little glimpses of life in Middletown, from tourists taking a walking tour of the town, a cop (Isaac Hickox-Young) being philosophical on his police walkie talkie, to a librarian (Mafer Del Real) dealing with a drunken Mechanic (Andrew Huyler Ramsey) in her library.
Director Richard Hess takes this rambling, word-mad play and skillfully guides his actors through the various scenes. To echo the variety of locations, the set itself was broken up into different sectors which easily become a library interior, hospital interior and exterior, and other places in Middletown.  Capitalizing on the ensemble nature of the piece, Hess makes certain his actors work together as a unit, making for a tight production.
Sydney Ashe plays the lead roles of Mary Swanson with a nice blend of earnestness and fun naiveté that works well for his role and is counterbalanced by the equally nice blend of flippancy and despair shown by Rupert Spraul as John Dodge. They work off each other effectively to move forward the scenes that they are in.  Ashe gets some great laugh lines from Dodge's character and Dodge gets some big laughs from his self-deprecating humor.
Kudos also go out to Andrew Huyler Ramsey as The Mechanic and Nicholas Heffelfinger as The Astronaut Greg and other roles. Ramsey's character is basically drunk during most of his scenes and he gives a strong sculpted performance in those scenes, alternating between different states of inebriation.
Similarly, Nicholas Heffelfinger provides some strong performances playing a variety of different roles.  He was strong as one of the tourists going on a walking tour of Middletown. However, he did a great job as Astronaut Greg because of the physicality of that part; Astronaut Greg is in space talking to ground control and appears to be floating in space during that scene.  It was hard to tell whether he was on a wire, but he did a great job floating above a chair ten feet up from the floor of the stage.
In short, Middletown is a different view of issues of life and death from one of the more original voices in theatre today.  It runs from October 20-22, 2016 in the CCM Cohen Family Studio Theatre. Any fan of Thom Paine (based on nothing) or The Realistic Joneses should see this show.
Dance, 10; Looks, 10: CCM's Chorus Line Gets a Perfect Score
A Chorus Line and CCM Musical Theatre Program are a perfect match.  These students LIVE these stories. They bring a passion and a pathos that is visceral, making this musical about an audition as true today as it was in 1975, when the show first hit Broadway.  Director Diane Lala's cast delivers so many great moments in this show that it is a 10, both for dance and looks.
The story is about performers auditioning for a new dance production, and a director not only pushes them physically, but interviews them to find out just what motivates them to dance.  They are all aware that dance is a short career; twenty-six is considered old, and injury haunts them every day. Many began to dance as an escape, and they reveal that that pain is still part of them, in the very muscles that theep them moving.
The music is also amazing, and Musical Directors Roger Grodsky and Evan Roider help make each song personal and present in this iconic score. Every number delivered.
Costume designer Lindi-Joy Wilmot has captured 1970's New York. The high-waisted pants, bell bottoms, striped shirts and dance wear provide a variety of authentic looks that many in the audience recall.  The hair and wigs by Danae R. Jimenez also captured this look; I overheard two ladies discussing they had Val and Bebe's hair when they were younger.  While the set is mostly a bare stage with a taped line downstage, there is a big finale and scenic designer Matthew D. Hamel and lighting designer Jeremy Dominik deliver the spectacle.
Director Diane Lala and the cast 110% embrace this show, and fill the characters with believable details, such as how they hold their dance bag or pull their arms into their sleeves.  They speak with their bodies. Their stance reveals who they are:  yearning, feeling people. These characters, and the CCM students who bring them to the stage, have trained all their life to dance, sing and act—triple threats. Yet despite their talent,  their job now is to keep auditioning, competing with hundreds of others for one role, being cut because they are too short, too flat chested, too whatever, but it has nothing to do with their ability to dance.  Sigh.
This show is a 10. Each dancer can DANCE, with high kicks, great extension, and amazing moves, and each has standout moments. The only thing that is problematic is Cassie's "The Music and the Mirror." Is it a "dancing for your life" opportunity or an inner monologue? Either way, it feels stuck in the past.  Is it the music, the mirrors, the choreography, or the performer? You decide, when you see one of the best productions in Cincinnati.
The phenomenal cast includes: Anya Murphy Axel, Kevin Chlapecka, Kyra Christopher, Alec Cohen, Gary Cooper, EJ Dohring, Bailee Endebrock, Zoe Grolnick, Kyle Ivey, Tyler Johnson-Campion, Phillip Johnson Richardson, Derek Kastner, Areo Keller, Christopher Kelley, Brianna Latrash, Daniel Marhelko, Jackson Mattek, Hamilton Moore, Emily Kristen Morris, Kimberly Pine, Bryn Purvis, Paul Schwensen, Frankie Thams, Madelaine Vandenberg, Casey Wenger-Schulman, and Keaton Whittaker.
A Chorus Line plays through October 30.  Tickets can be purchased by calling the University of Cincinnati College-Conservatory of Music Box Office at 513-556-4183 or going to their website www.ccm.uc.edu.
Covedale's The Foreigner Breaks Down Walls with Good Natured Humor
Review by Doug Iden of The Foreigner: Covedale Theater
Don't be a stranger to The Foreigner which is now running at the Covedale Theater.  This very funny play is a combination of an American and British farce with a labyrinthine plot, mistaken identities, misunderstandings, hidden agendas, slamming doors, secret nooks, language barriers and mass confusion.  Even though the play may seem alien at first, you will be rewarded in the end.
Written by American Larry Shue, The Foreigner tells the story of an extremely shy, self-effacing Brit (Charlie Baker played by Rodger Pille) who accompanies his friend Froggy (Aaron Whitehead) to rural Georgia for an annual military training session which he teaches.  Charlie, married to a beautiful and very adulterous woman, is debilitated by having to socialize with anybody, especially strangers.  To avoid confrontations and the appearance of rudeness, the two men conjure up a ploy to convince the others that Charlie does not speak English.  Charlie is then introduced to Betty Meeks (Leslie Hitch), who runs the rustic fishing lodge where they are all staying, the Rev. David Lee (Daniel Cooley), Lee's fiancé Catherine Simms (Annie Schneider), and her apparently dim-witted brother, Ellard Sims, played by Matthew Wilson.  Because of an almost stereotypical betrayal of Southern rubes, the other characters talk very freely about their activities and peccadillos in front of Charlie because they assume he cannot understand what they are saying.  They try to communicate with Charlie by yelling loudly (in English) but the young Brit remains apparently oblivious.  Many of these discussions lead to the convoluted goings-on later in the play.
However, this play, with all of its inherent silliness, has some serious undertones which elevates it beyond a standard farce.  There is a scathingly funny condemnation of xenophobia and racism as a major plot point and, as important, it depicts the characters achieving a level of self-awareness and achievement that none of them would have imagined at the start.  They begin as absurd caricatures but finish as individuals with real lives and real futures.  This is a credit to the playwright, the actors and the director Jody Meyn.
This is largely an ensemble piece but all of the action swirls around Charlie Baker and it is his performance that makes the play work.  This is a difficult role because, for almost half of the play, Charlie is mute and must rely on facial expressions, blank stares and an extraordinary ability to mime to convey his feelings and thoughts.  Rodger Pille does an excellent job of, initially, conveying a sincere goofiness at the center of the comic maelstrom but, eventually, developing a unique, likeable personality and self-actualization to which the others respond favorably.  Leslie Hitch (as lodge owner Betty Meeks) does a good comic turn and Matthew Wilson, as Ellard, convincingly transforms from a kind-hearted but largely ignored dullard into a man smarter than he thinks he is.  In one very funny (and difficult to act) scene, Charlie and Ellard mime and mimic each other during the simple task of eating breakfast.  The two characters help each other develop their real strengths.
Aaron Whitehead, as Froggy, conveys a convincing British accent, acting as the sarcastic Greek Chorus, while Daniel Cooley subtly shows his hidden and dangerous agenda.  Kyle Quinlivan is rapidly developing into a very talented addition to the Cincinnati theater scene.  I have now seen him in a variety of performances including a likable college student in the musical Baby, Jesus in  Godspell and now a racist radical in this play.
Technically, the scenery and lighting enhances the mood of the play.  The set design by Brett Bowling is very detailed and evokes a rural, rustic fishing lodge beautifully.  The set includes myriad stuffed fish, antlers, a spoon collection (from a first act joke) and a warning sign about Bigfoot which the locals probable believe in.  The lighting is effective as well during a storm, an onslaught in the second act and some legerdemain while defending the lodge.
I overheard several people in the audience on opening night comment that they were unsure about the play initially but were very glad they went.  So, grab your funny bone and see The Foreigner at the Covedale running through November 13. Tickets are available at the Covedale website, www.cincinnatilandmarkproductions.com/ccpa
Charm and Big Laughs in Covedale's The Foreigner Aren't Lost in Translation
Review by Jack Crumley of The Foreigner: Covedale Center for the Performing Arts
The Covedale Center for Performing Arts' fall production of The Foreigner has begun, and the opening night performance ended with an audience that was thoroughly laughed-out and giving a standing ovation. The Foreigner premiered at about this time of year in 1984 New York City. The show is unapologetically silly, but also maintains a very human element of wanting to make a connection with others. To feel a part of something. To feel at home.
The Foreigner tells the story of Charlie (played by Rodger Pille), a boring, British, science fiction editor who's visiting a lodge in rural Georgia. He's on the trip with his military friend, Froggy (played by Aaron Whitehead), as a way to forget the troubles with his sick (and very adulterous) wife back home. Charlie is terrified of interacting with people, however, and Froggy comes up with the idea of telling everyone at the lodge that Charlie is from a far off land and speaks no English as a way to get everyone to leave him alone. As you might imagine, hilarity ensues from there.
Audiences should be just a little bit patient with the show. It starts off somewhat slow with quite a bit of exposition. There's a lot to set up and everything has a payoff, but you just have to get there. There were also some minor issues timing dialogue with a lightning/thunder sound effect in the opening scene that made it a little more difficult to get into the groove of the show.
The Foreigner is a funny show that benefits from presentational acting (as opposed to representational acting). There are times when cast members "know" that the audience is there (most notably in under-his-breath comments made by Froggy. Think Bugs Bunny holding up a sign with a screw and a ball.) But that presentational style is a little off-putting before the comedy really kicks in. Hearing about Charlie's miserable life back home in the opening scene has no real sense of intimacy because it's setting up for jokes down the road. It's purposeful and it fits in with the show overall, but at the very beginning it can come off unpolished.
Rodger Pille's performance as Charlie grows from a neurotic sad sack into a curious, fun-loving mute that eventually blossoms into a man who can only feel free when he's NOT being himself. The relationship between Charlie and the simple-minded Ellard (strongly played by Matthew Wilson) is the highlight of the show. The first act breakfast scene between them is when the audience really starts yukking it up. Pille and Wilson have excellent timing between them, and I would imagine that their scenes will gel even more as they feed off each different audience during the show's run.
It should be pointed out that Wilson's performance as Ellard walks a fine line. His character is described as dim-witted and gentle, but not mentally handicapped per se. His sister, Catherine (played by Anne Schneider), is trying to see if Ellard is "smart enough" to handle getting his half of the family inheritance. Wilson's smiling innocence and childlike movements really endear him to the audience and put a comedic spin on almost everything he says.
The cast performs on a very detailed and well-made set. Scenic Designer/Production Manager Brett Bowling's stage has characters going into rooms upstairs and a trap-door basement. There's a strong amount of set decoration that's just there to add to the character of the show, and it does so without being distracting or busy.
The show "gets real" at the climax when members of the KKK show up, but even that confrontation stays in the vein of the light-hearted comedy that the audience has been enjoying throughout. Because it is the KKK, there are some sinister racial statements made, but nothing that's blatantly racist. There is also some cursing in the show that didn't seem to bother the opening night audience (which appeared to be all adults), but anyone considering bringing children should be aware of it.
Much like the character of Charlie, The Foreigner is a show that gradually casts off its hangups and has some real fun for a couple of hours, and it invites you to come along and do the same.
The Foreigner plays at the Covedale Theatre through November 13. Tickets are available at the Covedale website, www.cincinnatilandmarkproductions.com/ccpa
A Chorus Line Raises the Barre at CCM
Review by Spenser Smith of A Chorus Line: CCM
A Chorus Line, originally conceived by Michael Bennett and his closest dancer friends, centers on seventeen Broadway performers auditioning for spots in the chorus of a new show. The musical is set on the bare stage of a Broadway theatre, so all eyes are on the dancers and their stories. The music is written by Marvin Hamlisch, lyrics by Edward Kleban and a book by James Kirkwood, Jr. and Nicholas Dante. The show won 9 Tony Awards in 1976, the Pulitzer Prize for Drama and is the 6th longest-running show in Broadway history.
This sets expectations pretty high for any serious production, and the dynamite cast onstage at University of Cincinnati's College-Conservatory of Music's Patricia Corbett Theater does not disappoint. It would be unkind not to congratulate the entire cast and production team on a truly solid performance. Many of us have seen other productions of this show, so many things seem familiar. As the old adage reminds us, it ain't broke. The way this cast makes the performance so fresh is what is truly special. I know the dances and the songs and I watched many others in the audience singing along with their favorite moments throughout, but the cast marches on as though each one of us is seeing the show for the first time.
As is usually the case at CCM, the singing is beautiful. There were several moments throughout the 2 hour and 15 minute run time that some of the actors were drowned out by the exemplary orchestra, conducted by Roger Grodsky. That being said, the outstanding performances are not overshadowed by this minor issue. Congratulations to all involved for a truly enjoyable and satisfying night at the theatre!
It is worth noting that the show is presented as it was originally intended, sans intermission. It is also worth noting that the show is so good that by the time you get to Paul's show-stealing monologue towards the end of hour number two, you'll forget you had to pee at halftime.
Tickets for the show, running through October 30, can be purchased by calling 513-556-4183http://ccm.uc.edu/boxoffice/mainstage/chorus-line.html. . I wouldn't wait, it will most likely sell out!
or visiting 
Cincinnati Shakespeare Company Gives The Elephant Man a Human Touch
Review by Chris Payne of The Elephant Man: Cincinnati Shakespeare Company
The Elephant Man is a story of humanity, isolation and the ability to see beyond the superficial to the true character of a person. CSC's production of The Elephant Man is a brilliant portrayal of the importance and depth of human relationships and is absolutely a must-see.
I was eagerly anticipating the physicality of the show's title character, John Merrick/The Elephant Man, and Giles Davies' performance is completely captivating. The opening scene shows the transition of a straight-backed and shirtless Merrick into a bent and distorted figure. Davies' physical commitment to this role is only matched by the sweetness, vulnerability and often-humorous nature he brings to this remarkable performance. Brent Vimtrup as Frederick Treves plays opposite Davies and offers the audience another perspective on the effects of internal struggles with humanity and morality. Vimtrup beautifully illustrates the journey and transformation of Frederick Treves from an intellectual, savior, teacher, and moral guide to a jealous, judgmental and overwhelmed caretaker. The arc of this character creates much of the conflict and adds to the show's dynamic character study. While Treves may have been Merrick's original savior, it is Mrs. Kendel (Kelly Mengelkoch) who is the first to truly value Merrick for what he is, a human being. Mengelkoch lights up the stage and the story with a genuine and heartfelt characterization that never serves to pity Merrick or his condition. The rest of the ensemble displays their talent and versatility with many of them portraying two or three different roles.
Shannon Moore's (Scenic Designer) set is simple in appearance while playing a profound role in this production. It is a stationary set with a balcony that wraps around the sides and back of the stage. Ensemble members and audience members in lab coats line the balcony to establish the constant prying looks that Merrick experienced his whole life while its raised position represents the physical and emotional distance between Merrick and society. Justen N. Locke's (Lighting Designer) lighting of the show is superb and utilizes spots in several scenes to further indicate the isolation of Merrick in his turmoil. The balcony surrounds a projection screen at center stage that is utilized to both establish various locations and assist in scene transitions with projected images, quotes and historical photographs. The screen also represents the walls of Merrick's room in London Hospital where Merrick is housed for the last four years of his life and where the majority of the show takes place. This screen is a great representation of the curtain of privacy that has been present at every stage of Merrick's life. Every element of this show is wonderfully executed and tied together with Brian Isaac Phillips' (Director) direction. Cincinnati Shakespeare Company's production of The Elephant Man will be a highlight of a fully remarkable theatre season. The Elephant Man runs through November 5. Tickets are available through cincyshakes.com.
CSC's The Elephant Man is More than a Side Show
Review by Liz Eichler of The Elephant Man: Cincinnati Shakespeare Company
This season, the last at their Race street location, Cincinnati Shakespeare Company is offering more classics than Shakespeare, selecting stories that MUST be heard to appreciate the full scope of the human condition.
In the case of The Elephant Man by Bernard Pomerance, not only is the story important, but the actor portraying the elephant man is a sight to behold. His transformation into John Merrick is a must see, an instant Cincinnati classic.
The play is the story of a grossly deformed man, whose plight is discovered by Dr. Treves, garnering Merrick a home for life, rescuing him out of the gritty, traveling, abusive side show but unwittingly tossing him into another arena for gawkers: London society. This isn't the real tragedy, though. Neither Treves, nor society, nor his own physical body allow for Merrick to live the life he truly wants.
Davies stands before the crowd, in front of a projection of the real John Merrick, and slowly, one deformity at a time, becomes Merrick. Davies is a master of physical acting throughout the show, holding these demanding contortions. But Merrick is not a man to be feared; the body is only an illusion. We see through the physical and appreciate his wit, wisdom, and love of beauty. He yearns to be free of the physical yoke, yet spiritual in his quest for understanding.
We feel for Merrick, not just pity him, but ride the waves of his new found ability to learn, questioning the cosmos, what it means to be human. We become angry at his savior, Treves, because he stops Merrick's quest to be human, isolating him once again. Dr. Treves is played with strength and conflict by Brent Vimtrup, a man whose singular pursuit of science often leaves him confused or brazen.
Kelly Mengelkoch gives us a complicated Mrs. Kendal. She captures the grand dame, perhaps conjuring a young Maggie Smith, as well as the showgirl, student, and friend of Merrick. Mrs. Kendal makes a sacrifice in this play that was the subject of at least one discussion overheard after the show.
The play is beautifully directed by Phillips, moving along smoothly, and surprisingly quickly. He marries theatre and slide show, entrances and exits, guiding our focus magically.
The set is an operating theatre, with an upper balcony where people can study the specimens below. There are stage seats you can pre-order, where eight members of the audience don lab coats and appear as students, silently watching the proceedings. One of these lucky people reported how he became immersed in the play as he was greeted by an "orderly," escorted backstage to select a coat, and directed to a chair. The view from stage was great he said, with only a small issue with some sightlines, but closer than he's ever been to the amazing performances at CSC. This adds another slight of hand: the audience is watching the audience watching the show.
The scenery (Shannon Moore) and lighting (Justen N. Locke) immediately sets the mood of a foggy long-ago London. The curtains and projections (Nathan Davis) slide, appear and disappear, always changing the illusion of the set. Abbi Howson's costumes beautifully evoke the era with color and fit.
Other performers include the likable Billy Chace as Carr Gomm, the amazing Miranda McGee as Miss Sandwich and Princess Alexandra, Barry Mulholland as both the rustic Ross and Bishop How, as well as Geoffrey Warren Barnes, Brandon Burton, Kyle Brumley, Vanessa Sawson, Aiden Sims and Crystian Wiltshire.
This is a beautiful story, and a memorable performance by Davies. Buy a ticket not to gawk, but to feel. You have until November 5. Go to cincyshakes.com
KNOW'S PULP SQUEEZES COMEDY INTO FILM NOIR MYSTERY
The featured drink sets the mood for Pulp at Know Theatre: a generous serving of Maker's Mark with a candy cigarette garnish. In the play, too, there is something for the hard-core whodunit crowd, with a splash of camp.
This National New Play Network Rolling World Premier is a "genre-bending" entertainment. It starts as a mystery, but, to paraphrase Winston Churchill, it is wrapped in a sci-fi, inside a romance, next to an episode of the original Batman.  There is a lot to pack into a little over two hours, but once again the team at Know Theatre has created a greatly entertaining evening.
Producing Artistic Director Andrew Hungerford, friends with playwright Joseph Zettlemaier, makes sure all the actors are on the same page and deftly moves the mystery/comedy/film noir along at a great pace. The script is solidly entertaining, full of plot twists, packed with witty one liners, and sprinkled with sight gags.  There are just a few slow spots in the first act, but the second act keeps you guessing as the mystery unfolds.
Frank Ellery, delightfully deadpanned by Paul Riopelle, is a private dick hired to find the killer among four pulp fiction writers of romance, sci-fi, horror, and heroics. All have a motive, and all are unique. Justin McCombs as Walter Kingston-Smith conjures a disconnected caped-crusader, and is the most interesting of a stellar cast. Maggie Lou Rader delivers the femme fatale role, poured into a tight red number, reminiscent of Jessica Rabbit. Dylan Shelton as R.A. Lyncroft hilariously channels the scariest of your black and white horror flicks. Darnell Pierre Benjamin as Bradley Rayburn successfully brings the wacky sci-fi writer back from the future.
Costumes by Noelle Johnson set the perfect tone. Sarah Beth Hall's set is simple, but effective. Hungerford's lighting is dramatic and angled, appropriate to the genre.
Bring your friends to laugh out loud at this comedy, but listen intently to the clues hidden throughout. Â Pulp plays through October 29. Tickets are available by calling 513-300-KNOW or knowtheatre.com
Miami College of Arts' Stupid F***ing Bird is Brilliant and Solid
Review by Shawn Maus of Stupid F***ing Bird: Miami Univesity
So how do you review a play with the "F" bomb in the title?  Miami University's production of Aaron Posner's Stupid F***ing Bird is a show not to be missed, although, by the time you read this review, the show will have closed –due to the short performance dates of college theatre. Miami had its hands full with marketing this show due to the title. So from here on out it will be known as SFB.
I have to say that Miami University's College of Arts continues to impress me. It's an undiscovered gem of a theatre department.  This show is absolutely no exception. Spoiler alert:  I'm going to continue to gush about this production.
The play is based on Chekhov's the Seagull. Anyone who studied the play truly knows that it is, in Posner's words, "historical and often even hackneyed." Not so with this adaptation. This is full of life! In my three years of reviewing Miami's productions I have never seen such strong performances from college actors.
It's often hard to believe that a twenty-something college "kid" is a fifty to sixty year-old man or forty-something woman. They always tend to play "old" has stooped over and a little constipated in the facial expressions. Not this cast. They are actors who are characters who are also aware that they are actors presenting a play.  The actors speak to the audience as they, as characters, put on their play. They truly, solidly, embody these characters.
Richard Dent's performance as Sorn is so simple, home-style,  and extraordinarily grounded that he is that 50-something- year-old man. His character arc includes celebrating a 60th birthday, and Dent makes you believe that Sorn is experiencing the pain of growing old and fighting stomach cancer.
Mario Formica, just a junior in the program, brings a child-like and mature transformation to Con. His monologues are impassioned – angry, honest, smart, sensitive, humorous, and deeply moving.
Raechel Lombardo is inimitable as Mash.  She plays despairing, unrequited lover with a sardonic truth.  Costume designer Melanie Mortimore made subtle changes to Mash's costuming as Lombardo takes her character from dark to light.  It was as smooth and flawless as almost to be unnoticed. That's the mark of a great wardrobe design and an actor portrayal.
Kate Hendrickson brings an almost Faye Dunaway-"Mommie Dearest" element to her character Emma.  Another mature acting performance that shows Emma as a mother and a sister while she is callous and grand.
Adam Joeston is almost the veteran of the group.  Joeston is very comfortable in his performance of one of theatre's most well-known characters.   He puts his fine stamp of grace and good looks to the pretentious and unfaithful Trigorin. You get a sense that somewhere in the actors psyche he  has forgotten himself and authentically gets into character.
And let's not forget Nina. As played by Maddie Mitchell we see a vibrant, young adult who is smitten with Trigorin but is a bit unstable. Mitchell smolders as her Emma seduces Trigorin.
A big, aforementioned "Bravo" to Anthony  Thompson. Not only does he play overlooked Dev with all the wit and innocence of a young college friend, but he also composed the score. Yes, a score, in a Chekhov  play.  Thompson's Dev is brimming with genuine likeability.  Thompson as composer  brings depth and insight to the characters through his music.  The underscore was very much that – a score under the scenes, yet it was an added bonus with much feeling and complexity.  Since the play itself examines the relevance of theatre, Thompson's score brings a new life to a play that is not a musical by definition. It would be interesting to read the script to see where the "songs" are written and what Thompson himself added to enhance the lives of these characters.
Gion DeFrancesco shows great range with his sublime scenic design. We're smack-dab in the middle of the backyard complete with the audience just "pulling up a chair – any chair" to sit on. The use of a painted mural that removes to reveal the bookcase of the almost recluse Con in Act Two is one of the hidden gems in DeFrancesco's design. We go from the implied backyard to a complete fully realized kitchen that looks like it was ripped from Home-a-rama.
The lighting staff and design were spot on (yes, pun intended).  Kudos to Light Board Operator Josh George who perfectly timed the lighting changes to the wave of Mario Formica's hand to signify audience participation time and SNAP back again to get back into the f***ing play.
Director Saffron Henke takes us on a hilarious and unpredictable ride.  She has guided her cast and crew to a unique and exciting work of theatre.  I'm not a fan of Chekhov  but this experience was enjoyable, accessible and comfortable.
It's Anton F***ing Chekhov versus the modern world in this ballsy Stupid F***ing Bird. I'm sorry you missed this one.
CCM Creates a "Fantastick" Review in There Were You
Review by Teddy Gumbleton of There Were You: CCM Musical Theatre
For its first show of the 2016-2017 season, University of Cincinnati College Conservatory of Music's Musical Theatre Department offers a new revue There Were You, which features the music of Tom Jones and Harvey Schmidt and is conceived and directed by Aubrey Berg. While perhaps lesser known than, say, Rodgers and Hammerstein, Jones and Schmidt are no less worthy of admiration. Their most famous musical, The Fantasticks, premiered Off-Broadway in 1960 and ran for 42 years, making it the world's longest-running musical.  There Were You showcases pieces from The Fantasticks but also some of Jones and Schmidt's lesser known efforts.
As a rule, I tend to be very cautious when it comes to musical theatre revues. I find it defeats the point of the art form. An effective musical theatre song tells a specific story, and having them back to back, out of context, undercuts the power of the original piece. However, Berg mostly succeeds at transcending these issues by grouping his musical selections by themes such as Love, Disillusionment and Experience. Berg's slick and witty direction gives each number the character that it needs and he deftly shapes the arch of each thematic section. The choreography by Katie Johannigman punctuates Berg's direction quite nicely.
However, it is Steven Goers' glorious work as Music Director which makes There Were You shine brightly. His arrangements of Jones and Schmidt's warm and homey music soar. Goers has exquisitely arranged the music for the six cast members, brilliantly transforming traditional solos such as "Try to Remember" from The Fantasticks into ensemble numbers. Goers has also crafted the score to be played on two pianos, which he and fellow pianist Luke Flood perform with the gusto of a full orchestra.  Hearing Jones and Schmidt's music performed so superbly alone makes There Were You a commendable night of theatre.
The cast of 6, featuring three women, Aria Braswell, Michelle Coben, and Emily Celeste Fink and three men, Karl Amundson, Stavros Koumbaros, and Gabe Wrobel, are uniformly excellent. Each performer sings like a dream, navigating the lush harmonies and infusing each song with the necessary depth and wit. Together they work flawlessly as an ensemble, infusing the rich music with tremendous character.
The physical production of There Were You is spare and highly effective. Thomas C. Umfried's lovely set design of raised rounded platforms and a nighttime backdrop was the perfect canvas for the show. The lighting design by Parker Conzone skillfully evokes youthful hope of Act 1 and the melancholy wisdom of Act 2.
All in all, There Were You is a very charming evening. In particular, it would be a treat for musical theatre fans who are interested in exploring lesser known works by a very gifted duo. Performances run through Sunday, Oct. 9 at the Cohen Family Studio Theatre on UC's campus.
Incline's [title of show]: Â Singing Your Way to Fame, Or At Least Onto the Stage
Review by Ken Stern of [title of show]: Incline theatre
Maybe people growing into themselves have always been navel gazers. How old is the tale of Narcissus? His technology was a lake. Telephone answering machines are old technology and now with smartphones and selfies, it can be all me (or young struggling artists) all the time. Much better if they have talent and skill, good singing voices, good timing, are able to dance, and mix well together. Welcome to [title of show], playing at the Warsaw Federal Incline Theater through October 16th.
The premise: best friends Hunter (earnestly played by Noah Berry), a writer, and composer Jeff (earnest Hunter Henrickson) decide to create a full production for a musical festival whose application deadline is in three weeks. Lucky for them, and us, they have perky, sparkling, good singing friends in Heidi (Lindsey Augusta Mercer), a Broadway actress, if only in ensembles, and Susan (Erin McCamley), who is talented way beyond her office manager day job.
And, yes, you can stage a musical from a set consisting of four wheeled chairs, a table, a raised platform to the back, and with the keyboardist off to the side.
Once the guys get going, they face up to being "Two Nobodies In New York" and decide every idea has potential, singing to each other "What if this dialogue were set to music? / What if what we're saying could be said in a song?" "Hey, that's not a bad idea perhaps we could use it / Music in a musical, how can we go wrong?" When that is the theme of the show, you can't. On the other hand, few of the songs are outstanding—though they all fit.
And off they go, with a paean to Broadway musicals "Monkeys And Playbills," composer Jeff riffing on historic titles, supported by Heidi (and accompanying slides of playbills flashed above the set) while Susan addresses the monkey on the back of her writer friend Hunter. Since this is stream of consciousness, chronologically as it develops script writing, the smashed together themes work, but not seamlessly. Kind of like a first draft.
The cast shoulders on, the play developing as the play unfolds before the audience. Much better is Susan singing lead in "Die Vampire Die." And best of all, oddly, is when the men exit stage left and the women command the set though they know they are "Secondary Characters." And they, or the lyricist, are right, as together they sing "We're equipped / To steer the ship / 'Til this trippy skit ends / And by the end of this song, we'll be best friends." And they are.
By the end of Act I the four have completed their musical, deciding to call the production [title of show] from the line in the festival application. And the show is good enough to get rave reviews and crowds throughout the festival.
That leaves Act II to deal with budding, or potential, fame, or not. There is some wrestling with purpose (fame, money, art) and a lot of doubt, but by curtain–ta-da!–success.
Music and Lyrics by Jeff Bowen; Book by Hunter Bell. Mike Sherman, as director, ably moves the casts through their paces. Music Director Jacob Priddy, and Choreographer Jay Goodlett continue the Incline's reputation for crisp, coordinated singing and dancing. Erin Magner is production stage manager.
For tickets, call 513-241-6550www.cincinnatilandmarkproductions.com. The Warsaw Federal Incline Theater is at 801 Matson Place Cincinnati Ohio 45204.
or go to
CCM'S They Were You is a Joyful Exploration of Life
Review by Liz Eichler of They Were You: CCM Musical Theatre
CCM's They Were You: The Songs of Tom Jones and Harvey Schmidt is a delightful, moving and well-constructed evening at the theatre.  Devised by the Chair of the Musical Theatre Department, Aubrey Berg, with musical arrangement by Stephen Goers, it is being produced through October 9 at the Cohen Family Studio Theatre at UC's College-Conservatory of Music.
You may know the Jones/Schmidt team from The Fantastiks (the world's longest running musical),  I Do, I Do,  or 110 in the Shade. The team wrote other musicals as well, and the songs are from eight of them.
This musical revue takes you through life's phases of love, marriage, disillusionment and beyond. It is a fluid exploration of the feelings of youth and experience, visiting the simple joys of feeling a baby move inside you, to the complicated feelings of a parent looking forward to the time the kids move out—and then the equally complicated time of missing them. It all leads to joy.
The performers include Karl Amundson, Aria Braswell, Michelle Coben,  Stavros Koumbaros and Gabe Wrobel. All are well trained, with great voices, movement and skill, but the evening belongs to Emily Celeste Fink, who commands the room during most of her numbers including "Love is Not a Sentiment Worthy of Respect." She also plays the trumpet!
Choreographer Katie Johannigman and director Aubrey Berg have designed a show that moves fluidly in continually interesting ways. Musical director Stephen Goers has elevated the material from traditional orchestration to adding vocal harmonies, keeping us focused on the skill of the performers as well as the depth of the emotion in the songs.
Free tickets to this Studio Series performance can be reserved at the CCM Box Office or by calling 513-556-4183
Falcon's Toxic Avenger Proves Something Good Can Come Out of Toxic Waste
Review by Alan Jozwiak of Toxic Avenger: Falcon Theatre
"If blind people don't love ugly people, then who will?
This very unpolitically correct remark comes from Ma Ferd in Falcon Theatre's Toxic Avenger and it perfectly captures the tone of this show—outrageous, no-holds-barred, campy, and very funny.
This five-person musical, based off of the film by the same name, tells the tale of Melvin Ferd (Zac Huffman), a nerdy young man living in Tromaville, New Jersey, which is the site of major dumping for toxic waste.  Trying to get to the heart of the mystery of who is responsible for the dumping, he gets blind librarian Sarah (Katie McCathy) to give him hidden city records which proves that the Mayor of Tromaville (Amy Grace Curtis) is behind it.  This leads to Melvin being dumped into a vat of toxic waste which turns him into the Toxic Avenger, a mutant with a super messed up face, super strength, and super convictions to clean up Tromaville once and for all.
Without revealing too much more of the storyline, events become both campy and great fun as limbs get pulled out of their sockets, secrets revealed, hearts broken, and a climactic fight between the Toxic Avenger and the Mayor ensues.
Zac Huffman plays a great Toxic Avenger.  He is at turns frightening and vulnerable, trying to figure out how best to deal with his new found strength and the fact that one of his eyeballs is falling out of its eye socket.  Kudos to Gabby Leithsceal for her work on the special FX makeup.  Huffman is able to play through the makeup, not letting it detract from his strong performance.
Katie McCarthy is sweet and wonderful as Sarah, the blind librarian who spurns Melvin, but loves the Toxic Avenger, whom she makes as her boyfriend and mistakenly thinks that he is French.  Vocally McCarthy is the equal to Huffman, as both deliver strong vocal performances.
My only complaint with McCarthy's performance was the frequent number of times her character smacked into walls.  There are limits for how much an audience will stand a blind character slamming into walls.  I think McCarthy hit that limit (pun intended).
Special kudos go to Amy Grace Curtis who plays both Melvin's mother Ma Ferd and the Mayor of Tromaville.  At one point, Curtis has to play both roles at the same time and she does it to great effect.
Also strong were Black Dude, et al. (R. DeAndré Smith) and White Dude, et al. (Robert Breslin), who played everything from street thugs, hair stylists, police officers, and various female roles.  Breslin had a lion's share of the female parts and looked surprisingly comely in a dress and woman's wig.
Director Charles Russell did a fine job moving the show along and Musical Director Jay Myers was also excellent in guiding her talented cast to sing their best.  There were few false moments in this production, although I did feel sorry for the band who were exiled to a small pen at the back of the stage.  The Monmouth Theatre has a smaller stage, but it would have been nice to find some other place to put the band.  Because of the close quarters, one band member had his back to the audience for the entire time.
In short, Toxic Avenger is a campy, fun, irreverent, must-see musical.  While it does like to poke fun at blind people, all of its characters get raked over the coals sometime during the musical in the spirit of Mel Brooks' The Producers.
So chug a glass of Hudson River water (something that will make sense to you once you see the show) and see Toxic Avenger.  You will not be disappointed.
Toxic Avenger runs September 30 through October 15, with shows running Friday and Saturday during the first weekend and Thursdays through Saturdays during the second and third weekends. You can purchase tickets at http://falcontheater.net.
It Ain't Easy Being Green: The Toxic Avenger Stalks Falcon Theatre Stage
by Ken Stern
In today's toxic political environment, more communities than fictional Tromaville can use avengers who beat the bad guys, become governors and sing "The first bill that I plan to pass / Pollute the earth, and I'll kick your ass." But that's the finale, and there is a great deal of musical theatre leading up to it.
Welcome to the, sadly, fictional world of The Toxic Avenger, playing at the Falcon Theatre through October 15. Yes, it is comic book camp: evil-doers, thugs, overbearing mom, and a love story, of course, running through it.
This is a big production on a small stage. It is overdone from the start: toxic waste barrels line the walls, with green glitter ribbon oozing from them (Charles Russell, set designer). From the cast's opening number, "Who Will Save New Jersey?" it is camp. The cast wastes no time ascending beyond caricature, with the nun (Amy Grace Curtis; equally strong as The Mayor and Ma Ferd), offering a bras d'honneur (arm of honor, or f**k yourself) gesture while commanding center stage.
This isn't your parents' musical, even their rock musical. And it is not for your kids, either: the dialogue and lyrics are frequently X-rated, and the actions on stage reach R-rating status (get brownie points by bringing your teens). But it is all high energy and a ton of fun, and the audience hooped and hollered from the first number to the hand clapping finale.
When a song ("The Legend of the Toxic Avenger") as well as the show is named after you, you have pretty big shoes to fill. And Zachary Huffman does admirably well. He is one big Toxic Avenger: the legend and the lead. Kudos to costume designer Josh Newman for starting Melvin Ferd III in black glasses taped at the bridge. Huffman's transformation from nerd to monster is at the hands of the Black Dude (et. al, DeAndre Smith) and White Dude (et. al, Robert Breslin).
This is a cast of all stars: there are small parts, but all share almost equal stage time. Smith and Breslin make up an ensemble of two, playing some dozen characters between them. Is Breslin best as a cop, or a bully (different parts) or a little old lady or a folk singer? Maybe as the backup (girl) singer?
Hard to choose. And Smith, whose roles ranged through cop, backup (girl) singer, (another) little old lady and more, was an equal partner in crime, and song. Suspension of disbelief was mandatory, since he is bearded.
Breslin gets the best line of the night: "I didn't do it," when, as a cop brandishing his pistol, a shot is fired and a black man falls.
And the (excuse me) sight gags: Sarah (Katie McCarthy, driven to sexpot-dom by her lust), the (convincingly) blind librarian (repeatedly) missing the doorway and hitting the wall. Her singing (in duet, with Toxie) "You make me combust / With chemical lust / Now, don't be scared of / My hot toxic / Hot toxic love" is strong. It gives away her true nature—as does her actions.
And then there is the Mayor (and Ma Ferd). She is evil, but more. As she sings: "What the hell has evil got that makes it so hot?" Her coup de grace is her duet duel with herself in"Bitch/Slut/Liar/Whore." Curtis is a one-woman Laurel and Hardy, racing off-stage, changing costumes, coming back on as Ma Ferd, then off-stage and sticking her head out as the Mayor. This culminates with Curtis center stage, split as The Mayor and Ma Ferd and singing both parts.
It is one thing to sing with passion and bodily throw yourself into the song. It is quite another for an entire cast of five, playing close to 20 parts, to do it with flair and talent and skill. This cast does.
Director Charlie Russell, Musical Director Jay P. Myers, and Choreographer Pam Blessing were the brains and talents behind the scenes. Book and lyrics are by Joe DiPietro; music and lyrics by David Bryan; based on Lloyd Kaufman's movie "The Toxic Avenger". The Toxic Avenger won the Outer Critics Circle Award for Best Off-Broadway Musical.
The website's (falcontheater.net) cutline for the production ends: "this one will sell out." They are right: It will. Shell out your green: Go.
Playing at Falcon Theatre, 636 Monmouth Street, Newport, Kentucky 41071; Box Office: 513-479-6783
.
Don't Miss NKU's Topical Grapes of Wrath
Review by Laura Petracco of Grapes of Wrath: NKU
Northern Kentucky University's production of The Grapes of Wrath is not one to miss.  During a time in our nation where social injustice is at the forefront of many minds, this production, directed by Corrie Danieley, brings the variety of injustices from John Steinbeck's classic novel, that were prevalent during the thirties, to life with an incredibly impressive performance.
Set during the Great Depression, The Grapes of Wrath tells the story of the Joads, a poor family of tenant farmers who are forced to leave their small town in Oklahoma due to drought, economic hardship and agricultural industry changes leaving tenant farmers with no work. Due to their nearly hopeless situation, the Joads set out for California along with thousands of other "Okies", in search of jobs, land, dignity, and a future.
Before I address the two actors that stood out the most to me, I have to commend the cast as a whole for their ability to stay in character and make their background interactions so believable. Their skill in this made each group scene easy to enjoy. I had fun watching the different side stories unfold.
The first actor that stood out to me was Caleb Farley as Tom Joad. Caleb did a brilliant job going from follower to leader when his Pa started to lose hope in the beginning if the show. He showcased his superb acting ability as he interacted with the members of the traveling clan and the many people that they met on their way to California. He did a great job embodying the courage and confidence that the leader of their group needed to possess.
Christina Tully was the second actor that stood out to me. Miss Tully, who played Ma Joad, did a wonderful job displaying the practical and warm hearted personality of her character. She was able to show the more rugged, practical side of Ma when things weren't going as planned and she had to get the group back on track. She also conveyed the motherly, supportive side of Ma very well throughout the pregnancy of Rose of Sharon, played by Jessica Stafford. Miss Tully did a terrific job with such a classic character.
Another aspect of this show that I found noteworthy was the costumes. The time-period-appropriate clothes that the actors wore were designed by Ronnie Chamberlain with assistance from Rachel Alford. Not only were the costumes time period appropriate, but they were also socio-economic class appropriate. Each character had some sort of wear and tear visible on their clothes which reinforced the difficult and tiresome journey that they had been through.
The last part of this show that I truly enjoyed was the Hobo Band. Under direction of Andy Burns, the Hobo Band was made up of a guitar, fiddle, harmonica, banjo and mandolin. The band definitely added an element of intensity during serious scenes and an element of fun during the more light-hearted scenes. I was very impressed with their musicality.
The Grapes of Wrath will be playing at NKU until October 9th. If you are a fan of John Steinbeck's novel or if you know nothing about the novel, either way you will love Corrie Danieley's take on it. This production will be hard to forget, so don't miss your chance to see it!
Grapes of Wrath is a Sweet Start to NKU's Season
Review by Spenser Smith of Grapes of Wrath: NKU
There's nothing sour about Grapes of Wrath at NKU.
If the season-opening stage production of John Steinbeck's Pulitzer Prize winning novel is any indication of what's in store at NKU this year, I'd go ahead and buy a season subscription NOW.
Set during the Great Depression we follow the Joads, a poor family of tenant farmers driven from their Oklahoma home. They head for the greener pastures of California, experiencing love and loss along the way.
Christina Tully shines as the matriarch of the family, Ma Joad. When we meet Ma, she tells us that it isn't about what we can do, but our will to do it and we will do the best we can. She is comforting, yet stern and full of joy, yet heartbreaking. Caleb Farley shows strong leadership as son Tom Joad and Jessica Stafford is truly touching as Rose of Sharon. Other notable performances include Andrew Bishop as a commanding Pa Joad, Trey Paris as the earnest Jim Casy, Ben Eglian as Noah Joad and Zach Robinson as a hysterical Grampa.
Corrie Danieley directs this very talented cast as well as the equally noteworthy production team. All elements are top-notch. Ryan Howell has designed the simplest, yet most creative set I've seen on an NKU stage in years. Terry Powell's appropriate lighting helps set the mood for what turns about to be a most tragic evening in the theatre. Ronnie Chamberlain has done well distressing the many costumes involved and helped give us the feel of time and place (sans that very modern baseball cap). Kevin Havlin's subtle, yet most necessary soundscape only adds to the experience. Oh, and as if I forgot, can we talk about that Hobo Band?! They serve as part of our narration and provide poignant transitions between moments in time and space. I dare say they steal the show. The performance I attended did have several moments where the band was louder than the narration and dialogue was lost when actors were far upstage, but that's detail, not a distraction from the overall performance.
Grapes of Wrath continues at the Corbett Theatre on the campus of Northern Kentucky University through October 9.
For tickets, call 859-572-5464
or visit theatre.nku.edu. Don't miss it.
Falcon's Toxic Avenger Is an Irreverent Romp
Review by Laurel Humes of Toxic Avenger: Falcon Theatre
Silly. Tasteless. Hilarious.
All are apt descriptions of The Toxic Avenger now at Falcon Theatre in Newport, an award-winning musical based on the 1980's cult B-movie.
The setting is a toxic waste dump site in Tromaville, N.J. Our hero, Melvin, aided by beautiful blind librarian Sarah, wants to clean it up. But the mayor, who is profiting from storing the toxic waste, has her goons dump Melvin into a barrel of the stuff. He emerges as – you guessed it – the Toxic Avenger.
Actor Zac Huffman then must spend the rest of the show encased in a creepy blend of mask and makeup, so skillfully done it is a highlight of the show. Huffman's first song as Toxie (affectionate nickname) was hard to understand on opening night, but all was smooth after that brief glitch.
For the rest of the show, Toxie does little waste cleanup, but a whole lot of running for his life and wooing Sarah without letting her touch him. In "Thank God, She's Blind," Toxie sings, "When your face looks decayed, it's hard to get laid." Adds another character, "If blind people won't love ugly people, who will?"
And those kind of lyrics and lines are continuous through this campy, politically incorrect, very funny show. A beat after laughing at the blind girl run into the wall, you feel bad. Then you laugh again when she does it again.
This is a hardworking cast, using just five actors to play multiple roles. Melvin is also Toxie. The mayor (Amy Grace Curtis) is also Ma, Melvin's mother. In a hilarious "duet" between mayor and Ma ("Bitch/Slut/Liar/Whore"), Curtis needs quick costume and wig changes, finally emerging dressed half as each character.
Carrying the rest of numerous parts are Black Dude (R. DeAndre Smith) and White Dude (Robert Breslin). The two actors excel at sketching out characters in their brief appearances, wringing out the laughs.
Once again, Falcon uses its tiny stage to full advantage. The four-person band is onstage throughout, visible behind a set of (artfully) piled up tires, traffic cones and waste drums.
The Toxic Avenger has credentials – it won the Outer Critics Circle Award for Outstanding New Off-Broadway Musical in 2009. Falcon's production does the show justice.
The Toxic Avenger runs through Oct. 15. Call 513-479-6783www.falcontheatre.net.
or go to
NKU's Grapes of Wrath Bears Fruit
Review by Shawn Maus of Grapes of Wrath: NKU
NKUÂ harvests a genuine tale with the production of The Grapes of Wrath.
Steinbeck's novel, on which this play is based, centers on the Joad family, an Oklahoma farm family escaping the devastation of the Dust Bowl that plagued our country's Great Plains for a better life in California.
The title came from the Battle Hymn of the Republic – "He is trampling out the vintage where the grapes of wrath are stored". And, as might be expected, that image served as a symbol in both the plot and the novel's thematic concerns. But there is also a line that sums up the feelings of many during this turbulent time of migrants, immigrants and political turmoil: "and in the eyes of the hungry there is a growing wrath. In the souls of the people the grapes of wrath are filling and growing heavy, growing heavy for the vintage."
The NKU production is filled with heaviness.  While the action has the family slowly traveling across country, it is the people they meet along the way that is the heart of the story. People, alone or with others, who have been displaced and scattered, like so much seed thrown by the wayside. The staging by director Corie Danieley moves along effortlessly as the actors trod and plod their way through the set to depict the slow, burdensome travels of the Joads.
Scenic Designer Ryan Howell's set is just what you expect from the Dust Bowl environment – broken barn walls, weathered floor that suggests the hard scrabble, cracked earth. Seen upon entering the theatre proper, Howell has set the entire aura of the play's emotional content. The stage area was opened deep with panels of slats for the back wall, which could represent barn, box car, camp shelter, anything. The raked set made keeping your eyes and the actors equilibrium off-balanced, as though the characters were no longer grounded to the earth.
Notably missing, but not in the least bit missed was the Joad's truck.  The actors use crates to represent the truck. The crates are packed and stacked,  then the actors "ride" the crates to symbolize the truck. As the Joads travel the land the crates are carried by the actors making the trip more ponderous and heavy.  Lack of excessive props allows the audience to use their imaginations. Director Danieley staged the actors to carry on business in the background during scene dialogue; moving things, coming in or going out, silently conversing or working. There was hardly a time when it was just one or two people onstage.
The stars of the show are Tom Joad (Caleb Farley) and Jim Casy (Trey Paris), the lapsed preacher who tags along with the Joads and ends up becoming directly involved in the labor struggle in California. Both actors bring a palpable complexity to the heart of the painful conversations and situations in which the characters find them.  Their chemistry is effortless.  Not to be missed is the nuanced performance of Ben Eglian as slow-witted Noah. Eglian 's subtle tics, seemingly involuntary movements and  stutter offer a strong portrayal. Not that the cast isn't strong. They just seem to be wandering, gathering.
Sound design was a bit of a strain.  The music from the hobo band from backstage at times drowned out the dialog on stage. Several actors were hard to hear in general so some well-placed microphones or better projection technique from actors would have helped to reach the upper seats in the raked Corbett Theater.
The Grapes of Wrath lends a powerful message. It is a classic  Homeric tale of the human spirit, of survival, and the power of family.  A job well done for bringing this book to life.
The Grapes of Wrath runs September 29-October 9 at NKU Corbett Theatre. Tickets are available at https://artscience.nku.edu/departments/theatre/season/mainstage1.html or by calling the box office 859-572-5464
Incline's [title of show] is an Escher Print of a Musical
Review by Laurel Humes  of [title of show]: Incline Theatre
Warsaw Federal Incline Theater is living up to its promise of bringing edgy, contemporary classics to the stage by opening its second District Series season with [title of show].
No chorus lines or splashy production numbers in this musical. Just four characters and a keyboardist – and a lot of witty songs – who take us through the process of, well, writing a show.
The true premise is that Hunter Bell (played by Noah Berry) and Jeff Bowen (Hunter Henrickson) did write a show in 2004 to enter the New York Musical Theatre Festival. With just three weeks to the application deadline, they enlist the help of two friends, Susan (Erin McCamley) and Heidi (Lindsey Augusta Mercer).
All four are theater wannabes, but stuck in just-to-pay-the-bills jobs. Only Heidi has performed on Broadway, albeit as the third understudy, second chorus in Little Mermaid.
What to write about? With the snobbery of youth – and witty snipes at Broadway – they reject shows based on books or movies or written for major stars. So their musical is about themselves writing a musical, which leads to some clever songs: "Two Nobodies in New York," "An Original Musical," and "I Am Playing Me."
The first act ends with "Filling Out the Form" and the decision to leave the application line Title of Show blank. Hence the non-title [title of show]. And, since there is a second act, you know the show is chosen. That brings a new set of creative problems.
The Incline Theater cast is a delight, delivering laugh-out-loud lines and strong musical numbers (accompanied by music director Jacob Priddy and choreographed by Jay Goodlett). Their youthful exuberance is infectious. Their easy interaction makes you believe they are long-time friends.
The show is definitely an ensemble presentation. Yet each actor gets time in the spotlight.
Berry has a hilarious tour de force, singing and dancing as a blank piece of paper (true!) to urge his writing partner to get creative. McCamley, comedic through most of the show, poignantly performs "Die Vampire, Die" about the internal voices that can stifle creativity (you can't do that; you're not good enough).
In a nostalgic vein, Mercer does a lovely job with "A Way Back to Then," recalling the un-self-consciousness of dancing in the backyard as a child for the sheer joy of it.
Director Mike Sherman uses video projections several times, to great advantage, especially when the set is basically a bare stage and four wheeled chairs.
[Title of show] is not perfect, but my complaints are more about the show than the Incline production. The second act drags in spots, maybe not surprising since the themes are more serious: what changes are necessary to make their show more commercially appealing ("Us just being us may not be enough"). Tension and discord replace camaraderie and fun, a downer after an upbeat first act.
Overall, kudos to director Sherman and a strong cast for an enjoyable show.
[title of show] runs through October 16 at Warsaw Federal Incline Theater, 801 Matson Place, in the Incline District of East Price Hill. For tickets, call 513-241-6550 or go to www.cincinnatilandmarkproductions.com.
Incline's [title of show] is A Contemporary Diversion
Review by Doug Iden of [title of show]: Incline Theatre
[title of show] opening at the Warsaw Federal Incline Theatre  is different – in a mostly positively way.  The premise is that two men are writing a musical in real time and plan to submit it to a theatrical festival under the title of: [title of show]– the form label of the name under the festival's application.
On a minimalist stage setting using wheeled chairs as the only props, we watch as playwright Hunter (played by Noah Berry) and composer/lyricist Jeff (portrayed by Hunter Hendrickson) struggle to complete their submission within three weeks. Â As one idea after another bites the dust, they finally conclude that the plot would be the agony they just endured trying to write the show. Â They are encouraged through their endeavors by Susan (Erin McCamley) and Heidi (Lindsey Augusta Mercer) who then end up in the show. Â The women are wannabe Broadway actresses either working other jobs or enduring endless, unsuccessful auditions. Â The exuberant first act chronicles the birthing process of the play creation but the second act turns more somber as the production of the show starts to hit some speed bumps.
The score, written by Jeff Bowen and Hunter Bell, exudes high energy with clever lyrics but rather pedestrian music.  The songs do, however, convey the spirit of the difficult collaborative process of writing an integrated musical buoyed by the women who continue to encourage the author's efforts  in hopes that they could star in a Broadway hit.  One of the best songs sung by all of them is "Die, Vampire, Die" reflecting the need to banish their self-doubt and negativity.
Noah Berry and Hunter Henrickson display a good chemistry through their roller-coaster creative efforts.  Act One is quite funny with their interactions and the incessant bursting in and abrupt departures of the women.   Lindsey Mercer is good as Heidi but, in my opinion, Erin McCamley steals the show with an infectious humor, personality and good voice. She is the best singer of the four but they blend their voices well since most songs are ensembles.  An interesting aspect is the continual allusions to other real musicals and some name dropping about composers, lyricists and producers. Using a projector, we see a variety of images including some lyrics, playbills of many musicals (most of them failures) and some pictures.  This adds a comic touch but also propels the story.  I caught almost all of the musical allusions.
The musical accompaniment comes from Jacob Priddy who also adds some humor to the show with a few spoken lines plus a newspaper.
I thought the play started a little slowly but rapidly moved into high gear, especially when the women appeared on stage.  By the end of the show, I was thoroughly enjoying it.  Both the performers and the audience seemed to concur.  My quibble is the use of bad language.  Apparently, in pop culture,  it is obligatory to use bad language and drop "f" bombs all over the place.  Be aware if you are planning to bring younger children or it bothers you yourself.
[title of show] runs through October 16 at Warsaw Federal Incline Theater, 801 Matson Place, in the Incline District of East Price Hill. For tickets, call 513-241-6550 or go to www.cincinnatilandmarkproductions.com.
CCM Takes Romeo and Juliet to the Next Level
Review by Shawn Maus of Romeo and Juliet: CCM Drama
The College-Conservatory of Music bills their R&J as a "subversive retelling of the Bard's iconic story." Director Brant Russell has certainly disrupted the traditional telling and it's a good thing.
It took a moment to realize the cast was assembling for the performance and not walking aimlessly into a rehearsal. Scenic Designer Whitney Glover's set is part of the subversive setup for this production. The stage is wide open – you can see the fly system, lights, parts of the "set to be or not to be" in various stages of production with scaffolding used as the balcony and various apple boxes as seating for the players. In this set it's literally "all the world's a stage" while all the men and women are merely players.
So are you catching on that this isn't your high school English teacher's Shakespeare? As familiar as you may be with R&J you need to be a bit prepared for Russell's hybrid mix of Baz Luhrmann stylization with all the passion of the inevitable tragedy.  This is a fresh approach set in modern times.  The cast is a group of actors who "find" an stage prepped for a production and proceed to "play" the play.  It's as if this was a new play that had just been written.  The delivery of lines has a new spin that makes it seem as if "students" were improvising.  Humor plays a significant role in this production. It's a hidden gem in the text that Russell has uncovered and uses to great advantage.
For the most part the characters are those iconic members of the cast you remember from high school Lit class. However, Katie Langham breaks the mold on Nurse. She can range from the classic (that "sail" of a hat) to a Melissa McCarthy-style brashness.  Annie Grove's Mercutio is imposing, impulsive and somewhat sadistic. Grove brings a new perspective to the character, with Russell's guidance, that makes the character a definite player in today's world.  Romeo (Spencer Lackey) and Juliet (Katie McDonald) are everything you expect from our classic lovers.  Lackey makes his Romeo  a gangly, man bun hipster who suffers from love and a couple of tea-bagging pranks from his rogue's gallery.  But Lackey never lets us forget Romeo is a teenager smitten.  McDonald is sensitive and rueful and attuned to her fate in love. Russell has assembled a supporting cast who do their own part to bring a contemporary vibe to this production.  James Egbert's Friar Lawrence is a mix of Dr. Strangelove and Cheech and Chong philosopher. Music and sound is organic and never distracting.  The techno dance club music for the Capulet's party gives even more cosmic rhythm to star-crossed lovers pairing.
Speaking as a former high school theatre director, I will confess to experiencing some irritation at the start. But I found my resistance slowly but decisively crumbled, thanks to Mr. Russell's warm, yet chaotic creativity.
Romeo and Juliet runs September 28-October 2 . Tickets can be purchased online at http://purchase.tickets.com/buy/TicketPurchase?orgid=47789&schedule=list
Clifton's Road Through Damascus is Our Town Lite
Review by Sheldon Polonsky of The Road Through Damascus: Clifton Performance Theatre
An unremarkable small town represented on stage with no scenery and few props. An omniscient narrator presiding over three time periods of the town's inhabitants, including a blossoming relationship between two young protagonists, one of whom yearns to leave the town for college and expanded horizons. A final act in a graveyard filled with chairs and the dead discussing what life was all about.
Sound familiar? No, this is not Grover's Corner, the setting of Thornton Wilder's classic American play Our Town, written about 75 years ago, but Damascus, North Carolina, and the professional premiere by the Clifton Performance Theatre of The Road Through Damascus, written by recent NKU graduate Robert Macke. I'll have more to say about the play's relationship with Our Town later but in the meantime let's focus on the play's merits as it stands on its own.
The Road Through Damascus is certainly entertaining and witty enough on its own, using pantomime, self-deprecating humor, and breaking the fourth wall to engage the audience throughout its two acts. Miranda McGee, one of my favorite Cincinnati actresses and always a consistent performer, is well-cast as the play's narrator, with a sense of irony and dead-pan delivery that match her skills well. The narrator's true nature will be gradually discovered by the audience as the play unfolds (for me it became clear by the end of the first act, unless it was meant to be obvious from the beginning but I was too dense to realize it). Carter Bratton, a Clifton mainstay, portrays the town's drunken mayor earnestly but a perhaps a little too broadly, unless that was the intent. Andy Simpson is intensely amusing as the town's admittedly solipsistic doctor (better look it up if you don't know). Emily Fry, a newcomer and recent NKU graduate, portrays a young girl struggling to escape the confines of Damascus and sharpen her writing and drawing skills in New York. She was the most authentic character and her performance was accessible and touching. Rounding out the cast was Kyle Taylor, as her over-eager boyfriend, and Matt Krieg, as the stranger passing through town who sparks her interest. Finally, I would be remiss not to mention Bob Allen, the Cincinnati veteran whose role as the town historian is short but unforgettable, commanding the stage as only he can. Nate Netzley directs the piece competently and effectively, and lets the play's somewhat enigmatic nature and unanswered questions gradually percolate throughout the production.
That said, The Road Through Damascus cannot be appropriately appreciated or reflected on without considering its relationship to Our Town. In an interview with Jackie Demaline in the River City News, Netzley and Macke call the piece a "critique" of Our Town. For me, that is where the play falls short. Damascus is so similar to Our Town in so many ways, some of the lines practically lifted from the original in a paraphrased manner, that I struggled to understand how it was trying to differentiate itself in sensibility. Perhaps Road to Damascus is a little more cynical, a little more focused on the role of fate and free will. But this would have worked better for me if I felt it were more finely honed in its intentions, bringing something more modern or innovative about the small town play. In the end it seemed to pale in comparison, with fewer and less-developed characters and a less mature and comprehensive philosophical world-view.  I look forward to seeing Robert Macke, who is clearly a clever and competent writer, try out his playwrighting skills on something more wholly original.
One more note, in the spirit of artistic self-disclosure, I wish that CPT would have prominently referenced the play's roots in Our Town in its program, website, or other promotional materials. I was very uncomfortable with its unabashed and uncredited similarities until I (later) read Jackie Demaline's interview where its debt to Our Town was properly and specifically recognized.
All that said, The Road Through Damascus is a thought-provoking and evocative look at small-town life—and life in general—that is definitely worth your time and effort to see, effectively produced in Clifton's intimate setting. The Road Through Damascus runs through October 1st and tickets can be obtained through the box office at http://cliftonperformancetheatre.com.
Runaways at the Know Is Inescapably Compelling
Review by Allyson West of Runaways: The Know Theatre
Runaways at the Know Theatre is a tender musical about the children that run away. It tackles the heartbreaking realities that push children out of their homes or relationships, and delves into the loneliness that comes from tackling life too early, and with too little guidance or love. It explores the varying stories of runaways – in current time and past – through dance, song, and small dialogue vignettes, gradually creating and crafting specific relationships out of larger more-universal experiences. It is compelling.
The Know doesn't typically take on large-production casts; it could be the operating shoestring budget, or general capacity of managing a large slew of performers. Regardless, the intimate setting at the Know paired with a multitude of bodies in this show is stunning. The direction (by Vince DeGeorge)  and choreography (by Jenny Mollet) of Runaways deftly plays with physical repetition, sound, elemental noise, and creative transition using little more than the feet, hands, and musical expertise of the performers (Luke Flood was the musical director). The 77-minute show remains engaging and interesting, in large part to superb technical direction in the Know's beautifully intimate space.
The show, overall, is a breathtaking surprise – the young performers are so wonderfully earnest, proving again just how fantastic CCM is at curating and developing compelling performers. Runaways  showcases racial diversity in a way that enhances the individuality of the CCM performers; we, the audience, are given real glimpses into the different lives these performers take on and are left wondering at the emotional vein that connects performer to character. The show is delicate, poised, quietly funny, and brave in its retelling – a worthwhile undertaking from CCM and the Know Theatre.

Ensemble includes: Ciara Harris, Marissa Hecker, Kendall McCarthy, Jenny Mollet, Gabriela Rodrigues, Emily Royer, Shauna Topian, Amanda Valenzuela, Bryce Baxter, Dylan Dougal, Zach Erhardt, Louis Griffin, Tyler Jent, Jordan Miller, Dylan Mulvaney, Kyle Pollak, Tyler Sodama, Alex Stone, Donelvan Thigpen and Zack Triska.
Runaways is Captivating at the Know
Review by Liz Eichler of Runaways: Know Theatre
Elizabeth Swados Runaways is being performed–this week only–at the Know Theatre, co-produced by UC's CCM and the Know.  That alone should get theatre people flocking to the Know.  The musical was first created over 40 years ago, and was a ground-breaker for introducing teen angst in multiple musical styles. It features songs of varying genres, including a rap—40 years before "Hamilton."
So congratulations to Andrew Hungerford and the Know for hosting this collaboration with UC's CCM. The Know is truly the area's theatrical playground, giving a voice to experimental theatre, old and new. When author Elizabeth Swados passed away last year, "Runaways" was a distant memory or a footnote in a bio.  Now it lives at the Know, and again in our hearts.
Runaways is the story of teenage angst of the 70's.  In a mixture of monologues and songs we hear of cruel parents and kids who don't fit in. These kids ran away to the big city (NYC) to escape.  Most of their stories reflect on where they've been, not their new challenges of life on the street.   So the question is: why did their parents ever have kids?  And the next question is: how can these kids ever be good parents when they have no idea what that means?
These questions are relative today. The production, however, is part museum piece, and part modern. References to 8-track tapes and OJ Simpson (as a good guy) are juxtaposed with modern attitudes and a tasteless Harambe reference.
The show is full of energy. Director Vince DeGeorge and Musical Director Luke Flood have lovingly revived this show. The voices are there (mostly). The diverse cast includes some who convincingly learned new skills of sign language or Spanish.  The performers show technical prowess as entertainers, but lack the rawness, the anger, the chips on the shoulders of kids living on the street.  These stories are less ripped from the heart, as in the original, and more packaged to entertain. There is no costumer listed, which is unfortunate as the cast looks too modern, too put-together, with too-great hair.  A few performers stand out in the 22-person ensemble cast including Emily Meredith, as well as Delaney Guyer who heartbreakingly deadpans "Song of a Child Prostitute." The cast shines in "Find Me a Hero" and "Enterprise (Rap)." The ensemble includes Ciara Harris, Marissa Hecker, Kendall McCarthy, Jenny Mollet (also Choreographer), Gabriela Rodrigues, Emily Royer, Shauna Topian, Amanda Valenzuela, Bryce Baxter, Dylan Dougal, Zach Erhardt, Louis Griffin, Tyler Jent, Jordan Miller, Dylan Mulvaney, Kyle Pollak, Tyler Sodama, Alex Stone, Donelvan Thigpen and Zack Triska.
I recommend theatre people see this show, but it could do more to mine the depths of childhood hurt, anger, and yearning. The show is performed without an intermission, and continues only until September 25. Tickets can be purchased at 513-300-KNOW or knowtheatre.com.
Human Race Theatre's Sweeney Todd is a Cut Above
Review by Chris Payne of Sweeney Todd: Human Race Theatre
The Human Race Theatre Company's production of Sweeney Todd: The Demon Barber of Fleet Street at The Loft Theatre made for a wonderful evening of entertainment. First things first, the set was amazing! The Loft Theatre itself is a ¾ thrust stage, allowing guests to sit around three sides of the stage. The brick backdrop gave the appearance of an industrial district in 19th century London. The highlight of Dan Gray's (Scenic Designer) work on this set, however, was the large turntable that housed a split and raised layout of Sweeney Todd's barbershop and Mrs. Lovett's pie shop. The details and mechanics painted a wonderful setting that clearly established the relationship between the two spaces, a crucial element of the story. Additional moving stage pieces further established the bake house and cellar. The entire theatre space was used well to encompass the audience in the performance.
The impressive staging set the bar high and the performances by the entire ensemble didn't disappoint. Rebecca Watson as Mrs. Lovett was the energetic thread that held the whole show together. Her characterization, accent and vocal performance were all on point and her presence in any scene provided interest and excitement. DJ Plunkett's portrayal of Tobias Ragg also stood out to me as one of the highlights of the show. The chemistry and relationship between Mrs. Lovett and "Toby" was well developed and especially convincing in their duet, "Not While I'm Around," which offered a heart-warming moment in an otherwise gritty and dark show.
Jamie Cordes certainly looks the part of Sweeney Todd. His presence on stage always created the perfect amount of intrigue and conflict. I was a little disappointed that he went without a British accent, but his characterization was still strong and convincing. David McDonald played a looming and tortured Judge Turpin to perfection.  Aaron Vega was a superb compliment to the domineering Judge as the sleazy Beadle. Kimberly Hessler's (Johanna) vocal performance was fantastic. Zack Steele was the perfect choice as Anthony Hope and offered a great performance and another through line for entire show.
Scott Stoney's direction and Tracey Bonner's choreography blended well and created a fluid and seamless show.  The energy of the show was always right where it needed to be. The pace was elevated in numbers like "The Worst Pies in London" (Rebecca Watson) and "Pirelli's Miracle Elixir" (DJ Plunkett and Ensemble) and appropriately subdued during "Johanna" (Zack Steele) and "Pretty Women" (Jamie Cordes and David McDonald).
This production of Sweeney Todd really hit the mark on every element of the show. The set, staging, choreography, music and performance were each executed well and combined for a stellar performance. Personally, this was my first time at The Loft Theatre and my first experience at a Human Race Theatre production and I have to say I am very much looking forward to their next show.
The Human Race Theatre Company's production of Sweeney Todd: The Demon Barber of Fleet Street at The Loft Theatre runs through October 2. For more information and tickets, visit humanracetheatre.org.
Don't Be Afraid of Human Race's Sweeney Todd
Review by Ken Stern of Sweeney Todd: Human Race Theatre
If you know "The Ballad Of Sweeney Todd," he whose "skin was pale and his eye was odd", and Stephen Sondheim's 1979 musical Sweeney Todd: The Demon Barber of Fleet Street, having it called a love story might be a surprise. See the production, now playing at Dayton's Human Race Theatre, and find three. Anthony Hope is lovestruck for Johanna on first sight (and hearing). Todd is brokenhearted over the loss of his wife and daughter. Mrs. Lovett has a cute, deep crush on Todd.
Then there is the evil Judge Turpin, with his perverse desire for Johanna. And that is the story of Sweeney Todd: The Demon Barber of Fleet Street. The richly costumed, well sung (18 songs) and acted production is well worth the drive. You have until October 2nd.
Sometimes a musical takes the milieu of the underclass and its oppression by the one percent and offers insights into society's subjugations. Three Penny Opera casts such a light. Sweeney Todd does not. But taken as a comic book, a modern day Victorian penny dreadful, it succeeds wonderfully. Sondheim's vision, and Hugh Wheeler stage adaptation of Christopher Bond's 1970 play, creates a believable tale of palpable motivation for Sweeney Todd's actions. The play is two dimensional, but suspend your disbelief. It's a play, not a biography.
The cast is uniformly good, made better by spot-on period costuming (Costumer Janet G. Powell's results are spectacular) and what must be an inside joke of superb hair styles: Aaron Vega's The Beadle is the most incredible, (as is his nervous tic). Jamie Cordes as Sweeney Todd creates a strong presence with his sensitive single mindedness for meting out justice. Rebecca Watson, brought in from New York, plays Mrs. Lovett as a savvy, mature Lucille Ball. Her imperfect voice is perfectly fit to her flair and verve and stage presence. Zack Steele's Anthony Hope is the sailor we all want to steal away our daughters. And DJ Plunkett's Tobias Ragg completely captures the naive, not-quite-all-there young assistant, first to rival barber Pirelli and then to Mrs.Lovett. He acts sharply, as he pledges in "Not While I'm Around." The actor, voice, and character all meld.
The band, hidden behind the set, is well directed by Sean Michael Flowers. I am not musically adept, and what I consider the discordant, oddly timed Sondheim phrasing in both composition and lyrics is perfectly captured by the New York Time's 1979 Broadway opening review, terming it "a powerful, coruscating [sparkling] instrument, this muscular partnership of words and music." Listen, and hear for yourself.
On stage, Scott Stoney's direction matches his production team's sharpness. The audience comes into a dark and misty Fleet Street borough. Center stage is a two tier revolving set, a gargantuan wedding cake. The first floor is most often Mrs. Lovett's pie shop (where she initially bakes "The Worst Pies In London") and the second floor starts as Todd's apartment, which it was 15 years before the play opens. Soon the second floor is his barber shop. Midway through the second act, a fancy barber chair is installed with a feature that cleverly links Todd's dirty deeds to the pie shop's bakehouse. Kudos to the set designer (Dan Gray).
As the second act opens Mrs. Lovett is happily making money in a crowded shop (ahem) hand over fist, thanks to the secret ingredient supplied by barber Todd. The ensemble, again in great costumes (as well as Lovett's and Todd's new duds), clamor for more, singing "God That's Good." From there the Horatio Alger plot becomes more melodramatic, moving (and stage spinning) lively to Sweeney's Todd final shave—his own.
The audience loved it. This Human Race Theatre production delivers.
Sweeney Todd: The Demon Barber of Fleet Street is running through October 2,  produced by the Human Race Theatre Company (Dayton's Official Professional Theatre Company) at the Loft Theatre, across from the Schuster Center in Downtown Dayton. Contact www.humanracetheatre.org
HUMAN RACE'S SWEENEY TODD IS A MUSICAL THRILL RIDE
Review by Liz Eichler of Sweeney Todd: Human Race Theatre
Human Race's Sweeney Todd is a 3-D ride to remember. Musical director Sean Michael Flowers and director Scott Stoney successfully translate this epic experience into their intimate theatre.  Up close, this show is visceral and heart pounding. You are surrounded by these characters.  "You ARE on Fleet Street," as president and Artistic Director Kevin Moore warns us in his curtain speech; performers exit, enter, and sing right next to you.
Composer and lyricist Stephen Sondheim created an epic musical. It is the story of Sweeney Todd, who returns to London after fifteen years in exile, seeking revenge for the loss of his wife and child. The original 1979 US production was designed for the cavernous 2,000 seat Uris theatre, while the Loft holds about 200. Many, including myself, remember this musical production, a masterful work of music and Eugene Lee's industrial scenery (the "Hamilton" of the '80s). But bringing it up close, to look into Todd's eyes, to see the desperation of Mrs. Lovett, and the beauty of Joanna, it transports this to a must-see ride. You are so close to the action that the Human Race challenges you to guess the number of bricks in the set.
This production belongs to Mrs. Lovett, and Rebecca Watson gives us an all-in performance.  She is little, but fierce in her desire to survive, teaming with Todd, but sweet –at times–with orphan Tobias. Jamie Cordes is a powerful Sweeney Todd, with a purposeful stare, giving Mrs. Lovett the teaspoon of tenderness which gives rise to their macabre scheme of adding a secret ingredient to her meat pies.
DJ Plunkett delivers an endearing  orphan Tobias. Zack Steele creates a passionate Anthony, the young lover. Kimberly Hessler's voice is sparkling as Joanna. David McDonald provides richness and strength to Judge Turpin. Individually, the ensemble members deliver great performances, but as a chorus they have yet to mesh.
Two stand out songs in this intimate space are "A Little Priest", when Cordes and Watson have you laughing in the aisle, and "Pretty Women", which ratchets you up the steep hill of anticipation, as you watch the glint in the eyes of the performers and razor, with your stomach just waiting for the stomach-churning descent.
Heather Powell (Prop Master), John Rensel (Lighting Designer) and Dan Gray (Set Designer) have a lot to be proud of in the details. The set is constantly changing and interesting, as it moves and as the light hits it through the fog. Being close you can appreciate the bird cages, the glint of the razor blades, the harmonium (something like a cross between a portable organ and accordion), and of course the dough of the meat pies.  Costumer Janet G. Powell has assembled richly detailed and great fitting clothing for her characters, however some of the chorus are too reminiscent of other Victorian plays.
Sweeney Todd: The Demon Barber of Fleet Street is running through October 2,  produced by the Human Race Theatre Company (Dayton's Official Professional Theatre Company) at the Loft Theatre, across from the Schuster Center in Downtown Dayton. Contact www.humanracetheatre.org
Cincinnati Shakespeare's Company Anne Frank Leaves a Lasting Impression
Review by Chris Payne of The Diary of Anne Frank: Cincinnati Shakespeare Company
A painting is not complete until the final brush stroke is laid on the canvas, and so it was with Cincinnati Shakespeare Company's production of The Diary of Anne Frank. This production utilizes Wendy Kesselman's 1997 adaption of the 1955 play by Frances Goodrich and Albert Hackett. This script fails at times to deliver some of the intensity and gravity one would expect from a story of this nature. However, the final scene featuring Otto Frank's (Barry Mulholland) monologue revealing the fates of each character is beautifully written, performed and staged and left an indelible mark on me, and, judging by the inspired standing ovation, much of the audience.
Courtney Lucien's portrayal of a playful, energetic, inspired and headstrong Anne Frank was delightful. She did well to remind the viewer that despite Anne Frank's momentous place in history and literature, at the time Anne was a 13-year old girl who was just as passionate and anxious about her development as a young woman as she was about the atrocities taking place in the world in which she was living.
Barry Mulholland's depiction of Otto Frank offered the perfect compliment to Anne's energetic presence. Mulholland's performance was the anchor for each element of the story. It was a perfectly executed balance between a father who refused to let the darkness and terror of the Holocaust infiltrate the joyful spirit of his daughter and a guiding force who fully understood the scale of the impending threat.
Supporting performances by Kyle Brumley (Peter Van Daan) and Maggie Lou Rader (Miep Gies) stood out to me as some of the most enjoyable. The entire ensemble was strong and each played their role well in depicting the many tensions and issues that arise from such tight living quarters in such dire circumstances.
The set (by scenic designer Justen N. Locke) was visually compelling and well done. From furniture to floors, muted shades of brown help age and locate the setting appropriately. While the look of the living environment was achieved, the space didn't quite articulate the potentially claustrophobic environment resulting from eight people in a four-room hideaway. At times, the freedom of movement made the living situation feel almost comfortable.
Overall, this production accomplished delivering its message: the denial of hate and fear, along with the insistence and invincibility of love and tolerance. This message, just as relevant and important today, was delivered with gusto in the most impactful moment and lasting picture from this production, its final scene. I will not give it away, but all I can say is it was executed phenomenally through its staging, lighting effects, direction (by Jeremy Dubin) and performance. The final brush stroke was a brilliant one and for me, reason alone to recommend anyone to see Cincinnati Shakespeare Company's production of The Diary of Anne Frank.
CSC's production The Diary of Anne Frank runs through October 1st. Tickets are available via their website at cincyshakes.com.
Covedale Opens the Season with Rapturous Godspell
Review by Doug Iden of Godspell: Covedale Theatre
Halleluiah – Godspell has exploded onto the Covedale stage to inaugurate the new season.  The show is joyous, boisterous, exuberant and, for a least three-quarters of it, pure enjoyment. Godspell does not use conventional theatrical storytelling but, rather, tells the story of Jesus through a series of biblical parables, each accompanied by a song.  The extraordinary music of Stephen Schwartz propels the story with spiritual songs including "Prepare Ye", "Day by Day" and "Light of the World" with the poignant and sorrowful songs "By My Side", "Beautiful City" and "On the Willows".  This is also a very funny show, especially in the first act.  Halfway through the second act, the tone changes abruptly as the crucifixion approaches.  Both the songs and the acting change accordingly. Godspell has been updated somewhat with new rap numbers and many new contemporary references while retaining the original score.
The ensemble cast is youthful, exuberant and entertaining. They must be exhausted after a performance because the entire cast is on stage for the entire production and is singing and dancing continuously.  Each cast member introduces one of the songs and is eventually accompanied by the entire cast.  Overacting in this show is a virtue not a vice.
Kyle Quinlivan excels in the role of Jesus with a high energy performance, good singing in both the boisterous and melancholy songs while projecting the necessary magnetism of his character. At times, Quinlivan is the primary actor/singer and, at times, another member of the ensemble.  It's difficult to pinpoint an exemplary person in the remainder of the cast so kudos to Peter Cutler (Judas and John the Baptist), Allison Bredestege, Corey Miller, Kelcey Steele, Anne Schneider, Royce Louden, Savannah Slaby, Ashley Colbert and Cortni Nicolaci.
In the past, I have been critical of the lighting at the Covedale but, in Godspell, the lighting actually helped propel the story.   In one scene, the ensemble uses hand lights on a darkened stage to illustrate the "light of the world" and in another, the use of red lights symbolize the blood of the crucifixion while obliterating a red heart on a banner which represents love very effectively.
Music Director Xan Jeffrey's orchestra played well and allowed the singers to be heard. Director/Choreographer Maggie Perrino moves the show along briskly and has created a tone which the ensemble embodies well.  The dancing is simple but very energetic and effective.
The opening night audience was very appreciative of the performances and I think that you will enjoy it as well. Godspell continues at the Covedale Theater through October 2. Tickets are available at the Covedale website, http://www.cincinnatilandmarkproductions.com/ccpa/.
Covedale's Godspell Full of Positive Vibes
Review by Jack Crumley of Godspell: Covedale Center for the Performing Arts
Godspell has started its colorful run at the Covedale Center for the Performing Arts, and the cast will likely be sleeping well every night from all the work they put in on stage. Originally conceived and directed by John-Michael Tebelak with music and lyrics by Stephen Schwartz, Godspell is an opportunity for Director Maggie Perrino and the cast to really put their stamp on a show that's been running for 45 years now. There's a lot of room for improv, and this group doesn't shy away from making this show unique to them.
Godspell is a musical based on the gospel of St Matthew. It tells the story of Jesus teaching his followers through a series of parables and songs. It begins with the cast all singing about their various points of view and philosophies that ultimately degenerates into arguing and "babel." John the Baptist (played by newcomer Peter Cutler) arrives, telling the people to "Prepare ye, the way of the Lord." When Jesus (more than capably played by Kyle Quinlivan) arrives, it's in a humble way, and he then proceeds to teach his followers and celebrate the love of God. Though he is ultimately betrayed and crucified as is written in the Bible, it's that celebration of love that is the heart of Godspell.
Godspell is one of those shows that really only works if there isn't a hint of irony or cynicism. The actors almost have to have the same child-like enthusiasm on stage as their characters do for the various stories they act out and songs they sing. This cast nails that necessary enthusiasm and energy. Even the parts of the show that are spoken have a kind of rhythm to them. Maintaining that high, exuberant energy level for the entire show is not easy, especially since the cast truly has to function as an ensemble. Aside from just a handful of moments, every actor is in every story, singing every song. Near the end of the first act, it was hard to miss the sweat on Quinlivan's brow.
Not to sell any of the actors in the cast short, because everyone worked together very well, but there were a couple of performances that really stood out. First, Quinlivan's work as Jesus. He has to come across as loving, authoritative, wise, clever, challenging, and humble all at once. That, coupled with the songs he has to sing, is a tall order, but Quinlivan delivers an admirable performance. He keeps your attention as Jesus even when he's not the focus of what's happening on stage. Ashley Colbert delivered what is arguably the most well known song in the show, "Day by Day." She sang it with an honesty and an earnestness that easily laid the foundation for the rest of the cast to build to its crescendo of an ending. Also, Savannah Slaby's performance of "Bless the Lord" was a show-stopper that came halfway through the first act. Like Quinlivan, I found myself looking to see how Slaby was reacting to another character's dialogue off and on throughout the show.
All of the musical numbers could have been handled with the cast singing to prerecorded music, but the band should also be singled out for their great work on keys, bass, guitar, and drums. Their work added to the celebratory atmosphere of the show.
The choreography is pretty straightforward, as if all the lines of dialogue and notes to sing weren't enough to keep the actors occupied. I was particularly impressed with the way props were used, as if they appeared out of thin air. The cast is pretty much on stage for the whole show, but they were able to start using small hand lights, dollar bills, and dancing canes at a moment's notice. Nice blocking to make that work so well.
People may find the overtly positive message of Godspell off-putting. But that's a sign of just how jaded and frustrated we've become. Cynicism shouldn't be confused with wisdom, nor happiness stupidity. Maggie Perrino addresses that in the Director notes, saying that despite the polarizing tragedies we hear about on the radio and see on TV on such a regular basis, "Godspell is a reminder that love is the answer. That togetherness is the answer." And I couldn't agree more. Leave your pessimism and sarcasm at home when you go to see Godspell. It may feel strange, but you won't need them to enjoy this show.
Godspell continues at the Covedale Theater through October 2. Tickets are available at the Covedale website, http://www.cincinnatilandmarkproductions.com/ccpa/.
Girlfriend Charms at the Know
Review by Liz Eichler of Girlfriend: Know Theatre
Sweet is the best way to describe the Know Theatre's production of "Girlfriend." It is written by Todd Almond, with music and lyrics by singer songwriter Matthew Sweet, taken from his 1991 album also named "Girlfriend." There are so many moments of truth, where you find yourself remembering the awkwardness of your first love, that you can't help but melt and smile. It is a universal story; it just so happens to be the story of two guys, one, flamboyant and used to ridicule, the other, an athlete awakening to a new attraction.
Director Lindsey Augusta Mercer has skillfully paced this love story, which revolves around the love of music, and it sounds great, thanks to musical director Erin McCamley and the band.
The charm of this show rests in Cary Davenport's portrayal of Mike. He captures the honesty of a teenager, and reels you in. The audience smiles when he smiles. We giggle when we feel his vulnerability or bravado. Montez Jenkins, as flamboyant Will, is strongest when he becomes more vulnerable. We remember our own fits and starts of connecting with someone for the first time and  both actors load these awkward pauses  with meaning.
One of the most moving scenes is the amazing dance on the bed, and the choreographer, Kim Popa, allows the characters to sing their inner monologues with their bodies. She also captures a playful and infectious synchronicity as they dance with moving boxes. But the first dance surprises the audience, (someone in the audience whispered, "oh, there's dancing"). There is no transition into it being a dancing musical; the moves do not feel organic to the characters at that point and is quite jarring.
The technical elements are simple and effective.  The set evokes the roughness of a barn, which is bathed in the light of the varying emotions, both designed by Andrew J. Hungerford.  The use of the corded telephone signals that the play was written in a time where the stakes were much higher for the two young men.
I encourage audiences to see this sweet show.  It is not without flaws, but you will be moved.  "Girlfriend" runs through August 27. Get your tickets at knowtheatre.com or call 513-300-5669
.
Carnegie's Rock of Ages Helps Audiences "Feel the Noize"
Review by Sheldon Polonsky of Rock of Ages: Carnegie Theatre
Carnegie Theatre begins its 2016-17  season with the recent crowd-pleasing Broadway hit, Rock of Ages. And make no mistake, Carnegie fulfilled its mission in that respect: it was a huge crowd-pleaser, with a large enthusiastic audience who thoroughly enjoyed itself and was swiftly on its feet by the end. Despite anything else I may add, nothing should not detract from that significant accomplishment.
Rock of Ages is the quintessential juke box musical, featuring classic rock hits from bands like Styx, Journey, Bon Jovi, Pat Benatar and many others. The familiar songs, including numerous  hits like "We Built this City" and "I Want to Know What Love Is" are loosely woven into what passes as a plot, not that it matters: a standard "boy meets girl" affair featuring Sherrie and Drew, an aspiring actress and rock star, respectively, working in an LA rock club. Sub-plots include something about German father and son developers attempting to build a mega mall on the strip and the self-obsessed, aging rocker Stacee Jaxx who is leaving his group to go solo. I say "something about" because unfortunately a lot of the exposition and dialogue occurs with the live band playing loudly in the background making it nearly impossible to follow. Often times the band also drowned out the singers and their lyrics. I know I am not alone in this as I overheard one patron during intermission commenting, "I'm not sure what's going on, but I'm having a lot of fun!"
The Carnegie has attracted a lot of strong talent for its musicals in recent years, and Rock of Ages is no exception. The leads, Kelcey Steele as Drew and Ellie  Chancellor as Sherrie, are charming and have great rapport with each other. They are accomplished vocalists although I did wish they had a little more edginess to their voices for this material and, as previously noted, were occasionally overpowered by the band. They were backed by a great supporting cast. My favorite was Spring Starr Pillow who played Justice, the soulful owner of a local strip club, who in my mind was the most compelling actress and had the perfect rock voice. Spenser Smith, as Franz, the younger of the German duo, had surprisingly powerful vocals and by far the funniest line of the night. Heather Hale, playing former city planner and social activist Regina (with a long "I", don't forget) was funny and adorable, but unfortunately was miked the poorest, obscuring an excellent voice, what I could hear of it. Matt Hudson provided great comic relief as the elder German, who in a very positive way seemed to be channeling the great comedian Eugene Levy, consciously or not.
Slightly less impressive, in my opinion, were Daniel Cooley as club owner Dennis Dupree, whose vocals were more inconsistent, and James Jones as the narrator Lonnie, who did not command the stage or the material as much as I would hope. Nonetheless, they did bring the house down with their comic second act number "Can't Fight this Feeling". Rounding out the supporting cast was Tyler Kuhlman as Stacy Jaxx, who clearly is talented but seemed underplayed and lost in the shuffle. Finally, I would be remiss not to mention the spirited ensemble, who effectively backed up the songs and more than capably performed Roderick Justice's exuberant choreography, as well as the outstanding band, directed by Jamey Strawn, who anchored the production.
The production was technically solid, apart from the sound issues, with an eye-catching set and costumes by designers Ryan Howell and Cheyenne Hamberg, and great lighting effects by Erik McCandless. Lisa Bodollo's direction had some highs and lows. On the plus side, she certainly injected the production with the high energy it needed and met the challenges of the sometimes cramped Carnegie stage, even more tricky since it was dominated by the band in this production. On the negative side, either through timing or sound issues, I felt that some of the humor was drained from the show. In addition, the breaking of the "fourth wall", an important element of the production as Lonnie and the cast often self-deprecatingly acknowledge that they are in a musical version of themselves, came off as somewhat artificial and stilted.
Bottom line: Rock of Ages isn't for everyone. If you are looking for high art, deeper meaning (or any meaning at all), a soaring original score like Andrew Lloyd Weber or clever lyrics like Stephen Sondheim, you won't find it here. On the other hand, if you love 80's rock music and just want to reminisce and be entertained on a hot summer night, you will certainly get your money's worth.
Tickets for Rock of Ages can be obtained at through the Carnegie Box Office, on-line at www.thecarnegie.com or by phone 859-957-1940 . The show continues through August 28th.
Carnegie Rocks the House with Rock of Ages
Review by Doug Iden of Rock of Ages: Carnegie Theatre.
Rock of Ages certainly lives up to its title.  The Carnegie season opener is loud, raucous, audacious, exuberant, outrageous, colorful, vibrant, vulgar, silly and a lot of fun.  And did I mention LOUD?  Based upon the audience attendance and reactions, the show will be a major success.  The audience was actively clapping and singing along to a collection of 1980's rock songs by noted glam bands which comprise the score.
This recent Broadway hit is virtually a review with the many rock songs tied together by a gossamer thin thread of a story.  The plot, such as it is, addresses an attempt by a German entrepreneur to raze and re-develop a large chuck of the Sunset Strip including a rock night club called The Bourbon Room.  However, the club's owner, Dennis Dupree, played by Daniel Cooley, along with his staff,  club supporters and the City Planner Regina (played by Heather Hale) fight back to save the club.  The primary love interest includes Sherrie Christian (Elle Chancellor), a wannabe actress from Kansas, and Drew Dillenbeck (Kelcey Steele) a busboy at the club and aspiring rocker.  It's the typical "boy meets girl, boy loses girl, boy gets girl back again" musical plot.  The entire show is narrated by Lonnie (James Jones) who frequently breaks the "fourth wall" by conversing directly with the audience, constantly reminding us that we are watching a musical and the characters' actions and dialogue are dictated by the book writer.  Jones clearly is enjoying his role and virtually steals each scene that he is in.
The primary romantic leads are handsome, youthful and energetic with a good chemistry between them.  Chancellor, in particular, has an excellent voice and is one of the few singers who could project beyond the cacophony of the onstage rock band.  Steele has a complementary voice but not as strong.  Daniel Cooley (club owner Dennis Dupree) was a constant manic presence and good rock and roll singer.  Tyler Kuhlman (playing Stacee Jaxx) satirized the archetypal egomaniacal rocker.
Under choreographer Roderick Justice, the dancing was constant, frenetic and sexy.  The ensemble, comprised primarily of NKU students or alums, were excellent through a number of major production numbers including "Feel the Noize", "The Final Countdown" and the finale,  "Don't Stop Believing".  The dancers and singers would frequently go into the aisles to encourage the audience to participate with clapping or singing.  One of the best scenes which tied the music to the dramatic context of the show featured the song "Every Rose Has a Thorn" which encapsulated each of the love stories and led to the finale.
Music Director (and keyboarder) Jamey Strawn and the band played almost continuously and provided the proper backdrop for the show.  And did I mention that they were loud?
The set design (Ryan Howell), costumes (Cheyenne Hamberg) and lighting (Erik McCandless) all added to the overall appeal of the show.  The set was reminiscent of 1980's rock night clubs with a lot of lights and beer signage.  The grunge costumes were typical and the flashing lights added to the electricity of the show (pun intended).
Personally, I have a mixed reaction to the show itself.  Rock and roll is not my favorite music and the humor was very sophomoric.  I had trouble hearing many of the lyrics, which probably was a blessing in disguise.  However, the Carnegie production was excellent.
Rock of Ages continues at the Carnegie through August 28.