2016 Stage Insights Reviews
Incline Finishes the Summer with a Hot Chicago
Review by Doug Iden of Chicago: Incline Theatre
In the full spirit of disclosure, I admit that Chicago is one of my favorite musicals.  I first saw Chicago in Chicago during its initial national tour and became enamored of the scathing satire about corruption and celebrity, the jazzy score written by Kander and Ebb and the eccentric choreography of Bob Fosse.  Consequently, I am favorably disposed to like this show. Fortunately, the production of Chicago at the Warsaw Federal Incline Theater more than passes muster.
Led by Alex Caldwell (as Velma Kelly) and Hannah Gregory (as Roxie Hart), the show catapults into an explosion of idiosyncratic dance and jazz in its depiction of the Depression Era craziness in Chicago.
This was the era of the celebrity criminal, reminiscent of the O.J. Simpson trial.  Based loosely upon actual people, Roxie Hart and Velma Kelly are placed in custody in a Chicago jail for murder.  Since their crimes were bloody and spectacular, the women became instant darlings of a scandal driven press corps which is brutally castigated in the show.  Velma had been the celebrity star but was eclipsed by Roxie's murder of her extramarital lover.  A competition then ensues between the women who want fame, fortune and a gold-plated avenue into show business while they await their respective murder trails.  The show has adult, sexual themes.
Alex Caldwell (as Velma) is an excellent dancer (either solo or as part of a chorus) with an acceptable voice.  Hannah Gregory (as Roxie) somewhat steals the show, combining good dancing, vocals and a definite comic flare.  Since this was originally written as a star vehicle for Gwen Verdon and Chita Rivera, it is imperative that the leading ladies carry the show, and they do.
Dave Wilson portrays the obsequious lawyer Billy Flynn who is more interested in financial gain than the welfare of his two infamous clients.  In a comic but unctuous manner, Wilson sings the disingenuous song "All I Care About is Love", the hilarious "We Both Reached for the Gun" and the cynical "Razzle Dazzle".  Wilson has a good voice and is very believable as the shyster lawyer.
There is an excellent supporting cast as well.  In a comic turn, Tyler Gau plays Roxie's gullible husband Amos Hart who agonizes about his lack of celebrity in the poignant song "Mr. Cellophane".  The opportunistic prison matron Mamma Morton (Lesley Hitch) evokes her greed in "When You're Good to Mamma" and there is a surprise in the end with S. Mize's portrayal of an easily manipulated journalist, Mary Sunshine.
This is a very fast paced show with a lot of frenetic dancing.  Doing Chicago is always tricky because of Fosse's iconic dancing style.  This show blends Fosse's signature moves (herky-jerky movements, splayed hands and extensive use of hats) with a more modern interpretation choreographed by Angela Kahle.  Both the men's and women's choruses were excellent, displaying high energy, synchronized moves.  One of the highlights is the throbbing, extremely clever "Cell Block Tango" danced in a very sexy manner by the women.  The male chorus responds with "All That Jazz" and "When Velma Takes the Stand".
Music Director John Slate and the onstage orchestra showcase Kander and Ebb's music well without drowning out the performers and Director Matthew Wilson moves the show in a crisp manner.
The single set serves for multiple scenes with a speakeasy on the main stage and two staircases on either side of the stage going up to a balcony.  On the main stage is a mini-stage where some of the night club numbers are sung.   Behind the mini-stage is a crooked frame which, symbolically, displays the show's theme.
A few quibbles.  Initially, there were some issues with the mics which affected the opening number "All That Jazz".  Alex Caldwell's voice was somewhat swallowed by the chorus and the mic.  Also, in the closing scene, Velma and Roxie are supposed to be perfectly synchronized during the dance number "Nowadays".  This is a little more than nitpicking since the number is supposed to display the characters' vaudeville talent and their equality as dancers after their ongoing feud while in prison.
However, grab your bathtub gin and your shimmy-shake and see Chicago playing at the Warsaw Federal Incline Theater through September 4.
Incline Theatre Delivers with Baby
Review by Doug Iden of Baby: Incline Theatre
Three couples at different stages of their lives tell their stories in the musical Baby, the second show of the Warsaw Federal Incline Theater's summer session. Although not a hit show on Broadway, Baby is a very entertaining evening complete with the comedic and bittersweet roller coaster journey through the couples' impending pregnancies.
Erin Niebuhr and Kyle Quinlivan portray two college students (Danny and Lizzie) whose lives are irretrievably changed by Lizzie's pregnancy. They plan to keep the baby but Lizzie does not want to get married, which leads to complications. Niebuhr and Quinlivan excel in their roles while delivering some of the best songs in the score including "I Chose Right", "The Story Goes On" and "Two People in Love". The songs are written by David Shire and Richard Maltby Jr.
Jessica Steuver and Charlie Harper display a great chemistry as two athletes trying desperately to conceive. They have some of the best comic scenes, trying different approaches to conception,while Bob Brunner, as a fertility doctor, has the funniest scene.
Lastly, Danielle Muething and Matt Dentino portray a middle age couple with three young adult children who are surprised by Arlene's apparent pregnancy, which puts an extreme stress on the marriage. Was their marriage real or just the product of parenting children? An "empty nest" crisis ensues. Muething and Dentino add emotional depth to a relationship in stress.
The set design is clever with moveable set pieces including an omnipresent bed as they juxtapose between the homes of each of the couples, although the frequent set changes are somewhat distracting.
The music was excellent with all of the actors, including an ensemble, singing their parts very well. Special praise to Music Director Katie Personke who led the band from behind the stage while directing the singing through a TV screen in the back of the theater. Many of the songs were chorus numbers or contrapuntal songs with the three couples singing different songs simultaneously and all were presented flawlessly. Also, thankfully, the music volume allowed the singers to be heard easily. Since many of the songs helped tell the story and some were introspective "soliloquies", this was necessary. Katie-Lee Sutherland was the director/choreographer.
I had not seen this show before and it is one of those shows that sneak up on you. The first act is primarily comic and breezy with pleasant (non-rock) music but the second act becomes more deeply nuanced as each of the couples faces their respective crises. Overall, I enjoyed the show and recommend it.
Incline Theatre's Baby is a Labor of Love
Review by Laurel Humes of Baby: Incline Theatre
There is broad appeal to the musical Baby, now onstage at the Warsaw Federal Incline Theater. Everyone who has children will find something to identify with in this story of three expectant couples.
Pregnancy comes as a big surprise to Danny and Lizzie, college students who just moved in together. It's an equal shock to Arlene and Alan, who just sent their three children off to college. Nick and Pam, meanwhile, are trying hard to "get pregnant," a process that progresses from romantic to funny to tense.What each couple deals with is the strain and joy to their relationship that comes with just expecting a baby.
The setting for Baby is a college town, where all of the characters either work or attend. It's a great device for getting them all together, first the women in the OB's waiting room, then the men on a softball team. The couples, all very different, become friends through their common situation.
Baby was first produced on Broadway in 1983, then updated in 2004. The original show earned eight Tony nominations, including for best musical. The show's creators, writer Sybille Pearson, composer David Shire and lyricist Richard Maltby, Jr., have other notable theater credits.
Yet Baby has faults. It is too long, to the point of being tedious at times. The humor can be overstretched and trite. The characters, especially Nick and Pam, are merely sketched rather than developed. And Incline's production does not achieve the standard the theater set for itself in its inaugural season. Some cast members' voices are not up to the challenge, which becomes most apparent in solos. There are too many instances of unskilled overacting to reach for laughs. The multiple set changes, done by the ensemble, are clunky and distracting.
Still, there are lovely moments and fine performances in Baby. Kyle Quinlivan, a newcomer to Cincinnati theater, has a natural, sincere stage presence as Danny, the college student and aspiring song writer. His solo "I Chose Right" is heartfelt. He and the appealing Erin Niebuhr as Lizzie do a great job with "What Could Be Better." Matt Dentino, a veteran of Cincinnati stages, turns in an assured, professional and mature performance, just right for the character of Alan. He and Danielle Muething as wife Arlene (the "older" couple) carry much of the poignancy the show offers, especially in the song "What If We Had Loved." A fun and well-choreographed number, "Fatherhood Blues," features all five male cast members.
Baby continues at Incline Theatre through July 31. For tickets, call the box office at 513-241-6550 or visit www.cincinnatilandmarkproductions.com.
Something Fishy at the Know
Review by Abby Rowold of The Fisherman's Wife: Know Theatre
I am fishing around in my head for what to say about Know Theatre's latest offering. The Fisherman's Wife by Steve Yockey is not an easy play to categorize. I have so many questions… Is it saying anything? Did a character really get raped by an octopus and a squid? Am I thinking too hard about this? Do I really just need to lighten up? This, in some ways, is a good thing because I am thinking about a piece of art, but the more I fillet this fish, the more I find that it has no bones. (The puns stop here.)
Based on the famous woodcut by Hokusai called The Dream of the Fisherman's Wife (rated R if you are planning to Google it) and labeled as a sex farce, the actors are all very skilled and comedic, and I was entertained for the entirety. That being said, I felt the actors were directed by Andrew Hungerford to be floating above the material somewhere, winking at the audience and playing emotions broadly for fear the play would become too yucky to swallow (sort of like the green slime that Cooper the Fisherman spits out from his mouth post tentacle-rape) if the actors played it too real.
The story is about a fisherman (played with over-the-top hilarity by Cal Harris) who is too uptight to engage in sexual relations with his wife, Vanessa. Vanessa is justifiably frustrated, and as a result their marriage is falling apart. Miranda McGee is her usual charming and witty self as the titular character (even though it really isn't her story), and she is a joy to watch as she skillfully works the audience for laughs (like shooting fish in a barrel). The madness begins when an "alternatively attractive" salesman shows up to Vanessa's door. He seems to magically know where he is needed, and has a bottomless bag of "marriage remedies" including a giant phallus, pornographic woodcuts, and some shimmery purple underwear which he graciously models for Vanessa and the entire audience. While the salesman meets Vanessa's "needs," her husband Cooper is being sexually assaulted by sea creatures disguised as humans in old fashioned swimwear. As a result, Cooper is traumatized, but this doesn't last long, for when Vanessa goes out to revenge her husband, the salesman shows up and heals Cooper with—you guessed it—even more sex.
The play includes another sea-creature-as-sexual-predator story told in the form of a fable and with the aid of a puppet show. The puppets were skillfully crafted by puppet designer and artisan, Brandon Johnston. The set by Sarah Beth Hall was subtle and beautifully painted. Noelle Wedig did another fabulous job with costumes and placed the story in a truly timeless world with her pieces.
If you are looking for something naughty and dirty, then this is the play for you. I personally found the handling of the subject matter a bit careless, and that left me with a lot of unanswered questions, but go see it for yourself, and we can talk about it over sushi.
The Fisherman's Wife runs at the Know Theatre's Underground Theatre, their second stage of programming in the bar, through July 16, 2016.
Fisherman's Cast Will Have You Reeling with Laughter
Review by Liz Eichler of The Fisherman's Wife: Know Theatre
Prime yourself for laughter with The Fisherman's Wife at the Know Theatre, presented now through July 16. The performance space is in the underground, right next to the bar. That is a hint: grab a drink and get on board, and let this silliness hit you, full farce.
The story is about the unfulfilled wife of a fisherman, her husband who disappoints her in almost every way, and the traveling salesman AND sea creatures who help the couple reconnect.
It is not esoteric, it is not difficult to process. It is silly, it is fun, and it features lovely, snarky sea creatures. And puppets.
For every actor, there is a perfect part, and Eileen Earnest shines as Squid. Her makeup, hair, and costume all earn her a star on the sea predator hall of fame. She and Andrew Ian Adams (Octopus) are the highlights of the show. They are the acerbic bottom-dwellers giving shade to everyone at your local watering hole, who start looking better at the end of the night, but you know will destroy your soul.
The traveling salesman is warmly played by James Creque, a smooth operator, who brings comfort to both the wife and the fisherman. Miranda McGee delivers as the wife, as always, and Cal Harris is appropriate as the fisherman.
This evening recalls many an evening of skits quickly created in a college program (or improv night) to entertain a specific audience, containing inside jokes, too many F-bombs, and definitely improves with libations. The simple set, designed by Sarah Beth Hall, Brandon Johnson's puppets and Noelle Wedding's costumes help tell the story. Andrew Hungerford directs the fun.
This is the last production being stage managed by Kristen Ruthemeyer Hammer, who has kept a firm hand on the antics at Know Theatre for over eight seasons. Bon voyage.
For tickets contact knowtheatre.com.
Everyone Should Go to Incline's Anything Goes
Review by Laura Petracco of Anything Goes: Incline Theatre
The Warsaw Federal Incline Theater is kicking off their 2016 Summer Classics Season with Anything Goes. Anything Goes is a musical with music and lyrics by Cole Porter. The story follows the crazy antics aboard an ocean liner bound from New York to London. Billy Crocker is a stowaway in love with heiress Hope Harcourt, who is engaged to Lord Evelyn Oakleigh. Nightclub singer, Reno Sweeney, and Public Enemy #13, Moonface Martin, aid Billy in his quest to win Hope.  Classic songs like "Anything Goes", "You're the Top", and "I Get a Kick Out of You" are a few of the musical numbers that make this show one you'll never forget.
The set in this show, designed by Brett Bowling, was very impressive and believable. The minor details like muster station signs and lights that went with the time period were very appealing to me. The way that the set doubled as the ship cabins and the deck of the ship was very innovative and entertaining. The way the bunks simply came out of the wall helped save time during scene changes and made them very efficient. Lastly, Bob Brunner, the director, did a nice job using all of the levels of the set. Having dancers on each level of the set made the dance numbers even more powerful than they already were.
Kalie Kaimann deserves all the awards, and I mean ALL OF THEM. She played the role of Bonnie and it was a role that she was meant to play. Bonnie is Moonface Martin's peppy girlfriend who seems to be on the ship solely for the dancing and the sailors. Her voice really established how naïve yet sexy Bonnie was. Her voice was also very powerful and controlled and she just sounded so good as Bonnie. During her big number, "Let's Step Out", she was able to add little shouts and hollers that went perfectly with her character and it made the number so much more fun!
If you happened to be in the theater when I saw the show you probably heard me laughing and snorting at everything Daniel Cooley did as Moonface Martin. His comedic timing was impeccable and his facial expressions made everything he said funnier. Not only was his acting hysterical, but he had a marvelous voice as well! I thoroughly enjoyed his performance.
The choreography in this show was so fun to watch and it made me wish I would have stayed in my 4th grade tap class a little longer. All of the big tap numbers were so clean and synchronized which made them so easy to watch. The dance numbers had many elaborate movements and the entire cast made them look very easy. My favorite number, not surprisingly, was "Anything Goes".  It was very powerful and entertaining to watch when the cast was on all levels of the set.
Here is my final thought: This is a show that is not one to miss! The dancing is SO impressive, the vocals are spot-on and the comedic timing of all of the actors is perfect. The story of Anything Goes is clever and fun to experience, so don't miss your chance to see it!
Anything Goes plays at the Warsaw Federal Incline Theater through June 26th. Tickets may be obtained on their website, http://www.cincinnatilandmarkproductions.com, or by phone 513-241-6550 .
Incline Kicks Off the Summer With Anything Goes
Review by Laurel Humes of Anything Goes: Incline Theater
A fun, summer evening diversion is currently playing at the Warsaw Federal Incline Theater – Cole Porter's Anything Goes, with a top-notch cast.
The show dates back to 1934; Incline has mounted the 1962 revival version. The plot is silly, the characters mostly stereotypes – but, oh, those songs: "You're the Top;" "It's Delovely;" "Blow, Gabriel, Blow," and, of course, "Anything Goes."
The setting is an ocean liner from America to England. Billy is a stowaway in love with Hope, who is engaged to Sir Evelyn Oakleigh. Helping him in his quest to win her are Reno Sweeney, evangelist-turned-nightclub singer, and Moonface Martin, unhappy that he has only achieved Public Enemy #13.
The show drags somewhat in the beginning – all these characters and more to introduce! But very soon comes the first song – "You're the Top," skillfully performed by Kelcey Steele as Billy and Michelle Wells as Reno – and we're off.
Steele is an engaging actor, who seems to perform with effortless charm. Fortunately, he has several song and dance numbers, because he is such a pleasure to watch. Billy's antics include assuming a number of disguises, and he gets well-deserved laughs.
Wells is such a pro; every time she is on stage, the audience is in good hands. She brings a belt-it-out vocal performance to Reno, matched by lively dancing skills. Also very good are Reno's back-up singers, the Angels: Emily Egner, Allison Evans, Grace Liesch and Mikayla Renfrow.
The show is lucky to have two skilled character actors in Brandon Bentley and Daniel Cooley. Bentley's Sir Evelyn is all sweet naiveté, and he gets a lot of laughs when Wells' Reno focuses her charms on him. The pair share a fine rendition of "Let's Misbehave."
Cooley is over the top as (good-hearted) gangster Moonface Martin. His facial expressions, with eyebrows that seem to stretch to his hairline, and thick New 'Joisey' accent are a lot of fun.
Anything Goes is peppered with big production numbers, and the cast pulls off Jeni Bayer-Schwiers' choreography with skill and energy. A highlight is the tap routine to "Anything Goes" that ends the first act on such a high note.
The production's costumes are perfect and plentiful – I lost count of the number of Reno and the Angels' costume changes.
Director Bob Brunner has mounted a fine and fun production of Anything Goes, which runs through June 26. For tickets, call the box office at 513-241-6550 or visit www.cincinnatilandmarkproductions.com.
CSC's Antony and Cleopatra is Fast-Paced and Passionate
Nick Rose and Chantal Jean-Pierre have created memorable characters as Antony and Cleopatra in the current production at Cincinnati Shakespeare Company. This is a must-see production which far exceeded expectations, (which were pretty high, based on the exciting characters created in Julius Caesar, its prequel which closed last week.)
Rose is a powerful actor, and he hammers out a testosterone and steroid fueled Antony. Chantal Jean-Pierre , making her Cincinnati debut as Cleopatra, is equally mesmerizing, as she creates a beautiful alpha woman who rules an Empire and lives fully. Sparks fly when they are together, as they have no control over their chemistry. You believe each one is all consumed with the others mind–and body.
But it is not just Antony and Cleopatra's story of love and passion. There is also politics, power, and war. Antony is part of a triumvirate governing the Roman Empire, and he has been AWOL with Cleopatra in Egypt. He returns to Rome out of duty and to manage political affairs with his co-rulers, smarmy Octavius (Kyle Brumley) and that other guy, Lepidus (Paul Riopelle). Antony is taunted and his allegiance to Rome is questioned, so when Octavius offers his sister, Octavia, as a wife, to cement Antony's connection with him and Rome, Antony feels he must accept. This does not play well with Cleopatra. But, convinced Octavia (beautifully played by Kelly Mengelkoch) is homely and simply a political tactic, she accepts him back to her bed. Meanwhile Caesar breaks the truce the triumvirs forged with bellicose Pompey (Brent Vimtrup) and attacks and defeats him, dispatching Lepidus as well. He next aims at eliminating Antony, who uses Cleopatra's riches to wage war against Caesar, but is unsuccessful at sea.  Cleopatra and Antony choose individually how they will meet their defeat.
Surprisingly, there are a lot of laughs in this fast-paced love story, and it offers a full scale of emotion. The best scenes involve Cleopatra and her entourage (Tia LeShaun Davis, Aiden Sims, Geoffrey Warren Barnes), Marc Antony, Enobarubus (Billy Chace) and the Soothsayer (Douglas Fries).
The stage is rich with color, in costumes and armor, props and video. The lighting evokes the desert of Egypt as well as the city of Rome, thanks to Scenic and Lighting Designer Andrew Hungerford and Costumer Amanda McGee.
"Antony and Cleopatra" runs through June 4, and is a great production that will exceed the expectations of audiences—including teenagers.
Happy Days is Here Again at Diogenes Theatre
Review by Erica Minton of Happy Days: Diogenes Theatre
Winnie is buried in earth up to her waist, exposed to the sun. Though her husband is nearby, she cannot see him. She has not encountered another soul for quite some time. Winnie has only her bag, filled with lipstick, a toothbrush, a gun.
And Winnie is smiling.
In Samuel Beckett's Happy Days, directed by Michael Evan Haney, we meet protagonist Winnie in a situation anyone might complain about, but Winnie is determined to celebrate the "mercies, great mercies" of life. Her health is no better today… but no worse, either! She has her memories and her songs, though these, at times, elude her. She has her husband, Willy, though he barely speaks and mostly keeps to his hole, out of sight.
But Winnie, dressed from head to—er, waist—in pink, remains steadfast. "Not a day goes by without a blessing in disguise." Happy Days explores that perseverant side of human nature, that element deep within us that demands, against all odds, a silver lining. What can't we bear with an infallible optimism? (Winnie might find out in the second act.)
She's a masochistic actress who yearns to play Winnie, and Amy Warner rises to the task in what practically amounts to a one-woman show. (Michael Sommers as lewd husband Willy does a fine job of staying hidden, loading his silences, and eating his boogers.) Warner brings richness to Winnie, portraying a myriad of emotions as Winnie suffers and overcomes, suffers and overcomes. We see joy, agony, even flirtation play across Warner's face as she shows us how one survives a long, hot day in an existential anthill.
The staging is, by necessity, simple: an unmoving heap of dirt, a backdrop showing a barren landscape and a distant lake. (Can Winnie even see this lake?) The only sound design is the shrill bell that wakes Winnie, the shrill bell that allows her to go to sleep. The lighting is constant and harsh. "Never any change, and more and more strange"—a less-than-ideal environment for anything to grow, save the toughest desert flowers, such as Amy Warner and her Winnie.
Diogenes Theatre's production of Samuel Beckett's Happy Days runs through May 22nd at the Fifth Third Bank Theatre within the Aronoff Center. http://www.diogenestheatrecompany.com/
Diogenes Masterfully Investigates the Power of Optimism in Happy Days
Review by Charles Roetting of Happy Days: Diogenes Theatre
Happy Days, by Samuel Beckett, currently being produced by Diogenes Theatre with Open Eye Theatre from Minneapolis, is a joyful descent into existential madness. Under the brilliant direction of Michael Evan Haney, we are shown one or two happy days in the life of the constantly optimistic Winnie, played by powerhouse Amy Warner, as she is slowly consumed by the earth. Crawling about the mound in which Winnie is buried up to the waist is her not so optimistic and taciturn husband, Willie, played wonderfully by Michael Sommers. Throughout, Winnie goes through her daily routine while remembering her past in an effort to maintain her sanity.
With every work of Samuel Beckett's, there come numerous challenges for everyone involved. It is incredibly difficult to make his plays commercially accessible. The puzzling narratives, bizarre imagery, and complicated language can doom a production that doesn't have the right team.
This production has the right team.
From the moment the theatre is entered, the audience is invited into the strange world of the play. An odd and messy drape conceals the playing area. Peculiarly, it lowers to the ground instead of rising to reveal the stage. As small as these details may seem, they truly set the tone of for what is about to take place. This is the level of detail taken by Haney and his team.
Haney's direction is inspired. Watching this production, two things become clear. One is the feeling of collaboration that must have taken place between the director and the performers. The other is that Haney truly understands Beckett and he doesn't take it too seriously. There is a tongue-in-cheek quality to much of the action – a sense of play – that reminds us that even an existential crisis can be laughed at. Without this, the audience would be alienated and punished. But in this production, the audience can smile along with our doomed and desperate heroine.
Michael Sommers' set design is perfect. Bare, exposed, and vulnerable while also intricately tiered, the set itself is juxtaposed against a back drop which shows a bright and beautiful day. This is both out of place in its incongruity with the subject matter and infinitely appropriate as this day cannot be enjoyed by Winnie. She is left trapped to bake in the sun of this beautiful and perpetual day.
Sommers' talents do not end at set design. His performance as Willie is funny, quirky, a touch perverse, and more than a little sad. Most importantly though, Willie becomes a surrogate for the audience. As Willie prattles about, struggling to find his own existence, we feel similarly. We are as trapped as he is. We have our full faculties of speech and movement, yet what use have we for any of them? Sommers' sympathetic performance is ultimately haunted and tense, as are we by the play's end.
Amy Warner's performance as Winnie is difficult to put into words. A monumental undertaking, she is riveting, delivering a staggeringly compelling performance. Raw and vulnerable, she barely moves for the entirety of the performance as she is unable. Fixed in place, she is able to use only Willie, a bag of memories, and her own skills as a story teller to bring us to caring about this woman. Warner delivers in every way. The audience laughs with her, cries with her, and goes a little bit mad with her. Her performance and Happy Days as a whole is truly groundbreaking.
Happy Days continues May 18-22. For tickets, call (513) 621-ARTS (2787)
Putting Off the Inevitable: Falcon Theatre's Next Fall
Review by Alan Jozwiak of Next Fall: Falcon Theatre
Who has not, in some point in their life, put off something that they really should do which eventually comes back to haunt them.  This is the premise of Geoffey Nauffts' play Next Fall, currently running at Falcon Theatre in Newport, KY.
In the play, Luke (Matthew Wilson) has not told his parents Butch (Allen R. Middleton) and Arlene (Tracy M. Schoster) that he is gay and living with Adam (Brian Anderson).  Luke justifies this delay by saying that he is waiting till next fall when his brother is in college so that he still can still talk to him should his parents disown Luke for being gay.
When an auto accident leaves Luke in a coma, Adam has to deal with Luke not coming out of the closet to his parents by being left out of the decision-making process for deciding what happens to Luke. Complicating matters is that Luke and his family are from a conservative Christian background, so discussions of who is going to hell and whether a homosexual act can be considered a sin becomes part of the tapestry of the play.
Director Tara Williams, who played the lead in Falcon's The Beauty Queen of Leenane, does a decent job in getting the most out of her actors. Under her direction, their acting was strong and characterizations were believable and relatable.  My only complaint with the direction was that the pauses between scenes could run too long.  Sometimes a pause is justified to give the audience an emotional break between scenes; a few of those pauses felt like empty space and slowed down the momentum of the play.
Brian Anderson gives a strong performance as the neurotic, anxious, and smarmy Adam who is coming to terms with his world falling apart in the wake of Luke's accident.  Anderson does not go overboard with his neurotic smarminess, but finds the sweet spot where his cutting remarks against Luke can actually inflict emotional damage.  By the end of the play, when we find out the fate of Luke, Anderson delivers a wonderful moving performance connecting with Luke's father Butch.
Matthew Wilson also delivers in the role of Luke.  This is a hard role to play because almost all of his scenes are flashbacks, but Wilson's performance gave a nice sense of Luke's motivations, desires, and hang-ups.  Wilson has been busy as a director, most notably directing Covedale's She Loves Me, so this was a rare treat to see him on stage.
Tracy M. Schoster and Allen R. Middeton play Luke's parents with equal degrees of concern, anxiety, and confusion over discovering Luke's sexual orientation. These roles could easily be caricatures, but Schoster and Middeton strike a nice balance between stereotypical Southern behavior and honest emotion. Middleton as Butch turns in a truly moving performance at the end of the play.
Next Fall is a hard-hitting play with plenty of moments of levity to ease the tension of discussing the serious problem of homosexual partner rights. It is not a play for everyone, but for everyone who is willing to see theater that follows an authentic emotional journal, this production is a must see.
Next Fall runs at the Monmouth Street Theatre, 636 Monmouth Street in Newport, KY, from May 6-21, 2016, with performances running on Friday and Saturday nights for the opening weekend, and Thursday through Saturday nights during the remaining run of the show. For ticketing information, visit Falcon Theatre's website at www.falcontheatre.net.
Covedale Brings Scottish Magic to the Stage in Brigadoon: Indulge in a Kilt-y Pleasure.
Review by Laura Petracco of Brigadoon: Covedale Center for the Performing Arts
The Scottish highlands come to life at the Covedale Center for the Performing Arts with their last production of the year, Brigadoon. With book and lyrics written by Alan Jay Lerner and music by Frederick Loewe, Brigadoon is a Scottish tale about two American tourists, Tommy Albright and Jeff Douglas, who discover a mysterious village that appears for only one day every hundred years. After love rears its enticing head the tourists must chose if they want to stay in the village or go back to real life in America. Brigadoon is a very traditional, classic show with music that reminded me a bit of Music Man…..but in Scotland. There was an even mix of songs that had a operatic feel to them and more typical musical theater show tunes.
In some cases the set of a show is the first thing you see when you walk into the theater. That was the case with this production. The detail and authenticity of their set (by scenic designer Brett Bowling) was both inviting and intriguing. The set worked marvelously with the events that happened in the show. I really enjoyed director Tim Perrino's directing choice to use all of the levels of the set during entrances and exits. There was a scrim incorporated into the set that worked really well during flashbacks and effectively hid Brigadoon while Tommy and Jeff were exploring the highlands of Scotland. As I watch shows I always am aware of the change in lighting and how it affects the way I react to what is happening on the stage. The variety of colors and movements of the lighting, by lighting designer Denny Reed, was brilliant and added so much more emotion and life to the scenes.
Kelsey Steele, who played Charlie Dalrymple, has a voice that is a force to be reckoned with. He commanded the stage when it was his time to shine and he also made his un-mic'd interactions with his cast mates seem so believable and real. Justin Glaser (Tommy Albright) and Sarah Viola (Fiona MacLauren) had perfect chemistry and their voices blended very well together. Their voices were a perfect fit for the traditional orchestrations.
All of the members of the Brigadoon village had very convincing and consistent accents that were easy to understand. As a sucker for a good accent, this made the show even more enjoyable for me.
And the dancing….holy cannoli, the dancing. Christine and Kelcey Steele did a brilliant job choreographing this show. The authentic Scottish dances were so fun to watch! The movements seemed very intricate and technical, but each and every actor made it look like they had been doing it their entire life.
One of the most memorable parts of the show was when real bagpipes were used. I won't spoil it for you, but that part gave me DEEP chills. There was the faint noise of the pipes coming from behind the actors and once their characters finally saw the man playing them they stopped in their tracks and the mood changed immediately. It was intense.
Here is my final thought: The story and writing in this show is very traditional and old fashioned. It's the typical love story that occurs in most musicals, but with subpar one liners and not a whole lot of character development. That being said, I think the cast did an incredible job bringing the story to life and making it exciting.
Brigadoon plays at the Covedale Center for the Performing Arts through May 22nd. Tickets may be obtained on their website , http://www.cincinnatilandmarkproductions.com, or by phone 513-241-6550.
Miami's The Long Christmas Ride Home Is a Gift of Collaborative Spirit
Review by Shawn Maus of The Long Christmas Ride Home: Miami Theatre
Miami University's production of Paula Vogel's The Long Christmas Ride Home is quite possibly the most exquisite production of the season. This 90-minute play focuses on a family taking the annual Christmas ride to their grandparent's house. Director Lewis Magruder and set designer JP Horton have placed the setting of the show in a Japanese Tea Room complete with audience members sitting on cushions on the floor – an unconventional means to draw the audience in and immerse them in the performance. It's very effective.
Ms. Vogel has said that with "Ride" she was trying to create a latter-day answer to Thornton Wilder's Our Town, with its archetypal small-town lives drawn into the "ukiyo-e", Japanese for Floating World. Like Wilder, Ms. Vogel is captivated by the formal, symbol-dominated narratives of traditional Japanese drama, and she has chosen the techniques of Bunraku puppetry and Noh theater, among others, to find the poetry within the banalities of a typically dysfunctional family.
The parents, who also double as narrators, are realistically represented Abigail Murray and Colin Sapienza. Their clothing, hairstyles (he full of Brillcreme and she with a bouffant style), as well as their attitudes are straight out of the Kennedy-era of Camelot. A hungry, hopeful family travels through the Beltway to reconnect with penny-pinching grandparents. The Christmas presents received are improvised and recycled, the conviviality another form of noisy desperation. There's a Christmas sermon delivered by a temporary minister (Jeffery Miller) for the Unitarian Universalist Church who's obsessed with Japanese culture. He presents a slide show that son Stephen (Brenton Sullivan) is enthralled with and for years afterward as will seek his own "floating world."
About halfway through the play the puppeteer-actors burst from their childhood and, one at a time, bring us up to date on the young adults that 12-year-old Rebecca (Taylor Hayes), who yearns for Catholic boys who "are hot," 9-year-old Stephen, and 7-year-old Claire (Gabriella Sanchez) have become.
The holiday trip takes an explosive turn at the home of the grandparents. The grandparent's idea of an appropriate Christmas gift is something scavenged from other people's garbage; after all they are products of the Great Depression. The father's gifts are no less unsettling — a soccer ball for the non-athletic, sensitive Stephen; a delicate gold bracelet for the little girl he obviously favors over the other children which gets broken by Stephen and causes a painful scene of parental abuse which in turn ignites an equally painful blow-up between the father and grandfather. To say more would spoil the play's magic.
Breath in particular becomes for Magruder and his cast at once the symbol of our mortality and our continuity. "I can't breathe in this family" —a refrain repeated several times by the father. The cast takes deep breaths to help the audience breathe and signify that our scenes in life are but mere breathes in time. Magruder's deft direction and staging carry the material far and emblazon it with poetry.
The puppets are at once beautiful and eerie and are the stars of the show in the early scenes. The puppeteer is almost invisible to the puppet as their movements are fused seamlessly together. The puppeteers use meaningful, simple movements to fill the puppets' seemingly blank faces with childlike emotions. Designer Andrew Lynn's puppets show a technical brilliance that invites the audience to infuse the characters action with their own meaning. From the audience's point of view there is some magic in seeing things being operated, you know they're not the real things but you're suspending your disbelief and going along with it. To become complicit in that magic is really satisfying.
The beauty of this entire production is that great plays are being introduced to audiences that might otherwise go unnoticed. Being able to put on shows like this increases the accessibility for directors, actors and audiences to be exposed to new and seldom seen plays.
Long Christmas Ride Haunts Children Their Whole Lives: How Not to Behave
Review by Kenneth Stern of The Long Christmas Ride Home: Miami Theatre
It is nowhere near Christmas so don't go to Oxford to see The Long Christmas Ride Home at Miami University expecting carols, jingle bells, snowflakes, or a happy story or a happy ending. There will be, surprisingly, a very different ghost—really a spirit—of ongoing generosity appearing on Christmas Day. Come prepared to see some amazing puppets, and puppeteers, and a heartfelt story with sad, not happy children. And reflect on how accurate this story of damning parental behavior on unsuspecting children is.
Your entry into the theatre, designed as a Japanese tea room with benches and floor cushion seating for the audience, signals an uncommon experience. Paula Vogel's 2003 play is in the form of the Bunraku puppet theatre tradition of Japan, but the structure Vogel creates is unusual in its core. Don't let the oddest thing about the production get in the way: that most of the characters speak in the third person most of the time, voicing another character's thoughts. The occasional stop-action choreography of the actors' movement is another oddity.
This unhappy family is led by a philandering father in a gray pinstripe suit (Colin Sapienza channeling a young Gregory Peck). The secret-holding Sapienza ranges from the quiet father to a raging, wrestling, no holds barred fighter in an artfully choreographed scene with his father-in-law (versatile Jeffrey Miller; he is also the minister).
The long suffering wife (Abigail Murphey) holds her anger and knowledge mostly to herself. As young children, the cast subsume themselves behind their puppets, with Claire (Gabriella Sanchez) most visible, and very ably, behind her puppet, in a dance number with her dad. Each child breaks out in the second half as an adult: each has a solo scene of love lost and locked away from. Rebecca (Taylor Hayes), first, is left to freeze on the street by Chester, who learned of her pregnancy by another man by reading her diary.
Poor Claire is left by Naomi for fellow law student Betty. Claire watches (as do we) their (puppet) lovemaking through Betty's second story window. Each sister's life is saved by the spirit of their brother, who walks the Earth Christmas days as an enduring spirit. This is not at all from Charles Dickens.
Stephen (sensitively played by Brenton Sullivan) offers the most back story and some context for the Japanese features of the play. Before the trauma of Christmas at their grandparents, the children are confused, and Stephen, at least, is traumatized at the Christmas Eve service at their Unitarian Universalist church, a service that is neither Christmas-y nor Christian. The visiting minister presentation of his visit to Japan (wonderful six foot tall "slides") includes a courtesan mounted by a Samurai. That slide has a lasting influence on Stephen.
The church service offers a wonderful opportunity for the ensemble members of the cast to dance in beautiful kimonos (designed by Andrew Lynn, puppet and costume designer and a senior theatre major).
Lewis Magruder's direction provides the puzzle made whole: deftly fitting together human characters, puppets, and a supportive ensemble "whooshing" props as small as model cars and as large as full wall painting deftly and quietly on-stage when needed. Magruder's integration of music, as Vogel intended, completes the Japanese-nature of the drama. Music and sound designer Harvey Thurmer's violin playing virtually adds additional characters with his timely sharply pitched and wailing notes answering the grown children's soliloquies as locked out lovers. Thurmer's musical mix includes percussion.
The simple, tea room set design, complete with sliding paper doors, by scenic designer JP Horton (a third year theatre major!) supports the production's "less is more" quality.
The cover art on the program portrays the near car wreck that the cast will act out in the play. The family escapes physical injury that night, but the remainder of the play offers the denouement of the ruin of their parent's marriage. There is that biblical story about the sins of the father. Parents, your children are watching you. Your every word shapes their future. Are you teaching your children well?
The Long Christmas Ride Home continues April 30 at 2:00 p.m and 730 p.m. and on May 1 at 2 p.m. at Studio 88 Theatre, Center for Performing Arts. Tickets are general admission. Phone: 513-529-3200 or click on The Long Christmas Ride Home.
Hit the Books and Go Into the Woods with NKU
Review by Lissa Urriquia Gapultos of Into the Woods: NKU Theatre
Possibly the most well-known and well-liked of Stephen Sondheim's works, Into the Woods, is given a truly literary treatment at Northern Kentucky University's School of the Arts.
Before the show begins, a sort of prologue occurs in a busy library full of characters plucked straight out of the musical's montage for fractured fairy-tale stories, except dressed in normal, modern attire. If you know the show, it's fairly easy to identify who is who.  When the library closes, a book is opened and the journey Into the Woods begins.
The narrator is Charlie Klesa, a 6th grader at Mercy Montessori, who ushers along the story, while facilitating some of the action; lending a helping hand to ladies as they navigate up or down steps and playing percussion for effect were just some of his tasks.  His singing is fine and his giddy energy keeps the stories moving along.
From the performances I've seen at NKU, the musicals demonstrate well the strength of its School for the Arts. The entire cast was more than adequate for the musical challenge of Sondheim–that is, when you could hear them.  At times actors would begin a song with their mics off for a good 5-10 seconds.  I couldn't tell if this was a technical issue or a human one, but hopefully it's resolved soon.  Another problem was the Wolf's mask, which muffled Hunter Hendrickson's voice, making the Wolf much less menacing.
Despite these sound flaws, quite of few of the actors exhibited outstanding performances. The Baker and the Baker's Wife (Brandon Huber and Anne Schneider) were a believable couple burdened with the need to expand their family with a baby. Their dynamic felt organic and true, whether they were in disagreement or waxing poetic about their happiness.  As Cinderella, Taylor Isabel Winkleski was fun to watch, especially when she was fleeing from her prince.  In the second act she was a Cinderella that was grounded and practical, with the realization that wishes are not forever.
Melissa Cathcart's performance as the Witch was full of never-ending sass, maybe too much. A monster of a singer, she attacked every note in a manner fitting for her role.  There was a lot of posturing that got a tad tiring, but her overall stage presence shows the great amount of potential she has as an actress and a singer.
The "Agony" duet sung by the two princes (Trey Paris and Andy Burns) was funny, yet these princes were more flamboyant than dashingly regal.
Having the show's action play out among book shelves and the librarian desk is a brilliant concept—where else would you find stories? Needless to say, books and their many elements are prominent throughout the show.  The cow Milky White was constructed from a mass of white block letters; the letter E faced downward to symbolize the udder. The costume design incorporated words or phrases significant to the character. The most obvious was on the jacket sleeves of Cinderella's Prince which read "Charming" on one side, "Not Sincere" on the other.  This was a fun detail, but those seated further from the stage may miss these elements entirely, or be distracted while focusing so intently on reading the words. In the second act, the words were then gone, indicating this part of the story was not written and they were all on their own to figure out their fate.
NKU's School of the Arts should be commended for this production of Into the Woods — a  real treat complete with magic, heartbreak and self-discovery.
NKU's Season Comes to "The End" with Into the Woods
Review by Grace Eichler of Into the Woods: NKU theatre
Northern Kentucky University's season comes to a close with the Sondheim classic Into the Woods, directed by Jamey Strawn. This fusion of our favorite fairy tale stories deals with countless themes, from making "right versus good" decisions to father and son relationships.  NKU tackled this triumph of a musical deftly and with a new spin, as the story literally comes to life to a young boy in a library.
This show has seen concept after concept for the technical design, and this production was very well executed. Set in a library, the winding staircase along the back wall serves many purposes, from Rapunzel's tower to the literal dramatic "climb" in the Witch's act-two number, Last Midnight. The disintegration of the "woods" occurs as bookshelves and railings collapse and piles of books begin to fall to the floor. It's a very interesting and well-thought out concept by Scenic Designer Tyler Gabbard.
Equally impressive is the work by Costume Designer Jeffery Shearer, showing subtle intricacies in every character. The storybook theme continues as each character has hints of text on their person, be it gold cursive on the underlay of Cinderella's gown, the words "Charming" and "Insincere" on her Prince's jacket, or patchwork-style letters across Jack's pants in Act 1.
As is often the case with Sondheim, this show tends to do better with actors-who-can-sing rather than singers-who-can-act. NKU's production had a fair mix of both, with some beautiful vocals shining for some cast members, and some truly transformative characters for others.
The heartwarmingly dopey Jack, played by Aaron Marshall, is a standout from the start. The best trio of the show is hands-down Cinderella's stepfamily: Brittany Hayes commands the stage as the Stepmother, and Megan Urz & Dakota Dean's physicalities as Florinda and Lucinda are hysterical.
Beautiful vocals came from Taylor Isabel Winkleski's Cinderella and Heather Hale's Rapunzel, who both brought new and compelling edges to the familiar princesses.
Some choices were slightly off the mark, however, as the Princes (Andy Burns & Trey Paris) were entertaining, but lacked a necessary machismo, both vocally and physically.
A troubling choice seemed to be made to pander to the heavily college-aged audience, as there were a good five or six instances of unnecessary sexual moments added to the show, which already is full to the brim with humor and wit. The few instances when Sondheim does intend to deal with sexuality, say with Little Red and the Wolf, were diminished by the extraneous gags added later.
With such a popular show, it's nice to find a benchmark to compare productions, and with Into the Woods, it is the act-two tongue-twister, "Your Fault". Arguably the most difficult song in the show, it is easy to be ahead or behind the music, but the "final four" characters of Baker, Cinderella, Little Red and Jack all managed to find their way back to the beat.
Into the Woods is a very familiar show for most in the theatre community, and therefore a challenging one to attempt. That being said, there are some wonderful highlights in NKU's production, and it is definitely worth seeing, especially if it is your first time. Anyone younger than high school may not be appropriate for this particular production, but it is certainly an enjoyable evening of theatre.
Into the Woods is presented by Northern Kentucky University's School of the Arts and plays April 21-May 1. Ticket information is available by calling 859-572-5464 .
The Dilemma of the Modern Day Makeover: New Edgecliff Theatre's The Shape of Things
Review by Alan Jozwiak of The Shape of Things: New Edgecliff Theatre
If someone could change you into someone more "beautiful," would you allow them to do it?
This premise has been behind everything from G.B. Shaw's Pygmalion to the reality show What Not To Wear.
It is also the premise behind the latest offering from New Edgecliff Theatre, Neil Labute's The Shape of Things.
In this play, college student Adam (Matthew Krieg) becomes romantically involved with the graduate student artist Evelyn (Rebecca Whatley). Evelyn gets Adam to adopt an exercise regimen and a complete wardrobe makeover. What happens after that point will spoil the ending of the play, but the events explore the murky terrain of influencing someone close to you.
Director Elizabeth Harris deft direction moves the play along and emphasizes the relationships between Adam and Evelyn, as well as amongst Adam's college friends Jenny (Leah Strasser) and Phillip (Carter Bratton). There are no false notes in the actions and you can see why the characters behave as they do.
In the role of Adam, Matthew Krieg did an outstanding job. He blends the aw shucks demeanor of Gary Cooper with the vulnerability of Montgomery Clift in a way that is interesting to watch.  In real life, Kreig looks like he could be a supermodel, but he convincingly sells the Clark Kent demeanor of Adam in the first scene beautifully.
By contrast, Rebecca Whatley as Evelyn does a great job emphasizing Evelyn's drive to strip away the pretense of decorum to get at the truth underneath. I would have also liked to have seen a bit more of the manipulative side to that character.  Whatley's performance downplays that element more than needed.
Equally strong are Leah Strasser as Jenny and Carter Bratton as Phillip. Bratton does a great job with the role of being the pompous frat boy who is full of himself; Strasser gives a nice role as the girl who is emotionally torn by Adam's metamorphosis.
When I saw this play on Thursday evening, the audience was far smaller than it should be for such a strong offering of theater. I would be remiss if I did not urge everyone who loves theater to go out and see this show.
New Edgecliff Theatre is the little theater that could. Despite huge odds stacked against them (earlier this season, they were to have a place upstairs of the Urban Artifact craft brewery before that deal fell through), they are continuing to produce vibrant theater that gets audiences thinking and feeling—a rarity in today's world of disposable and forgettable entertainment.
The Shape of Things continues its run on Saturday, April 23, with one more weekend of shows from Thursday-Saturday, April 28-30, 2016. For more information, go to the New Edgecliff Theatre website at http://newedgecliff.com/.
Silent Sky: Making Herstory at the Know
Review by Abby Rowold of Silent Sky: Know Theatre
Astronomy is so much more than just gazing at stars. It requires superior math skills to map out the vast universe. These are distances that we can't measure with a simple yard stick, and it takes persistence and some pretty abstract thinking to come up with ways to make sense of something we can barely even see, let alone touch. But–even if calculating a tip gives you a headache–do not let that scare you away from Lauren Gunderson's Silent Sky, now playing at Know Theatre.
This play does not bog you down in equations and x=y mathematics, but it does provide enough science to make you feel pretty smart for following along. When it comes down to it, the only equation you need to know is that time + passion – a few simple pleasures + overwhelming sexism = the answer to one of the universe's biggest mysteries. Easy, right?
Silent Sky is actually a very simple story of a woman's life, touching on her experiences in work, family, love, and friendship. But, the woman it is about is not so simple; in fact, she is a genius and a determined one at that. Henrietta Swan Leavitt (played with wide-eyed zeal by Maggie Lou Rader) is one of the great women of the past whose contributions to science have been written out of history-with-a-capital-H-I-S.
Henrietta Swan Leavitt began work at the Harvard College Observatory as a "computer" in 1893 and used her dowry money to make the journey from her home in Wisconsin. She worked under Edward Charles Pickering, the director of the Observatory who recruited as many as 80 women like Ms. Leavitt. It is a story about the women computers from their point of view; Pickering doesn't even make an appearance even though his influence is felt through the dialogue. The only male presence in Gunderson's play is Peter Shaw, played with an affable clumsiness by Justin McCombs.
Shaw starts out as a just another narrow-minded male, underestimating women and laughing at the not-so-casual sexism of terms like "Pickering's harem," which is what they call the group of women computers, what they called data entry clerks with math degrees from Radcliffe. These women make the complicated calculations, mapping out the stars of the universe for the male astronomers, who see this work as beneath them. The women are not even allowed a tiny peek inside the enormous telescope and are relegated to a tiny room with uncomfortable wooden chairs, looking at the glass plates that contain pictures of the stars they measure for brightness.
The spirit of the women befuddles Mr. Shaw. He is clearly afraid of Ms. Annie Cannon (a stern but warm Annie Fitzpatrick) and is continually laughed at by the happy-go-lucky Williamina Fleming (a charmingly Scottish Regina Pugh), who actually was Pickering's housekeeper before he put her to work for him. He says it's because he knew she'd be better at it, but the real reason was probably to save money. In fact, Ms. Leavitt wasn't even paid a salary until her dowry ran out and Mr. Pickering began paying her 30 cents per hour.
I do wish, however, that this could have been a woman's story without including the pressures of a home-life, and a work/life balance. Henrietta's sister is a large part of the first half of the story. Margaret Leavitt (a nurturing and patient Miranda McGee), chooses a traditional life with children and marriage. But, what she really wants is to write a symphony. We see the sister's relationship start to waver through several "letter" scenes. It is through these letter scenes where the audience sees 20 or so years pass, even though the characters on stage never change. By the end of the story everyone in Henrietta's life surrounds her in a syrupy-sweet and starry finale where we reflect on the vastness of the universe, our place in it, and how insignificant our lives really are.
New Edgecliff"s Shape of Things Goes Beyond the Surface
Review by Erica Minton of The Shape of Things: New Edgecliff Theatre
Let me start by saying that when you talk about The Shape of Things, you can't talk about all of The Shape of Things. There is an intriguing surprise toward the end that audiences should experience for themselves!
On its face, The Shape of Things is about a relationship. Evelyn and Adam hit it off in the Mercy College of Art and begin seeing one another. As time goes by, Adam feels driven to change himself to gain Evelyn's attention and approval. First it's a new hairstyle. Later, contacts. Adam stops chewing his fingernails, he changes his wardrobe. But how far will Adam go, and how much of himself will he lose in the process? Diving deeper, The Shape of Things asks us about our obsession with what we see on the surface—of art, of ourselves, of each other.
The Shape of Things asks a lot of the actor playing Adam—in this case, Matthew Krieg. We are treated to a real metamorphosis right in front of our eyes, as Evelyn gradually sculpts Adam into someone new. This is no small feat, and Krieg pulls it off. Another challenge: Adam is shy and nerdy, but audiences still need to like him. This, too, Krieg manages, reminding me at times of The Big Bang Theory's sweet but flustered Leonard Hofstadter.
Rebecca Whatley is compellingly cruel as "Evil-lyn"—witness this performance and just try not to let a chill roll down your spine. Rounding out the cast are Leah Strasser as Jenny, Adam's old flame who is currently engaged to obnoxious bro Phillip (Carter Bratton). Jenny and Phillip are cartoonish but funny. (A nod should be given to Brian Berendts, who portrays a statue in the first scene…fig leaf and all.)
New Edgecliff Theatre has made the most of their space in Northside's Hoffner Lodge, foregoing the elevated stage in favor of performing in the space back-lit by the lodge's beautiful stained glass windows. Much of the set is constructed from boxes painted white, which helps Evelyn stand out even more when she sidles in wearing blood red.
The Shape of Things is an unpredictable piece of theater and New Edgecliff's production hits the nail on the head. Audiences interested in a bizarro Pygmalion story rife with cruelty and deception would do well not to miss this one.
CSC's Julius Caesar is a Grand Classic
Review by Liz Eichler of Julius Caesar: Cincinnati Shakespeare Company
William Shakespeare's Julius Caesar is being produced by Cincinnati Shakespeare Company now through May 7, 2016.
Everyone should go.
Actually, everyone should seek out any and every production of Julius Caesar, to be reminded of the power of pride, persuasion, and rhetoric, moving individuals and masses to feel and do the unthinkable.
In case you missed it in high school, Julius Caesar is a play about Brutus (Brent Vimtrup), who falls for the plotting of his friend, Cassius (Josh Katawick), who suggests they kill the pompous Caesar and take over Rome themselves, because they are equal if not superior to the emperor, who is getting too big for his toga. They gather a few trusted allies, kill Caesar, then spin it for the Roman people and Caesar's funeral. Brutus orates beautifully that he did it for Rome, but Caesar's friend Marc Antony (Nicholas Rose) connects better with the citizens, proving how much Caesar loved them by bequeathing money and a park to them in his will. The people rise up and demand retribution for the now beloved Caesar's death. Brutus, Cassius, and crew fight for their lives outside of the city. Caesar's adopted son Octavius (Kyle Brumley) returns. He and Marc Antony, with Lepidus (Paul Riopelle), unite to lead Rome.
Visually, the set and costumes capture the grandness of the tragedy. Costumer Amanda McGee's  white, gold and crimson are very effective, as is the blood. The masks work wonderfully capturing the crowd. Andrew Hungerford's set uses every available inch on the small CSC stage. He and director Sara Clark create a myriad of acting spaces. Clark forms great images, with her treatment of the opening pagan rites and festival, and the eerie soothsayer's (Douglas Fries) vision and admonition "Beware the Ides of March." Caesar's (Hopkins) death scene is a memorable struggle.
Billy Chace as Caska, Rose, and Brumley create interesting people who connect with the audience. Shakespeare wrote to connect with an audience. He wrote some of the grandest orations, but also "at home" scenes to humanize historical figures. The cast achieves the grandiosity, but little intimacy is mined. Nevertheless, it is a powerful production, showing how a crowd can easily be swayed by clever rhetoric, masking reality.
Rose's heroic Antony and Brumley's proud Octavius (and Lepidus)are now poised to battle each other in Shakespeare's sequel of sorts, Antony and Cleopatra, opening May 13.
Contact cincyshakes.org for tickets.
Know's Silent Sky is Full of Stars
Review by Erica Minton of Silent Sky: Know Theatre
I tend to be more begrudging with my standing ovations than many of Cincinnati's arts patrons, but I might have been the first person on my feet when the lights lowered after Know Theatre's beautiful production of Lauren Gunderson's Silent Sky.
My expectations had already been high. Silent Sky boasts an all-star cast, including Maggie Lou Rader as Henrietta Leavitt, a young and driven astronomer hired as a "computer" at the Harvard College Observatory. Rader is a perfect fit for this role. Rader recently portrayed Jo March in Cincinnati Shakespeare Company's Little Women, and to me the role of Henrietta Leavitt feels like a sequel for Jo March—Henrietta is as headstrong but more mature, still witty and sharp but less catty and mean. Silent Sky runs two hours long and Rader barely leaves the stage, yet Rader manages to be charming, curious, fascinating and eager in every moment of the production.
Henrietta's rival-turned-beau-turned-rival-again, Peter Shaw, is played by Justin McCombs, in my opinion one of Cincinnati's finest and most versatile actors. Peter Shaw is caught in the turn of the century, when women's roles are changing quickly (they're even beginning to wear pants, the audacity!). Shaw never seems sure if he should command an iron fist or don kid gloves with "Pickering's Harem," the group of women whose mathematics make the "real" astronomers' work possible. Shaw is likeable against those odds, and that's a tribute to McComb's warmth and delicacy.
The all-star cast continues with Miranda McGee as Henrietta's loving sister Margaret, as well as Annie Fitzpatrick as Annie Cannon and Regina Pugh as Williamina Fleming, the co-heads of the department at Harvard where Henrietta is hired. All three actresses give incredible performances and their characters do more than simply orbit the protagonist—Annie Cannon, for example, is also a sash-toting suffragette who adds context about the challenges women of the early 1900s were facing. Regina Pugh's Williamina is side-splittingly funny but exists as more than simple comic relief—she is a friend, a survivor, and an astronomer in her own right. (The stories of at least Leavitt, Cannon and Fleming are rooted in truth, by the way.)
As phenomenal as I found the cast (and the casting) to be, the real star might be the script itself. Fans of Lauren Gunderson's The Revolutionists, recently produced at Playhouse in the Park, will be pleased to know that Gunderson's wit and sharp dialogue crackle through Silent Sky as well. In particular, I was impressed with how the subject matter was handled—1900s astronomy and the methods of measuring galaxies could be dry or hard to follow, and in Silent Sky they are neither. The script is never too heavy in explanation and yet does not shy introducing us to the technical. It's a fine balance, and effective.
Director Tamara Winters weaves it all together expertly, including a set that is a sweet nod to an observatory. It is refreshing to see such a strong show about women, written by a woman, directed by a woman, and performed so ably by women. Opening night was completely sold out and with any luck the remainder of the run will follow suit.
NET's The Shape of Things: Beauty is in the Eye of the Beholder
Review by Abby Rowold of The Shape of Things: New Edgecliff Theatre
Thursday, April 14th, was opening night for New Edgecliff Theatre's long awaited return to the Cincinnati scene. The Shape of Things by Neil LaBute was presented at the Hoffner Lodge, New Edgecliff's former (and present) temporary digs. I appreciate New Edgecliff's devotion to the Northside neighborhood. Downtown is getting a bit crowded, and I like to see theaters taking a chance on training their audiences to look to the wonderful little business centers that could benefit from a lively theatre scene.
The audience enters the bright and open space to see handmade banners saying Mercy College of Art. White blocks of various sizes are stacked across the stage, and perched atop several blocks dead center stage is a statue of a man, nude except for some strategically placed grape leaves. It takes a few glances to realize that the statue is ever so slightly wavering and subtly blinking before you realize it is a real man painted entirely white like marble. He has a pleasing figure, similar to a Greek statue, that serves to punctuate the difference between the ideal and the average, or even less than average, man.
Adam is the less than average man. The schlumpy museum guard, who is also already on stage before the show starts, has a gut, big, unattractive glasses, an unfashionable haircut, and a less than shapely nose. His favorite piece of clothing is a rumpled corduroy jacket that is two sizes too big, and that he wears everyday, for every occasion. His appearance matches his shy and awkward personality. Matthew Krieg, as Adam, is charmingly nerdy and apprehensive in his first scene with Rebecca Whatley as the sleek and attractive artist, Evelyn.
Adam's and Evelyn's personalities are skillfully set against one another as he attempts to prevent her from committing a very bold act of vandalism to the statue, played with unflagging stillness by Brian Berendts. Adam makes it immediately clear that he is too sheepish and malleable to be very good at his job, and Evelyn confidently walks all over him, eventually vandalizing his frumpy jacket so he can remember her phone number.  Evelyn and Adam start a relationship that neither he nor the audience can believe would ever work out because of their obvious contrasts in looks and disposition, and he quickly falls head over heels.
Adam's malleability starts to play out in several changes to his appearance. He begins to exercise and eat better, gets a haircut, and even dumps his favorite jacket. These changes do not go unnoticed by his old roommate Phillip, played with hilarious, over-the-top cockiness by Carter Bratton. Jenny, Phillip's fiancé, and stolen love interest of Adam, also notices Adam's improvements. Leah Strasser does a fine job of playing Jenny with modest charm, even though the character is a wet blanket placed in the script, not to be interesting in her own right, but as a tool to create a somewhat forced conflict between Adam and Evelyn. It is unclear whether LaBute makes Jenny such a bore in order to play the facile opposite to the titillating Evelyn, or if he actually thinks that she is the ideal of femininity, with her appreciation of romance movies, her demurring to her brash fiancé, and her modest cardigans.
As Adam nips, tucks, and decorates his body according to Evelyn's not so subtle suggestions, he begins to gain confidence, which leads to a major slip. Evelyn, determined to keep control of Adam, gives him an ultimatum which leaves him friendless and completely at her mercy.
I appreciated the notes from the director, Elizabeth A. Harris, where she admits that we may leave with more questions than answers. Neil LaBute is a divisive writer that many have argued is misogynist in his writing. There is a question as to whether his plays are actually examinations of sexism in our culture or simply sexist, largely hollow, and sometimes cruel.
By the end of The Shape of Things, I am unsure who LaBute is really trying to paint as the villain in this play. While Evelyn ends up being sadistically cruel at the end, Adam is also no innocent.  He cheats on and constantly condescends to Evelyn. I wondered, does Evelyn really not pick up on Adam's literary references, or is she building his confidence? The references are not so obscure that someone with a high school education would not pick up on them, but she continually says she doesn't get them. He seems to be talking down to her, tends to belittle her taste, and even goes so far as to "mansplain" art to her, even though she is the one who is getting her MFA in the subject.
The end of the play is a surprise, and not your typical break-up scenario, but after the initial bombshell, the end begins to drag a little bit, actually ending up 45 minutes longer than the program tells you it is going to be. The staging of the climax made for a completely different feeling from the rest of the play as most of the cast was seated in the audience while Evelyn directly addresses everyone there. Whatley does a nice job with the climactic speech; it was unsettling. Overall the show was handily executed, the acting had bright spots, and the scene changes were deftly handled.
I can't wait for New Edgecliff to announce their 2016-2017 season, which is titled Fragile. They are a great thing for theatre in Cincinnati and in Northside.
The Shape of Things, by Neil LaBute runs: April 14th-30th, 2016, 7:30pm curtain
The Hoffner Lodge, 4120 Hamilton Ave. Cincinnati, OH
Cincy Shakes Julius Caesar Offers Men for Some Seasons
Review by Ken Stern of Julius Caesar: Cincinnati Shakespeare Company
The Julius Caesar production that opened April 8th at Cincinnati Shakespeare is sumptuous and solid, from the set's marble columns and steps of the plaza to the rich red in the togas and cloaks to the bonus opening scene of animal-masked priests performing a pagan ritual.
That opening extra signals a performance that is an ensemble, whose whole is more than a sum of its parts. Credit goes to director Sara Clark and the design management team: costume designer Amanda McGee, scenic and lighting director Andrew Hungerford, sound designer Doug Borntrager and fight choreographer Gina Cerimele-Mechly. Their talents meld the production into a seamless statement of intrigue. Rome's political leaders muse, plot, and then act, most often as a group. Their looks and actions are mobbish: from the sameness of the patterns of their senatorial robes, to their choreographed, ritualized stabbing of Caesar on the senate floor.
Likewise the crowd, who gather to hear Brutus and then Antony. The peasants are "everymen," their faces oversized, stony, large eyed and open-mouth masks, with cloak-dresses of grey. Soon Antony's' rhetoric turns the crowd into a shouting mob. Was Caesar ambitious? Are Brutus and Cassius honorable? Maybe most leaders (Brutus alone being truly honorable) plot for their own selfish gain. All these men transform the crowd into the (already faceless) mass, stirred up to riot and make war.
Watch how characters cluster and move together in unison, whether it is the opening scene ritual or the Senators gathering around Caesar to make a group ritual of their execution of him.
In this political season, this reviewer reflected that Shakespeare wrote Julius Caesar to make a statement on the happenings of his time. Has Clark directed this production as a statement of our time? Shakespeare provides the word and the structure, having Cassius proclaim to Casca near the end of Act I: "And why should Caesar be a tyrant then? Poor man! I know he would not be a wolf, but that he sees the Romans are but sheep."
Is this big, blondish Caesar on stage in Cincinnati representative of a certain blustering presidential candidate? Are citizens everywhere, at all times sheep? Do we need a strong man, a man as constant as the north star to lead our nation to greatness? In the penultimate moment before the cabal of Roman Senators strike, Caesar tells the Senate:
But there's but one in all [stars] doth hold his place…men are flesh and blood…Yet in the number I do know but one that unassailable holds on his rank, unshak'd of motion: and that I am he (Act III, Scene I).
Alas, the bulking Caesar is wrong, and though he struggles mightily in another well choreographed scene, he succumbs to the daggers and swords of Casca and Cassius's cabal, with Brutus coming in from the side to strike the last blow, prompting Caesar's final gasp: "Et tu, Brute? Then fall Caesar!"
The first three acts are performed in the full, bright light of day. The senators' lush, white togas are patterned with the same bright red of their robes. When Brutus and Cassius and their minions take the field as soldiers in Act IV, however, they wear drab brown uniforms. That is a signal, a sign that things will not end well.
Likewise, Cassius's meeting Brutus in his battlefield tent is in the evening, the space dimly lit by candle light. Here the men bicker, Cassius accused of corruption and shaking down the population for gold. Ah, the fine ideals that fueled the plot to take out Caesar, were they all noble aspirations? The costumes and lighting are worth several thousand words.
There are strong performances throughout, anchored by Nick Rose (Marc Antony), Brent Vimtrup (Brutus), Jim Hopkins (Julius Caesar), and Josh Katawick (Cassius).
Julius Caesar runs through May 7th at the Race Street Theatre. Call 513-381-2273 for tickets and performance times or click on www.cincyshakes.com.
Incline's Edgy Glengarry Glen Ross an Examination of Moral Integrity
Review by Lissa Urriquia Gapultos of Glengarry Glen Ross: Incline Theatre
Warsaw Federal Incline Theatre's first District Series features four works, all vastly different. Being this is Cincinnati Landmark Productions location for edgy it's no surprise that a David Mamet play closes this series. Glengarry Glen Ross is the furthest thing from a feel-good time in the theatre.
This play is a true specimen of Mamet's raw style: stream of consciousness, delivered in quick, clipped sentences held together by copious and emphatic profanity, with characters talking over each other. While this type of dialogue can be challenging for actors, it can be challenging for audience, especially those not accustomed to the steady stream of foul language.
Glengarry Glen Ross is a journey through the conniving minds of a group of real estate agents, a highly charged boys club where each is trying to make the big money by using every trick in every book to manipulate unsuspecting folks into buying worthless property.
The three scenes of the first act all take place in a Chinese restaurant. Over each scene loomed a cloud of desperation. First we see Shelly heavily persuading Williamson for better leads which, in his mind, ensures job security and a top spot on sales board in the office. In the second scene Moss concocts a ballsy plan hatched out of frustration in not reaching his idea of success. For the third scene, Roma works hard at bromancing a prospect in hopes of a closing sale.
The action of the second act opens in the agents' real estate office, where the entire place has been ransacked and everyone is being questioned by the police. The desperation from the first act carries over and heightens as agents realize whatever control they had has disappeared. And so begins an implosion, both as a group and for each individual.
The entire cast was up to the Mamet challenge. Their delivery was spot-on for their characters, with stark differences between the scheming personalities and the honest guys.  Further, the smarmy agents had their own brand of sleaze—Joel Lind, Mike Dennis, and Nik Pajic each took charge of their respective first act scenes.  Despite this, Act I felt slow-moving, as the repetitive nature of the dialogue made it a bit tedious in trying to piece together what was really going on. Act 2 takes on an entirely new energy, which showcases the dynamics of the entire cast.  The anger builds as accusations fly, ethics are examined, lies are told.  Through both acts, office manager Williamson (played effectively by Mike Hall), remains calm and collected.  Even under investigation, he exerts a quiet control over the situation- or does he?
The two less intense characters provided a contrasting naiveté. As client James Lingk, Scott Unes provided a true human presence to the show's lack of conscience and dignity. And David Levy's portrayal of George is every one of us who knows the situation is all wrong but can't leave for fear of missing out.
While not a feel-good play, Glengarry Glen Ross forces the audience to think about compassion, integrity and contentedness, while striving to live according to a solid moral compass.
CSC's  Julius Caesar No Less Politically Relevant 2000 Years Later
Review by Greg Bossler of Julius Caesar: Cincinnati Shakespeare Company
Cincinnati Shakespeare Company has begun its two-part season finale with Julius Caesar, which will be followed by Antony and Cleopatra next month. It's one of the Bard's most accessible (and quotable) plays—a staple of many middle school English classes. It's also an intriguing reminder during this presidential election year of how the public's whims can be fickle and easily swayed.
The tragedy opens with the Romans celebrating Caesar's victory in a civil war with his former co-ruler (and former public favorite) Pompey. This makes Cassius worried about Caesar's ambitions, and he persuades fellow senator Brutus to help plot an assassination. The vain Caesar ignores a soothsayer's warning to "beware the ides of March" and is killed.
Assured of the justice of his actions, Brutus convinces the Romans "not that I loved Caesar less, but that I loved Rome more," and the people are ready to crown him, that is, until general Mark Antony addresses his "friends, Romans, countrymen" and turns the crowd to revenge. This unleashes the "dogs of war" of another civil conflict, in which Antony and Octavius (Caesar's adopted son) are victorious, despite their growing friction, which plays out in Antony and Cleopatra.
Although Caesar is the title character, the main drama concerns Brutus, whose conscience is torn between loyalty and honor. Brent Vimtrup is a cerebral Brutus, with more of a "lean and hungry look" than Josh Katawick, who makes a fiery Cassius. Longtime CSC veteran Nicholas Rose is a compelling Antony, and Kyle Brumley (who has made several memorable supporting performances in his CSC debut season) offers an impetuous Octavius.
Director Sara Clark avoids the all-too common trap of the static, stentorian "Roman" oratory in many productions and brings vigor to her staging, aided by some convincing sword fight choreography from Gina Carimele-Mechly. Also impressive are Andrew Hungerford's scenic design, which adapts to convey the grandeur of Rome's senate and the austerity of an army encampment, and Doug Borntrager's sound design, which sets the emotional tone of the play and discreetly underscores its dramatic high points.
I'm eager to see how Rose, Brumley, and the rest of the company continue the story of this Roman Game of Thrones in CSC's season finale.
Carnegie's Last Five Years a Timeless Tale
Review by Sheldon Polonsky of The Last Five Years: Carnegie Theatre
For its last production of the season, the Carnegie goes out of its comfort zone with a more contemporary musical, Jason Robert Brown's challenging story of love and loss, The Last Five Years. The Last Five Years poignantly follows the romance, marriage and ultimate divorce of twenty-somethings Cathy and Jamie, alternately from the male and female perspectives, but with an inspired twist: Jamie's tale is told chronologically, but Cathy's in reverse, so we see Cathy dealing with the pangs of the breakup while Jamie is enthralled by a new relationship, and vice versa.
Presenting this musical effectively is by no means an easy feat, and as a long-time fan of the show I'm happy to report Carnegie was more than up to the challenge.  Not the least of the difficulties is finding two leads who can carry the entire sung-through show on their shoulders, both vocally and emotionally; Leslie Kelly, as Cathy, and Wes Carman, as Jamie, far exceed expectations. Both of them have wide tonal range and seeming effortless portrayals with no false note (literarally or figuratively) to be heard. Another star of the show is music director Erin McCamley whose contribution to handling the difficult score cannot be underestimated.
A second challenge is developing the chemistry between these two protagonists when they are almost never singing together. Director Lindsey August Mercer's unique approach was to have Cathy and Jamie playing instruments during the other's scenes–Kelly on piano and Carman on cello–which added an additional layer of depth to their performances. When I first heard about this approach I was worried that it would be too much of a gimmick and too distracting, but Mercer uses this tactic very judiciously and selectively to great effect. Most of the music is handled instead by a separate four-piece ensemble in an excellent balance with the singers.
Finally, The Last Five Years requires a balanced appraisal of Cathy and Jamie that can also be challenging. As written, it's too easy to be overly sympathetic to Cathy and see Jamie as more of a self-centered jerk. In this production, Kelly capably lets us see Cathy's more possessive and neurotic side so we can understand Jamie's feelings a little bit more.
Tyler Gabbard's set design is a montage of doors and windows representing not only the different time periods in their relationship but the fluidity of time and our movement within it. In theory it is a clever idea, but in practice it comes off as a little cluttered, especially with the piano and the other musicians on stage as well. I would have preferred a cleaner approach if possible, perhaps with doors coming on and off stage, as was effectively done in the climactic wedding scene when the double doors of Cathy and Jamie's wedding hall come together and then separate with the lovers. Lauren Brunsen's lighting design is complex but spot on with many lovely effects. Finally, I really appreciated Darlene Rawlins' costume design, which was understated but seamlessly helped define not only the couple's change in age but also their emotional status.
I can't give enough praise to Mercer's direction, which brought all these elements together in a fresh and cohesive vision. Whether you are a long-time enthusiast of musicals and The Last Five Years, as I am, or relatively new to this production and musicals in general, like my fifteen year old son and his girlfriend who accompanied me, you will gain new perspectives in viewing it and find something to connect with in Cathy and Jamie's story. Be prepared to shed a few tears along the way.
The Last Five Years continues at The Carnegie through April 24th. Tickets can be obtained through The Carnegie's website, www.thecarnegie.com, or calling their box office at 859-957-1940 .
Miami University's Street Scene is an Epic Tonal Poem of Love and Tragedy
Review by Shawn Maus of Street Scene: Miami University
Dated scripts have a certain appeal in revealing how contemporary society has changed or remained stagnant, and that is the case with Miami University's production of the "American Opera" Street Scene by Kurt Wiell. The show is a reflection, in a way, of the ethnically mixed population of the building where the action takes place, and of the characters' dissatisfaction. Though written in 1946, the characters and lyrics could have been ripped from today's local news stories.
It's a hot June evening and the temperature is climbing to a boiling point, and so tempers and emotions are also high. As it begins, the neighbors complain about the heat, but quickly turn to gossip about Mrs. Maurrant who is believed to be having an affair with the milkman. But Anna Maurrant, when we meet her, turns out to be not a shameless adulteress, but rather a desperately lonely, loving mother whose husband, Frank, is a bullying oaf dissatisfied with his job as a Broadway stagehand. One family is being evicted and a lady upstairs is in labor adding to the tension of the building's residents.
Rose, the daughter of Anna and Frank, is anxious: Hounded first by her married boss, then by one of the rougher neighbors, she dreams of escaping the street scene with Sam Kaplan, her ardent admirer neighbor from downstairs – but he's Jewish and she's not. But she also suspects that happiness is beyond her grasp, and when her father murders her mother and the milkman, she resolves to leave the neighborhood, including Sam.
It is hard, nay impossible, to single out any of this excellently chosen cast. They all had superb voices and their acting impeccable. It's also double cast for the run so this review is based on the first cast on opening night. I absolutely adored the "Ice Cream Song" and the mournful "Lonely House". But the real showstopper came in the unexpected form of the introduction of two new characters that came jitterbugging and jiving onto the stage with the excellently choreographed crowd-pleaser, "Moon-faced, Starry-eyed".
The single set, a run-down-building facade, suits the work well, as do the period costumes. Even all the costumes and props were totally and convincingly period, and this was a large (double) cast to costume.
Musical influences and moments of parody flit by as the work unfolds. There are moments of European opera pastiche, brief patches of Wagnerian orchestral writing, overt Gershwin references, and even hints of jazz, blues and big band. The orchestra was a bit overpowering of the singing at times making the story a bit hard to follow.
Street Scene has all the elements of Grand Opera: rousing choruses, beautiful arias, and, of course, tragedy and tragic consequences.  But this is not Grand Opera. Somehow directors Tiffany Lusht and Benjamin Smolder have managed to very cleverly blur the boundaries between opera and musical theatre in a rather brilliant way. Weill's music infuses the jazz and modern pulses of the day with a classical score that often finds disharmony before it resolves into beautiful accord perfectly capturing the moods, emotions and essence of a street scene in the heat of June.
This rarely produced Kurt Weill musical work is at Miami University College of Creative Arts Gates-Abegglen Theatre from April 7-9.
Revisit the 1980s in Lewis Black's One Slight Hitch
Review by Liz Eichler of One Slight Hitch: Human Race Theatre
One of the best parts about the new comedy One Slight Hitch, produced by the Human Race Theatre in Dayton, will be reminiscing about where you were and what were you doing if you were alive in 1981.The sound team does a great job mixing Styx, Duran Duran, Rick Springfield, Dolly Parton and more—you'll be singing along.
Yes, some of us can also identify the era by what was in our house and what we were wearing. Set designer Ray Zupp does an amazing job and hits the details– Boston ferns! Lane Recliners! Curtain Prints! Light fixtures! Carpeting! Again, the set is amazingly designed and built—not a loose wall in this door slamming comedy. Costumer Janet G. Powell also delivers, from grey tux to side ponytail.
This traditional comedy, previewed Thursday, is the story of Courtney (Dana Berger) and her family on the day of her marriage to the perfect man Harper (Kyle Nunn), but out of the blue her ex, Ryan (Alex Curtis), shows up, and he is the complete opposite of Harper. Complications ensue.
It is broadly directed by Margarett Perry, and she captures some of the frenetic energy of the morning of a wedding of a decidedly different family. It is an old-fashioned comedy designed to make you laugh, not contemplate world problems. Reminiscent of Neil Simon, there are laughs, and some topical themes, but also some flaws. Pacing and timing will certainly tighten as the actors adapt to an audience. The second act is tighter, and holds more comedic surprises than the first. But the exuberant cast and beautiful scenery cannot hide some of the unevenness of the script by comedian Lewis Black. Set in a comfortable home in Hyde Park, Cincinnati, Ohio, I became uncomfortable a few times, suspending my belief. The wedding cake scenes, the silent in-laws, fishing in the Monongahela (where is it set?), and the 14 year old friend's abortion are discordant notes. The bar is so prominently featured, that it should have a bio in the program.
Framing the play, Black has created a refreshingly empowered girl in narrator and youngest sister, P.B. (the energetic Cecily Dowd). The bride (quirky Dana Berger), balances angst and comedy well. Parents Doc (Brian Dykstra) and Delia (Rita Rehn) set the manic tone. Middle sister Melanie (Alex Sunderhaus) rounds out the cast as the party girl.
For a light trip back to the 1980's, see One Slight Hitch, now through April 24 at the Human Race's Loft Theatre in Dayton. Tickets can be arranged at http://humanracetheatre.org/
Street Scene is the American Scene as well as America's Opera at Miami University
Review by Ken Stern of Street Scene: Miami University
Yes, Miami University students perform opera. This weekend it is American opera: Kurt Weill's Street Scene (Elmer Rice's Pulitzer winning play; lyrics by Langston Hughes). Get yourself to Oxford for Friday or Saturday's performance. You will see quite a show.
It really is opera, but Hughes lyrics are at once poetic ("I got a marble and a star, / and the star is in my pocket too" sings Henry the janitor[Steven Milloy]), political ("My father's name is Rockefeller. / He shovels diamonds in the cellar. / He's got a hanky made of gold / to blow his nose when he gets a cold," from Rebecca Braun as Charlie), and full of pathos ("Pain! Nothing but pain! / That is all there is to life! / Before we're born until we die . . .  / Nothing but pain! Brutality! Strife! is Sam's lament, played by Christopher Toeller after Mrs. Buchanan has labored through the night before delivering her baby as dawn breaks.)
There are arias and ariettas for the classical opera lover, and an operatic sextet extolling the virtues of the ice cream cone (with the cast screaming for ice cream). There are popular tunes ("Wouldn't you like to be on Broadway" sung by William Meriwether as Easter) and the wonderfully danced swing duet "Moon-faced, Starry-eyed" (Caroline Grace Williams and Animaesh Manglik). Throughout, the choreography is crisp and the ensemble pieces strong. thanks to Jay Goodlett, choreographer and Tiffany Lusht, co-director. The 14 piece orchestra was conducted by Benjamin Smolder (music director and co-director).
Kudos to Isaac Ramsey, scenic designer, and costume designer Melanie Mortimer, and their crew, whose set and costumes are almost characters in themselves.  The former is a turn of the 20th century walk up apartment building (think classic brown-pink brick Reading Road Avondale), with its waist high to ceiling windows, metal garbage cans out front, and laundry hanging between buildings while the latter evocatively portrays 1940s working class characters, with a couple of double breasted suits and more than a few fedoras thrown in (and a couple of police uniforms). And the lighting, which took the cast and audience through a hot August day and into a second day, was subtle and moving, literally, with changing light tones and shadows cast on the building (Russ Blain, lighting designer, take a bow).
Opera often paints a broad brush story, and Street Scene is an ode to America, an American story as real and current as this year's presidential election. Street Scene plays out as an American Scene, a neighborhood of immigrants, striving alone and together and not always getting along (Sam's sister Shirley (Lauren Kammerling) tells Rose "You can't mix oil and water," code for "stay away from him"). Street Scene is a lot about kissing, or wanting to kiss, if not about love, and central to the story is the dysfunctional Maurrant family (not so spoiler alert: Mrs. Maurrant is having an affair because Mr. Maurrant is cold and cruel).
This unhappy family is more than unhappy in its own way: they portray a tragic, hurting set of people. The bigoted Frank Maurrant (Nelson Gaker) sings his hope to "get back to the way things used to be / Let things be like they always was, / that's good enough for me" (and "safe and sound" in his view). He is clueless to adult daughter Rose's (Andrea Davies) plea for him to treat his wife "nice and gentle, the way she is to you."
Amazingly enough, this 1929 script is progressive in a feminist way, with Anna Maurrant (Rebecca Herbst) standing up to her husband ("You've got no right to talk to me like that") and Rose telling him "I've got a right to think about these things for myself" when her father accuses her of "stepping out with married men." There are strong, if gossipy, women throughout the cast. These are our not so distant ancestors. There is not an easy path to getting established in America, but part of that path is walking together with neighbors who don't look or sound or talk like us in hot weather that is both literal and figurative..
And how can you not love an opera that has 46 cast members, including school age children and a four month old Chihauhua-Pug mix pup?
Street Scene closes April 9th. Performances are at 730 p.m. at Miami University's Gates-Abegglen Theatre, Center for Performing Arts. Tickets are $15 adults, $10 students, and are available at the H.O.M.E. box office in 129 Campus Avenue Building.
It's Hard to Abstain from the Charms of CCM's Lysistrata Jones
Review by Teddy Gumbleton of Lysistrata Jones: CCM Musical Theatre
This season, the University of Cincinnati's College-Conservatory of Music's Musical Theatre department has featured a broad range of work, from the lush, classic Carousel to the punk angst of American Idiot. They continue this exploration of different works by tackling a lighter than air pop musical, Lysistrata Jones.
Lysistrata Jones is a modern take on Aristophanes' ancient Greek comedy Lysistrata. The original play follows a woman named Lysistrata who convinces the women of Athens to abstain from sex to get the men to end their war with Sparta. In Lysistrata Jones, the setting has been updated to Athens University, and new transfer student, Lysistrata Jones, persuades her fellow cheerleaders to stop "giving it up" to their boyfriends on the basketball team, until they win a game.
In terms of substance, Lysistrata Jones is about an inch deep. The creators have stripped the piece of all of Aristophanes' satire and pacifist message and replaced it with cheap humor and a maudlin message about being passionate. Lewis Flinn's bland pop score is serviceable in a forgettable way, but much of the show is weighed down by Douglas Carter Beane's book, which is full of obvious theatre jokes and bad sex puns.
However, CCM's production is such a rip-roaring good time, you almost don't notice what a hollow work it is. Director Emma Griffin has crafted a slick, air-tight production that allows the material to ignite. Griffin makes every moment land, and quite frequently spins gold out of straw. And the beating heart of the production is Patti James' choreography, which is positively dazzling. Weaving cheer routines and basketball moves seamlessly with standard Broadway choreography, James gives the score the jolt it needs. Elevating the show far beyond what it is, Griffin and James have created something delightfully infectious.
Of course, the production would be nothing without the tremendous ensemble of CCM students. The cast proves to be remarkably game and they throw themselves into the piece with everything they've got. The cast wrings laughs out of lines that would have been cringe worthy in lesser hands and they flawless execute James' intricate and effervescent choreography. As Lysistrata Jones, Emily Morris is full of pep and spunk, and surprising tenderness, especially in her ballad, "Where Am I Now". One could easily single out every cast member for praise, but that is nearly an impossible feat, considering how tightly they worked together as an ensemble.
The scene design, by Matthew D. Hamel, is a candy coated confection that perfectly establishes the setting of Athens U. The action occurs on an alley-style basketball court, with the audience on either side. Hamel has also punctuated the space with Lichtenstein-like pop art, which highlight the tone of the piece before the first note is played. With Greta Stokes' charming costumes and Andrew P. Diamond's flashy lighting, all of the design elements work in harmony to create this silly world.
Lysistrata Jones runs through April 9, at the Cohen Family Studio Theater.
Here's a Tip: Go See Incline's Glengarry Glen Ross
Review by Laurel Humes of Glengarry Glen Ross: Incline Theatre
Glengarry Glen Ross is populated by men you would run from in real life. They are the salesmen who give that occupation a bad name – the fast-talking, insincere stereotypes who sell time shares, used cars and, in this case, real estate.
So why do you want to spend 90 minutes with them? Because this play won a Pulitzer Prize in 1984 for David Mamet, and because Warsaw Federal Incline Theater has mounted a fine production.
The short first act introduces the five men who work for Premiere Properties in Chicago. We meet them in separate 2-character scenes, set in a Chinese restaurant they obviously frequent.
Shelly Levene (played by Joel Lind) tries to convince office manager Williamson (Mike Hall) to give him some good leads on potential buyers. It's been a long time since Shelly had any sales, and his desperate tactics with his boss range from whining to chest-beating to bribery. When the bribery works, we know this play will have no heroes.
Co-workers Dave Moss (Nik Pajic) and George Aaronow (David A. Levy) are so bitter about the pressure to succeed and the threats if they don't, that they plan a burglary of the real estate office to steal the valuable leads and sell them to a competitor. Well, Moss plans the burglary and appears to trap an unwitting George into the scheme. This is one of the best scenes of the show – Pajic plays his character full of nervous energy barely held back from exploding, but with a check-all-the-angles intelligence that makes you wonder why he's not a success.
Finally, star salesman Ricky Roma (Mike Dennis) meets a fellow diner who will become his next "mark." Scott Unes plays the character James Lingk as a milquetoast, happy for Roma's attention, oblivious to his ploy.
And so the stage is set for the more plot-filled second act, which takes place in the real estate office. Both sets – Chinese restaurant and office – are very fine and detailed, the work of set designer Brett Bowling and properties master Caren Young. It is in the office that you realize this is the 1980's, when the play was first performed – metal file cabinets and desks, old-style water cooler, and no computers in sight.
It is very difficult to care about any of these characters. The actors play them as written – they lie, cheat, emotionally abuse one another, and all with continuous profanity. You do care about their victim, though. Lingk comes to the office to cancel the deal he signed with Roma the night before and get his check back. Roma, with the help of Shelly, spins a story that plays like a long-rehearsed dance between partners. It is a gut-wrenching, brilliant scene, wonderfully performed by Unes, Dennis and Lind.
Since its 1984 New York premiere, Glengarry Glen Ross has had two Broadway revivals, in 2005 and 2012, plus a 1992 film version. As vile as these characters are, the play may not pack the power it did 30 years ago. Thanks to The Wolf of Wall Street and The Big Short, among other movies based on truth, we've now seen worse.
Glengarry Glen Ross, directed by Greg Procaccino, continues at Warsaw Federal Incline Theater through April 24. For tickets, call 513-241-6550www.cincinnatilandmarkproductions.com.
or go to
CCM's Lysistrata Jones a Sweet Piece of Baklava
Review by Greg Bossler of Lysistrata Jones: CCM Musical Theatre
CCM ends its 2015-16 series of musical theatre productions with Lysistrata Jones, a pop confection of "faith, hoops, and chastity" set on a "less than competitive" college campus, adapted very loosely by composer-lyricist Lewis Flinn and book writer Douglas Carter Beane from Aristophanes' comedy Lysistrata.
In the ancient original, the title character gets the Athenian women to withhold sex from their men to end a thirty-year war. In the modern adaptation, Lysistrata is a transfer student at Athens University who gets her cheerleading squad to "give up giving it up" until the basketball team wins its first game in thirty years. The guys (led by Lysistrata's boyfriend Mick) are resolved to eternal defeat, because "when you try to win, it hurts even more if you lose." In the adaptation, the theme has become less about pacifism and more about finding your passion, a message that veers toward an earnest after-school special.
In its earnestness (and its sports setting), the show is reminiscent of High School Musical and Bring It On—not to mention Xanadu, another Greek-themed musical adaptation by Mr. Beane. And Lysistrata herself (Emily Morris) is reminiscent of such earnest leading ladies as Elle Woods in Legally Blonde, a young girl who has a solid substance underneath a blonde exterior. The other characters are likewise stereotypes, but Beane's script does have a certain Shakespearean playfulness to how it reconfigures the couples.
Mick (Zach Erhardt) is the jock who can quote poetry, and Robin (Michelle Coben) is the bookworm who writes slam poetry, while Xander (Alec Cohen) is the nerd with rhythm. There are also the Latino 'Uardo (Jordan Miller) and Cleonice (Casey Wenger-Schulman), pseudo-playa Todd (Karl Amundson) and Myrrhine (Jenny Mollet), upwardly mobile Tyllis (Paul Schwensen) and Lampito (Emily Celeste Fink), and superhero geek Harold (Matthew Salvatore). Overseeing this battle of the sexes is the goddess narrator Hetaira (Tyler Johnson-Campion in drag), a one-woman Greek chorus who is part Foxy Brown and part Beyoncé (or perhaps RuPaul).
This mashup is reflected in Flinn's score, which ranges from hip-hop to Toni Basil, whose 1981 cheerleading chart-topper (and earworm) "Mickey" is given an homage. However, most of the songs are as forgettable as last year's Top 40. The script does deliver some pointed satire of our digitally mesmerized life, but its glut of topical references and double-entendres are so self-aware that they nearly derail the narrative.
Director Emma Griffin and her production team maintain a successful blend of the ancient and the modern. The set (Matthew D. Hamel) is both basketball court and amphitheater, and the choreography (Patti James) mimics that mixed sensibility, using hip-hop poses and Greek choral gestures—most amusingly presented by Amundson and Cohen, respectively—in addition to basketball and cheerleading moves.
As with most confections, this guilty pleasure is filled with occasionally tasty (though ultimately empty) calories.
Clifton Offers Magic and Drama in Two One-Act Plays
Review by Kay Sloan of Clifton Performance Theatre: two one act plays
The Clifton Performance Theater offers two fresh and original one-act plays in a single evening. "Cody
Clark: A Different Way of Thinking" is far more than a magic show. Twenty-two year old Clark blends a kind of inspirational talk with his mastery of the usual magical accouterments of playing cards, ropes cut in half then miraculously made whole again, and coins that appear from seemingly nowhere. Though his ability with magic is impressive, it is his mastery of his autism that makes his performance unforgettable. Clark, to use his words, "owns" his autism during his show, making it as much a part of the magic as the tricks themselves. His obsession with magic as a child suffering from autism gave him not only a career but a way to connect with other people and a way that his audience can develop deeper empathy for those who "think differently." If you have a chance, see this show in whatever venue Mr. Clark offers this unique, powerful, and touching performance.
Kevin Crowley's "Hitchhikers May Be Inmates" premiered at last year's Fringe Festival and Cincinnati audiences are treated again to dynamic performances by Crowley and Michael Bath, two of our city's best actors. The two characters are struggling to recover from addiction, with (Crowley) serving as a woefully inadequate sponsor for (Bath), as both wrestle with the demons of drugs and alcohol. Though it closes on a note that feels a bit unfinished, the play journeys through the struggles of two addicts in a powerful yet occasionally funny balance. This is a fresh and original play by the talented Crowley, and an opportunity to see two terrific actors in the uniquely intimate venue of the Clifton Performance Theater.
NKU's Pygmalian is a Shavian Classic
Northern Kentucky University continues their 2015-2016 season with George Bernard Shaw's play Pygmalion. Named after the Greek myth of a sculptor who falls in love with his masterpiece, Shaw's script serves as the basis for the well-known musical, My Fair Lady. Professor Henry Higgins (Justin Woolums), a noted phonetician, overhears Eliza Doolittle (Audrey MacNeil), a poor flower girl with a frightful Cockney accent, and makes a bet that he can teach her to speak like a lady and pass her off as a duchess in six months time. It works.
In the opening scene, you start to feel like Higgins as you identify vastly different accents throughout the show, and they only get more outlandish (and sometimes shakier) as the show continues. For a show that so heavily relies on differences in subtle differences in phonetics, it was strange to not see a dialect coach listed in the program.
Noteworthy performances came from Taylor Greatbatch and Kate Stuard, two regulars on the NKU stages. Stuard capitalized every ray of humor and attention in a character that is often cast aside, as the proper and high-society Mrs. Eynsford-Hill. Greatbatch brought a slight eccentricity to the warm and upright Colonel Pickering, who "treats a flower girl as if she were a duchess." This greatly contrasts to Higgins, who "treats a duchess as if she were a flower girl," prompting the show's underlying themes of class and independence.
With much of the blame to be placed on Shaw himself, the show is not an easy one to translate to the stage, nor is it brief (opening night clocked in around three hours). Many rapid scene changes would be required to stay true to Shaw's original scenic direction, as the script is better suited for cinematic cut-to scenes. I applaud the choices made (by Scenic Designer Ron Shaw) to condense the scenes into two locations: Scene One's exterior of Coventry Garden in the rain and the remainder of the show in the interior of Higgins' laboratory.
It is also worth noting that Director Sandra Forman, NKU Professor of Performance, makes her directing farewell with this production, as she is set to retire at the end of the spring semester. Forman has spent many years as the director of the Y.E.S. Festival of New Plays. Perhaps this explains the fact that the production has been fully sold out for nearly a month before opening night, although a waiting list is available at the door.
Pygmalion is presented by the Northern Kentucky University School of the Arts and runs March 29 – April 3, 2016. For more information, see theatre.nku.edu.
Falcon Theatre's The Beauty Queen of Leenane is Powerful and Nuanced
Review by Alan Jozwiak of The Beauty Queen of Leenane: Falcon Theatre
An infirm mother. A frustrated daughter. A man seeking a better life in London. A night of romance. An undelivered letter. These elements are part of Martin McDonough's The Beauty Queen of Leenane, which opened Friday at Falcon Theatre.
This dark comedy tells the story of Maureen Folan (played by Tara Williams), who battles her mother Mag (played by Tracy M. Schoster) over everything—lumpy Complin (a powdered milk energy drink), stale biscuits, Mag pouring her bedpan down the kitchen sink, as well as Maureen's infatuation with Pato Dooly (played by Craig Branch). This infatuation eventually get frustrated by Pato's brother Ray Dooley (played by Simon Powell) not delivering Pato's letter to Maureen.
Director Ed Cohen, the director of last year's powerful Falcon production In the Heat of the Night, creates an equally powerful and strong production with Beauty Queen. Cohen knows how to sculpt the performances of his leads to get subtle nuanced performances. Nowhere was that more evident that between the interplay of Tara Williams and Tracy M. Schoster during the opening scene. Their banal banter sets the tone of the play and their conflict with each other.
McDonough's script is designed as a strong acting vehicle and this cast does not disappoint. Tara Williams turns in a strong performance as Maureen, the frustrated and bitter daughter. Williams has to show us this frustration, as well as her romantic feelings for Pato and her darker emotions towards her mother. She deftly takes the audiences along with her on this journey.
Tracy Schoster as mother Mag Foley was also very strong. By the end of the play, I hated her meddlesome and biting nature, but also empathized with her character in one scene where Maureen turns violent against her mother. Tracy Schoster was playing someone decades older than herself, a departure from her other roles that she has played at Falcon, and was completely believable as a seventy year old woman.
Craig Branch, playing Pato Dooley, also did a fine job playing the part of Maureen's love interest. Unlike other productions of The Beauty Queen of Leenane which I've seen, this Pato was more sympathetic and interesting. Branch brings to the role a nice balance between his desire for Maureen and the desperation of being trapped as a construction worker in London.
Rounding out the cast is Simon Powell as Ray Dooley, Pato's brother. I had some problems with Powell's portrayal of Ray because it was uneven. Powell's appearance was largely forgettable until he shows off his acting chops in the last scene of the play, where his performance is equal to other shows that I've seen him in. I would have liked to have seen that same level of acting throughout the play.
Finally, set designer Ted Weil does a great job with the interior of the Foley kitchen that served as the set for the production. It looked authentic enough that it could have been found in a rural Irish cottage. The level of detail was impressive and really added to the actor's performance.
The Beauty Queen of Leenane continues March 24, 25, 26, as well as March 31, April 1 and 2, 2016 at the Monmouth Street Theatre in Newport, KY. For ticket information, visit Falcon's website http://falcontheater.net.
Falcon's Beauty Queen of Leenane Brings Mesmerizing Performances
Review by Laurel Humes of  The Beauty Queen of Leenane: Falcon Theatre
Falcon Theatre has hit its stride this season with a powerful production of The Beauty Queen of Leenane.
The grim drama/black comedy by Martin McDonagh is set in the Irish village of Leenane. Maureen, age 40 and never married, cares for her mother, Mag. Their run-down cottage – plaster holes, peat-burning furnace, ancient appliances – mirrors their lives. They are trapped, Mag in her old-age infirmities and Maureen in the bitterness of never escaping the village.
No mother-daughter tenderness here. They treat each other horribly, verbally and, later, physically. Years ago, it is revealed, Maureen did go to England to work. When she had a nervous breakdown there, her mother rescued her from the "looney bin" where she was confined.
So the two women are attached by mutual need, not love. Into this hateful environment comes Pato, a former villager now working in London. While Pato and Maureen are long-time acquaintances, now there is the possibility of romance. Escape from Leenane may still be possible for Maureen. But Mag is devious and skilled at getting what she wants, a caretaker for the rest of her life.
The cast of Beauty Queen is exceptional, individually and as an ensemble. The show is tightly directed by Ed Cohen. This a finely-written play, yes, but with lesser talents it could become melodramatic and unbelievable. Onstage at Falcon are four real people, not actors playing roles. Testament to that was the audience's engagement on opening night, exclaiming at plot twists and barely holding back out-loud warnings to certain characters.
Tracy M. Schoster plays Mag with an appropriately hard and biting demeanor. Yet Schoster lets us see past that hard shell into Mag's vulnerability, which is her fear of being left on her own. The role of Maureen allows Tara Williams to display a range of emotions, from the joy she seems to take in insulting her mother to her deep depression. Notable is the sexual prancing scene with Pato, after they have spent the night together; it is all a show for mother. Then watch for the final, gripping scene when Willams' Maureen "becomes" her mother.
It is a relief when Craig Branch's Pato enters the play. He is so likeable and open, you wonder why he has not been able to make a life for himself in London. But the playwright uses this character as the voice for some of the play's larger themes – the need to leave rural Ireland to find work, but how the Irish are treated by the English. Simon Powell portrays Pato's younger brother, Ray, with the swagger and arrogance of youth. He is oblivious to anyone but himself, and that self-centeredness leads to major plot twists.
As every theatre season should be, Falcon's has been varied, ranging from a campy musical take-off on Silence of the Lambs to the bizarre Mystery Plays and the better-known Prelude to a Kiss. But it is something of a relief to see a domestic drama that needs just four characters and uses one set on Falcon's small stage.
The kitchen/living area set design by Ted J. Weil is functional, and realistically drab and worn. Weil shares credit for set d̩cor with lead actors Schoster and Williams. Details that bring the set alive are large and small Рthe rabbit-ear TV set, ancient-looking stove, white enamel cook pots and even a photo of Kennedy brothers JFK and Bobby.
Falcon has staged an exceptional production of The Beauty Queen of Leenane. I hope it finds the audience it deserves. The show continues through April 2 at Falcon Theatre, 636 Monmouth St., Newport. Tickets are available at 513-479-6783 or at http://falcontheater.net.
Falcon's Beauty Queen of Leenane is More Than Skin Deep
Review by Doug Iden of The Beauty Queen of Leenane: Falcon Theatre
The Beauty Queen of Leenane (opening at the Falcon Theatre) has a most ironic title because the "beauty queen" is anything but. Irish playwright Martin McDonagh tells the story of a 40ish spinster Maureen Folan (played magnificently by Tara Williams) who lives in squalid, desolate conditions while caring for her invalid mother Mag (Tracy Schoster). The mother-daughter relationship is caustic, bitter and sarcastic which plants the seeds for the impending tragedy. Maureen hopes for a romantic relationship with a man so she can escape the squalor of life in rural Western Ireland but her desires are sabotaged by her mother who fears that Maureen will desert her. On the eve of St. Patrick's Day, we are often presented with two polar opposite views of Ireland. One the one hand, Irish literature describes the poverty, drunkenness and despair of rural citizens and then extolls the virtues of verdant, Leprechaunish fantasies. However, Beauty Queen is much closer to Angela's Ashes than Finian's Rainbow.
In the story, Maureen receives an invitation to a party but Mag intercepts the letter and destroys it. Maureen hears about the party anyway and attends which leads to an apparent one night stand with an old Leenane resident Pato Dooley, portrayed by Craig Branch. Pato discloses that he has always been interested in Maureen but was too shy to act upon it. He refers to her as the "Beauty Queen of Leenane". Another confrontation with her mother leads the two lovers to separate without resolving their relationship. Later, Pato writes a letter in which he asks Maureen to accompany him to Boston where he is planning to relocate. Again, however, Mag intercepts the letter and destroys it which catapults us to the final tragic ending of the play.
Despite the description above, the play is described as a dark comedy and, indeed, there are some funny moments, especially during the squabbling repartee between Maureen and Mag. They are both clever women and know how to throw verbal barbs which are exceedingly hurtful to the other. There is an element of screwball comedy in the dialogue. The only difficulty with watching an ethnic play is that, as an outsider, we do not often get the jokes or the allusions. One ongoing metaphor is about the type of biscuits (cookies) being served which I think I understood but I suspect there is a more hidden agenda there than I followed.
The play is very well acted by everybody, led by Tara Williams as Maureen. Williams shows the entire panoply of emotions including despair, anger, revenge, humor, giddiness of first love and, ultimately, near insanity. Maureen is both strong and passive, active and indecisive. The audience must feel an empathy and understanding for Maureen or the play will not work. Williams provides that in spades. Tracy Schoster provides the fitting foil for Maureen's personality as Mag and delivers her lines with fiendish relish but, too often, displays the same sour disposition. Craig Branch portrays Pato, Maureen's would-be romantic interest, in a charming manner, but proves incapable of fighting for his love. Simon Powell plays Pato's brother, Ray, who is the inadvertent cause of the tragedy. All of the actors do Irish accents which, to alien ears, seem adequate although there were times when they interfered with the dialogue. Powell, in particular, spoke quickly and I missed some of his speech.
Ed Cohen's direction shines in a play that is hard to show on a small stage. With only one set, he had to show activities happening elsewhere, especially Pato's exposition of the letter he sends to Maureen. Cohen got the best from his actors in very difficult roles.
I was very impressed with the set design by Ted Weil, Artistic Director of the Falcon. The single set kitchen shows the dilapidated decay and poverty with peeling plaster walls, limited furniture, food boxes stored on top of an old refrigerator, a pot-bellied stove (which is significant in the plot) and, my favorite, aluminum foil on the antennae of an old television set used to enhance the reception. Also, a picture of President Kennedy and Bobby Kennedy subtlety indicated the timing of the play. Tara Williams designed the costumes which also portrayed the shabby conditions in which they lived.
I liked this haunting play a lot and hope that you will take the opportunity to see The Beauty Queen of Leenane at the Falcon Theater through April 2.
Covedale Revives a Golden Age Classic in She Loves Me
Review by Doug Iden of She Loves Me: Covedale
Part operetta, part musical, She Loves Me, opening at the Covedale Theater, harkens back to a simpler, turn of the century era of nostalgia and sentimentality. Based on the classic Ernst Lubitsch movie The Shop Around the Corner, She Loves Me tells the story of two people who fall in love through Lonely Hearts letters but, unbeknownst to each other, despise one another at work. All of the characters work at a women's cosmetics store as clerks or delivery people. The store is run by a slightly autocratic man who mistakenly thinks that his chief clerk is having an affair with his wife. Each of the characters has a story to tell punctuated with a signature song.
This storyline was also used in the movies: In the Good Old Summertime (with Judy Garland and Van Johnson) and, more recently, You've Got Mail starring Tom Hanks and Meg Ryan.
The Covedale produc
tion is faithful to the original Broadway version which, with today's audiences, may seem a little old fashioned, even trite, but is very representative of many shows written during the Golden Age. There is a lot of music in this show written by Sheldon Harnick and Jerry Bock, best known for writing the music for Fiddler on the Roof. Befitting its location in Budapest, the music has an operetta, "Vienneseish" sound with a combination of traditional waltzes and classic musical comedy routines which are sung well by the actors. None of the songs became hits so you probably will not recognize them (unless you are a veteran musical playgoer). The opening  night audience seemed somewhat tepid about the music with polite but unenthusiastic applause.
Heading the ensemble company is Rodger Pille as George Nowack (playing the Jimmy Stewart role in the Lubitsch movie). Pille plays in a charming, somewhat buffoonish manner which allows the transition from despising his fellow clerk (Amalia Balash) to falling in love with her when he realizes that she is his Lonely Hearts correspondent. Erin Nicole Donahue does a credible job of portraying Ms. Balash and is a very pleasant singer. Justin Glaser plays the oily clerk who is actually having the affair with the owner's wife. Glaser plays the cad well with a good baritone singing voice. Michelle Wells, as a seductive clerk, belts out several good comedic numbers. The scene stealer, though, is Will Reed who plays a hilarious restaurant waiter in a pivotal scene in the story. He uses a phony Hungarian accent to good comic effect. Fortunately, the other actors do not try to use accents.
The set design, designed by Brett Bowling, was very clever with three moveable structures which look like envelopes from the front (to follow the pen pal theme). As the structures are turned, we then see the inside of the store, etc. The spotlights were "spot on" this time. (Thank you.)
The small live band, led by Ryan Heinrich, played will without drowning out the singers.
So give this show a chance, put on your waltz shoes and enjoy an evening in Budapest running at the Covedale through April 3.
There's a Lot to Love about Covedale's She Loves Me
Review by Laurel Humes of She Loves Me: Covedale Theatre
Coincidentally – I think! – a revival of She Loves Me opens this month on Broadway, right in the middle of its Cincinnati run at The Covedale Center for the Performing Arts. Save the airfare and see a competent production of the show here at home.
She Loves Me made its Broadway debut in 1963, with lyrics by Sheldon Harnick, music by Jerry Bock, and book by Joe Masteroff. The source material, a play by Hungarian playwright Miklos Laszlo, also was used in the movies The Shop Around the Corner in 1940 and even You've Got Mail in 1998.
The story, set in 1930s Budapest, is of two romantic pen pals, Georg and Amalia. They believe they've never met when in fact they are feuding co-workers at a perfume shop. Other secrets and misunderstandings involving shop employees have their own comic plotlines.
The talented Covedale cast, directed by Matthew Wilson, works hard to rise above what I think is a pleasant but thin and trite show that depends on character types (comedic ditzy blonde, handsome villain). There are, however, a few clever songs and stagings, and the cast makes the most of them.
Covedale veteran Rodger Pille is excellent as Georg, manager of the perfume shop who is in love by letter with Amalia without knowing she is the same person who irritates him every day at work. Pille is a strong and confident vocalist, whether the material is lyric or comic. A high point is the funny, frantic number "Tonight at Eight."
Erin Nicole Donahue (Amalia) has a gorgeous voice, probably the best in the cast. She, too, has the chance to shine with romantic and comedic songs. My favorite is the on-the-spot sales pitch "No More Candy" that gets her the perfume shop job.
There are other notable performances.
Gregory Bossler plays a character whose primary function is to support other characters, and he is terrific in his many scenes. There is a comic turn by Will Reed, aided by a loose-limbed Jack Manion, as they insist their café has "A Romantic Atmosphere," despite broken glassware and customer outbursts. Evan Benjamin is very appealing as the shop's young, enthusiastic delivery boy who aspires to rise to clerk.
Nearly the entire 13-member cast performs a well-staged and sung "Twelve Days to Christmas" number about leisurely then frenetic holiday shopping.
Brett Bowling's clever set design uses three large, revolving pieces – turned one way for exterior scenes, the other for interior. The interior of the perfume shop is exquisitely decorated by Caren Young, credited for both costumes and props.
There are some clues in the set decoration as to the setting and time period of She Loves Me, but not enough for me – I thought we were in Paris, not Budapest. There is no clue in the program; personal aside here that I like Director's Notes to help understand a show before I see it.
She Loves Me runs through April 3 at The Covedale. For tickets, call 513-241-6550 or visit CincinnatiLandmarkProductions.com.
Delight in the Shadows: An Encapsulation of CCM's Transmigration 2016
Review of by Alan Jozwiak of Transmigration 2016: UC Drama
A yearly ritual within CCM Drama is Transmigration, a three day festival of student written and acted work. The students from CCM Drama were broken up into six teams to create 20-30 minute shows that range from the silly to the abstract. With only four slots per evening, patrons have to return for a second evening to see all six shows. I managed to see all five of the six shows.
One of the surprising things about this year's shows was the prevalence of darkness and shadow within these pieces. A Brief Eternity, Colony Collapse Disorder, The Elephant in the Room, Elliot Popkin, and The Home were performed in either darkness or shadow for part or all of the performances. This one element makes this year's Transmigration stand apart from other years' offerings.
In reviewing these shows, it is hard to judge them the same way as I would for a mainstage college production. So I used two elements for judging them–theatrical intention and unity of effect. By this, I mean how well does the production carry out its intention (what is sets out to do) and how well do the elements of the show hold together. A fault of Transmigration shows in the past is that they can be ragtag, throwing together scenes and ideas that don't gel together as a whole show.
Here is my take on this year's Transmigration shows (in alphabetical order):
A Brief History: This time traveling show had some good laughs (kudos to the bit with the signing of the Declaration of Independence) and an impressive scene where the actors speak German. While these strong elements made me want to like the play, the play did not have a strong intention. It did not know what it wanted to be. The major plot element with the Sky Marshall goes counter to the various bits of time traveling hijinks that they present. The end result is a show that is a bit of a muddle.
Elliot Popkin: This charming show recounts an interesting play day with Elliot Popkin with all of the crazy and weird behaviors and discoveries to boot. This show was an interesting exploration of the world of children and there were some nice moments from the actors portraying the different children. The middle part of the piece was a series of vignettes that allowed the different actors to shine. The climax between Elliot Popkin and her nemesis was a bit unexpected and needed to have been foreshadowed more thoroughly. Overall, this was a nice effort from this team of students.
The Home: This show was one of the most interesting and engaging of the shows in this year's Transmigration. The production uses the windows in the performance space in an interesting way (I won't say how so as not to spoil things) and is done almost entirely in the dark with flashlights for illumination. The grandchildren of their recently deceased grandfather are looking for their grandfather's ring that they can sell to finance their futures. There is a great séance scene that is not to be missed. The ending tends to be a bit abrupt, since the debate between the two groups trying to find this diamond ring from their deceased grandfather is not really reconciled. However, this did not diminish my enjoyment of this creative piece.
The Elephant in the Room: This fanciful cross between the Exorcist and Barney recounts the problem of a demonically possessed elephant costume (from the character Whispy) within the children's show Oofa Moobooz. This show is a silly and very fun sendup of horror movies and children's television. Andrew Iannacci does a great job as the head of the television show who has to deal with the consequences of dealing with thesupernatural. With great touches like the Whispynomicon (the demonic book which contains the history of the children's show), this is a show that does not take itself seriously and goes over-the-top in ways that are crazy and fun.
Vices: Like The Elephant in the Room, Vices does not take itself too seriously and basically is a campy remake of the late eighties show Miami Vice. This show had plenty of plot and action (a large number of the cast are either shooting or getting shot sometime throughout the show), but it suffers because it needs a bit of character development within the two main characters. I felt at times that plot was running the show and the characters were not important. However, there were some wonderful minor characters, such as the cross-dressing student in the green dress and the two underage students who accidentally get involved in the play's climax.
A Raisin in the Sun at Miami University is Ripe with Urgency
Review by Shawn Maus of A Raisin in the Sun: Miami University
A Raisin in the Sun opened at the Barrymore Theatre in New York on March 11, 1959, to popular and critical success.  It was the first play written by an African-American to be produced on Broadway. Now, fifty-seven years later to the day, it opens as a free performance at Miami University.
Playwright Lorraine Hansberry addressed issues unfamiliar at the time but soon to be the forefront of discussion: concepts of black beauty, generational conflict, class differences, feminism and black Americans' relationship to their African past. She draws from her own life experiences growing up in Chicago. Dramaturge Jenny Henderson notes, "As a child, Hansberry's black, middle-class family moved to a white neighborhood, a move that resulted in violent attacks against them."
The play is more than just a "good drama about real estate" as noted by critic Nelsom Algren. The Miami production is real, emotional, and raw; a reminder of how far we've come but also that we are coming dangerously close to stepping back on the progress Americans have made since the 1950s. Hansberry declared that "all art is ultimately social" and it's evident in this production.
The production was originally to be staged as a reading but the cast, crew and director have transformed it into a full-blown production in the college's Studio 88 space. The sparse furnishings and the black walls and floor of the space add to the feeling of living in a housing project that Ruth Younger (Jalana Phillips) and mother-in-law Mama (Myka Lipscomb) desperately want to leave. Mama's husband has recently died and the family is waiting for a $10,000 life insurance check.  While  the dreams of husband Walter (Brenton Sullivan) dreams revolve around wealth, the younger women's dreams focus on securing a better future for themselves and their children through homeownership and education.  Mama decides to spend a portion of the money of a down payment for a home in the white neighborhood of Clybourne Park. Her daughter, Beneatha (Jada Harris), is counting on Mama's investment in her education, which will also help her help others.  Beneatha shares her dreams with two beaus: the successful George Murchison (Josh George), who wants her to be more pliant, and Joseph Asagai (the wonderful Anthony Thompson), a Nigerian who encourages her efforts at self-reliance.
Director Paul K. Bryant handles the characters' conflicting interests with the family evenhandedly. His direction never lets interest become unsteady. The characters remain sympathetic even when the depiction of their shortcomings is ruthless. He has assembled a cast that explores the play's meanings and subtexts without being preachy.
Jalana Phillips portrayal of Ruth does not disappoint. She is touching and strong. She finds the good humor (those sideways glances at Mrs. Johnson were sterling), tough love and infinite patience of a character that carries the weight of the household on her shoulders.
Myka Lipscomb's Mama is an ideal mixture of moral authority tempered with love and forgiveness. Throughout, Lipscomb brings strength, intelligence and humanity to Mama without making her a saint. She is wonderfully expressive and anchors this production.
Jada Harris captures the spirited, juicy moments of Beneatha Younger's quest for an identity not limited by the expectations of her family, which is puzzled by her interest in her African roots.  She plays both the humor and feistiness of Beneatha with a gift of anguish and happy moments.
As Asagai, Beneatha's Nigerian friend who gets her in touch with her African roots, Anthony Thompson is a winning actor who leaves an indelible impression.
The production finds its full emotional range. I'm glad it was presented as a production because I was moved from laughter to frustration that I think may have been missed or misunderstood from a reading. This talented, hard-working cast and crew do an excellent job of bringing to life one of the most important plays of the American theater.
This play, written before its time, has an extraordinary relevance to today. Langston Hughes "Harlem" poetry questioning the human nature of a universal truth inspired and informs the play:
What happens to a dream deferred? Does it dry up like a raisin in the sun?
The play still packs a punch.
The play is free but reservations are required. It runs March 9-12 at the Miami University College of Creative Arts Studio 88 Theatre.
Miami University's Raisin in the Sun is the Drama for Our Times
Review by Ken Stern of A Raisin in the Sun: Miami University
Art's essence is presenting truths that touch our heart while reflecting life's realities. Art is universal when those truths reach across generations and show a society's and specific people's striving and souls, and heartbreak and failings. Lorraine Hansberry's A Raisin in the Sun does that. Make the trek to Oxford this week for a performance by students of Miami University's Department of Theatre. In 2016 you have to see this play. Go.
This is an All American story: money, from the first lines to the last scene, is at the center of the play. Our universe is the centrality of, and worry over, money in our lives. Poverty is the pressure of not having enough–poverty is not about not working hard. At play's end Ruth figures the four adults can make the $125 monthly mortgage payments. She is willing to scrub all the floors in America to hold onto the dream the house represents.
The play's reality is current for many strands of Americans: Asians, Africans, Hispanics, eastern Europeans, to whom watching three generations of a family squeezed into three rooms is not an uncommon scene. It is my immigrant ancestors story.
Lights come up on the Younger family's apartment, though the set and stage of the Studio 88 Theatre are probably bigger than the actual 1959 Chicago walk up Younger apartment. Three generations, Mama, her children Beneatha and Walter Lee (and his wife Ruth), and granddaughter Travis, share the cramped space that Mama and her recently deceased husband, Big Walter, have lived in for some 20 years. Life is about to change, for a $10,000 life insurance check is coming in Saturday's mail.
The play's two centers are Walter Lee (Brenton Sullivan), a 35 year old chauffeur and his younger sister Beneatha (Jada Harris), 20, a college student aiming for medical school. Mama, the pillar that holds the family up, is played with quiet, weary, and firm dignity by Myka Lipscomb. Walter and Beneatha both want to escape life's blacks-in-their-place-in-the-ghetto (Beneatha's answer to the question is something wrong is "Yes, we all have acute ghetto-itus). Beneatha has the higher, and more realistic, dream of medical school, while Walter's street corner ambitious of owning a liquor store is as shallow as his efforts to realize it. Mama dreams, too, for "a little old two-story somewhere, with a yard." Mama's children scare her: she watches them live in a world they cannot accept and in which they are struggling to define and find their roles.
A sofa squarely in the center of the stage is the play's fulcrum: It is the largest possession the family has, literally and financially. Audiences can imagine Big Walter sitting there. Sullivan has an incredible scene where lithely, supplely, he plays the sofa as a gymnast's pommel horse, twisting and turning and all but somersaulting. Time and again characters sit on the couch or gather behind it.
Mr. Lindner (played with a bit of discomfort by Mario Formica) sits on the sofa in the final scene. He has returned, at Walter's request, once again to tell "you people" that his neighborhood association will buy their new home back from them. It is brilliant costume design to have the subtlety of making his suit have too long sleeves. Before Lindner says a word the audience sees this man in the ill-fitting suit.
The supporting cast is strong. Jalana Phillips's Ruth is a younger version of Mama: stoic and supportive. Anthony Thompson offers Asagai, a Nigerian college student, with a wonderful British colonial lilt and a quiet, confident dignity. Josh George plays George Murchison (merchant's son, a reviewer noted) stolidly, firmly comfortable in his family's status quo moneyed life. Alisha Boykin is properly unlikeable as the Booker T. Washington quoting Mrs Johnson, with her light auburn hair. Justin Hogue's Bobo shows heartfelt anguish: his face writhes as he shares that Willy Harris scammed him as well as Walter. And Taylor Edward's Travis is young and bouncy and present as needed, as adolescent children are.
Beneatha is a young Lorraine Hansberry: active, assertive, strong-willed, reaching toward a better future she will help create. She has thought her way into that intellectual class that rationally cannot believe in God: it is an idea she cannot accept: there is only man and it is he who makes miracles. Jada Harris's Beneatha is energetic, with a spark, sometimes of warmth and laughter, sometimes cold fury, in her eyes. Like her mother, she is the backbone of the family, but she will actively shape her future, determined to create it in an image very different from the Jim Crow culture of her parents.
Oxford and metro Cincinnati and Dayton residents of all colors and backgrounds will be remiss if they don't travel to Miami to see a great cast and a great performance of an important play by a significant author. The cast deserves greater attention. It deserves your presence.
A Raisin in the Sun plays March 10-12 at 730 p.m. and on the 13th at 2 p.m. Admission is free but tickets are required. Phone: 513-529-3200 .
CCM Energizes Audiences with American Idiot
Review by Gregory Bossler of American Idiot: CCM Musical Theatre
CCM is offering the first local production of the alternative rock opera American Idiot. The full-length one-act is primarily sung-through and includes all the songs from the band's concept album as well as several others with music by Green Day and lyrics by front-man Billie Joe Armstrong, who is credited with co-writing the (almost negligible) book with Michael Mayer.
The show centers around disaffected Johnny (who fancies himself Jesus of Suburbia) and his slacker friends Will and Tunny—much like a modern-day Spring Awakening without the grownups, which is not surprising since Mayer directed that musical on Broadway.
The skeletal storyline follows Johnny and Tunny as they move from Jingletown to the city, while Will stays in the suburbs with his pregnant girlfriend. Soon, Tunny becomes seduced by the military and Johnny becomes seduced by drugs. However, despite PTSD and addiction, both men manage to gather their wits and move back home to reunite with Will.
Character development and dramatic narrative are not the strong point of this musical. It's all about the songs—and they are delivered exceptionally well under the music direction of Steve Goers. Ben Biggers and John Battagliese, who played opposite each other earlier this season as Billy and Jigger in Carousel, do an outstanding job in bringing as much dramatic texture as possible to their vocals as Johnny and drug-dealing alter-ego St. Jimmy.
Chris Collins-Pisano (Will) and Louis Griffin (Tunny) are also exceptional in illuminating their heartbreaking characters. The trio of girlfriends—Clara Cox (Johnny's Whatsername), Shauna Topian (Will's Heather), and Cameron Anika Hill (Tunny's Extraordinary Girl)—all have powerful voices, but as the generic character names suggest, the script presents them as little more than props in the lives of their boyfriends.
Director Aubrey Berg keeps the show energized, and the way he moves the actors onstage (particularly on Thomas C. Umfrid's encompassing scaffolding) and in the audience gave me the invigorating feeling of being at an immersive punk rave. The choreography of Samantha Pollino and other production elements add to the energy of the show, if they remain a bit too reverent of their Broadway originals.
American Idiot runs until March 13 in CCM's Patricia Corbett Theater.
CCM's American Idiot Rocks
Review by Teddy Gumbleton of American Idiot: CCM Musical Theatre
As far as musicals go, American Idiot is far from conventional. Utilizing a score composed of music from the alternative rock band, Green Day, this rock opera deals with many dark and heavy themes, such as war, drug abuse, isolation and disillusionment. It is a bold piece to undertake, and one must tip their hat to the students and faculty of the University of Cincinnati's College Conservatory of Music, who execute this difficult piece with tremendous aplomb.
Director Aubrey Berg has set CCM's production of American Idiot in 2001, against the backdrop of an America still reeling from the September 11 attacks and entering into the lengthy war on terror. American Idiot tells the story of three friends, Johnny, Tunny, and Will, living in suburban America. They are dissatisfied with their safe, sanitized life and filled with anxiety and anger towards the chaos they see in society. In an effort to rebel, Johnny and Tunny flee to the city, where Tunny joins the army and Johnny descends into drugs. Meanwhile, Will stays in suburbia and attempts to form a life with his pregnant girlfriend.
The trio of leads, which feature Ben Biggers as Johnny, Chris Collins-Pisano as Will and Louis Griffin as Tunny, are wonderful. They expertly inhabit their character's naïve angst, while still making them incredibly empathetic. A particular standout is Griffin who beautifully navigates Tunny's trauma sustained from war and his recovery from his physical and mental wounds.
Opposite the naïve, angry, young men were their respective love interests; Heather (Shauna Topian), Will's pregnant girlfriend, Extraordinary Girl (Cameron Anika Hill), a nurse Tunny meets at an army hospital, and Whatsername (Clara Cox), a woman Johnny falls in love with after seeing her on her balcony. The remarkable Topian, Hill, and Cox all sing exquisitely and provide a foil of responsibility to the men's immaturity. Also, the highest praise must be given to the ensemble, who richly colors the society which menaces the main characters.
Aubrey Berg's slick and stylized production deftly elevates the piece and provides an excellent texture to the broad brush strokes made by the creators. Berg's direction provides the angry pulse necessary to make the piece soar. But perhaps the most brilliant part of Berg's direction was his ability to bring out the small quiet moments and not let them get lost, most notably in Tunny's fever dream, "Extraordinary Girl" and in Whatsername's departure song, "Letterbomb".
The creative team, composed of both faculty and students, work in perfect harmony. Samantha Pollino's kinetic choreography matched the ferocity of the music and story beat for beat. Thomas C. Umfrid's marvelous scaffolding set is a beautiful use of the Patricia Corbett Theater's height. Umfrid also framed the stage with piles of televisions that projected images that punctuate the action and themes of the show.
All in all, if you are looking for an exciting, new work of musical theatre, CCM's American Idiot, will not disappoint.
Audiences Join the Fun in Know Theatre's Beertown
Review by Grace Eichler of Beertown: Know Theatre
Don't expect your regular theatrical experience walking into Know Theatre of Cincinnati this time. In fact, just stick to the word "experience." And forget "Cincinnati." That being said, get ready to get involved.
Washington DC based devised theatre ensemble, dog & pony dc, brings their touring production of Beertown to Know, and it feels very similar to being plopped into the middle of a "Parks & Recreation" episode. More specifically, the one with Pawnee's time capsule.
As soon as you walk into the theatre, you fill out your nametag and receive a program for the celebration: Beertown's 20th Quinquennial Time Capsule Celebration. Entering the upstairs venue, town officials and citizens encourage you to take part in the community potluck (feel free to bring something sweet of your own to share!) and mingle. Soon after, the ceremony is called to order and Mayor Megan Soch (Wyckham Avery, the dog & pony dc cast member) leads the meeting, and you are now a citizen of Beertown. Seated amongst you are other members, many of which are familiar faces to Cincinnati stages. Do yourself a favor and sit where you have a clear view of Ombudsman Edwin McFarlan (Mike Hall, playing what may be my favorite role of his). The meat of the meeting involves the unearthing of the time capsule, which is done every five years. Citizens are able to propose a new item to be placed in the time capsule: an item that must display HEAT (Historic Value, Emotional Value, Artistic Value or Too Important Not To Be Included.) The floor is opened to questioning and debate, where you are encouraged to raise your opinions. A similar process occurs to vote out an older item from the time capsule that seems to have served its purpose.
Depending on the audience members and the items selected, the show changes every night. You get to know the people around you, cast member or lay person, and know their opinions. In this age of Facebook Newsfeeds being the main place to  post your opinions, it is refreshing and interesting to see them in real life. That being said, you may heartily disagree with some of the other audience members — but that only makes it more interesting! Get involved and feel free to rebut! Just remember that you have to stand up and state your name first, so anonymity is out the window.
Spicing up the meeting are flashbacks to former Quinquennials, complete with songs and costume changes, which only give more heart to the town's history. Beertown becomes everyone's small town hometown, and you connect to the artifacts in front of you.
I heartily enjoyed opening night, and I'm sure that audiences will continue to do so, as each night brings a new bout of opinions and rationales. Do not expect to get out of the theatre without contributing something to Beertown, and do not expect to leave without being excited for the next Quinquennial– but you'll have to wait for 2021 for that.
Beertown is presented at Know Theatre of Cincinnati from March 2-March 19, and tickets are available at www.knowtheatre.com.
Intoxicating Beertown Blurs Lines Between Theater and Reality
Review by Abby Rowold of Beertown: Know Theatre
Know Theatre has been on a roll this season with its eclectic season producing interesting fare for many different audiences. Their current offering should be the show that resonates most with Cincinnatians because it is a piece that was designed with Cincinnati in mind. dog and pony dc is a Washington, DC-based company that has found a bit of a home at The Know. Their Fringe piece for 2015 was a delightfully fast-paced farce with endearing performances. They have come back to co-produce Beertown with The Know Theatre using local artists to create a piece that is based on dog and pony dc's model, but then becomes more relevant to each community through the input of the local artists. Other productions are planned for Omaha, Nebraska, and Raleigh, North Carolina.
Upon entering The Know, you are greeted by a "Beertonian" who asks you to write your name on a name tag. I don't want to give away any names of the actors involved, because they have taken great care to keep up the illusion that these are real Beertonians, but I will say I saw familiar faces of the Cincinnati improv and theatre scene.
They hand you a program that has no actor information. It is a fake program for the 20th Quinquennial, which is what Beertonians call their celebration where they dig up the time capsule every five years and go through a rather involved ceremony including invocations, the sprinkling of water from a bowl, sashes from old societies, the pledge of allegiance, the singing of the Beertown Hymn, and real potluck with treats. They wait until the end to give you the real program.
The Beertown time capsule contains four "Eternal Artifacts," which remain in the capsule forever, and several "Ephemeral Artifacts," which are voted on every five years–hence the name Quinquennial Celebration. In this imaginary town-hall type set-up, there were many opportunities where much conflict could occur, but it mostly went down without a hitch. The voting on items was civil and the audience easily came up with a majority, on our night, to vote out a bible and vote in a pair of gloves. I was surprised that the audience was brave enough to participate as much as they did and seemed to take it somewhat seriously at times.  Sometimes I wondered if they had more plants in the small audience than they let on just to keep things moving.
The audience participation was an interesting element as the lines became blurred between fantasy and reality. The audience had seemingly real opinions on fake objects. They wanted to be heard and yet had no real connection to the town or the artifacts.  The audience, in a way, became characters as well, as they constructed their own desires to have their voices heard, when you could just as easily sit back and watch things unfold as in a more conventional piece of theatre.
Lines became even more blurred as one character, portraying a reporter for the Beertown paper, conducted interviews that were a strange amalgam of truth and fiction as the audience members he interviewed answered both as someone in the audience and as a citizen of Beertown.
Scenes called "antecedents" were breaks in the reality of the Quinquennial Celebration, which were used to give more history on the founding and the history of Beertown. The antecedents started out strong with a fun song and dance number and a touching look back at the summer of 1963, but strangely, they didn't seem to connect the dots as far as whether Cincinnati is supposed to be Beertown or not. I found myself wondering throughout where the connections to our community were appearing in the narrative, but I'll chalk that up to my being a relative newcomer.
In one section the relevant news stories of the last five years were read from cards as actors mimed the confrontations, conversations, and cherished moments or Beertonians past and present. I was interested in the news events they chose even though they were national rather than local. Things such as Edward Snowden and the choking of Eric Garner by New York City Police made appearances, but, again, we just skimmed past more conflict to get back to the silliness of the ceremony.
I especially liked that the space was configured to reveal the window to the outside, which really made it feel less like a theatre. The set was cluttered and looked very much like a community hall that has been spruced up by the volunteers from the civic club.
The show itself could have used some paring down; there was so much interesting history, imagery, and legend that there failed to be a clear through-line. But the conventions Beertown was breaking made for a fun evening that left you delightfully puzzled. Once again, The Know is staying true to its mission of being "Cincinnati's theatrical playground," and this is an exciting direction for Cincinnati theatre to be moving towards.
Beertown by dog and pony dc, March 2-19, 2016 at the Know Theatre
www.Knowtheatre.com
Incline's Avenue Q is Naughty but Nice
Review by Lissa Urriquia Gapultos of Avenue Q: Incline Theatre
Avenue Q, the crowd-pleasing musical with puppets is currently running at the Federal Warsaw Incline Theatre.  This production is long on naughty sweetness.  The audience is greeted with a curtain speech given by the theatre's executive artistic director Tim Perrino, albeit in puppet form via an onstage video screen.
The show centers around Princeton, a recent college graduate who moves to Avenue Q. As he adjusts into adult life with responsibilities, new friends and occasional bad ideas, he is burdened with the idea of finding his purpose. This satire touches on a slew of serious topics – racism, homosexuality, religion, homelessness, unemployment, poverty and depression – and laughter ensues.
The cast of characters is made up of puppet monsters, puppet people and humans, including Gary Coleman performed by Tatiana Godfrey. The role of Princeton (a puppet) was performed endearingly by Brian Berendts, who also performed as uptight, conservative Rod (also a puppet).
The actor/puppeteers are meant to be seen, and because the puppetry was so seamless it was easy to focus on the puppet despite the actor being in full view. It was fascinating to watch the actor/puppeteers execute movement and choreography—this is a musical after all.  Especially impressive were dance numbers involving two actors handling one puppet, which required carefully synchronized footwork.  Believable and very adorable puppet chemistry between Princeton and Kate Monster develops into an event which brings about a devastating turn for Kate.
The cast was solid with strong performances throughout. The music seemed louder than the actors, with the exception of Alyson Snyder, an extremely apt actor and singer, in the role of Kate Monster.  Her mic levels sounded higher than the rest of the cast, and she unfortunately sounded more shrill when singing her high notes. This was not a problem when Snyder performed as Lucy the Slut in a lower, more sultry register.  Some of actors/puppeteers used character voices, gaving their puppets big personality.  Especially memorable was Daniel Cooley's scrappy voice for Trekkie Monster, Avenue Q's resident pervert.
The set is a realistic representation of a random New York street, with appropriate doors and windows that worked well for the onstage action. The aforementioned video screen was used at various points showing animated commentary providing witty punch.
One can't help but see the show's thinly veiled parallels with Sesame Street, which makes the offensive Avenue Q  all the more humorous. If you don't mind profanity, sexual situations and puppets, then this show is a must-see.  If you are easily offended, well, it just sucks to be you.
Emma is a Delightful Confection at CSC
Review by Liz Eichler of Emma: Cincinnati Shakespeare Company
Jane Austen's Emma, produced by Cincinnati Shakespeare Compan,y is as welcome as rediscovering a tasty box of Valentine's candy when you desperately need a chocolate fix. It is a sweet confection, with some deeply delicious individual pieces.
Emma is a Jane Austen classic, and the inspiration for the 1990's film Clueless. where a wealthy young girl fancies herself the matchmaker of friends and acquaintances because she just wants to see them all happy.  Of course they (and she!) find love despite her meddling.
The favorites in the box of chocolates (the deep rich caramels) are the performances by Miranda McGee as Mrs. Elton and Caitlin McWethy as Harriet. McWethy, who just wowed audiences as Joan (of Arc) in Henry VI astounds in her range as an actress. She lights up the stage, again. McGee had the audience rolling with her amazing timing, especially her comments on strawberries and puppies.  Like the caramels in the box, you are left wishing each were on stage more.
The character Emma, delightfully played by Courtney Lucien, is complex, and one of the reasons Jane Austen is still read and relevant. While sweet and well meaning, Lucien's Emma occasionally comes off a bit brash and rushed. As the run progresses, she will certainly settle in. Jeremy Dubin, as Mr. Knightley, demonstrates a strength and tenderness that will undoubtedly prove to be a powerful pairing with Emma.
The rest of the ensemble, including favorites Jim Hopkins, Corinne Mohlenhoff, Maggie Lou Rader, Paul Riopelle, and Brent Vintrup, are equal parts charming, sophisticated and appropriately silly in this romantic comedy. An unexpected treat was the choreography by Flying Cloud Vintage Dance Company and how the ensemble carried it off.  They were tremendously comfortable with the dance, and let it be the background to their flirting.
The set design was an interesting departure for the CSC. Brian c. Mehring and Matt Hollstegge brought their gift for bringing light into the set. Stormie Mac's costumes were light and airy on the most part, perfect to the period. Special kudos to wig master James Geier for amazing hair which transported us to the time period.
Jane Austen's Emma, by Jon Jory, is Kelly Mengelkoch's highly successful directorial debut. She understood these characters as well as the audience, crafting the evening to be quick, witty and leaving us wanting more. Emma runs through March 26 and tickets can be purchased at cincyshakes.com.
CSC's Emma is Pleasant, but Not Compelling
Review by Gregory Bossler of Emma: Cincinnati Shakespeare Company
Having produced two other Jane Austen adaptations by Jon Jory (Pride and Prejudice and Sense and Sensibility), Cincinnati Shakespeare Company has decided to try another. This time it's Emma, based on Austen's 1815 novel about a "handsome, clever, and rich" young woman who overestimates her matchmaking skills.
Modern audiences may know the story best as adapted into the 1995 film Clueless, and with numerous other adaptations available, including no less than six stage versions alone in the past decade, Jory's adaptation has not convinced me that we need another. The script is a faithful condensation of the novel, but that success leads to its primary failure: it lacks compelling dramatic interest.
The complications of Emma's meddling eventually create a somewhat interesting puzzle to unravel, but it is slow going most of the way, beginning with the dizzying mass of background information presented in the opening scene as a series of couples share the local gossip. Who is it again that Sir Whatsit saw make advances toward Miss Whosit?
Another challenge in this adaptation is the filmic nature of the script. Director Kelly Mengelkoch tries to keep the action flowing by having the characters move downstage as they approach the end of a scene, while the lights dim behind them and the ensemble switches out a chair and table for a bench and easel, for example.
Given the cinematic flow of scenes, it's also curious why scenic designer Brian c. Mehring offers a static and generic set of paneled walls. Most confusing when the characters are resting on the grass after strawberry picking or strolling the streets of Highbury.
Stormie Mac supplies most characters with one basic, muted outfit, using the addition of a jacket, hat, or shawl to indicate the change of scene—except notably for the bombastic Mrs. Elton, who first appears in a deliciously loud red outfit and then a deliciously loud yellow one.
Miranda McGee, who portrays Mrs. Elton, is one standout in the cast. Others include Caitlin McWethy, as Emma's long-suffering friend Harriet Smith, and Kyle Brumley, as Emma's potential suitor Frank Churchill.
Courtney Lucien, as the meddlesome Emma Woodhouse, and Jeremy Dubin, as Emma's eventual suitor Mr. Knightley, are pleasing and proficient performers who are ultimately under-served by the material.
Performances continue until March 26, Thursday to Saturday at 7:30 p.m. and Sunday at 2 p.m. Single tickets are available at the box office (719 Race Street), by phone (513-381-2273www.cincyshakes.com) and range from $22 to $39, with discounts for students, seniors, groups, and AAA members.
, ext. 1), or online (
Miami's Pride and Prejudice Makes You Feel Right at Home
Review by Kenneth Stern of Pride and Prejudice: Miami Theatre
It is wonderful to be welcomed into a house, or a theatre, by such old and familiar friends, that their riff on saying hello—their opening lines—brings a smile, and looking at them brightens your eye. And that is how Miami University's Pride and Prejudice, adapted by Melissa Leinlani Larson, begins. The cast parades, replete in their early 19th century finery, cascading across the small stage. At the end of the march, the Bennett family alone are on stage. They pose, as for a portrait, at the back of the stage and harmonize one of the most famous lines in literature: "It is a truth universally acknowledged, that a single man in possession of a good fortune, must be in want of a wife." An inside joke, shared among friends. A knowing audience settles in for the night. This will be another good visit.
While the finely dressed Darcy (a stiff, stern Adam Josten) and the pointedly observant Elizabeth Bennett (Theresa Liebhart) are center stage from first to last, this cast of characters are characters. Almost-youngest daughter Lydia (flightily and flirtily played by Cassidy Steele) is a scene stealer, as is cousin Mr. Collins, (Jeremiah Plessinger) who wonderfully missteps his way through a dance, a difficult task, to be so out of rhythm. As Charlotte Lucas, Madison Ellis is stoically resolute, determined to choose the safety of money over love. Taylor Timnin is marble cold as the haughty, disdainful Caroline Bingely. Her brother Charles (Rylan Hixson), contrariwise, is joyfully naive. Mr. Bennett (Ben Cobb) succeeds in being older than his (natural) years. And if Mrs. Bennett (Clara Miligan) is meant to be portrayed as more of a sister than a mother, she, too, hits the mark. Director Susan Pollack gets credit for assembling and moving the cast through their paces.
Costume designer Kaela Smith dressed the cast exceedingly well: note Pastor Collins when he comes home from a walk at the start of act two. Gion DeFrancesco followed the playwright's directions for framing the characters, setting a simple stage with gilded gold window frames characters walk through entering and leaving stage right and stage left at the rear.
And thus the cast unfolds the main storyline of Pride and Prejudice during the two hour production. In the penultimate scene, Elizabeth faces down the Lady Catherine De Beourgh, refusing to be kept from true love or her true feelings, telling the great lady that she will "act in a manner which will institute my own happiness." That is the heart of the story, the essence of Elizabeth, the revolutionary-ness of Jane Austen brought to us across two hundred years.
And what does Lizzy get for being true to herself? As she tells her now betrothed Darcy: "I am happier than Jane. She only smiles. I laugh."
For smiles and laughs throughout the performance, see Pride and Prejudice, playing this weekend, February 26 – 28 and March 2 – 6.
Miami University's Pride and Prejudice is the Modern Family Comedy of the 18th Century
Review by Shawn Maus of  Pride and Prejudice: Miami University College
I agree with director Suann Pollock who writes in her playbill note, "I have a confession – I am not a 'Jane-ite." Like Pollock, I too, did not read Jane Austen's Pride and Prejudice in high school or college. What little I know of it is that it was a BBC show that I think aired on PBS. But this production at Miami University is a must-see.
It's girl meets boy. Girl loathes boy. Girl and boy fall in love. Jane Austen's most popular novel comes to the Miami stage in this new adaptation presented in an intimate setting in the Studio 88. The work was commissioned from playwright/screenwriter Melissa Leilani Larson by her alma mater Brigham Young University in 2013. The production coincided with the 200th anniversary of the novel's publication
Upon first meeting the reticent Mr. Darcy, Elizabeth Bennet finds him cold and arrogant while he disapproves of her family and social standing. Is it his pride and her prejudice—or her pride, and his prejudice? Brought together by a series of events beyond their control, Elizabeth and Darcy must reconsider their first impressions.
The black box Studio 88 space is the perfect area for this production. It's intimate so you are right there, experiencing the emotions, personalities, pains, humor…and yes, the pride and prejudice of the characters. I felt like I was a part of these families. It was clear that a lot of time, effort and care was put into the crafting of this production so it wasn't an academic period piece, but a breath of fresh air.
Costumes by Kaela Smith were a marvel. There were 18 actors in the cast, which is no small feat to costume for 1812. Not only did the costuming help portray the personality of the characters, but the beauty and care embodying the practical skirt and jacket emphasized the aesthetics of the body. The trousers and perfectly tailored tailcoats and waistcoats, even the hats, showed the gentlemen of the time.
Gion DeFrancesco's scenic design whisks you away to the 18th century through the use of picture frames. This technique worked beautifully to suggest doors, rooms, and "framing" important moments in the play. When Lizzie Bennet comes to Pemberly mansion, Mr. Darcy's "painting" (actor Adam Joeston standing in the frame as perfectly posed as an oil painting) looms large over the room.
Director Pollock keeps the 18 member cast fluid, endearing and entertaining; no small feat considering there is a lot of time reading letters and sitting on settees, as was typical of the life of 18th century persons. There were no dull "stand here and then stand there" moments. Even Mr. Darcy's monologue of exposition was directed with finesse rather than reduced to a Shakespearean aside to the audience.
Each actor gave strong performances. The show is filled with excellent moments. Natassia Reinhardt (Jane Bennet) and Theresa Liebhart (Elizabeth Bennet) show gifts for comedy with the bond of real-life sisters adding layers to their characters in every scene. Genial freshman Rylan Hixson positively captured the essence of a handsome youth, Charles Bingley, falling in love. His Pepsodent smile broadens as he see his love, Jane, make everyone in the audience swoon. Jeremiah Plessinger is a delight as the oily parson, Mr. Collins. The other daughters provide fuss and snappy quibbling to keep the scenes lively, while providing hilarious counterpoint to Ben Cobb's dry wit as the hen-pecked Mr. Bennet, contrasting to Clara Milligan's exuberant Mrs. Bennet, who is trying to secure some sort of financial future for her daughters.
This is a well-assembled production that brings the matchmaking amusements of young love to those of us who aren't Jane-ites. There have been many other adaptations ranging from straight play versions to musical and operas. But this version is not your PBS production–it's a humorous comedy. It's the Modern Family comedy of the 18th century for those of us in the 21st century. This was truly a work that you won't be bored by or have to worry about sitting next to those thee-ater people with their noses in the air. Laugh out loud!
Diogenes Theatres' Saint Joan Sincere and Relevant
Review by Charles Roetting of Saint Joan: Diogenes Theatre
Saint Joan, by George Bernard Shaw, currently being produced by Diogenes Theatre, tells the story of the life and miracles of Joan of Arc. In the play, we follow Joan from her joining the French military at 17 to her tragic end and beyond. While the events of the play are firmly rooted in history, the issues dealt with are strikingly relevant.
Removing all of the proper nouns, the story is that of a brilliant and selfless person determined to help a society that ultimately ostracizes her due to the inability to understand her. The fear of that which is different is a common theme throughout literature and history and it is especially present today.
The show is excellent. Director Lindsay Augusta Mercer does a stellar job with her cast and creative team. The show possesses a heart and soul, an integrity and sincerity that is key to its success. It's also very well paced. It clips along with a maintained level of high energy which is absolute crucial with any of Shaw's work.
Upon entering the theatre, the audience begins to feel the invitation into the world of the play. Theatre-In-The-Round seating plants us firmly in the world; this is heightened through the action of the play as the direction makes highly effective use of the alleys between seats. Smartly, it also creates a very literal and ever-present cross on the floor, which is all too important to St. Joan and her story.
Sarah Beth Hall's set design is simple and highly effective, expertly utilizing little more than several benches and a riser. This succeeds two fold. Firstly and practically, it allows for the scenes to shift quickly which is crucial to pacing. Secondly, through the suggestion of scenes, the audience is free to interpret the environments as individuals while also remaining undistracted from the story at play.
Alan Kleesattel's lighting design and Doug Borntrager's sound design both marry well with the set design providing further detail and suggesting tone without robbing the audience of assisting in the creation of this world.
Amanda McGee's costume design is more specific and defined. When you have a play such as this, with 6 actors playing 20 roles (with Sara Clark playing Joan exclusively), this specificity in costuming is much needed. Certainly, it informs a character's status and position, but it also simply helps us know who is who and when.
The performances are impeccable. Seven outstanding actors provide twenty-one stand-out performances. Each character is larger than life, with strong and clear points of view. Each actor has taken care that not a single one of their characters blends into another.
Sara Clark's Joan undergoes the greatest journey, as she should. Her performance is spritely and playful, filled with mirth, joy and good will…until it isn't. At times she becomes sarcastic, at others defensive, and ultimately quite desperate. Clark shows great range and honors well the memory of St. Joan.
Billy Chace excels as not one, but two church officials while providing occasional doses of levity throughout: on one side of the coin, stern, paternal, and a bit mischievous; on the other, vengeful, stubborn, and immature. Altogether, Chace's performance is quite magnetic.
Patrick E. Phillips is quite good in his three roles but is most memorable as Dauphain Charles VII. From weak to courageous to arrogant and beyond, his performance brings with it a sense of mystery and moral ambiguity.
Nicole Jeannine Smith is particularly striking as Ladvenu. Her performance speaks for itself and is better left unspoiled here.
Rory Sheridan brings an element of fun to any scene in which he is a player no matter how grim the subject matter. With an unmistakable booming voice and an ingrained sense of authority, Sheridan is a force both unignorable and a delight to watch.
The true chameleons of the show are Geoffrey Barnes and Jared Earland. Barnes' 3 characters are so well crafted that Barnes is barely recognizable. Jared Earland possesses a similar quality and possesses a palpable charm even when playing such severe characters as the Executioner.
Saint Joan is a tour de force performance for not only Director Lindsay Augusta Mercer or principal actress Sara Clark but the entire cast and creative team.
Jeanne d'Arc and George Bernard Shaw would both be quite proud.
Saint Joan continues March 2-5. For tickets, call (513) 621-ARTS (2787)
Struggling and Singing Their Way to Adulthood on Avenue Q
Review by Kenneth Stern of Avenue Q: Incline Theatre
You can't get on the subway to get to the Incline Theatre's Avenue Q, now playing through March 6th. Drive, as most Cincinnatians do, if you are in the mood for some adult fun with childhood muppets, complete with plain but authentic moralizing and morals.
Smart, a bit sarcastic, almost always adult, even with its simple, juvenile-bordering language, Avenue Q portrays the timeless story (spoiler alert) of boy meets girl (monster), both fall in love (with each other), boy strays, girl (monster) is heart broken, and in the end, boy saves girl (monster) and love (for girl monster) wins out.
The Sesame Street format of Avenue Q allows adults speaking in short, direct sentences ("You can be as loud as / The hell you want / When you're making love" is Gary Coleman's refrain for "when you and your partner / Are doing the nasty / Don't behave like you're / At the ballet!")
Adult responsibility alert: this play is not for kids, or even teens. The most amazing, explicit, and prolonged sex scene that you will see anywhere takes place under the cover of "You Can Be as Loud as the Hell You Want (When You're Makin' Love) Song." It is great fun, but eye popping, too.
Avenue Q is almost a mash up, a Sesame Street meets Mad Magazine, fit for college graduates new and old. A la Garrison Keillor, it answers the question—in song—"What Do You Do With a B.A. in English?" If you don't have a job, you end up on Avenue Q, because that is all you can afford. And if you think, as everyone on the block does, that "It Sucks to Be Me," it could be worse: you could be Gary Coleman, also grown up. As he sings (coolly and good naturedly played by Tatiana Godfrey):"I made a lotta money /That got stolen / By my folks! / Now I'm broke and / I'm the butt / Of everyone's jokes."
He is also the most solidly employed: "But I'm here – / The Superintendent! / On Avenue Q"
Princeton (Brian Berendts is behind the puppet; he also "handles" Rod), loses his temp job before his first day. He will wander (and wonder), searching for "Purpose" throughout the play: "I'm gonna find my purpose / Could be far, could be near / Could take a week, A month, a year."
Like all the songs, the lyrics are simple and the syllables per word few. The sensibilities are almost adult and always more hippie than potential hedge fund manager: "At a job, or smoking grass / Maybe at a pottery class!" An electronic billboard becomes the screen for cast and audience alike and is almost a character itself.
There are 21 songs in Avenue Q, and dancing throughout. The cast, dressed in black and hiding behind their puppets, gets a shout out for their professionalism and anonymity. The puppets seem alive, and the individuality provided by dancing feet and voices highlight the work of director Elizabeth A. Harris, choreographer Melody Nordmoe, and music director Jacob Priddy. Once again a Cincinnati Landmark production has crisp, well-paced choreography.
The puppet cast includes Matt Krieg (Nicky), Daniel Cooley (Trekkie Monster), Mel Hatch Douglas (Girl Bear/Mrs. T./Trekkie Puppeteer), Andrew Maloney (Boy Bear/2nd Puppeteer), with puppeters doubling up on a puppet (or two) on occasion). The bad idea bear characters are especially bad and especially characters: Their joy in helping Princeton and Kate Monster carry out bad decisions is palpable. Alyson Snyder is great as Kate Monster – muppet and actress share short, reddish hair and a youthful enthusiasm.
Along with Tatiana Godfrey as Gary Coleman, the human cast includes Aaron Whitehead as Brian (well dressed as a 32 year old never employed comedian) and Lauren Carr as his fiancee, the Korean born Christmas Eve (also uniquely costumed).
Wes Ledyard and Showbiz Players created three very familiar looking puppets and the rest of the cast, including the well named Lucy T. Slut. Puppet makers and puppeteers get kudos for their ensemble pieces. Who would have thought simple cardboard (moving) boxes would move, breaking out into dance, and song, encouraging Princeton: "Gotta find your purpose . . . / Purpose is a mystery. / Gotta find it! / You're gonna find / Your purpose / Whoa, whoa, whoa . . ." Best dancing boxes to be found on stage this year.
The set for Avenue Q ably presents a working class block of New York City, with lots of doors and big second floor windows, all perfect for characters to enter and exit from (the doors) or poke their head out or sing or shout from. You have seen the essence of this set before.
If you want to laugh, and maybe bond with your grown up, out of college, not yet fully employed son (or daughter), take him (her) to Avenue Q. You will laugh, clap, hopefully be empathetic, and maybe even think a little (but not too much).
Avenue QÂ continues Wednesdays-Sundays through March 6 at the Incline Theatre, 801 Matson Place, in the Incline District of East Price Hill. For tickets, call 513-241-6550 or go to www.cincinnatilandmarkproductions.com.
Diogenes Theatre's Saint Joan Will Inspire You
Review by Erica Minton of Saint Joan: Diogenes Theatre
Prior to my visit to Diogenes Theatre Company, I was only familiar with Lindsey Augusta Mercer's work as a musician (Cincinnati Shakespeare Company's One Man, Two Guv'nors; Know Theatre's Hundred Days). My first experience with her directorial work was a great success: George Bernard Shaw's Saint Joan, a play about the dramatic rise and tragic fall of the woman (girl, really) perhaps best remembered as Joan of Arc.
If Saint Joan is any indicator, Mercer is a sharp and resourceful director. Though the play could have easily put another half dozen actors to work, Mercer makes great use of the mere seven that she has (there are 21 characters credited!). The most successful quick-change actor must be Rory Sheridan, who carries the substantial weight of four different characters and manages to make each one gripping and humorous in turn. Another stand-out is Billy Chace's Archbishop, a rational clergyman caught between the fervor of Joan's faith and his own skepticism and responsibilities to the church. The Archbishop insists "it is for the church to make saints," not the unwashed masses drunk on Joan of Arc's charisma and ardor.
If you see enough theater in Cincinnati, you almost take for granted that certain actors will be impeccable. Sara Clark is one of these actors for me, and she does not disappoint as Shaw's Joan: visionary, naive, brave, charming. If you are not familiar with Clark's work, this performance is a great place to start—after 75+ productions with the Cincinnati Shakespeare Company, she understands how to turn a script into poetry. (Shaw did much of the work for her in that regard: his writing is beautiful, crackling.) Clark is lithe and infectious as Joan gains favor with the French military, but her real strength is shown in the more difficult scenes when Joan's support begins to wane, and eventually The Maid stands alone.
There's a lot to be said about Sarah Beth Hall's staging in this production, as well. The stage is set uniquely—not quite a thrust stage, not quite in the round—the audience is placed intimately close to the action on all sides, which particularly pays off during Joan's trial, when audience members are meant to feel implicated, like jurors. (I'd like to note how artful Alan Kleesattel's lighting is throughout: somehow each actor is perfectly lit, while an audience member sits at the actor's elbow in just the right darkness.) But the staging is more intricate than just that; to elaborate I borrow a line or two from the (wonderful) production notes: "This production [centers] the action around a crucifix shape, just like a cathedral's architectural layout. Each scene focuses on a different spot—the apse/the head; the transepts/the hands; the altar/the heart." Though the audience is not made hyper-aware of this intention during the show, there are other gentle cues, such as when the house lights first dim and—quickly, if you blink you'll miss it—a cross of light is projected on the floor between the staged benches. One of the challenges of this play is that much of the action happens off-stage, such as a girl being burned at the stake, or a large battle in the French countryside. But the delightful staging and the energetic acting make us feel that we haven't missed too much, that the story of these complicated characters is just as thrilling.
With intermission, the play runs three hours, which only occasionally feels long. The more drudging scenes have one thing in common: no Joan. Clark's energy keeps the play moving at a rapid clip, and that energy is sorely missed in scenes such as the one unfortunately timed just before intermission, during which three Englishmen discuss the danger of Joan's heresy and their need to quash her rebellion. Such scenes may be necessary exposition but I was not the only one glancing at my watch toward the end of them.
Ultimately I was very fond of this production and its themes of imagination, inspiration and the ambiguity of faith. Perhaps the best compliment I can give the show actually came from the mouths of a few audience members behind me: "This makes me want to watch more Shaw." It also makes me want to watch more Mercer, and more Clark, and more Kleesattel, and…
Saint Joan runs Feb 18-20th and March 2-5th at the Fifth Third Bank Theater at the Aranoff Center. Tickets may be obtained at http://www.diogenestheatrecompany.com/.
NKU's Once in a Lifetime Proves That Hollywood Satire Never Goes Out of Style
Review by Lissa Urriquia Gapultos of Once in a Lifetime: NKU Theatre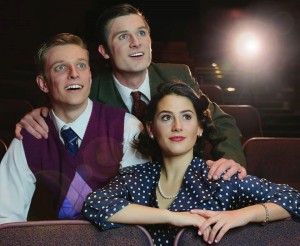 Today's Hollywood movies are often the butt of jokes: flimsy plots; marketing disasters; total lack of originality hence sequels and remakes. Northern Kentucky University's School of the Arts is currently presenting Moss Hart and George S. Kaufman's 1930 play Once in a Lifetime, a comedic satire that demonstrates poking fun at the movie industry has been around for awhile.
The action starts with a trio of vaudeville actors: May, who is highly concerned that they have not had a gig in weeks; George, the charming dim-wit who is obsessed with reading the movie industry publications; and Jerry, the opportunist who just sold their act for $500 to buy train tickets to California. Having just seen The Jazz Singer, he is giddy with excitement about the motion pictures where you can hear the actors talk – "talkies". Jerry believes the movie industry is undergoing a monumental change, and somehow there's money to be made in California. With the idea that silent movie actors lack talking skills, the three hatch a plan to pose as elocution experts as a way to scam countless Hollywood actors desperate to get into the industry. On the train May sees an acquaintance, columnist Helen Hobart, telling her about their elocution lessons. Helen immediately offers her support and the opportunity to meet major studio exec Henry Golgauer who may help them open a school.
The sizeable cast of 30 are fully committed to their roles, yet it's an uneven group. In the role of May, Sophia Deward was very convincing in embodying the confidence and competence of a 1930s woman; her diction seemed spot on for the time period, and her every utterance was clear. Andrew Wiemann was stellar in the role of Lawrence Vail, the perpetually forgotten writer (apparently one of many) who just wants to do his job. Sometimes over-the-top comedy can backfire, but Wiesmann had the ability to appropriately control his physicality when going for the laughs. As George, Cody Oppel transforms from boyishly naïve to confidently inept, and it's great fun to watch him navigate George's unfortunate missteps that are resolved with well-timed dumb luck.
The opening scene was staged on a small platform just big enough for a bed and a desk. The limited space forced the actors to carefully step around the corner get to the other side of the room; this was distracting. The scene changes were a bit clunky in the first act; the transition into the train scene had two hanging panels that swung back and forth hitting the platform for the first several minutes of the scene. Platforms were also used in Act II depicting doors of an office reception area.
In general, NKU's production of Once in a Lifetime was a fun time. It can be a challenge to stage a play that is so rooted in a specific time period. But it also shows that history is not just cyclical, it repeats variations on a theme. 85 years ago talkies were the revolutionary force of the film industry.  Despite the threat of television, cable, reality TV, and more recently, social media, movies still remain dominant in our culture, and have earned the privilege of being publicly and affectionately mocked.
Incline's Avenue Q is Captivatingly Off the Beaten Path
Review by Laurel Humes of Avenue Q: Incline Theatre
A delightful evening at the theater awaits audiences who attend the musical Avenue Q at Warsaw Federal Incline Theater.
As long as you're up for a humorous but truthful treatment of some heavy topics – racism, sexual orientation, porn on the internet.
Oh, and puppets having energetic sex.
Avenue Q is 13 years old now, but still fresh. The show is Sesame Street for adults: set in a neighborhood that is a mix of puppets and people, and using video to teach words. Yes, "purpose" is one teachable word, but so is "one night stand!"
The story follows Princeton, a recent college grad whose B.A. in English isn't getting him any jobs. He started looking for an apartment on Avenue A, but nothing was affordable until he hit the dilapidated Avenue Q.
In his new neighborhood, he meets aspiring teacher Kate Monster; Nicky, who rooms with Rod and sings to him "If You Were Gay (that'd be okay)" and Trekkie Monster, a big, gruff loner who insists in song that "The Internet is for Porn."
Those are the puppet neighbors. The people we meet are just as quirky: Japanese therapist Christmas Eve and her fiancé Brian, both unemployed, and Gary Coleman – yes, that Gary Coleman, gone from TV star to apartment superintendent.
Under the skillful direction of Elizabeth A. Harris, Avenue Q is fast-paced and a lot of fun. There is a lot happening on this stage – puppetry, singing, dancing, set changes, puppet costume changes – and it all runs so smoothly as to seem effortless.
The talented cast is truly an ensemble; you can't get much more collaborative than two actors working one puppet in sync. When they are used, those "duets" give the puppets more range, especially of hand motion, and make them really come alive.
While an ensemble, each cast member gets moments to shine. Special kudos to Brian Berendts and Alyson Snyder, who each voice and handle two major puppet roles and manage to make them quite distinct. Snyder is so effective at changing her voice from Kate Monster to the sexy role of Lucy the Slut that you have to search the stage to find the origin of that sultry voice.
Tatiana Godrey is hilarious as Gary Coleman, and belts out "You Can Be as Loud as the Hell You Want When You're Makin' Love" (see above, puppet sex). Lauren Wanoa Carr does a terrific physical comedy bit involving getting through a doorway in a hoop skirt wedding dress.
Then there are the Bad Idea Bears (Andrew Maloney and Mel Hatch Douglas). The concept already is clever – they tempt you into drinking too much and other bad ideas – and the actors execute it beautifully.
I hope Incline Theater's Avenue Q is the hit it deserves to be. The show continues Wednesdays-Sundays through March 6 at the beautiful new theater, 801 Matson Place, in the Incline District of East Price Hill. For tickets, call 513-241-6550 or go to www.cincinnatilandmarkproductions.com.
CCM Drama Tackles Eugene O'Neill's Comedy, Ah Wilderness!
Review by Katie Johnson of Ah Wilderness!: CCM Drama
Ah Wilderness! is that rare gem—the only comedy written by America's great playwright Eugene O'Neill.  Nonetheless, it would be a mistake to stage this play as mere comedy, for lurking beneath the pastiche of old-fashioned Fourth of July celebrations and family slapstick humor lays the bitter reality of O'Neill's dysfunctional youth.  O'Neill well understood the bite beneath the laugh, the family secrets concealed by surface pleasantries, and how tragedy is underscored by the exclamation point.
The Miller family of Ah Wilderness! represents what the Tyrones in Long Day's Journey Into Night (and O'Neill's real life parents) could have been, had addiction and broken dreams not destroyed them.  Significantly, O'Neill looks back in time—a device he uses in many of his plays.  Set during Independence Day in 1906, O'Neill portrays the childhood he never had.  The drama centers on the coming-of-age story of a spirited Richard Miller (a clear O'Neill stand-in, played wonderfully by O'Neill look-alike Andrew Huyler Ramsey), who wistfully explores love, politics, provocative literature (Shaw! Ibsen! Wilde!), and what the moon can offer.  Written and staged in 1933, Ah Wilderness! predates O'Neill's autobiographical masterpieces such as The Iceman Cometh, Long Day's Journey Into Night and A Moon for the Misbegotten. Those who know these works or the recently discovered lost-play about O'Neill's attempted youthful suicide, Exorcism, will find deep resonances between them and Ah Wilderness! The tragic trajectory of both O'Neill's dramaturgy and his life story bitterly undercuts the seemingly mirthful narrative of Ah Wilderness!
In the playbill's Director's Note, R. Terrell Finney observed that this poignant and sweet coming-of-age story is "infused with a certain sadness," yet this despair did not sufficiently come through in this production. The gorgeous set (designed by Thomas C. Umfrid and student Whitney Glover), costumes (designed by student Maria Lann), and lighting (designed by student Adam Ditzel) captured the nostalgic spirit of an early twentieth-century seaside town with a pastel-infused palate.  The set was flanked by a huge drop painted with large vintage posters portraying the Fourth of July.  The proscenium was trimmed at the top with creamy Victorian moldings.  The sides, top, and floor of the stage were painted in royal blue, framing the set like an azure sky—or pool of water.  It was beautifully done.  But too beautifully, at the risk of effacing the deeper issues and sadness which Finney wished to portray.
The beige house trimmings were offset by brown wicker—a hint of the furniture from the Monte Cristo cottage featured memorably in Long Day's Journey.  This dissonance between the buttery nostalgic past and the stinging memories (for it was here that O'Neill discovered his mother using morphine) could have been more pronounced to underscore O'Neill's boyhood home that housed so many family nightmares.
The recent London production of Ah Wilderness! at the Young Vic (directed by Natalie Abrahami) nicely captured these tensions, as the set was perched in a pile of sand from which the family excavated furniture, props, and memories—as if it were an archaeological dig in the sands of time.  My point is not to compare professional London theatre to a University production, but rather demonstrate how this dark comedy can be staged with the past haunting it.
The scene when Uncle Sid and Nat Miller come home drunk is a case in point. On the surface, it offers much humor and actors Andrew Iannacci and Devan Pruitt portrayed good drunks.  Yet those who are familiar with O'Neill's body of work know that the other side to Sid's drinking is his alcoholism, which dooms his relationship with Lily (played nicely by Rachel Baumgarten).  In a few years, O'Neill will show the devastation of drinking in Long Day's Journey and A Moon for the Misbegotten. Moon, O'Neill's last play, portrays his brother Jamie just before he drinks himself blind and into a coma.  The multiple references to the moon in Ah Wilderness! were therefore very much in my thinking when viewing this production, and I hoped for more references to this raw trope.
This University production had some good acting, especially Katie Langham as Essie Miller and Annie Grove as Belle. Jonah Sorscher, Oliva Passafiume, Owen Alderson, Spencer Lackey, Mickey Tropeano, Isaac Hickox-Young, James Egbert, Ryan Garrett, and Emily Walton delivered nice performances as well.
It is always a delight to see a CCM production. I hope Cincinnati theatres will perform more O'Neill plays in the future.  If we look to New York, two forthcoming star-studded productions (Hughie with Forrest Whitaker and Long Day's Journey with Jessica Lange) demonstrate the power of O'Neill for contemporary audiences.
CCM's Ah, Wilderness Remembers Simpler Times in America
Review of by Alan Jozwiak of Ah, Wilderness: CCM Drama
A Book of Verses underneath the Bough,
A Jug of Wine, a Loaf of Bread—and Thou
Beside me singing in the Wilderness—
Oh, Wilderness were Paradise enow!
This stanza from the Edward Fitzgerald's translation of the Rubáiyát of Omar Khayyám hardly seems to be controversial.  But a century ago, such sentiments created debates about the decency of such writing in some sectors of society.
The latest CCM production, Eugene O'Neill's Ah, Wilderness! (the title is adapted from the last line of the quoted stanza) depicts these culture wars from a century ago, where the "scandalous" writings from the Rubáiyát, along with those of Ibsen, Shaw, and Wilde could lead an impressionable teenager down the road to perdition—or at least drinking sloe gin fizzes with a woman of questionable morals.
Ah, Wilderness! is directed by Terrell Finney, a long-time member of CCM. Finney does a great job with the visual elements of this production. The actors are positioned onstage to create interesting tableaus, perhaps most notably at the end of the play where Richard Miller (played by Andrew Huyler Ramsey) is standing on one part of the stage gazing at the moon while his parents Nat and Essie Miller (played by Devan Pruitt and Katie Langham) are at the other end discussing Richard's future.
The set and costuming are equally strong thanks to scenic designers Thomas C. Umfrid and Whitney Glover and costume designer Maria Lenn. The visual elements of the elaborate sideboard in the Miller's dining room the bar backdrop are wonderful set pieces for actors to play off of. Similarly, Lenn's costumes were both varied and delightful to the eye.
My only fault with this production is that the actors, all in their late teens and early twenties, were oftentimes playing characters several decades older than themselves. There were times it felt like the actors did not fully understand the emotional nuances of their role. This was apparent during the opening scenes of the play.
However, junior Devan Pruitt, playing the patriarch Nat Miller, had some really interesting and nuanced moments, filled with humor and pathos. Adding to his performance was junior Katie Langham's portrayal as matriarch Essie Miller, who exuded motherly concern for the well-being of her children.
Sophomore Andrew Huyler Ramsey, playing the misguided teenager Richard Miller, had some fine moments in the second half of the play, including his monologue before meeting with his beloved, as well as giving the mother of all fraternity belches while in the bar.
In short, Ah, Wilderness! is a play that harkens back to a simpler time before elementary school drug use, preteen pregnancies, and teenage twerking. It runs from February 10-14, 2016.  For more information, contact the CCM Box Office at 515-556-4183 .
Ah, Wilderness ! A Comedy of Recollection at CCM Is a Time Capsule of America's Past
Review by Shawn Maus of Ah, Wilderness!: CCM drama
Notes from CCM Director R. Terrell Finney tell us that Ah, Wilderness! by Eugene O'Neill was extremely popular in its day and is his only comedy. It's an old-fashioned tale of the bygone pleasures of American small town life.  The title comes from a line in The Rubaiyat of Omar Khyayam that Edward Fitzgerald gave to his translation of a selection of poems originally written in Persian.
Set on the Fourth of July in 1906 (and first performed in 1933), the play centers around the family of Nat Miller (Devan Pruitt), his wife Essie (Katie Langham) and their four children. Richard (Andrew Huyler Ramsey), a 17-year-old, imagines himself a rebel, quoting Bernard Shaw, the aforementioned Omar Khyayam and a man named Oscar Wilde. O'Neill allegedly based the character on himself.  Richard pens lusty letters to his sweetheart Muriel (Emily Walton). When Muriel's father gets a hold of one of the letters he forbids Muriel to see him.  Richard, misunderstood by his family and misunderstanding the world, goes on a bender and dallies with a "woman."
Ah, Wilderness! is the story of Richard's rebellion.
It is by no means a classic theatre piece. It starts off with warm and loving naivete of simpler times. But it slows in places that even the cast can't seem to liven up. It's not a contemporary sitcom or a comedy like the Neil Simon's "Brighton Beach" trilogy, but it feels more like melodrama with constant implication that something bad is about to happen and grows mildly irritating especially in Scene 6 along a strip of beach.
The play does present a bit of a challenge for today's actors. It's overly sentimental story seems a bit quaint to today's audiences and the turn-of-the-century language was a bit of a struggle for some cast members. Andre Huyler Ramsey's portrayal made it difficult to view Richard with empathy. His delivery was soft (almost as if he were battling laryngitis); gestures and body language turned adolescent awkwardness into a wooden passage of time.
Still there were fine moments. For me the standout performers were Devan Pruitt as Nat Miller and Katie Langham as Essie Miller. Pruitt fits comfortably into his character's good ole' American family man with a bit of a sense of "aw shucks" that provides the most touching moments. Langham keeps the turn-of-the-century correctness of her levels of frustration as she struggles to keep the house in order in spite of the maid and her concern for propriety in keeping the social standing of the family intact. Annie Grove livened things up with a crackling performance as the snarky prostitute Belle.  The scene-eater is Andrew Iannacci, who gives a full-bodied performance as the age-long disappointment Uncle Sid. He can hold his own in the natural scenes and soars (even salvaging the scene) in the broad camp of Sid's drunkenness in Scene 2.
Set Designers Thomas C. Umfird and student Whitney Glover beautifully captured and dressed a19th century "large small-town in Connecticut" home that creates a nostalgic breathe of fresh air. Its simplicity echoes the idealization of the bright, endearing charm  of a bustling family. Costumes and hair were everything you'd expect to see walking down Main Street, USA. The scene changes could have used a bit more pep, but there seemed to be some lighting control issues on preview night that may have hindered the crew.  The sound design by by Mathew D. Birchmeier was well thought out for the pre-show and intermission. There was one moment of underscore that seemed out of place in a scene as there wasn't any further underscore in the other scenes.
Director Finney does present an endearingly intimate production of a difficult piece. He captures O'Neill's mood: "an evocation of the spirit of a time that is dead now with all its ideals, manners and codes.
Ah, Wilderness! is neither an especially funny nor riveting play. It's tame, even dated for a subtle domestic drama that often hinders the audience from getting very close to it. Still CCM does present it as a time capsule of America's lost past.
The Glass Menagerie Sparkles at the Human Race Theatre

Review By Liz Eichler of The Glass Menagerie: Human Race Theatre

Drew Vidal and Claire Kennedy in "The Glass Menagerie" at Human Race

It is great when an American classic play is produced for a modern audience, but even better when an electrifying production reminds you why it is deemed great.

The Human Race Theatre Company in Dayton has imbued new life into Tennessee Williams' The Glass Menagerie,  the story of an overbearing mother Amanda (played by Jennifer Joplin), her fragile daughter Laura (played by Claire Kennedy), and her restless son Tom (played by Scott Hunt), who, like his father, cannot wait to "skip the light fantastic out of town." Masterfully directed by Greg Hellems, you will witness the sparks fly as each member of the Wingfield family fights for incompatible goals.

There are many perfectly executed parts of this production, but the highlight of the evening is in the second act, between Laura and Jim (played by Drew Vidal), Tom's co-worker invited to dinner. Vidal creates a vibrant Jim, with his height, presence and charm. The delicate Laura catches this energy and begins to glow and sparkle like a radio tube. Hope begins to radiate in the audience, too, as we see Laura in a new light.

As Amanda, Joplin creates an irritating mother who, while she only wants the best for her adult children, demands too much from them. We see her frustrations and loneliness, but also her joys and her perseverance to fight against her circumstances. As Tom, Hunt creates a believable character, restless to go far away, but protective of his homebody sister.

The setting is beautiful, evoking memories for Tom as well as the audience, connecting with at least one piece of furniture our own childhood. The menagerie of crystal animals sparkles enticingly. Many of the clothes are perfect, such as Amanda's evening dress, but Tom's clothes swallow him, diminishing Hunt's performance.

Seeing this classic play performed live is a rare treat. Many of the people in the audience chatted that they read the play, but they have never seen it before, and were surprised how the issues of the Wingfield family are their own. It is a classic piece of American literature, and I urge you to bring your children, grandchildren, nieces and nephews.  Tickets are available at humanracetheatre.org or by calling 937-228-3630 .

 Buckle Up for the Ride in Broadway Series "If/Then"

Review by Grace Eichler of "If/Then": Broadway in Cincinnati Series

Broadway in Cincinnati's eclectic season continues with If/Then, a New York City musical that examines how an everyday choices can have the strongest ripple effect in your life. Elizabeth is a recently divorced urban planner who is "flirting with forty" when she moves back to NYC. Her first week back, she meets up with two friends in the park, and has the choice to leave with either one. From then on, we see both choices, as she lives out a life as Beth, the one-woman city-planning powerhouse, and as Liz, the army wife and professor.

Powerhouse vocals are the strongest character in the show. Jackie Burns, who bears a strong resemblance to the original lead Idina Menzel, provides effortless and clear vocals as Liz/Beth throughout the entire production, soaring above ensemble numbers and stunning in the 11 o'clock number "Always Starting Over." Equally impressive vocals, although not always as well supported by the microphones, come from Tamyra Gray (remember American Idol?) and Janine Divita as Kate and Anne, respectively. Those three ladies alone are worth the marathon two and a half hour long sit.

Anthony Rapp, most notably of Rent fame, continues his Broadway role as Lucas. If you've wondered what Mark Cohen would be like as he approaches 40, look no further. The same qualities we loved in Rent are back, with his strong acting and eerily reminiscent glasses as the backbone to an urban activist teetering on homelessness, all while continuing to wear "no corporate brands."

The production is executed well, with very interesting set design by Mark Wendland that is best demonstrated in the revolving set of Elizabeth's apartment, and the synopsis of the show is innovative and thoughtful. The script itself leaves something to be desired. Cutting half an hour would be first and foremost, as there are very slow moving parts in both acts, yet the most excitement and creativity is shown in the last ten minutes of the show. Brian Yorkey and Tom Kitt, the team that brought us Next to Normal, seem to follow the same melodic formula in multiple numbers.

All of this being said, ninety percent of theatergoers will love this show. Those other ten percent should still heartily enjoy certain moments, but might dissect a few others. I would recommend buckling in and enjoying the twists and turns, but be prepared for a very long ride.

If/Then is part of the Fifth Third Bank's Broadway in Cincinnati series presented by TriHealth, and runs through February 7 at the Aronoff Center for the Arts. Tickets are available at http://cincinnati.broadway.com/ or (513) 621-ARTS [2787].

Broadway Series' If/Then Asks Audiences to Ponder "What if…"

Jacke Burns in "If/Then"

Review by Liz Eichler of If/Then:Â Broadway Cincinnati

If you want to hear a singer with a really good set of pipes, in a show written for a powerful and personable alto, which celebrates both planning and spontaneity, If/Then is the musical for you. If/Then has less sequin and more soul baring than many Broadway musicals.

Jackie Burns stars as Liz/Beth, a newly divorced urban planner, on the cusp of making a new life for herself. Returning to NYC to connect with grad school buddies, a new friend calls her out to be more spontaneous, versus predictable. Is there more than one path to lead to happiness? This idea is explored in this "non-linear musical," where the audience follows "Liz" down one path and "Beth" down another.

This show was written as a star vehicle for Broadway icon Idina Menzel, who created the role of Elphaba in Wicked. Jackie, who also appeared on Broadway as Elphaba (among many other credits), doesn't disappoint: her voice is rich, full and powerful. She is an extremely talented technical singer and belter with a great, strong range.

Tamyra Gray is bubbly and likeable as Kate, the new friend. Anthony Rapp is a charming nebbish with chutzpah as Lucas, the friend from grad school. Their stories are affected by Liz/Beth's choices, and we get to see the different options played out.  Rapp's voice is a great counterpoint to Burns; their differing tonal qualities define their characters, and despite being different styles, they sound great together.

There are many good songs, but the two most memorable are "What the F***" when Liz tosses aside her meticulous planning, and "Here I Go", the show stopping number used to advertise the show on commercials. While both of these are in the first act, it is really the second act that shines, connecting with the Cincinnati audience emotionally and with more laughs.

If/Then is not a glitzy Broadway show, and it has both merits and flaws. It is a story of universal appeal, as many of us also ponder "the one that got away" or "what if I took that job vs. this one." The show is unnecessarily grounded in NYC, in script and dark scenery. The technical aspects and design of the show are professional, but may overshadow the intimacy of this story. The ethnocentric jokes may not play well in the Midwest, or Phoenix. The first act is long, yet needs more exposition to the Elizabeth character, and why we should be invested in her success. The ensemble cast is greatly diverse, but their blocking is often distracting.

Overall, If/Then is a show that encourages you to reflect on key decisions in your life, and how, despite yourself, you can still find happiness (or it may just find you).

Part of the Fifth Third Broadway in Cincinnati series presented by Trihealth, IF/THEN is in Cincinnati only until February 7. Get your tickets at CincinnatiArts.org or BroadwayinCincinnati.com

Know's Timely BlackTop Sky Perfect for New Theatregoers

Review by Grace Eichler of Blacktop Sky: Know Theatre

It's become habit at Know Theatre to ask before the show which audience members are there for the first time. Usually, there is a small smattering of hands. On opening night of BlackTop Sky, I was greatly impressed by the amount of newcomers. The entire demographic of the audience had shifted younger. Perhaps it's because of the young cast, or the play's timeliness, but the production was beautifully relatable in both time and place.

Ida (delicately played by Aziza Macklin) is our protagonist of sorts and lives in the projects of what we discover is Chicago, but could just as easily be Cincinnati. The courtyard bench near her apartment is the home of Klass, a younger-than-you'd-think homeless man. After a few encounters with her boyfriend, Wynn, Ida befriends Klass and learns his story.

First appearing as a hulking figure in an oversized parka, Kameron Richardson's Klass is exquisitely composed. As he sheds his layers, we see the first time he speaks to Ida, the first time he smiles at her, and the first time he truly opens up to someone.

Contrasting Klass's cautious approach to Ida is Wynn, charismatically managed by Landon E. Horton. By all measures, he is the "good guy" trying to protect Ida and support her emotionally and financially. Wynn and Klass's climactic fight scene, choreographed by John Baca, teeters between a fight over a girl and a fight over who is the better person.

Equally noteworthy is Andrew J. Hungerford's scenic design, which begins to be explained further into the production. From a technical perspective, kudos to Nick Koehlke's technical direction, as the use of rain onstage is executed excellently, and the sound it provides adds to the "outdoor" feel of the projects courtyard.

Costume and props, designed by Noelle Wedig and Sarah Beth Hall, respectively. added some color to the scenes, specifically Ida's varying wardrobe. Each scene change brought excitement to see what objects Klass would bring on stage next, including literally a kitchen (or bathroom?) sink. Aesthetic and quality were perfect for the eclectic nature of Klass's property.

BlackTop Sky runs January 29 – February 20 at Know Theatre. More information and tickets are available at http://knowtheatre.com/blacktop-sky/ or 513-300-5669.

Know Theatre's BlackTop Sky: A Three-Part Harmony

What does it say about our world today when a young black woman can shout, "He was minding his own business!" and we can finish the sad story in our heads?

Christina Anderson's BlackTop Sky begins just this way, in mid-sentence, as Ida (Aziza Macklin) recounts the story of a young black man being assaulted by the police. Ida is headstrong and idealistic but young—in fact, she has reached at a pivotal moment of her life, having turned 18 and now deciding where to point her life next. Does she stay to help her mother in her ailing health, which Ida seems to resent? Does she head into the unknown to begin building her own life?

Her doting boyfriend, Wynn (Landon Horton), offers Ida a chance to escape the projects and receive an education like he did. At the same time, Ida encounters Klass (Kameron Richardson), a homeless youth camped on a bench outside of her building. His simple presence seems to remind Ida of where she has come from, and she both accepts and resists his friendship over the course of the play.

Ida is a bit of a mystery to me—I am never sure what she wants. Perhaps that's the point—young Ida isn't quite sure herself. For instance, how should Ida respond to the police violence against Antonio, the young black man? Raise a banner, begin a protest? Keep her head down and avoid bringing trouble upon herself? Macklin tackles this character with humor and vulnerability. While it's interesting to watch Ida when she is meek and unsure, Macklin's most vivid moments come from Ida taking charge, putting her foot down, getting the job done.

Horton's Wynn is beyond charming from his first scene, with a megawatt smile and a flirtatious manner. A strong foil to Ida, Wynn is resolute in knowing what he wants. Richardson's Klass is warm and engaging, though we get to know him more gradually. (Again, there's a story: how we rarely stop to truly meet our homeless, our indigent.) As far as what Klass wants, it boils down to what any of us might want: to be heard, to be seen (not just watched), to be understood.

This three-part cast is a young one, but each actor carries their role with maturity, from the lightest moments to the heaviest. These actors are all at the very beginning of their careers and I hope to see more of each of them on Cincinnati's stages.

BlackTop Sky is a fast-paced, emotionally-riddled work set intimately upon a thrust stage. The light and sound design root you distinctly within an inner city, complete with muffled hip-hop and distant sirens. The past, present and future unfold without ever leaving that set of courtyard benches, but the nature of the place changes: sometimes it's a claustrophobic prison, sometimes it's the only place to see the sky.

BlackTop Sky runs January 29 – February 20 at Know Theatre. More information and tickets are available at http://knowtheatre.com/blacktop-sky/ or 513-300-5669.
Prelude to a Kiss Continues Falcon's Off-the-Beaten Tradition
Review by Doug Iden of Prelude to a Kiss: Falcon Theatre
An apparently innocent kiss leads to a profound change in the lives of three characters in the fantasy-comedy "A Prelude to a Kiss" playing at the Falcon Theater. Matthew David Gellen (as Peter) meets, romances and marries Rita (Becca Howell) but, at the wedding reception, she is kissed by a mysterious old man (played by Arny Stoller) and nothing is the same again. Rita suddenly undergoes a transformation where the personalities of she and the old man seem to switch, much to the consternation of her husband. Rita seems to become a totally different person during their honeymoon and eventually leads to their estrangement.
The themes involve personal identity crises and lack of self-confidence but the characters determine that they have to be themselves and can't be someone else.   The old man learns to face his impending mortality while Rita can better deal with her conflicted and uncommitted life (through the metaphor of insomnia). The old Rita did not want a baby but the new Rita leaves that door open a crack.
Both Howell and Stoller convincingly enact the bizarre metamorphosis resulting from the infamous kiss as expertly led by director Tom Peters. The narrative is carried by Peter who frequently talks directly to the audience while trying to figure out how to find the old man and reverse the transformation to regain the spirit of his beloved wife. The success of the fantasy and the believability of the story depend upon the efficacy of the three principal actors and they deliver in spades.
There are a number of supporting actors playing different characters, led by Holly Sauerbrunn and Terry Goadin as Rita's parents, in significant roles that propel the story. It is Rita's mother, who allows a potential reconciliation to take place, which provides a key plot point in the resolution of the story.
The set is simple but effective with a series of risers separating a living room, a bar and a bedroom. The lighting, designed by Ted Weil, helps separate the scenes and highlights the continuing discussions conducted with the audience. The lighting also sets the mood and heightens the poignancy and fantasy of the show.
This story has adult themes with mild sexual content (in today's terms anyway), simulated sex, plus a modicum of bad language.
I really enjoyed this play which continues the somewhat quirky and offbeat productions which are a specialty of the Falcon Theater. The show runs through February 13.
Falcon's Prelude to a Kiss Highlights the Endurance of Love
Review by Laurel Humes of Prelude to a Kiss: Falcon Theatre
There is not much unusual about Peter and Rita, the lead characters in Prelude to a Kiss at Falcon Theatre. The likeable young couple meets, quickly falls in love and marries.
But don't get too comfortable. Their fate is about to change.
This psychological, supernaturally infused mystery begins normally enough. Peter and Rita share a spark of intimacy from their first encounter at a party. He is a solid, stable guy, although estranged from his family. She suffers from insomnia, and barely hides her pessimism and fear of life behind a quirky personality.
The mood is light, witty and enjoyable through their sexy encounters, his first meeting of her parents, and their wedding. Just after the ceremony, an elderly man, a stranger to all, asks for a kiss from the bride. That kiss changes everything.
Rita is "not herself" on the honeymoon. Peter is confounded that her tastes, her political views, her behavioral all have changed. She has forgotten things they previously shared. She looks the same, but that's about it.
Obviously, Rita's change can be traced back to the kiss by the old man, who has a major role in the second act. But – even though the play dates back to 1988 and had a movie version – I'm not going to reveal the plot for first-timers. Why spoil the fun I had trying to figure it out?
There are thoughtful themes throughout Prelude to a Kiss, starting with: How well do you really know those closest to you? Rita's own parents don't, or won't, admit that she is different now. Peter's complaints to his friends about the "new" Rita only elicit jokes about post-marriage changes.
A deeper theme is the "for better or for worse" line from the marriage vows the couple took. How much of the "worse" can love endure?
Matthew David Gellin and Becca Howell are excellent as Peter and Rita. Playwright Craig Lucas gives Peter direct-to-the-audience speeches, so we are privy to all his thoughts about Rita, from euphoria at their love to confusion followed by realization of what has happened to her. Gellin has the magnetism and charm to draw us in and sustain our sympathy.
Howell is very fine at playing what are essentially two characters, the before-and-after Rita. There is a clear delineation that she expertly handles.
Notable, too, are Terry Gosdin and Holly Sauerbrunn as Rita's parents. The actors get past some stereotypical writing, especially in the first-meeting scene, to emerge as well-defined characters.
Tom Peters gets the most from all 10 actors in this well-paced production. He deals with Falcon's small stage by effectively using steps, different levels and just enough furniture and props to place the scenes.
Prelude to a Kiss continues weekends through February 13 at Falcon Theatre, 636 Monmouth St., Newport. Tickets are available at 513-479-6783 or at http://falcontheater.net.
History Comes Alive in CSC's Henry VI
Review by Prabir Das of "Henry VI": Cincinnati Shakespeare Company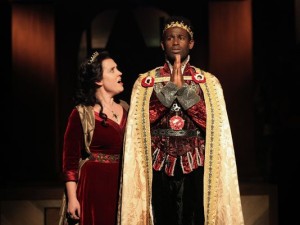 History tells us, Henry VI was the crowned king of England and France when he was an infant (less than 1 year old). The philosophy of politics has taught us that a throne rarely remains free of thorns, and Henry VI's reign was no exception. Similarly, a rose always comes with thorns as well, and when roses become an allegorical sign of wars, this symbol of love transforms into greed for the throne. Even a relationship that should be built on mutual love, like that between a husband and a wife, may also turn into a love for conniving conspiracy as evident in the life of Henry VI.
Henry VI's reign as a youth was dominated by his uncles Cardinal Beaufort and the Duke of Gloucester (who opposed each other). The dual monarchy proved too difficult for the king and England to maintain; the successes of the French Dauphin and Joan of Arc began to weaken England's grip on its French possessions and Normandy was lost in 1450.
Henry's cultural patronage and genuine interest in education were outweighed by his patchy and partisan interest in administration. Failure in France and domestic unrest encouraged factionalism. In 1453 the King became ill. Richard, Duke of York, was made Protector in 1454. The King recovered in 1455, but civil war between the Yorkist and Lancastrian factions broke out (the Wars of the Roses). For the rest of his reign, Henry's queen, Margaret of Anjou, was determined to fight, rather than negotiate a compromise, for the Lancastrian cause of her husband and son.
This history sets the stage for Henry VI, Part I, presented by the Cincinnati Shakespeare Company, a drama full of power-hungry noblemen and women. White roses were plucked by the supporters of York and Red roses in favor of Lancaster. This balancing act through war after war kept King Henry VI occupied until his demise, a story to  be played out in Parts II and III to be presented by the Shakespeare Company in upcoming seasons.
Henry VI boasts an ensemble of 19 actors (seemingly large until you consider the original play included 56 characters in total), and many of them were on the stage together during various enactments. Andrew Hungerford, the scenic and lighting designer for the play, has done a marvelous job creating the depth and multi-dimensionalism that was needed to handle a large enough space for the actors to roam freely. His scenic design once again leaves the mark of a creative master, although more attention was needed for his lighting design as occasionally some of the many characters seemed poorly lit.
Brian Isaac Phillips once again proves his thoughtfulness in composition, movement, and the overall tuning of the play. From beginning to the end the performance of the 19 cast members never sounds or appears discordant. The complexities of the storyline and the complicated character blocking are all well-orchestrated by Mr. Phillips. Amanda McGee's costume design truly reflects her insight and imagination to transport us to the era. Bruce Cromer's skill in fight choreography is enhanced by the cast's pinpoint timing, footwork and synchronization. Caitlin McWethy as Joan of Arc (though not the Joan of Arc one expects) performs her fighting scenes with the most brilliance steals the show from the rest of her co-actors. Paul Riopelle is truly remarkable in his rendition of Duke of Gloucester, and, amongst others, Geoffrey Warren Barnes II, Billy Chase, Giles Davies and Jim Hopkins leave remarkable impressions. As Henry VI, Darnell Pierre Benjamin still needs some work to fully bloom as an actor. As the center of focus, he received tremendous support from the dialogue, yet his body language and foot work didn't go hand in hand with his kingly erect posture.
Henry VI is a very challenging effort, and overall the entire cast and crew of CSC have poured out their hearts for their passion. Henry VI runs at CSC through February 13th. Go, watch this play and be a witness of  English history, which adds to the history of CSC as well.
Clifton's Realistic Joneses is Something Wonderful
Review by Kay Sloan of The Realistic Joneses: Clifton Performance Theatre
Something wonderful is brewing yet again at Gaslight Clifton's tiny theatrical gem, The Clifton Performance Theatre on Ludlow.
The Realistic Joneses opened last Thursday with glowing reviews for Dale Hodges' direction of Will Enos' eccentric, whimsical play about two sets of neighbors facing the uncertainties of love, of communication — and of life itself. Hodges did a terrific job of casting the play and all four actors, Carter Bratton, Phil Fiorini, Miranda McGee, and Mindy Seibert, give thoughtful, focused performances of their troubled characters.
There is not a dropped moment throughout this tightly-written play, from the meeting of the two sets of couples under starlit backyards of the Midwest to the closing monologue, when the play's non-sequitors expand like freewheeling constellations disappearing into a mysterious night sky.
This is one special night of theater that Cincinnatians will not regret. Give yourself a treat and see our own Dale Hodges' direction of this evocative, haunting play.
Carnegie's Wizard of Oz a Colorfully Colossal Collaboration
Review by Charles Roetting of The Wizard of Oz: Carnegie Theatre
The Wizard of Oz, currently playing at The Carnegie, is the classic story of Dorothy Gale, along with her dog Toto, adventuring through the fantastic land of Oz, where she meets a colorful cast of characters while searching for a way back to Kansas. It is a story that few among us are unfamiliar with. It is a tale of friendship, forgiveness, and discovering our own strengths–not to mention witches, wizards, and anthropomorphic animals and objects. No wonder most of us are introduced to the story as children!
This production – a collaboration between The Carnegie's Theatre, Education Department, and Art Gallery, as well as Kentucky Symphony Orchestra – is a joy. It is truly a celebration of collaboration both on the stage and in the audience, where patrons are encourage to join in with certain songs and dodge the occasional flying monkey.
Music Director and Conductor James R. Cassidy has a top notch orchestra. Their presence on the stage is both wonderful (because they sound wonderful) and challenging (because they are on the stage). However, Matt Wilson's artful direction keeps things clean and largely devoid of clunkiness. This is aided by Pam Kravetz's set design. The set is minimal, but intricate and colorful. Set pieces are placed and removed from scene to scene, suggesting locations while allowing the imagination of the audience member to give them definition. The gate to the Emerald City is particularly fun and effective at informing the imagination.
The cast of 20 (8 of them youths) is free and loose and at times a little wild. There is a sense of play and comradery among the entire ensemble, which creates a highly watchable dynamic from start to finish. There are so many standout performances.
Christine Chisholm makes for a right fine Dorothy. She looks great, sounds great, and her rapport with her castmates? It's great. She honors well the memory of Judy Garland while not trying to imitate her. Her rendition of "Over The Rainbow" is delightful. Of course, Dorothy couldn't be Dorothy without her companion Toto, masterfully piloted by rising star Olivia Bayer.
Two other memorable performances are those of Sarah Viola's Glinda and Lesley Hitch's Wicked Witch of the West. The success of these two roles lies partly in both performers' respective talent but also in their juxtaposition against one another, in sound, appearance, and behavior. The Wicked Witch is aggressive, frightening, and larger than life where Glinda is calm, peaceful, and quite subtle.
The scene stealers of the entire show are easily The Scarecrow, The Tinman, and The Cowardly Lion, played by Jack Manion, Tyler Kuhlman, and Sean P. Mette respectively. This sitcom-in-the-making of a trio will not be unwatched. Their ridiculous antics provide non-stop laughs from start to finish.
Providing further comic relief are Will Reed in his performances as Uncle Henry and Gatekeeper of Oz (and a really fantastic Crow) and Jeff Richardson as Professor Marvel and The Wizard of Oz.
Not to be forgotten is the ensemble; 4 of them adults, 8 of them youths, all of them quite good. Whether playing Munchkins, Flying Monkeys, cranky Trees, or any of their other characters, their energy, commitment, and believability is striking.
The choreography, by Maggie Perrino, is fun. "The Jitterbug" stands out in particular.
Also deserving a mention is Steve Hinnenkamp for such fantastic Vocal Direction.
THE WIZARD OF OZ continues Thursdays – Sundays through January 31. For tickets, call (859) 957-1940
.
Clifton Performance Theatre's'Â  Realistic Joneses is a Strange, Thrilling Night of Theatre
Review by Teddy Gumbleton of The Realistic Joneses: Clifton Players
During an early scene in Clifton Performance Theatre's production of Will Eno's The Realistic Joneses, one of the characters apologizes for blurting out something personal. To which another character replies, "That's alright. That's what separates us from the animals. You never hear animals blurting things out. Unless they are being run over by a car or something." This exchange is a great snapshot of Eno's play; a fascinating examination of how people attempt to communicate with each other.
The Realistic Joneses begins with a married couple, Jennifer and Bob Jones, sitting on their back porch. They are soon joined by their new neighbors, John and Pony, who share the same last name. During the course of their awkward first meeting, Jennifer reveals that Bob is suffering from a rare degenerative condition. Over the course of the play, the characters continue to encounter one another and attempt to forage or salvage their relationships, in spite of their inability to articulate themselves.
Will Eno's play is opaque and unusual. There is very little in the way of plot, at least in the traditional sense. Instead, the focus is on the relationships of the characters and their challenges to connect with one another. The language is heightened and often reminiscent of Albee or Ionesco and it includes many awkward exchanges, full of digressions and rebukes, all of which serves Eno's exploration of how often words hinder us from expressing what we really intend.
The cast, which features Mindy Seibert and Phil Fiorini as Jennifer and Bob, and Miranda McGee and Carter Bratton as Pony and John, is utterly impeccable. It is nearly impossible to single out one performance for praise, because they work so exquisitely as an ensemble. The entire cast adroitly handles Eno's careering prose, making the stilted exchanges completely natural. Each actor gives their character gorgeous nuance and evokes the complexities of their relationships.
As for the production, it soars under Dale Hodges' magnificent and understated direction. Hodges' staging provides the delicate shading the script calls for and gives a naturalized humanity to the otherwise affected language. Hodges' control of the tone is masterful, allowing scenes to veer from harsh to tender without ever seeming forced. She deftly maneuvers CPT's space, utilizing every inch, without ever feeling cramped.
The lighting design, by Garry Davidson, is dazzling and evocative. Through his lighting, Davidson is able to create everything from the harsh fluorescents of a grocery store to a beautiful mountain sunset. The lighting design works perfectly in tandem with Nazanin Khodadad's and Michael Venturini's simple and effective scenic design.
Ultimately, this is a very challenging play, which certainly won't be every audience member's cup of tea. However, for those willing to take a chance, Clifton Performance Theatre's exemplary production of The Realistic Joneses offer many wonderful rewards.
Carnegie's Wizard of Oz Will Transport You to Another World
Review by Doug Iden of "The Wizard of Oz": Carnegie Theatre
When you arrive at the theater and see the gargantuan legs of the dead Wicked Witch of the West extending from the outside of the building, you know there could be magic inside. And the concert version of The Wizard of Oz at the Carnegie fulfills that promise. With a large (for local theater) Kentucky Symphony Orchestra playing the hypnotic Harold Arlen music plus the extraordinarily witty lyrics of E. Y. Harburg, the audience is in for a real treat. The show has many memorable songs including "Ding, Dong the Witch is Dead", "If I Only Had a Brain/Heart/Courage", "Follow the Yellow Brick Road", and the immortal "Over the Rainbow" under the direction of James Cassidy.
The entire production demonstrates the coordination between the Carnegie Theater, the symphony, the youth ensemble, scenic and artistic designer Pam Kravetz and Matt Wilson's direction. With a dozen musicians on stage, the actors, the youth ensemble and other adults s performing a lightly staged version of the play/movie, it takes true imagination with set design, props, costumes and lighting to seamlessly propel the story. The Carnegie succeeds on all fronts. Using moveable set pieces and a bridge towards the back of the stage, the production simulates multiple scenes including a Kansas farmyard, a tornado, Munchkinland, a dark forest, a poppy field, the Imperial City and the lair of the Wicked Witch. Costume designer Alison Lechlak must have blown the budget with many different costumes ranging from the mundane to the outrageous and lighting designer Alan Kleesattel adds to the fantasy.
The show follows the movie version of the Oz story (penned by L. Frank Baum) including a black and white opening in Kansas and the sudden switch to technicolor when Dorothy arrives in Oz. Also, from the movie, many actors play multiple roles in the switch from "reality" to "fantasy" including farmhands Hunk (who becomes Scarecrow as portrayed by Jack Manion), Hickory/Tin Man played by Tyler Kullman, and the over-the-top performance by Zeke/Cowardly Lion (Sean Mette). Auntie Em becomes Glinda, Uncle Henry plays an expanded role as the Gatekeeper of Oz and Professor Marvel becomes the Wizard (depicted by Jeff Richardson in his best Frank Morgan imitation. Leslie Hitch cackles and crackles as Miss Gulch and the Wicked Witch. All do an excellent job, highlighted by Manion's Scarecrow who does some eccentric dancing ala Ray Bolger, the outrageous antics of Mette's Cowardly Lion and the scene-stealing Lesley Hitch as the green-faced Witch. The story, though, is carried by Dorothy played by Wright State University junior Caroline Chisholm, whose infectious personality and good singing provide the glue for the show. The Youth Ensemble was also charming playing a variety of roles including the Munchkins, citizens of Oz and the flying monkeys.
Another very positive aspect was the number of children in the packed audience. Youngsters have attended several productions I've seen this year and I think this is good for local theater and for the kids. The good news is that you do not need a tornado to enter Oz so grab your broomstick or your ruby slippers and relish the joyous fantasy continuing at the Carnegie Theater through January 31.
Covedale's
Chapter Two
is Funny and Touching
Review by Doug Iden of Chapter Two: Covedale Theatre
You can hardly go wrong with a Neil Simon comedy, as the Covedale Theater has proven once again.   In one of his more autobiographical plays, Simon tells the bittersweet story of a writer who is recently widowed and is now facing the difficult, awkward and sometimes cruel process of establishing a new relationship while still mourning his wife. George, the writer played by Gregory Bossler, is encouraged by his brother Leo to contact a recent divorcee, Jennie (portrayed by Kimberly Gelbwasser). The results, in typical Simon fashion, are hilarious.
Chapter Two represented a shift in Simon's work from pure comedy to more serious and dark themes with his usual adept humor and sharp repartee. George is conflicted between his love for his deceased wife and Jennie which threatens the new relationship.
The set shows George and Jennie's apartments juxtaposed on the stage with the action alternating between the two flats using only lighting. Both apartments show subtle details of each character with a masculine set for the writer George and a more stark, modern flat for the disciplined but somewhat neurotic Jennie.
The humor arises through the machine-gun fire dialog between George and his brother Leo (played by Steve Milo) and Jennie and her girlfriend Faye (portrayed by by Mindy Heithaus). Eventually, all four characters interact with Simon's sharp dialogue. Some of the quips are dated but, overall, there are many great lines.
The portrayals of the characters were somewhat mixed. The two sidekicks (Leo and Faye) have the majority of the humorous lines and Steve Milo and Mindy Heithaus play them with flamboyant relish, often stealing their scenes. Kimberly Glebwasser plays Jennie with an increasing sense of frustration over George's inability to deal with his dilemma, although her acting is somewhat over the top at times. I felt that Gregory Bossler's interpretation of George was somewhat uneven. His transition from bereaved husband to lover to agonized soul seemed a little forced and he stumbled on a few lines.
Nonetheless, the overall production was funny, touching and worthy of your attendance throughout its run ending February 14 at the Covedale.
Henry VI: The Force Awakens
Review by Liz Eichler of "Henry VI": Cincinnati Shakespeare Company
If you are a drinking person, the perfect pairing for Henry VI is a couple of fingers of whiskey. You see, Henry VI is a testosterone heavy play, full of action and the double-dealings of the power-hungry men (and women) who shaped European history. It's a "man's play," a misogynistic, conflict-filled world whose years were carved in history, but crafted into an evening by William Shakespeare. Director Brian Isaac Phillips has created a very watchable version of this rarely produced show. Playing now through February 13 at Cincinnati Shakespeare Company, Henry VI is worth seeing, and, according to the gentleman on my right, worth his two hour drive from Columbus, specifically to have the privilege of seeing the story enacted.
After his father passes, the teenage "sweet and bookish" King Henry VI assumes power. He believes in his lessons and is untried in the world or on the battlefield. He is heavily guided by his uncles with agendas, the Duke of Gloucester (Paul Riopelle) and the Bishop of Winchester (Mike Van Zant), who vie to influence the young king. Battle lines are drawn between the houses of York and Lancaster, illustrated by the white rose or the red. The war with France (and the upstart Joan) is one of the many struggles dividing court and country, quite a shame after the beloved Henry V worked so hard to attain peace and prosperity. The biggest conflicts arise when it is decided Henry VI needs to take a Queen. Duped into a reverse dowry, he deeds hard-fought lands to Margaret's father, angering the nobility who sacrificed to win them.
There are many good things about this action-packed production. Darnell Pierre Benjamin brings Henry VI from an awkward teenage king-with-training-wheels, to a young man comfortable in the moto-cross race of power. Giles Davies simply owns Richard, Duke of York. His performance (and Shakespeare's rich words) make me anticipate a magnificent conclusion to this History Cycle. Kelly Mengelkoch (Margaret) has great chemistry and nuance with Davies. Doug Fries and Patrick Phillips are stand-outs in the ensemble; both young men have great presence.
Audiences be prepared, however, as Joan of Arc is written though the eyes of Elizabethan England, hating French and Catholics, painting her as a crazy, sarcastic witch. Caitlin McWethy clearly has fun in this role. McWethy and Davies are great to watch in stage combat, (Fight Choreography by Bruce Cromer). They battle with strength, gusto, and good timing.
Digital projections up the cool factor of the set. The uber-talented scenic and lighting designer Andrew Hungerford created a huge space. The projections support the action well, are a great counterpoint to the rose-filled arbors. Costumes by Amanda McGee help define the warring factions.
Again, the man next to me drove two hours to get to this production, and was quite pleased with the performers, the pace, and the action. The sword-play and sword-fighting as well as the power struggles will appeal to the Star Wars crowd and older. Because of the complexity of the history, I highly recommend reviewing a synopsis before you go; although not in the program, one is available on www.cincishakes.com or scan the QR code in the lobby with your Smartphone to view the information.  So get your tickets at cincyshakes.com, buy yourself a glass of whiskey (or Kentucky bourbon) at the bar, and enjoy this manly adventure.
Chapter One, TWOÂ and Three
Review by Prabir Das of Chapter Two:Â the Covedale Theatre
Cincinnati Landmark Productions' current presentation is Neil Simon's Chapter Two. It is said that this play resembles the playwright's personal life story and thus it is semi-autobiographical. In a 2015 review in Chicago's Theater Beat, Lauren Whalen states that the "play is loosely based on Simon's own relationship with actress Marsha Mason, after the death of his first wife. Simon claims that the female lead's Act II monologue is, in fact, nearly word-for-word a speech Mason gave him early in their marriage." Lauren Whalen was reviewing the performance presented by Windy City Playhouse. When the words come from the heart, they never fail to touch one's heart. Additionally when a playwright of Neil Simon's stature mixes it up with a well-measured recipe of humor, the play transforms into a comedy full of authentic drama.
The action takes place in Jennifer Malone's Upper East Side apartment and George Schneider's lower Central Park West apartment during the late 1970s. Dramatically, a wrong number dialed by mistake by George, an author, marks the foundation of the Chapter Two of his life. George is a recent widower who holds very vivid and cherished memories of his deceased wife. As implied by George himself, that has been the Chapter One of his life. Chapter Two, the play, begins with George unready to to date again. But he is very lonely. His brother, Leo, painstakingly attempts to fix up George with one prospective lady after another, yielding comically disastrous stories. One evening, as George picks up his telephone to dial a publisher, he ends up ringing Jennifer Malone's telephone. Jennifer is attempting to get over her recent divorce from her footballer ex-husband, with the aid of her good friend and confidant, Faye Medwick. Neither George, nor Jennifer, is ready to admit their need for love. But the right words spoken during the wrong connection draws them so close that they decide to marry within a couple of weeks after dating. They rush off to honeymoon.
But what happens when they return? The story takes its own twist towards the climax. Are the author and the soap opera actress able to merge the real and the reel together? Or does it become 'un-reelingly' unreal? There lies the answer or the storyline of Chapter Three.
Gregory Bossler as George Schneider is the perfect match for the author's character. Gregory's demeanor, especially his deep voice, magnifies George very realistically. Kimberly Gelbwasser, as Jennifer Malone, is fantastic as she carries herself  throughout the show with great elegance.Her vulnerability and soft emotionality are qualities which anyone could fall in love with. Her posture, however, (especially leaning the top portion of her body forward while arguing and while being agitated or frustrated), as well her footwork, was somewhat distracting, unless it was consciously designed to appear caricatured or cartoon like. Mindy Heithaus does justice to the troubled, lost-soul character of Faye Medwick. And Steve Milo effectively portrays Leo Schneider as a loving easy-going, yet philandering, opportunistic, and shallow man.. He did miss a few opportunities maximize the comedy in some of the slapstick dialogue.
Director Ed Cohen is very successful in blending the drama and the comedy together, and shaping each character's distinguishable personality and psychology. One moment did confuse me, when Faye runs out of the bedroom, apparently naked, followed by Leo in his pajama trousers and tank shirt. If they were about to have physical intimacy why weren't man and woman both in the same state of undress? Is there a problem showing male semi-nudity versus female semi-nudity?
Brett Bowling's set design was simply awesome,very elaborate and harmoniously balanced. Caren Young's costume design could receive a bit more attention, especially in creating contrast between Jennifer and Faye's characteristics. But the innovative buttoned PJ trouser of Leo definitely deserves applause.
Chapter Two is happening at the Covedale Center for the Performing Arts and runs through February 14th.
Broadway Series' Kinky Boots Struts Its Stuff
by Grace Eichler 1/7/16
Strutting onto the Aronoff Stage is one of the more important shows in this year's Broadway Cincinnati season: Kinky Boots. With a book by Harvey Fierstein and Music & Lyrics by none other than Cyndi Lauper herself, you would be right to expect an evening that explores every facet of the word "fabulous."
Set in rural Northhampton, England, Charlie Price (Adam Kaplan) has just inherited his family's Price & Sons men's shoes company, complete with its lack of clients. When a trip to London introduces him to Lola (J. Harrison Ghee), the headliner of a drag show, the plan is set in place to revive Price & Sons by finding their "under-served niche market." That's right, they go from "men's dress shoes" to "men in dresses shoes."
As with any show that tackles "racy" issues, I was nervous to see how it would be accepted in Cincinnati. Indeed, it tackles that very same mentality with the character Don (Aaron Walpole), without hitting you on the head with preaching. The show is very cautious about making anyone uncomfortable, and it's too much fun for anyone to leave at intermission.
Ghee's performance as Lola is the charisma of the show, dripping from head to heel in everything you want a drag queen to be: sarcastic, lovable, and drop dead glamorous. While the spectacle songs are where we'd expect perfection (and he doesn't disappoint), the truest moment of the show is Ghee's duet with Kaplan's Charlie in "Not My Father's Son."
The other "ladies" of the show hold every inch of their own as well, as Lola's army of Angels provide the jaw-dropping beauty and grace that leave you speechless. How often do you get to watch a perfect six-pack do a backflip in six-inch stilettos?
Balancing out the femininity is the cooky Lauren (Tiffany Engen), who aides Charlie in discovering their new market. Engen provides a comedic breath of fresh air in "The History of Wrong Guys," as her dating record is slightly more relatable to the audience.
Most importantly, this show is meant for everyone. If you think you wouldn't enjoy it, you are exactly the audience they're after. I would say it's suitable for the whole gamut: children (of theatre-going age) to grandparents, and highly recommended for presidential candidates.
Kinky Boots runs January 5-17, part of the Fifth Third Bank Broadway in Cincinnati series presented by TriHealth at the Aronoff Center. Tickets are available online or at the box office.
Cincinnati Loves Kinky Boots
by Liz Eichler 1/7/16
Many shows earn standing ovations, sometimes only achieving that standing O when the last performer takes a bow. But for Kinky Boots audiences anticipated the curtain call, cheering on this spicy, campy musical throughout the final number. The show has enough glitter, bows and good will toward men to extend your Holiday spirit through its January run.
"I loved it!" "I'd see it again tomorrow!" echoed throughout the theatre, into the lobby and outside of the Aronoff Center. "Lola's voice!" "The costumes!" "The hair!" rave reviews glistened and sparkled like the perfect costumes.
Kinky Boots is a fun, feel good show. It is about Charlie (Adam Kaplan), the son of a shoe manufacturer, who has dreams of being upwardly mobile in the big city, but is called back to his hometown and factory when his father dies. Dad was passionate about creating a quality pair of men's shoes, ignoring the economy and fashion trends, making Charlie face some hard choices as he uncovers the finances.  Business school –and common sense–says to find a niche market to survive, or close down. This straight laced boy from the suburbs meets up with the drag queen Lola (fabulously performed by J. Harrison Ghee), and learns lessons in business and humanity.
Audiences liked the show at intermission, but loved it after the second act whose every number is a gem. The story hits home, exploring the theme of men never good enough for their dads, captured tenderly by "Not My Father's Son," sung by both Lola and Charlie. The show repeats the theme, "you can change the world when you change your mind" for both people and business.
Kudos to Cyndi Lauper, (whose career I have followed since, um, high school?)Â whose songs show a richness of character and styling, quietness and celebration. The book, by Harvey Fierstein, is witty and fast, hampered just a bit by some awkward accents and not quite perfect sound.
"The History of Wrong Guys" sung by co-worker Lauren (energy ball Tiffany Engen) won over many with her obvious comic skills. The whole cast is strong; standing out is George, played by Jim J Bullock, yes, of Hollywood Squares fame, and Aaron Walpole's antagonist of Don. But it is the ensemble numbers which pack the punch (literally!) with clever staging and a generous pop of amazingly nimble drag queens which truly make this a belated gift to Cincinnati. Perfect for "ladies, gentlemen, and those still making up their mind."
Kinky Boots is part of the Fifth Third Bank Broadway in Cincinnati series presented by TriHealth at the Aronoff Center, playing now through January 17. Book by Harvey Fierstein and Music and Lyrics by Cyndi Lauper, directed and choreographed by Jerry Mitchell.