Carnegie's "Driving Miss Daisy" Awarded 4 Star LCT Recommendation
Posted On November 3, 2014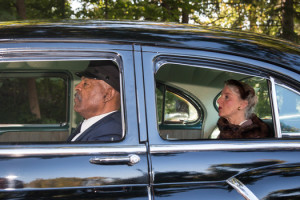 Panelists for the League of Cincinnati Theatres (LCT) have awarded The Carnegie Theater's production of Driving Miss Daisy with a 4.0 star recommendation.
In Driving Miss Daisy, ornery, strong-willed widow Daisy Wertham has just demolished another car, leaving her son no recourse but to hire her a driver. His chosen chauffeur? Hoke, a thoughtful, unemployed black man who couldn't seem to have less in common with his wealthy, Jewish client. The odd couple endure humorous and heartwarming struggles in their forced relationship, giving way over twenty-five years to a closeness and understanding that transcends the Civil Rights era in the Deep South.
Panelist's praise the production noting that this acclaimed 1987 play is "still fresh" in the hands of the Carnegie and "should definitely be seen by all". Both lead actors, Dale Hodges as Daisy and Reggie Willis as Hoke were highly applauded: 'Dale Hodges proves again that she is a member of Cincinnati's acting royalty…both their performances were masterful and full bodied…they act with such skill that you don't see any technique or tricks."
Carnegies Driving Miss Daisy runs through November 16th. Tickets can be purchased at www.thecarnegie.com.
Nominations for LCT awards will be determined and announced at the end of the season and winners awarded at the annual LCT party in the summer.