CCM Keeps "Carousel" Spinning
Posted On October 30, 2015
Review by Shawn Maus of Carousel: CCM Musical Theatre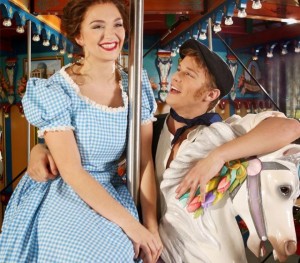 They just don't write them or make them like this any more. Richard Rodgers stated that Carousel was among his favorite creations and the closest he came to writing an opera.   CCM has given their production of Carousel the grandeur of an opera both in song and design. It's the Gay 90's right before our eyes with a moral determination and tragedy of two lovers who seem to know their destiny from the beginning (the well-known hit, "If I Loved You" has all the foreshadowing needed to propel their love).
It's been 70 years since Rodgers and Hammerstein's Carousel first bowed on the Broadway stage. Set in a Maine coastal village toward the end of the 19th century, the swaggering, carefree carnival barker, Billy Bigelow, captivates and marries the naive millworker, Julie Jordan. Billy loses his job just as he learns that Julie is pregnant and, desperately intent upon providing a decent life for his family, he is coerced into being an accomplice to a robbery.
Diane Lala's direction/choreography and Thomas C. Umfrid's design is epic – with eyes toward a big-budget Broadway show. They have put together a "Prelude/Carnival Waltz" that dazzles with the siren call of the carnival. The proscenium and wings of the stage are decked out like a New England boardwalk. In the second act-opening scene, the island is draped as sand dunes and looks like a seashell. Student Joe Beumer's lighting design brings all the transitory nature needed to evoke the laziness of a June summer in a seaside town, the whirling fun and bright lights of a traveling carnival, and the emotional intensity of the world of daydreams.
Samantha Pollino's Julie Jordan is particularly strong and soulful. Her clear, expressive voice had many in the audience remarking on her vocal talents after singing "If I Loved You." She brings tenderness to the whirlwind romance between Julie and Billy.
We are supposed to despise Billy Bigelow, a blustering bully and a man who not much of a deep thinker, but Ben Biggers' portrayal is a mix of pompous bravado yet surprising with his revelation of Bieglow's humanity especially during "Soliloquy".
Biggers and Pollino have the right chemistry for their push-pull relationship. Both actors have the complete package: looks, emotional character development, voice and maturity.
Brianna Barnes as Nettie (and if you look closely, I believe she played the "gypsy fortune teller" in the Carousel Waltz Prelude) brings a wonderful soft-heartedness to the character with a captivating stage presence that is the strength for all of us. Her "June Is Bustin' Out All Over" makes one want to hightail it to the seaside for the clambake. Through the emotion and comfort of "You'll Never Walk Alone", Barnes inspires us and gives us strength.
Chris Collins-Pisano's, Enoch Snow, has a comedians talent for timing. He is good fun, bumbling, and manages to infuse his scenes with humor and warmth.
The long ballet sequence, set 16 years later with Areo Keller as Billy and Julie's daughter Louise, comes off beautifully showcasing the dreaminess and fluidity of Louise's life with the sassy strength to overcome her conflicts. Keller is grand and graceful holding the character from beginning to end; you can see her having a dialogue in head expressed through her movement in "Ballet".
Indeed, in many ways, the musical drama was far ahead of its time in the musical genre. But its exploration of social themes such as spousal abuse, cold-blooded crime, and death in the family are as pertinent today as they were 70 years ago. CCM keeps the themes alive and keeps the legendary show fresh for a new generation.