Showboat's "The Music Man" Earns LCT Recommendation
Posted On September 19, 2012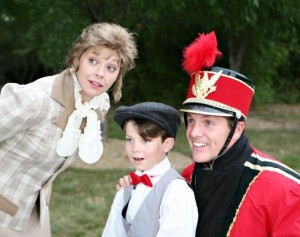 Panelists for the League of Cincinnati Theatres (LCT) have recognized Showboat Majestic's "Music Man" as a recommended production.
This classic American musical follows fast-talking traveling salesman Harold Hill as he cons the people of River City, Iowa into buying instruments and uniforms for a boys' band he vows to organize – this despite the fact he doesn't know a trombone from a treble clef.
Panelists praised the production as "delightful," "high-energy" and "enthusiastic," with innovative choreography and staging using the Showboat stage to its full potential.
"The Music Man" continues through September 30th. Tickets can be purchased at http://www.cincinnatilandmarkproductions.com/sbm.
Final LCT awards will be determined at the end of the season and announced at the LCT gala in the spring.