Who's Taming Who?
Posted On March 4, 2023
Review of CSC's The Taming of the Shrew by Doug Iden
Is The Taming of the Shrew misogynistic and is Katherine abused and weak?  Definitely not, says Director Jemma Alix Levy referring to the current production of the play at the Cincinnati Shakespeare Company.  In fact, states Levy in a podcast, Kate is the smartest character on the stage and, ironically, takes the other characters (including Petruchio) to task.
Echoing modern sensibilities, this play is considered problematic by many because of its apparent views on women.  Levy asserts, however, that this is a classic battle of wits between the sexes and is a "social performance" by Kate in this re-imaged version of the play.
The Plot of The Taming of the Shrew
Traditionally, the play opens with an "induction" which frames the action as a "play within a play" when drunkard Christopher Sly is convinced by fellow drunks that he is a Lord and they commence to tell the story of the "Shrew".  In this updated version by Levy (who also wrote some of the ensuing dialogue), Christopher is replaced by Kristina Sly (played exuberantly by Colleen Dougherty) as a modern "bride to be" dressed in her wedding gown and accompanied by friend Amy (Maggie Lou Rader).  After an over-the-top entrance, the two characters go on stage and function both as narrators and commentators on the action as they interact with the other characters but direct their comments to each other and to the audience.
The comedy addresses the wooing of two sisters who are opposites in temperament.  Bianca (the younger sister played with charisma by Angelique Archer) is popular and outgoing while Katherine (Sara Mackie) is a headstrong, obdurate, independent "modern woman" does not feel defined solely because of a man.  However, Baptista (Torie Wiggins, parent of the women) has decreed that Katherine must be married before Bianca.  This creates a problem for the various suitors of Bianca including Lucentio (Darnell Pierre Benjamin), Hortensio (Justin McCombs) and Gremio (Billy Chase) who, collectively and individually, scheme to find a suitor for Katherine.  They are also rivals in their pursuit of Bianca so they create different personas for themselves by switching identities with their servants.  Thus, we have the classic formula for farce with mixed identies, misunderstandings and chaos.  
At The Heart of "The Taming of the Shrew"
However, central to the story is the relationship between Petruchio (Josh Innerst) and Katherine.  Petruchio has "come to wive it wealthily in Padua" and willingly accepts the challenge presented by Bianca's suitors because of Katherine's money.  The ensuing banter, interplay, innuendo, and misunderstood intentions is reminiscent of the 1930's Screwball Comedy's where women always triumph over men.
This is a very funny show. Even if you do not like Shakespeare, are disoriented by the language and get lost in the convoluted sub-plots, this production is worth seeing with many modern allusions. Each of the actors has many "star turns" at comedy with a combination of verbal and physical humor. At times, you can imagine that you are in the middle of a Marx Brothers movie. There are dozens of sight gags including Bianca signaling to an audience member to "call her", playing a lute like a rock star with a guitar, blowing bubbles at the wedding, numerous dunking's at the fountain, and many slapstick pratfalls and comic fisticuffs.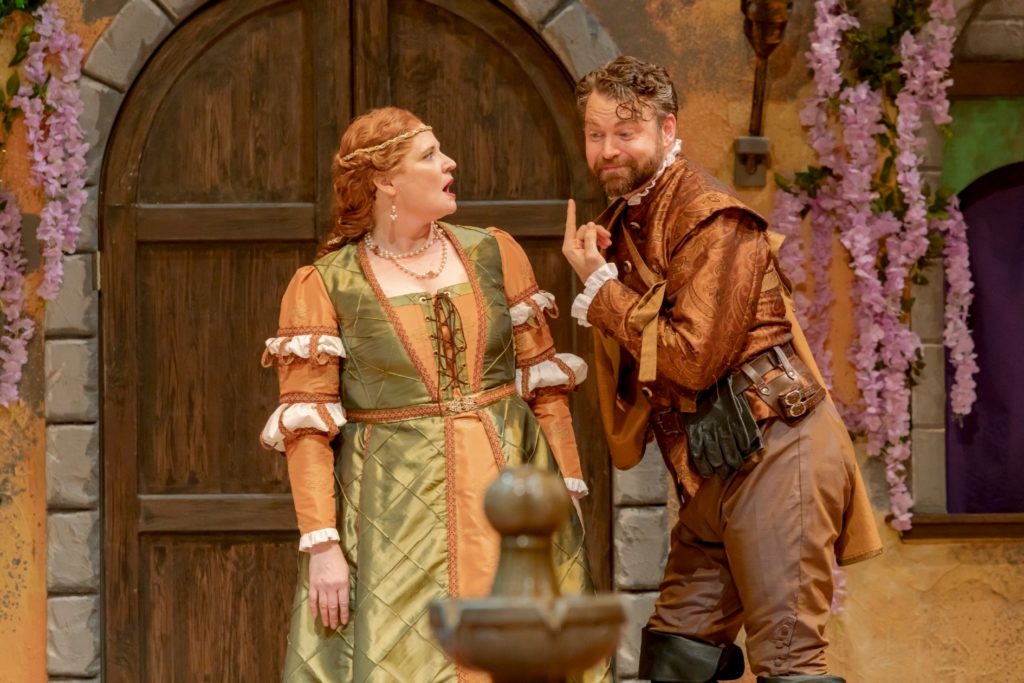 Throughout the show, Amy provides social criticism of the apparent abusive treatment of Petruchio towards Katherine. An example is the statement that women are "property" of men. Kristina Sly defends Petruchio because he (like her) is madly in love and this is merely banter between the besotted characters.
One of the problematic parts of the play pointed out by modern critics is the final speech when Katherine appears to decry the fact that "women are so simple" and seems to relish the role of subservience to her husband. You may take this speech literally (as many do) or ironically (as the director does). This is ultimately a love story and Katherine and Petruchio (and the other newlyweds) have grown to appreciate and accept each other in a loving relationship.
This is an ensemble piece with a large cast which are all excellent. It is hard to highlight individuals but kudos to Mackie, Innert, McCombs, Geoffrey Warren Barnes II (Tranio), Jennifer Joplin (Grumio), Dougherty and Chase.
The costumes by Kristina Sneshkoff are both period (which is nice for a change) and comedic.  Costumes include flowing gowns, knee high boots and cloaks (often over the shoulder).  Petruchio wears an outlandish costume which looks like many discarded swatches of fabric sewn together with different patterns and colors.  Katherine's wedding gown, after falling off her horse with no help from Petruchio, has mud splotches all over.
Tickets to The Taming of the Shrew
So, if you're looking for a "pick-me-up" on a dreary March day, climb on your trusty steed and gallop down the Cincinnati Shakespeare production of The Taming of the Shrew running through March 25.  Their next show is As You Like It running from April 7-29. Contact the CSC Box Office for tickets.