Cincy Fringe 2023: Ariel's Reviews #2 
Posted On June 13, 2023
Reviews by Ariel Mary Ann
Read multiple reviews: SchMILF Life, Modern Beings in Search of the Sole, Made in America, plosive, Who's Afraid of Winnie the Pooh, To Spite One's Face, Todalv, Anatomica, and UDFCC.
ShMILF Life
Penny Sterling
SchMILF Life is a one-woman comedy that centers around dating when you're an older woman… who also happens to be transgender. Created by Penny Sterling, this show offers an intimate look at what it's like to transition as well as the highs and lows that come with it. Over the course of an hour or so, Sterling leads audiences on a journey of self-discovery describing her experience with transitioning and foray into online dating.
In theatre, it's a rarity to have a show created by a trans person highlighting the trans experience; It's even more rare when the creator is a trans person of older age. I recommend this show to patrons who are looking for a play that offers a different perspective on life… a perspective that has been historically ignored due to systemic transphobia. The governor of Florida has banned gender affirming care for minors and Ohio representatives are attempting to do the same. This is why work like Sterling's is so important to the theatre landscape within the US.
Bottom Line: If this fits within your Fringe schedule, considering adding it to your list of must see shows.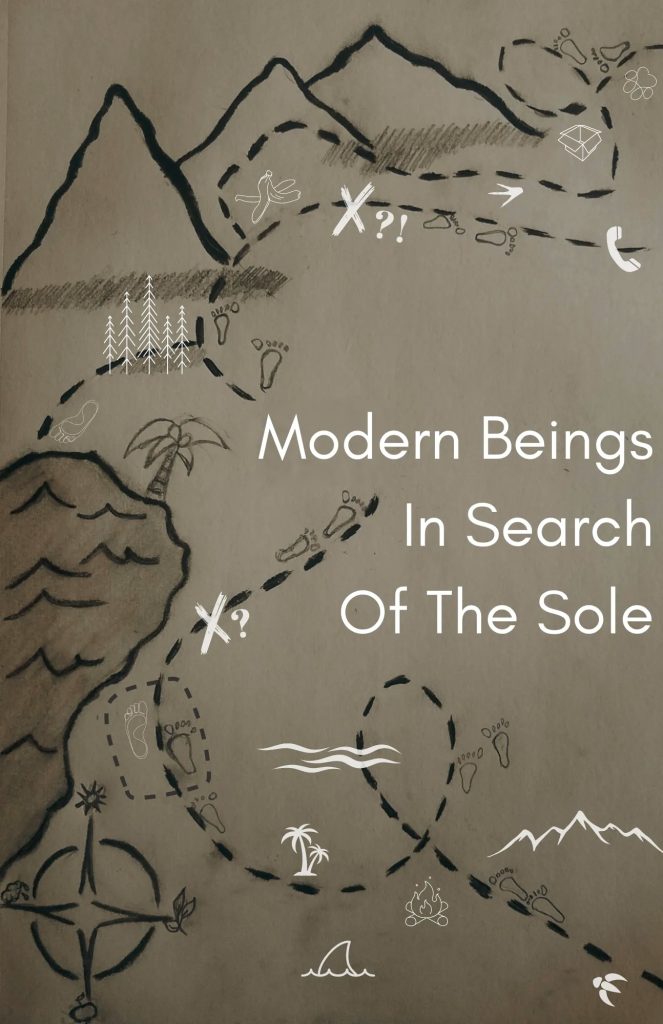 Modern Beings in Search of the Sole
Solasta Theatre Lab

Modern Beings in Search of the Sole is an original devised theatre piece from Solasta Theatre Lab. This Fringe show doesn't feature a linear plot. For some audiences, this work may seem challenging to interpret if you're unfamiliar with what exactly devised theatre is. (Devised theatre is a method of theatre-making in which the ensemble collaborates during the rehearsal process to build the script together.) Allow yourself to fully experience this show without expectation or assumptions.
At its core, this piece examines the ways in which humans are continuously searching for something – whether it's metaphorically or literal. What I took away from this piece is that your story isn't the only one that exists. Humans can get so caught up in their own world that they tend to forget that they're not the only ones experiencing pain or feeling lost in their lives.
From an acting standpoint, the actors truly embraced the various roles they took on and played off one another very well – particularly Daniela Nenova and Lyd Noll during their scenes.
Bottom Line: I recommend "Modern Beings…" if you're wanting to branch out into experimental theatre that will leave you reflecting on life and the human experience.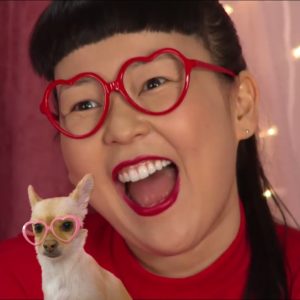 Made in America
Teruko Nakajima
***Trigger warning for mentions of abuse and assault."
Made in America by Teruko Nakajima is perhaps one of the most heartbreaking shows this Fringe season. Hailing from Los Angeles, Nakajima shares with the audience her experience of growing up in Japan where she endured abuse at the hands of her parents and men in her life. This emotionally heavy show spotlights the ways in which women of color are often ignored when bringing to light trauma they've survived.
As a Black trans woman who has experienced my own fair share of abuse, this show spoke to me on a deep personal level. From the moment she steps on stage, it's clear that she has a bubbly personality unlike any other. As the show progresses, we start to see a more vulnerable side of Nakajima where she addresses the shame she felt around her trauma and the work she put in to get to a place of healing.
Bottom Line: Made in America is a show about one woman's fight to reclaim her agency and truth (with the help of a dog named Titi.) If you're looking for a show with heart, then consider Made in America by Teruko Nakajima. (Trigger warning: Please note that this show includes mentions of abuse and assault)
If you or someone you know is experiencing abuse, please consider reaching out to Women Helping Women. You are not alone.
plosive!
Performance Gallery
Performance Gallery's plosive is an "historic" experimental show centering around the symphony of sound. Over the course of an hour, you will witness a very fringe-y show. There's no plot at all, just humans on stage making sounds. At first glance, the shows feels random at times but if you follow closely you'll notice the sounds being made are essentially grouped together into a theme of sorts, which makes this pretty interesting. Believe it or not, the segments and parts of this show were developed in the 1920s by Kurt Schwitters. plosive doesn't take itself seriously and from an audience perspective, it's clear that the cast really leans into the silliness of the piece.
A scene I enjoyed included two actors going back and forth with one another as though they're arguing. The catch is that they aren't saying words, just sounds which makes it even more entertaining.
Bottom Line: plosive is an interesting piece with strong comedic timing that some audiences will enjoy.
Who's Afraid of Winnie the Pooh
Clevername Theatre
Picture a children's character who everyone knows and loves combined with Edward Albee's classic Who's Afraid of Virginia Woolf? with sarcastic, difficult characters. This is the makeup of Who's Afraid of Winnie the Pooh presented by Clevername Theatre with direction by Alexander Gerchak. From the very jump, I found myself fully invested in the story.
This is another Fringe show that doesn't take itself too seriously. It's what I would describe as a true Fringe moment. What makes this show so fascinating is how the actors fully immerse themselves in the world of their character. For example, Thomas Buan as Winnie, at one point, submerges his hand in a pot of honey and licks it off dramatically as he goes on about the woes of life being a honey bear.
The entire cast (Buan, Nick Hill, Victoria Jones, Katrina Stelk) works well together building off the energy of one another. The script and direction, both from Alexander Gerchak, make for a smart, campy comedy that's entertaining from beginning to end.
Bottom Line: Audiences who love melodramatic plays with a twist, and fully committed acting, will find Who's Afraid worth the watch.
To Spite One's Face
by Zoë Peterson
Sometimes to get what you want; you have to make a deal with the devil. This year, playwright and director Zoe Peterson returns to the Fringe Festival with To Spite One's Face. This queer campy lesbian comedy (featuring nods to the 1980s) follows two siblings, Dani (Sydni Solomon) and April (Samantha Luhn), as they piece together their mother's past and unearth a secret neither of them were prepared for.
Peterson, (who plays Cynthia) has a knack for creating shows with a supernatural twist. I found this production to be very entertaining. The horror comedy aspect combined with the sapphic subplot meshed well together and kept me rolling with laughter.
This show has a lot of heart and was a treat to watch. Each of the actors held their own and gave an engaging performance.
Bottom Line: For audiences who appreciate campy queer horror, "To Spite One's Face" is worth a watch.
TODALV (TOH-DAH-LUH)
Written By Maia Morrigan Aoibheil
Todalv is a reflection on culture and identity. Playwright and director, Maia Morrigan Aoibheil takes audiences on a personal journey exploring what it means to be an indigenous person in America today. Through poetry, Aoibheil examines the ways white America has attempted to systematically wipe out the indigenous population and attempts to come to terms with this violent history.
I felt challenged to look beyond my own assumptions about identity and the ways in which we box people into tight knit categories. The biggest strength of this piece lies in the way the playwright connects the past to the future. Through storytelling, they've highlighted how America has always attempted to systematically silence marginalized people.
Todalv in many ways signifies a new era of theatre utilizing the art form as a vehicle to bring to light the horrors of the past. It's a political show tearing away at the false reality that this country is the land of the free. Are we truly free if we must hide who we are? Welcome to America.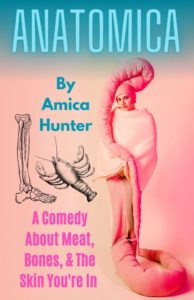 Anatomica
by Amica Hunter
Anatomica is a quirky show from Amica Hunter of Portland, Oregon. At the top of the show, Hunter immediately grabs the audiences' attention through a comedy routine while breaking the fourth wall. I felt myself thoroughly invested and curious wanting to know where this show would go.
From talking about their dearly departed crawfish to addressing the strange phenomena that is the human body, it became clear that this is a show centering around the reality of living with chronic pain. Hunter comically explores what it would be like to live in a different skeleton body. By the end, they acknowledge that this curiosity was fueled by imagining what it would be like to feel comfortable in your body where you can just exist.
Anatomica led me to reflect on my own privilege I hold as someone who doesn't experience chronic pain. Furthermore, I couldn't help but think about the ways in which people are either denied care or not believed when it comes to addressing pain.
Overall, this was a smartly done show featuring great comedy, an out of this world performer, and a story that I think many of us can relate to.  
UDFCC
The Pajama Playhouse
UDFCC (Unambiguously Destructive Family Crushes Community) has been produced by The Pajama Playhouse of Cincinnati. It is a political satirical comedy. This show examines the Linder Family and the ties they hold as a corporation using their power and wealth to expand their empire; including if it's at the expense of the working class.
I found myself both entertained and amazed at the way the script directly challenges audience members to reflect on history and how these companies came to be.
Many forget that at the end of the day, large corporations are driven to increase profits. Boards want leadership to do anything to make more money–even If it means colonizing different parts of the world. Or pushing out low-income working-class residents to build a soccer stadium. 
At one point, one of the characters questions how/why they could do something like this. The simple answer is, money and power. Unfortunately, when you have enough wealth and social status you can get away with (almost) anything. Should someone dare call out the corporations, they get silenced with NDAs served with a smile as comically seen in this production.
Bottom Line: UDFCC emphasizes the importance of knowing where you own values lie and doing what you can to push for change. Note, there was no program, so I could not mention individual actors.
ARIEL'S CLOSING STATEMENT:
Fringe 2023 has been a blast to attend. The past two weeks have inspired me so much and I feel honored to have witnessed some of the most amazing experimental, weird, and outrageous theatre of our era. Here's to getting weird. Happy Fringe, Cincinnati.
Get Cincy Fringe 2023 Tickets!
Thank you for supporting theatre artists. Get tickets to the last shows and explore the schedule HERE.
updated 6/16