Earnest Shines in "Every Brilliant Thing" 
Posted On March 18, 2023
Eileen Earnest takes us along a rollercoaster of joyful levity and solemn empathy in Falcon Theatre's immersive Every Brilliant Thing. While we work through heavy issues of mental illness and suicide together, these topics are handled with care, and we're left with a meaningful message of hope.
Review by Christy Carson
How Every Brilliant Thing Begins
The audience sits right up on stage in an intimate space with a minimalist set (by Tracy M. Schoster): a rug and four blocks. As you enter, Earnest is eager to greet you, and may even hand you a number from her list to read later. Some of these numbers are on items we find are important later (props to Holly Sauerbrunn for prop design). There is no fourth wall in this show.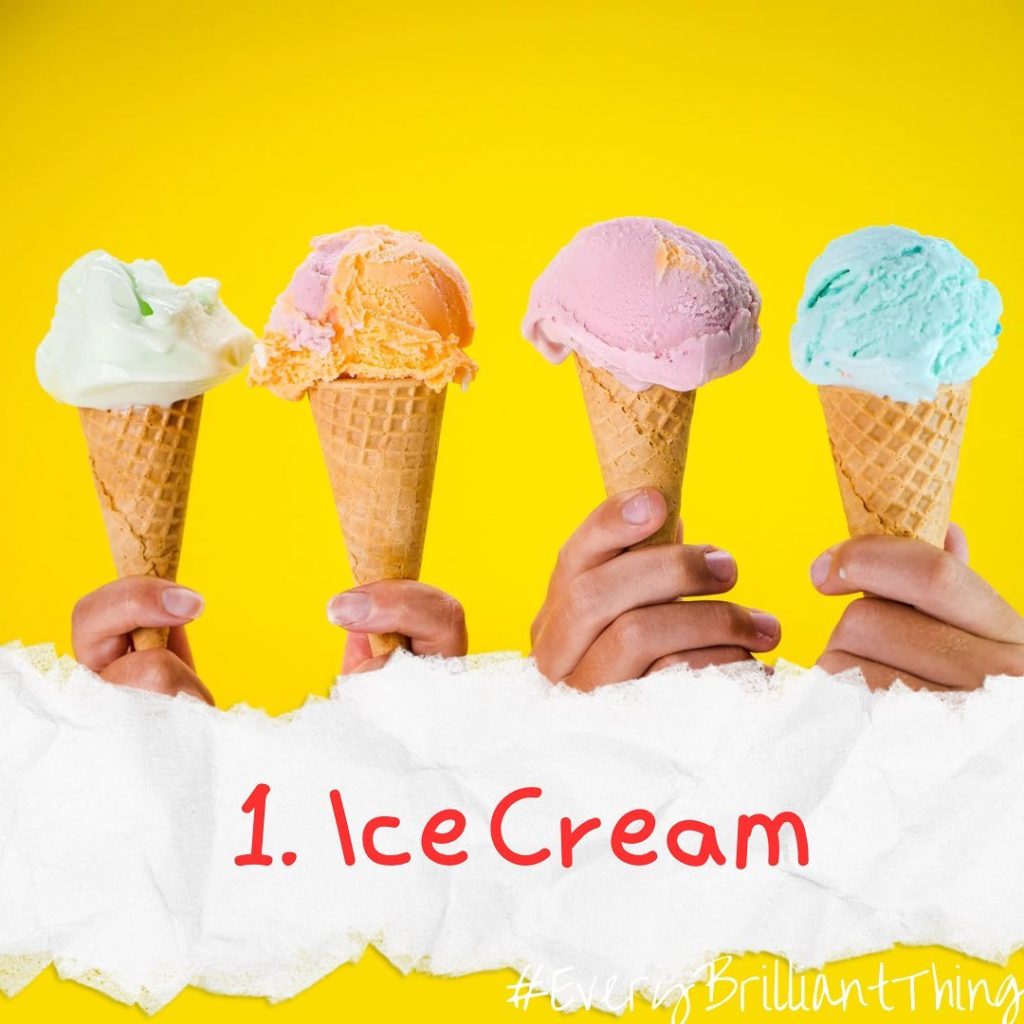 As she calls her first few numbers, the willing participants don't miss a beat. "1: ice cream, 2: water fights, 3: staying up past your bedtime and being allowed to watch TV, 4: the color yellow." Earnest brings such innocent joy, we can't help but smile and giggle along, reminiscing about when these were some of the best things in life.
We learn that Earnest's mother is in the hospital after "doing something stupid," and that Earnest is writing this list for her. She wants to inspire her mother with a list of "Every Brilliant Thing" she can think of, although she admits they are not necessarily things her mother would like. She is seven at this point, after all. It's interesting to see how the list evolves over time as Earnest grows up.
Brilliant Acting and Improv from Eileen Earnest
We meet people in Earnest's life who are played by audience members Earnest selects based on their resemblance to them in real life. Earnest skillfully weaves in and out of the script to improvise with each person to tell key moments of her story. She's a natural entertainer with great stage presence, but also calming, patient, and helpful to participants who need more guidance.
As we watch Earnest grow up, we see the list grow, but we also experience her own struggle with mental illness. Earnest's talented commitment and connection to her role draws us all in as she takes us through every high and low.
The energy in this show is outstanding, and Earnest deserves great praise for commanding the room for nearly two hours. Director Tracy M. Schoster also deserves recognition for the great pacing and blocking. You can hear how engaged the audience is not only with laughter, but gasps and remarks, which Earnest encourages and responds to in this interactive experience.
The Play's Message on Mental Illness
Let's talk about the lows for a minute. We start the play with a pretty heavy premise about Earnest's mother attempting suicide. Earnest shares with us how this shapes her life, sharing facts about how suicide attempts affect children. We also see Earnest struggle with her own mental illness, although she continually claims "I'm fine." In between seeing real moments of struggle, though, we see hope and joy.
Playwrights Duncan Macmillan and Jonny Donahoe balance these ups and downs beautifully in the script, and Schoster and Earnest collaborate to bring it to life in the best way. We never feel "stuck" for too long, but see a real, potentially relatable struggle in between moments of light and joy. There's no shortage of humor balancing out the hard to handle topics.
The staging and seating for this show enhanced these themes. Seeing your fellow audience members isn't typically a part of the experience, but it enhanced this show in a way that almost felt like group therapy.
I especially appreciate how the script went through the media guidelines for safe reporting on suicide, based on hundreds of studies that have shown the risk of suicide contagion. Most stories do not follow these simple guidelines that could save lives, which include listing resources to get help.
The Bottom Line (TLDR)
While it may be cliché to say "you'll laugh, you'll cry," Every Brilliant Thing guides you from laughter to tears as Earnest wins your heart. Everything comes together really beautifully, and we feel it collectively.
Tickets to Falcon's Every Brilliant Thing
Every Brilliant Thing runs at Falcon Theatre in Newport, Kentucky through April 1st. The Saturday, March 18th performance at 8:00 PM will be ASL interpreted. You won't want to miss this incredible experience, so get your tickets here!