"My 80-Year-Old Boyfriend" at Human Race is a MUST SEE for All Ages
Posted On June 19, 2022
Review by Sherri Ogden Wellington
My 80-Year-Old Boyfriend, running through July 3 at Dayton's Human Race Theatre, gives you "That 5th Grade Feeling" where life is never sad and you can say yes to everything, remember?!
Conceived and performed by Charissa Bertels, My 80-Year-Old Boyfriend is a one woman show about an aspiring actor who has an interesting relationship with a charming old man, Milton, who happens to be extremely rich. She meets him one day while she is selling juice (in between her acting jobs). Initially, after questioning his motives for inviting her to come to his home, she soon takes the leap of faith and goes to his apartment to get to know him better. She is surprised by the fact that she likes him.  Not only does she like Milton, but  she finds many qualities in him that she would like in a boyfriend…gentle, kind, intelligent, dreamy, wild, etc. They go out to eat regularly, play poker and spend time enjoying one another's company.  In the meantime, she is becoming more and more successful as an actress. She  takes a break from this relationship when she interprets his need to care for her as misogyny (and the audience might too). "My little bird", Milton's nickname for Bertels, is affectionate however, it lends one to think of her as helpless. After dealing with her demons regarding her own father, becoming a Broadway actor and her realization how much she misses Milton, she returns to him. 
Charissa Bertels is a multi-talented actor. She plays both the part of herself and Milton in a humorous and compelling manner.  Her ability to sound like a 20-something woman then immediately become an 80-year-old New Yorker is astounding. This musical tells of Charissa Bertels' life in New York City, with book and lyrics written by Christian Duhamel, music and lyrics written by Ed Bell. Directed by Sean Daniels, Bertels does it all–she sings, dances, narrates, plays the piano and she brings the people she is portraying alive through her amazing voice and physicality. 
A simple baby grand piano adorns the back of the stage where Musical Director Brett Ryback stoically plays with his back straight and no indication of feelings on his face.  His piano playing only accentuates the story.  The rest of the stage is four well lit large rectangular pillars which hide Bertel's costume changes and two chairs and a table which reflect where Milton and Charissa meet at his home.  The sound designer, Danny Erdberg, does an amazing job of keeping the piano at a level where it is powerful yet not drowning out Bertels' voice. The accentuating sounds assist the audience in imagining what is happening, especially the Mufasa and Scar door knockers on Milton's and his neighbor's doors. 
Bertels' costumes are fairly simple so that she can put them on and take off  while continuing her narrative.  They enhance the story, thanks to Jen Caprio, Costume Designer. My favorite is the one which  Bertels wears after receiving a part in a Broadway play.  She is dressed in a gorgeous red top and flowing black pants.  The lighting is subtle but so important to focus the audience's attention.   Brian Lilienthal, Original Lighting Director and Human Race Lighting Designer, John Rensel make this magic happen. 
Many older audience members probably can understand the various references made to Milton's world:  the Peppermint Lounge, Dallas Bar-B-Q, his relationship with his ex-wife and his estranged daughter and even his feelings about taking care of women.  The younger audience members surely can relate to Bertels' life:  struggling with your relationship with your parents, working to make your dreams come true, and even the references to The NeverEnding Story and The Christmas Story.  A little something for every audience member!
This a must-see new musical–100 minutes of sheer entertainment. Originating at and in cooperation with the Arizona Theatre Company, it is heading to NYC.  For tickets to My 80-Year-Old Boyfriend, call 937-228-3630 or click HERE to get to Dayton Live.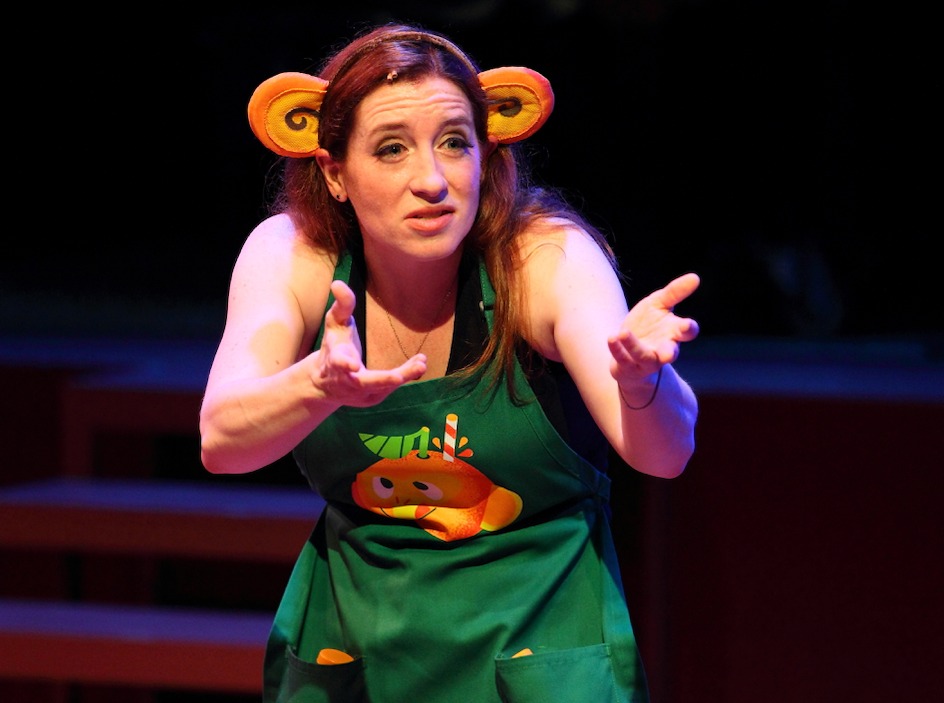 Sherri Ogden Wellington BS, M.Ed. fell in love with the theater when she was given a flower by an actor during the New York performance of Hair. She is currently moving and hopes you excuse any typos.